Four years ago I reviewed The Real Greek for the first time, then a second time and haven't dined at another Greek restaurant since. The Real Greek is good value that serves healthy food that is simply unbeatable.
There are currently 8 branches in London and in 2014 restaurant chain ventured outside the capital, where the Windsor branch is now thriving. After much nagging from my daughter for over 2 years, this summer holiday I decided on making an overnight trip to Legoland and what better opportunity to check out the latest addition?
We arrived late afternoon while it was thankfully still quiet before the mad Friday rush. The weather was glorious and the windows were wide open bringing in cool breezes and rays of sunshine. The restaurant also recently brought out a book, called The Real Greek
, containing the recipes of items that form part of its menu - a godsend for people who live far from London.
If you're bored of the ubiquitous Houmous and Tzatziki, try the Green Pea Fava (£4.75) for something offbeat. It comprises mashed green peas with olive oil and lemon - the Greek version of mushy peas, if you will. Although Felafel (£5.50) come mostly in round balls, whether in shops or restaurants, here they take the shape of hand-made burger patties. They are deliciously served with a spicy yoghurt and tahini dip, pickled cabbage, tomato & onion salsa and sprinkled with sweet paprika.
A children's menu is available for £6.75 where they can choose a main course and dessert. In this case they picked the Grilled Chicken and Chips, which was a decent sized portion and ketchup is available for the non-discerning.
Adventurous eaters should try the Grilled Octopus (£7.50), which has been tossed in olive oil, garlic and oregano. Its crunchy exterior gives way to a velvety mushiness, not unlike brains. Something different I would order again. Three Lamb Cutlets (£7.75) were elegantly arranged on a heap of lentils served with minted Greek yoghurt. The meat was perfectly cooked and finished on the barbecue it had a wonderful smokiness to it. This is perfect for people on a low GI diet. The sharp tomato sauce served with the Lamb Meatballs (£6.50) cut through the fattiness of the meat and the red onions lent a satisfying crunch to complete the dish. The Aegean Slaw (£3.75) isn't the run-of-the-mill coleslaw you get on every corner. The addition of sultanas and dill makes it truly unique.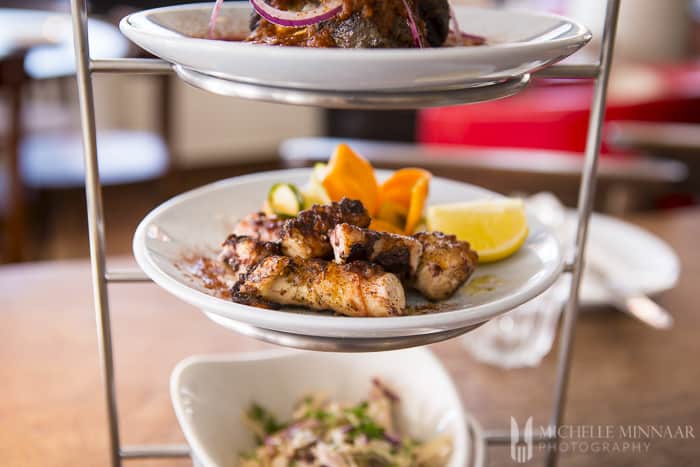 The kids were chuffed with their chocolate ice cream and needless to say it didn't last very long. As usual, Greek hospitality lived up to its name and we even got to have a photo taken with the friendly and attentive staff. I wish they would open a branch in Chelmsford!
The Real Greek
2 River Street
Windsor
Berkshire
SL4 1QT
Website
P.S. I was a guest of The Real Greek.