Lying is one thing I've always found very hard to do, and I'm not even going to bother sugar coating it: I can't remember much of this food festival that I attended with my good friend Robyn on 17 November 2007, more than a year and half ago. I have lots of pictures I can show you which will hopefully give you an idea of what it's like to attend this annual event.
The Good Food show's organisers apparently decided to copycat the Taste festival and had a small restaurant section at the back of the humungous hall, called the Olympia. They even had their own food money which they creatively dubbed Dining Currency (DC). The only difference was that DC1 equalled £1 whereas Taste's Crown was worth 50p. There were 12 restaurants in all and as usual there wasn't a big seating area, so it was problematic to find a peaceful spot to eat and we ended up sitting on a dirty carpet close to the loos. Nice!
Boxwood Café: Ceviche of Irish organic salmon with chilli, lime and coriander. It was good.
Boxwood Café: Warm salad of confit duck, smoked bacon and garlic croutons. As you can see there was precious little duck in this salad and mostly leaves. What little meat there was, was good but all in all a rip-off.
After rereading the show's guide four times I failed to find this dish's name, but it was some kind of potato cake with curried chickpeas. It came from either Imli or Vama and failed to impress.
Memories of China: Salt and pepper prawns with spring onions and coriander. It was okay.
Lots of people, so little space.
A bread lover's dreams come true.
Some more pastries.
And even more…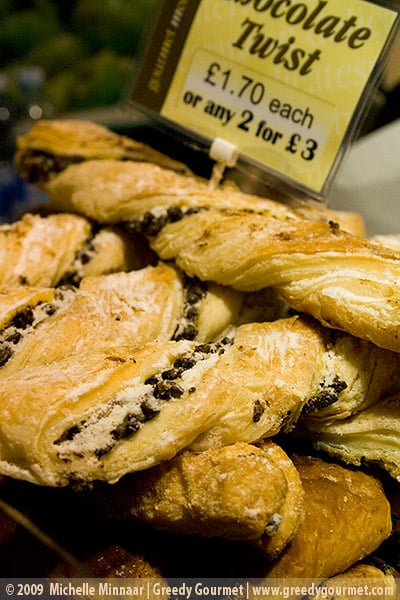 Olives, olives, olives, olives and some more olives.
This lady demonstrated how this really expensive blender worked. You can't blame the woman on the fight looking at her as if she's nuts after she heard the price. You can place all kinds of raw vegetables in there, whizz it and after five minutes it would have turned into a piping hot soup because the spinning created so much heat. On the other end of the scale you can put ice, fresh fruit, sugar and ice cream in it and after a few minutes the whole lot turn into ice cream!
Interesting. Can someone tell me what this is?
I got a bit obsessed with baklava.
Isn't it pretty?
A special thanks to A.S. Olives for allowing me to behave like a complete pornographer food photographer and take photos of their food from all kinds of odd angles.
And some more olives…
The Garlic Farm had all types of garlic I've never came across before, even smoked garlic!
If you wanted see your favourite celebrity chef in action, you had to pay extra. The BarWizards, discovered in Britain's Got Talent, also performed on a stage but since there were tonnes of people in front of me and I'm vertically challenged, I didn't see much – just a bottle or two flying in the air.
Everywhere you looked you could see food or something food related. Lots of stalls even made you taste their products but it made me uncomfortable because the people were really pushy salesmen.
Conclusion
With Christmas just around the corner it is a great place to go to if you want to buy all your presents under one roof. Due to the show's great success you have to be prepared to rub elbows, bums and even more with tonnes of strangers if you would like a good walk around. Don't even think about finding a seat to rest your tired legs and sore back. Be prepared to eat out of plastic bowl and plates with plastic cutlery. If you want to see your favourite celebrity chef in action, be prepared to cough up even more money. After having been to Borough Market (post coming) I resent having paid an entrance fee at the show.