Looking at the year in the title you will gather that I've stalled for ages writing this post. August last year I keenly announced London's upcoming Oyster & Seafood Fair. What were my expectations? My mind conjured up images of perfectly grilled fish, mountains of prawns (shrimp), crawling crabs and lobsters, massive mussels, sassy sushi and tons more. Well….it didn't happen. I'll keep this post short and bitter.
Hays Galleria is a shopping centre based in the heart of London, right next to the Thames. Here you can admire the HMS Belfast.
All around the sides of the big "hall" food on display abundantly, from Thai Prawn, Basil & Chili Stir Fry to…
paellas…
and oysters…
and some more oysters.
For the thirsty ones, there was the classic British summer drink, Pimm's!
For bored children there were balloon artists to keep them amused for five minutes or maybe just two, depending on how quick they can mutilate a balloon into a shape.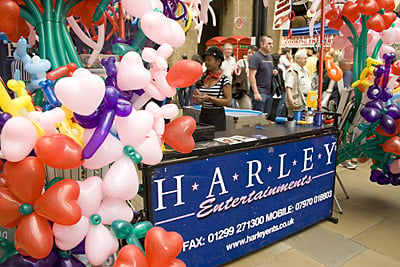 Eagerly I stood in a long queue to order the special mixed seafood plate. Now what could those odd looking shellfish be,? I wondered. It's not lobster or prawns, and not flat enough to be bugs either. Giddy with excitement I couldn't wait to try these things. Along the way, a woman was taking out cold cooked egg noodles out of ice cream tubs. She placed the solid blocks of noodles in the hot paella pan (which was brimming with oil by the way) and realised she had to break them apart somehow. Out of nowhere a big spatula appeared and she started banging on the squirmy mess. In all seriousness I have to tell you that she beat the living shit out of those noodles, MY potential food, since I was still queuing. She hammered, thumped and rammed those noodles with such contempt as if they were collectively a dog who ate her cat. Food was definitely NOT prepared with love around here.
Ladies and gentlemen, let me present to you the £10 rip off "special" seafood plate. On the left is one flimsy mussel. Next is the mystery shellfish I was about to discover. Third is a real shell-on prawn. After that is something deep-fried, though I can't remember what it was or blocked it from memory. And lastly, a crab claw. All these were placed on the noodles that were beaten to hell. Mussel was okay. The shell-on prawn was mediocre. The fourth thing was forgettable. As soon as I took a bite out of my newly found shellfish, something didn't taste right. I took a second bite. Something was wrong. What could it be? Then it hit me. OH NO. I refused to believe it but the signs all told be I was right. It was an imitation prawn! No texture, mealy and missing flavour. Argh. The "crab" claw was also something fake; the only real thing about it was the piece of shell at the end not covered with batter. I hate wasting food, but after seeing those noodles being tortured endlessly I tossed it in the bin along with 70% of the "seafood".
That didn't go well, but lookey lookey….lobsters! (They looked real enough…)
The lobster cost £15. I was gobsmacked that the idiot actually went through the trouble of placing pickled vegetables on my lobster, which ruined it for me. Look closely, those are bloody carrots. Pickled vegetables and seafood. What, are you kidding me?! (As I'm typing this I'm getting all worked up about the fair again, so on my behalf please insert your favourite swear words here: ____________) Oh, and the prawns were just to make it look as if they were giving you value. As for the actual lobster meat, it was over salted, tough and chewy.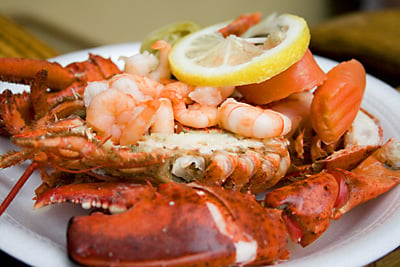 Confident that I will stuff myself full of glorious seafood, I skipped breakfast all together and jumped on the train to London. Unfortunately, I was starving by now. No longer being adventurous I looked for something that I will definitely like. Bingo. Thai prawns, green beans, basil and chilli stir fry. It was bloody great, but I travelled in total 3 hours to get to Hays Galleria and back. Why bother if I could just gave ordered Thai takeaways?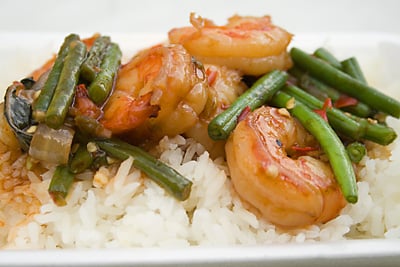 At least I had a nice view while I was devouring my away-from-home take-away.
By the time I finished, the place was packed. I buggered off vowing never to go back again.
The Last Word Or Two Or Three…
My first problem with the whole event is the setting. Having visited the Taste of London event first, no venue can compete with lavish Regent's Park. Nothing.
Mass production is the order of the day. Not much looked edible.
The people who worked behind the stalls probably did it for a day for an extra buck. Taste of London had real chefs who slaved away for hours in search of excellence wanting to get somewhere in life.
The presence of fake seafood at a speciality seafood event is sacrilege.
So far my experience of British seafood has been a far cry from wonderful. I will readily admit British cuisine has taken a huge leap in the last decade, especially in London, but events like these just drag its name to shame again. 'Nuff said.