Gone are the days that I was too sheepish to take photos in public of everything I ate. Last year was the second time I visited the Taste of London food festival and unashamedly I whipped out my camera before dipping into my food. Want to see?
Fortnum & Mason: Twice Baked Goat's Cheese Soufflé with Poached Pear & Chutney. It goes without saying that the presentation was shoddy but the taste? Divine!
One-O-One: Slow poached Norwegian white halibut with crispy pork belly, truffle paimpol coco beans cassoulet and wild rocket pesto. What made this stall quite fun was that every time an order was called out the cooks at the back replied in unison with gusto "Yes, chef!", much to the crowd's amusement. The fish was perfectly cooked, the belly smoked and satisfyingly salty. Overall, quite good.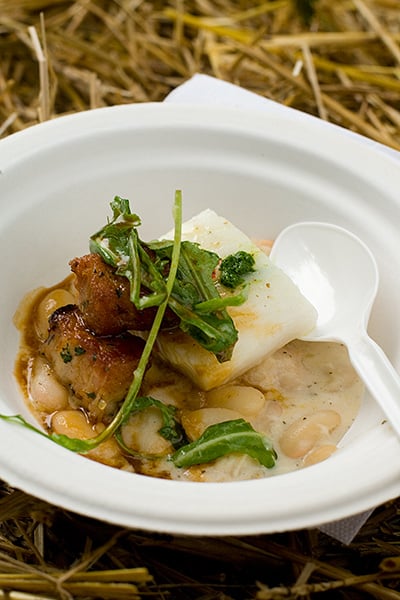 nahm: Miang – Pomelo dressed with caramel and roasted coconut served on betel leaves. "Eeet de leefs", the Thai server told me with a smile, but I could see she was dead serious. Uh, okay. It was not the most visually appealing dish and looked more as if it formed part of Survivor's gross eating challenges, right there with fish eyeballs, bulls's penises and all. Slowly I made my way towards the shade of a huge oak tree and sat down. Scared that the woman might be watching me from behind a tree, ready to kick my ass if I didn't follow her orders I quickly gobbled up the whole lot. It was the most interesting concoction I've eaten in years. Crunchy, sweet and unabashfully potent in flavour. I want more!
Tom's Kitchen: Seven hour braised lamb shoulder with balsamic onions and mash. As I was standing in the long queue for this stall I was getting worried. Nine out of ten orders were for the lamb. What if it ran out before I got my share?!? Luckily, it didn't and I was so sad when my styrofoam bowl was empty. The mash was sloppy and dull though but the onions were to die for. I really want that recipe for the lamb! What struck me was how people in the rat race are always looking for some instant meal but standing in the queue I realised we all really are after slow-cooked, quality meals.
Sumosan: Albemarle Roll – Salmon, avocado, tempura crisps and tobiko on the outside. At first I was going to order the restaurant's Roasted scallops marinated in teriyaki sauce and cooked with enoki and shiitake mushrooms and fried leek on top, but a few people passed me with just a tiny scallop on their plate and I thought it's a big rip-off for £4 and opted for the sushi instead. I wasn't disappointed.
Salt Yard: Courgette flowers stuffed with monte enebro goat's cheese and drizzled with honey. I wished I could have had ten of these, but at £5 a pop I thought it was a bit steep.
Tamarind: Meen Kozhambu – Cubes of kingfish simmered in a sauce of tomato, tamarind and coconut milk, flavoured with curry leaves, mustard and fenugreek seeds served with steamed rice and haricot beans. This was the only dish I seriously hated. The beans were tough and as much as I love curry this one was such a mess I couldn't finish it.
There were tonnes of gourmet food stalls hawking their wares.
The hustling and bustling scene at Taste of London.
As I made my way through Kensington to the tube I walked past these attractive, tall apartments. Wouldn't it be a blast to live there?
PROS
The venue is reliant on the weather. If it's a bright and sunny day, it's a brilliant day out.
It's a great opportunity to try a variety of dishes from London's top restaurants all in one spot.
Most dishes served are excellent quality.
There are some free live shows you can watch.
CONS
If it rains, the masses are screwed because it's an open air event with no place to hide.
Seating is a problem. For every 100 people one chair is provided. I had to pray to the heavens for it not to rain because I didn't fancy sitting on soggy grass.
Most portions are minute and for the money they charge per plate is pure daylight robbery.
It's off-putting to eat on styrofoam plates and with plastic cutlery.
You have to queue a long time before a free live show starts, otherwise you won't get a spot.
They don't sell "Crowns" in singles, only in packs of 10 which amounts to £5. The lowest dish costs 6 Crowns, so if you have 4 Crowns left you have to buy a whole wad of crowns to be able to use it. It irritated me to no end how unashamedly money hungry the organisers are.
You have to pay extra to see celebrity chefs.
CONCLUSION
If you would like to suss out the best restaurants in London in a small time frame, this is the event to go to. Once you fall in love with a dish you would know exactly where to visit in the future without having to find out through trial and error. I must sound like a major skinflint complaining about the cost of the food but what I'm looking for is value. Unfortunately, the latter doesn't form part of this event's vocabulary.