If you're a big fan of smoking food or if you're looking to start, a good smoker thermometer is a hugely important tool.
Smoking food is a great way to get an incredible taste and texture. But getting the cook time and temperature just right is the only way to get the best results. And, as I always say… if something's worth doing, it's worth doing right!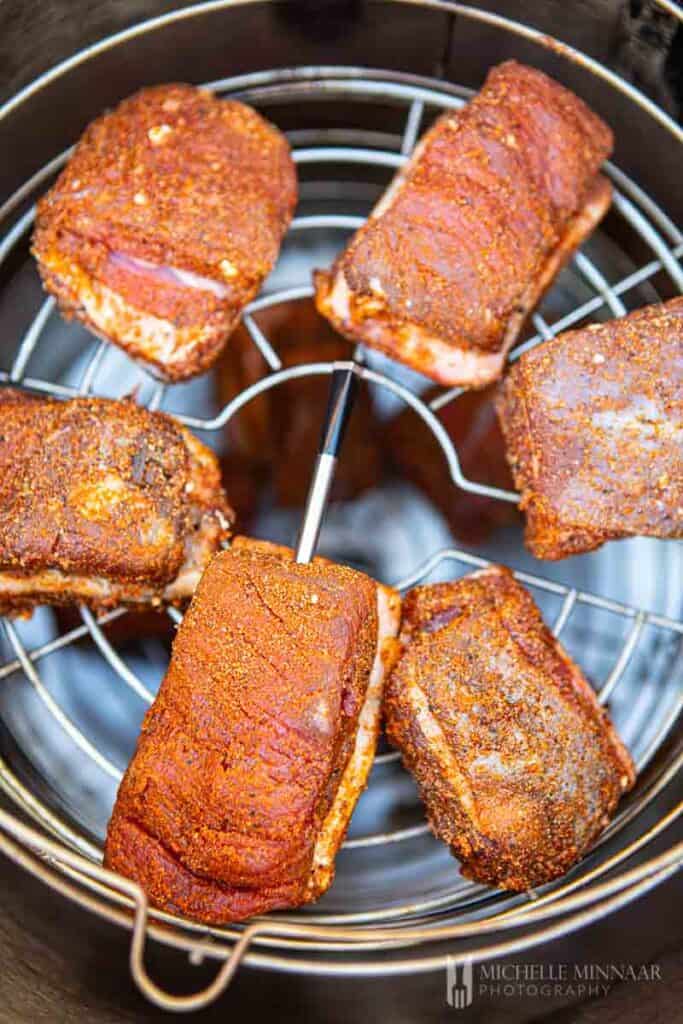 So, let's go a little deeper and gauge the importance of a good meat thermometer, while taking a look at some of the best smoker thermometers on the market.
Best smoker thermometers
Getting meat cooked to perfection can be a tricky task. Get it right and you'll end up with the most delicious, tender, juicy meat with a smoky infusion to die for. Get it wrong and you'll end up with a flavorless, chewy, blackened lump of junk.
With all the time, effort and money that you'll put into the smoking experience, make sure you invest in the one little gizmo that's going to bring everything together and leave you with perfectly smoked meat.
Modern smoker thermometers are amazing things! They're designed to make the whole smoking process a breeze. So, let's take a look at some of the best meat thermometers out there and discover the ideal smoker thermometer for you.
For me, this is hands down the best smoker money can buy. It's the Tesla of meat thermometers, combining insane state of the art technology with genius design for an amazing piece of kit.
First of all, this thing provides an accurate reading every time. It comes with just one probe, but it's a dual probe that measures the internal temperature on one end and the ambient temperature at the other. So you know the temperature of the meat, as well as the temperature of your smoker.
It's all completely wireless of course. And, much like most things nowadays, everything is centered around your phone. The inbuilt guided cook system walks you through every step of the cook – giving you the ideal temperature for whatever type of meat you're smoking, as well as an estimated cooking time.
The app's interface is well designed and easy to use (your grandmother could smoke killer ribs with this thing) and it's loaded with all kinds of stats and details, for those gastro nerds who want to go a little deeper.
And for tech-heads, this smoker thermometer even works with Alexa. "Alexa… turn up the heat!"
The design of the actual thermometer is super cool too – the probe is sleek and simple, while the bamboo casing doubles as a charger and comes with magnetic backing, for easy storage.
It's pricey – double the price of many of the other thermometers listed here – but the extra money is totally worth it in the long run.
Features
Completely wireless
Bluetooth connectivity, with a range up to 165 feet
Ability to extend range (up to 300 feet) using onboard MEATER Wifi and MEATER Cloud
Dual temperature sensor – two sensors in one probe mean keeping track of internal and ambient temperature is easy
Precision accuracy to a maximum temperature of 212°F for the internal sensor and 527°F for the ambient sensor
Monitor everything through an app on your phone
Advanced algorithm calculates the cooking time for you, helping you plan the time of the cook
2 sensors on each probe – monitor your grill or smoker's temperature and your food's internal temperature simultaneously
Able to connect to Alexa
This is a great wireless digital meat thermometer that makes the smoking process nice and easy. It's equipped with dual probe technology, meaning you can monitor two kinds of meat at the same time.
Or you could us one probe to measure internal temperature and the other as an ambient sensor, to get a reading of the smoker's surrounding temperature.
This dual probe smoker thermometer comes with preset temperatures for 9 different types of meat, each with their own recommended safe temperature levels.  
The probe itself is stainless steel, with a step-down tip design for quicker and more precise and temperature readings. It can also withstand a temperature of up to 716 degrees Fahrenheit. The wireless remote range of this thermometer is impressive, meaning you can keep tabs on your meat up to 300 feet away.
All together, this is a great smoker thermometer – well made, with an intuitive design and an impressive array of features. It comes in at a mid range price point – meaning it won't break the bank. But it's definitely a good investment – for novices and experts alike.
Features
Dual probe technology
Heat proof probes can withstand temperatures of up to 716°F
Impressive wireless range means you can monitor your meat 300 feet away
9 preset temperatures for different types of meat
Simple design makes the interface easy to use
A good budget smoker thermometer, this one is easy to install and easy to read. It's made of stainless steel, making it a durable design that should last a while. It's also accurate (+/-10 degrees Fahrenheit) and reads temperatures between 100 to 550 Fahrenheit.
This smoker thermometer has a 3 1/ 8 inch dial face with a 3 inch stem and can secured onto the front of your smoker. While these types of thermometers are cheaper and easy to install, they don't have the same accuracy or top down brilliance of wireless meat thermometers.
So, if you're looking for a budget thermometer that's easy to read and easy to use, this might be the one for you.
Features:
3 1/ 8 inch dial with a 3 inch stem, making it easily mountable on your smoker
Stainless steel casing for extra durability
Temperature readings between 100 to 550 degrees Fahrenheit with good accuracy
Easy installation
A simple, budget thermometer that does a good job at getting accurate temperature readings and is easy to use. Select the temperature, set the countdown and insert the probe. That's it!
It's a wired thermometer, so can be a little more fiddly that more expensive wireless thermometers. Also, you'll need to attach the actual display outside of the smoker. The display isn't water or splash proof, so you'll need to keep it away from liquids – keep this in mind, especially when cleaning after use.
The cable itself is 40 inches long and is made from stainless steel meshing. And the probe can withstand temperatures of up to 716 degrees Fahrenheit, measuring temperatures of between 32°F and 572°F.
Features:
Countdown timer of up to 99 hours and 59 minutes
Temperature range of 32°F to 572°F
Single probe that withstands temperatures of up to 716°F
With preset temperatures for 11 different types of food, all with specific USDA recommended temperatures, you know you're in safe hands with this gizmo. It also has 3 smoke modes (cold smoke, hot smoke, and BBQ smoke) and 5 levels of doneness (rare, medium rare, medium, medium well, and well done).
This thermometer comes with 4 color coded meat probes, making it easier to keep track of what your smoking. The probes are a little on the short side though, making it trickier to insert them into bigger joints of meat.
All in all, it's an excellent, highly versatile wireless meat thermometer. It has an outdoor range of up to 170 feet, and it can measure 6 different types of meat at once. It's easy to store too, coming with a magnetic backing that means you can put it on any metal surface after use.
Everything is operated through your phone or tablet, making the whole smoking process incredibly easy. It measures temperature readings between 32°F and 572°F and the probe is made with metal braiding that is capable of withstanding temperatures up to 716°F.
Features
Preset temperatures for 11 different types of food
Temperature readings between 32°F and 572°F
Probe can withstand temperatures of up to 716°F
Has an outdoor range of up to 170 feet (100 indoor)
Wireless remote technology – everything is operated by phone or tablet
This digital, wireless remote meat thermometer is perfect if you want to be on the move while your meat smokes.
A backlit display makes this thermometer perfect for night grilling, while the convenient clip-on function means you can keep it with you as you wander around the back yard. And you can wander as much as you like – this thing has a whopping 490 foot range!
This thermometer comes with 4 stainless steel probes, meaning you can monitor 4 different types of food at the same time. It has 8 different temperature settings for various types of meat, with 5 levels of doneness, from rare to well done – all recommended by the USDA.
One good feature about this smoker thermometer that makes it stand out is that it measures in both Fahrenheit and Centigrade.
Features
Provides temperature readings in 2-3 seconds
4 stainless steel probes that produce a very accurate reading
Very impressive wireless range – works up to 490 feet away
8 meat presets for correct temperatures
5 built in taste levels
A really impressive bluetooth meat thermometer, this is easy to set up and runs through a free app. So you can control everything with your phone or tablet, as you kick back with a beer and watch the game.
This thermometer comes with 6 probes (more than most smoker thermometers) to monitor the cooking of 6 different foods at once. Also, they're colored, meaning you can avoid cross contamination.
The central control app comes with preset temperatures for 11 different meats, making the whole process super easy. Each preset is customizable, meaning you can get meat perfectly cooked to your liking.
This one has an outdoor range of 196 feet, meaning you're free to mingle with friends and family, safe in the knowledge that the meat is smoking away to perfection.
Features
6 probes, color coordinated for ease of use
Easy to read illuminated display screen
Range of 196 feet
11 meat modes
5 taste types, from rare to well done
Temperature readings in Celsius and Fahrenheit
This easy to install and easy to use smoker thermometer is for those who like their smoking game to be simple. If you're not into the technical side of things, this might be the one for you.
There's no bluetooth or inbuilt app with this gadget. You just attach to the front of your smoker, either into an existing hole, by making your own or by getting a thermo install kit. It'll read temperatures between 50 and 550 degrees Fahrenheit to a pretty accurate level.
While it's on the budget side, it's a well built thermometer that should last a long time.
Temperature rang of 50-550 degrees Fahrenheit
3″ adjustable with heavy duty site glass
Stainless steel casing for good durability
Easy to install and easy to use
2.5 inch stem
Another great wireless meat thermometer, this one ticks all the boxes. When it comes to modern thermometers, range, ease of use, number of probes and accuracy are essential. This does all this well and then some.
The outdoor connectivity range is 200 feet (100 indoor) which is more than enough for most outdoor cooks. With 6 different probes, this thermometer lets you cook and monitor lots of different meats at once.
The inbuilt app keeps you updated with the internal temperature of the meat as it's cooking, connecting to your phone or tablet and giving you a nudge when your meat is done.
Although not quite as state of the art as some of the best smoker thermometers (and lacking a bit of accuracy compared to some other wireless models) this is still a great meat thermometer and is excellent value for money.
Features
6 probes that can be used at the same time
Wireless Bluetooth technology
Integrated app enabling you to control everything from your phone or tablet
Large LDC backlit display makes it easy to read
32 inch braided cable that can withstand temperatures of up to 716°F
Wireless connectivity range of up to 200 feet (100 feet indoors)
Push notifications and sound alarm when meat is at correct temperature
This wireless meat thermometer uses a transmitter and receiver through radio frequency, instead of connecting to the phone. The advantage of this is a larger connection range – you can get tabs on the progress of your cook from 500 feet away.
It's really easy to set up – just a case of putting batteries in – and is extremely easy to use. Coming equipped with 4 probes means you can measure the internal temperature of 4 different cuts of meat, or even use one to measure the ambient temperature as you're cooking.
The stainless steel probes measure temperatures between a range of 32℉-572℉. All in all, a great wireless thermometer. If simplicity and connectivity range is what you're after in a wireless thermometer, this might just be the one for you.
Temperature range of 32℉-572℉
Transmitter and receiver for wireless monitoring
4 probes that can measure 4 different cuts of meat at one time
Easy set up and installation
Large backlit LCD screen makes reading the temperature nice and easy
Impressive connection range of 500 feet
Some Inkbird thermometer models have small probes that can finicky. This model has stepped things up though, with four stainless steel meat probes that are much longer and… well… meatier!
This smoker thermometer also has an impressive range – the device can be controlled from up to 150 feet away. It's controlled via phone or tablet, through an integrated cooking app.
The app itself goes into a crazy level of detail, including temperature graphs and time charts! Despite the stats, it's easy to use though.
And, while many thermometers have a high temperature alarm, this little gizmo has a low temperature alarm too – keeping you in the know if the smoker drops too low.
Like many others, it has magnetic backing (this one's stronger and better built than most), making it easy to attach to the smoker or any metallic surface for storage.
Features
Four well built probes
An easy to read, brightly lit LED display
Strong magnetic backing for easy storage
High temperature and low temperature alarm
Very detailed feedback via the onboard app
Control range of up to 150 feet
What to look for in a smoke thermometer
When considering what's the best smoker thermometer for you, there are a few things to keep in mind. First of all, are you the type of person who's put off by a thermometer that connects to your phone or tablet?
If not, there are so many high-end thermometers out there. For tech literate people, these are the best smoker thermometer money can buy – they do all the hard work for you and can read temperature to a very high accuracy rate. They also allow you to keep on the move, while monitoring the cooking progress.
If you like cooking to be simple and rustic, their are plenty of top thermometers out there that will the do the job perfectly and won't break the bank.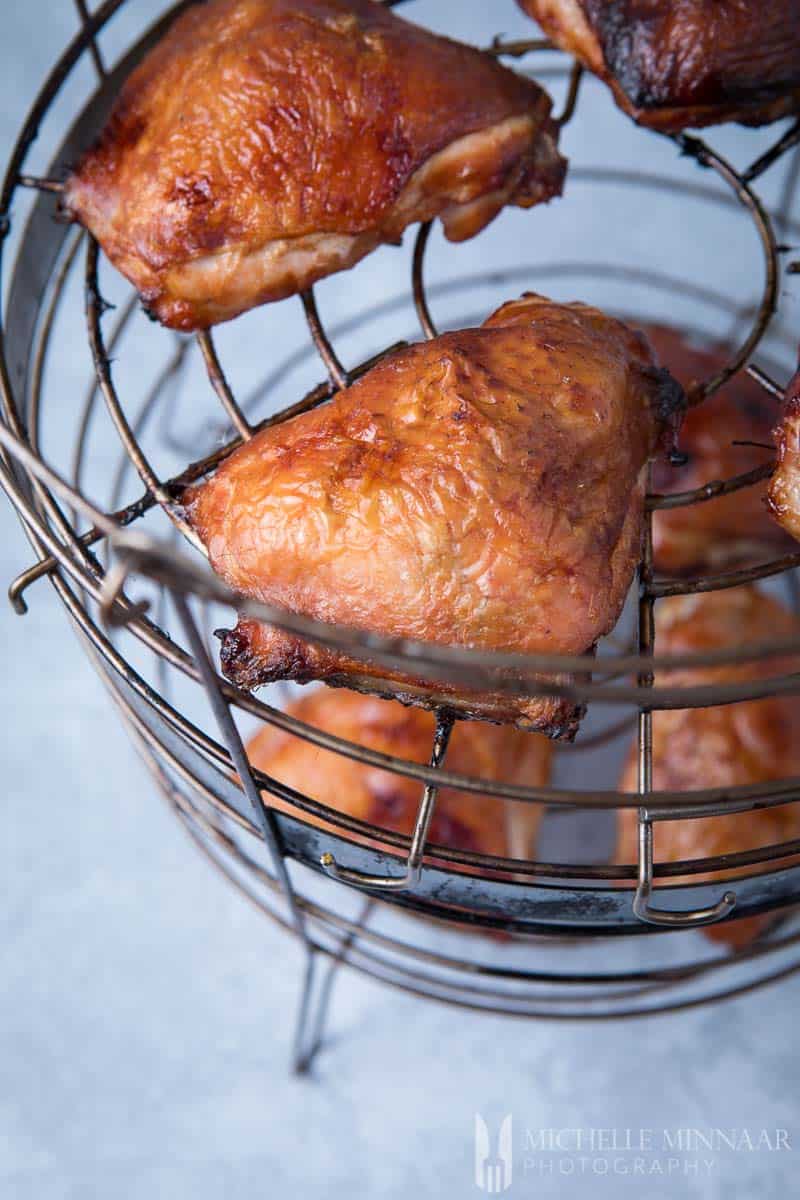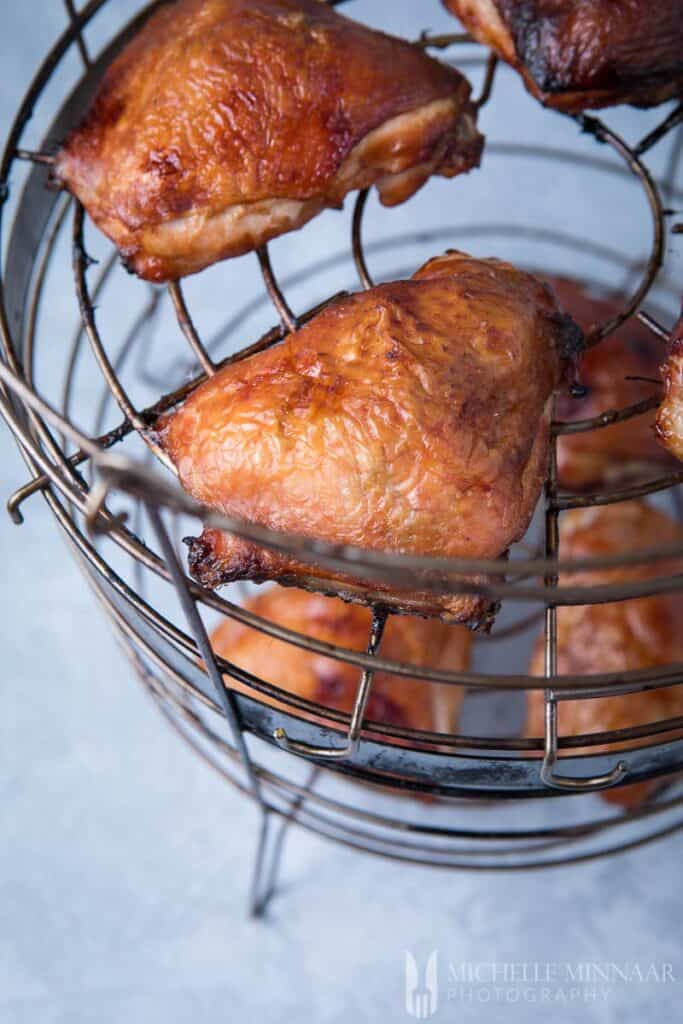 What it all comes down to is build quality (how long it'll last, whether it can withstand temperatures etc.) whether it has one probe, two probes or more (dual probes are increasingly popular, as are dual sensors) and the accuracy of the thermometer.
If you do decide wireless is an important feature for you, it's worth considering the range and signal strength of the thermometer. Top wireless thermometers have a range of 150 feet or more, many with bluetooth compatibility.
Others work through radio frequency, enabling ranges up to 500 feet. These are more basic though, and don't have the in-depth features that come with thermometers with an app. These have cooking guides, statistical breakdowns and other detailed information.
The beauty of smoking meat
For meat eating foodies, few things in life are quite as satisfying as the taste of smoked meat. But when it comes to smoking meat, its the whole experience that makes it so special.
You prepare your meat, fire up the smoker in the back yard, while chilling in the sunshine with a few friends and a few beers. The smell of the meat smoking fills the air, slowly doing its thing.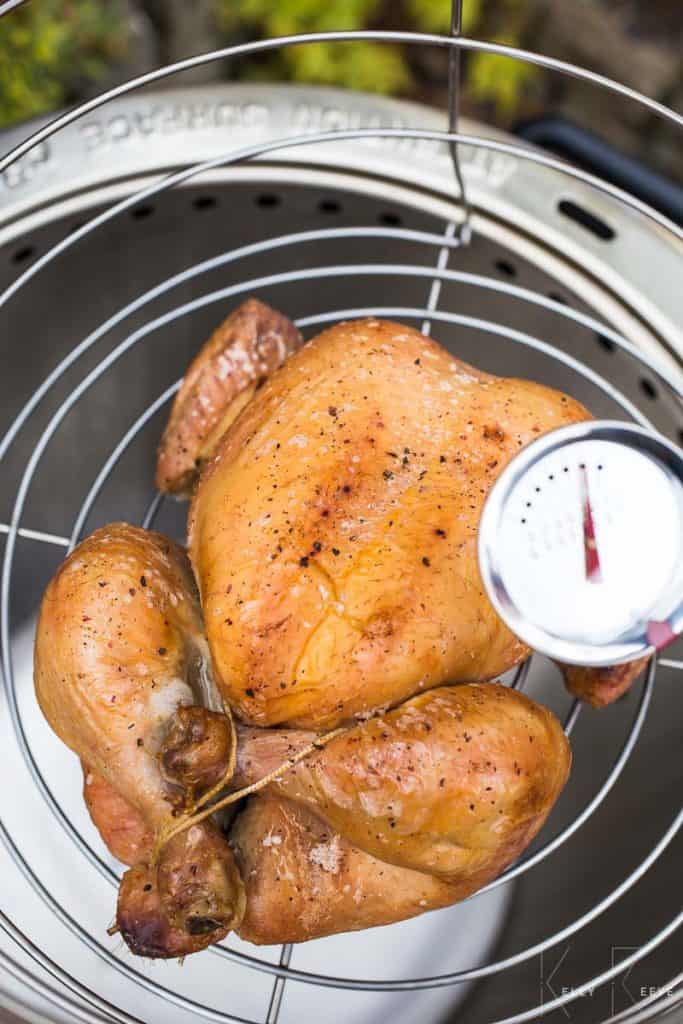 When it's done, you get to savour amazingly tender, succulent meat that melts in your mouth, with a subtle smoky flavor that's out of this world.
But… the best way of getting perfectly cooked meat is by using a smoker thermometer.
Perfectly cooked meat
No doubt you're a meat lover, or you wouldn't be here. Well, the secret to cooking amazingly tender meat that falls apart when you slice it, is getting the cooking time and temperature just right.
Cooking is an art form, no doubt. But over the long game, when things are slow cooked, it's more of a science. Getting the temperature exact and taking the meat out at just the right moment leads get incredible results.
You'll end up with an amazing smoky flavor and tender meat that melts in your mouth.
Without a good thermometer, this is really hard to achieve. With a good thermometer it's a cinch. Again and again and AGAIN… with perfectly cooked meat every time.
The importance of getting the right food temperature
Aside from getting the perfect taste, the best smoker thermometers are designed to provide an element of safety when smoking meat. This is an absolutely crucial, although often overlooked, function of a meat thermometer.
There's nothing worse than the thought of inviting all your friends over with the promise of stunning smoked meat, only to give them all dreaded food poisoning.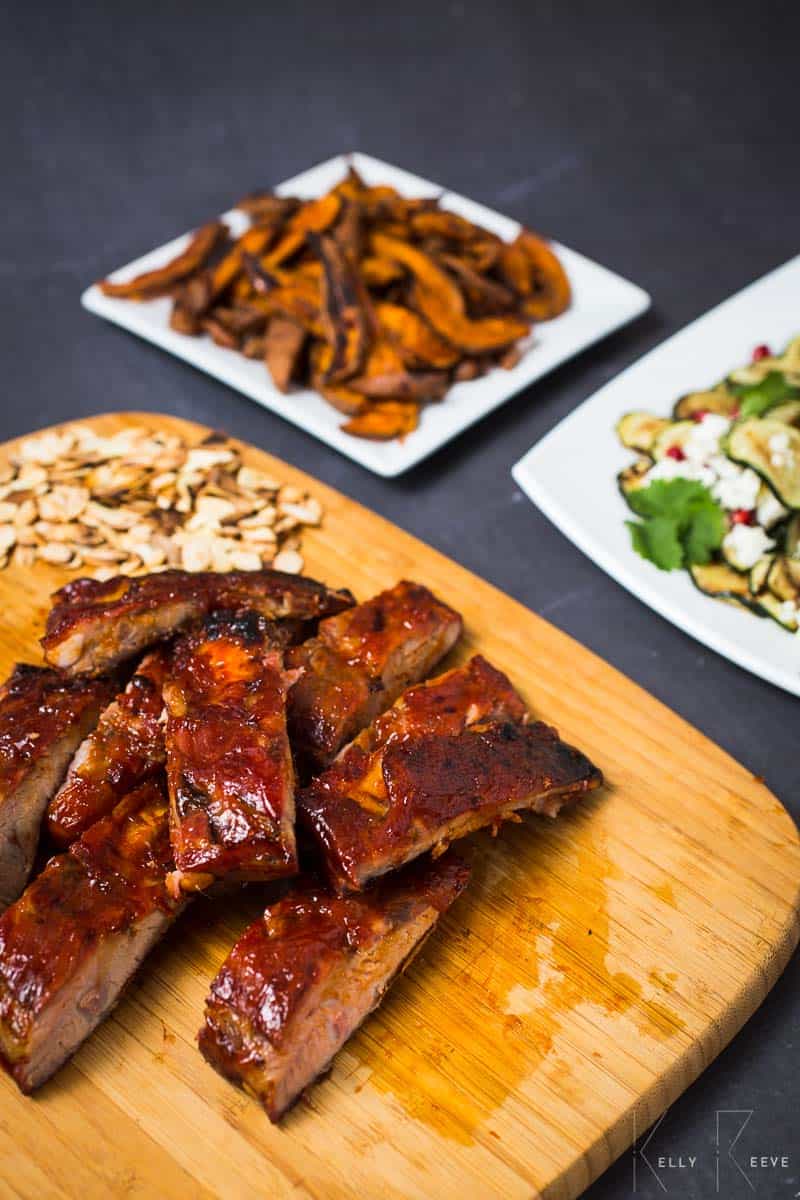 Using a meat thermometer is the best way to reliably tell when your meat is cooked to a safe level. Many of us like rare, tender meat, and some of us (calling all BBQ snobs out there – you know who you are) think we have an intuition when it comes to meat being done. But your intuition just can't compete with meat probes!
Simply put, if you're cooking with a smoker, make sure you use a quality smoker thermometer.
How to use smoker thermometers
Although they come in different styles with many different features, using a smoker thermometer is easy. Make sure the batteries are installed properly and, if necessary connect the probes to the transmitter.
If your thermometer is operated via an app, you'll need to download it on your phone before you can use the thermometer. It should be a simple pain-free process.
Once you have the control systems set up and your smoker is on the go, insert the thermometer's meat probe (or meat probes if it's a dual probe thermometer) into the thickest part of whatever meat your cooking.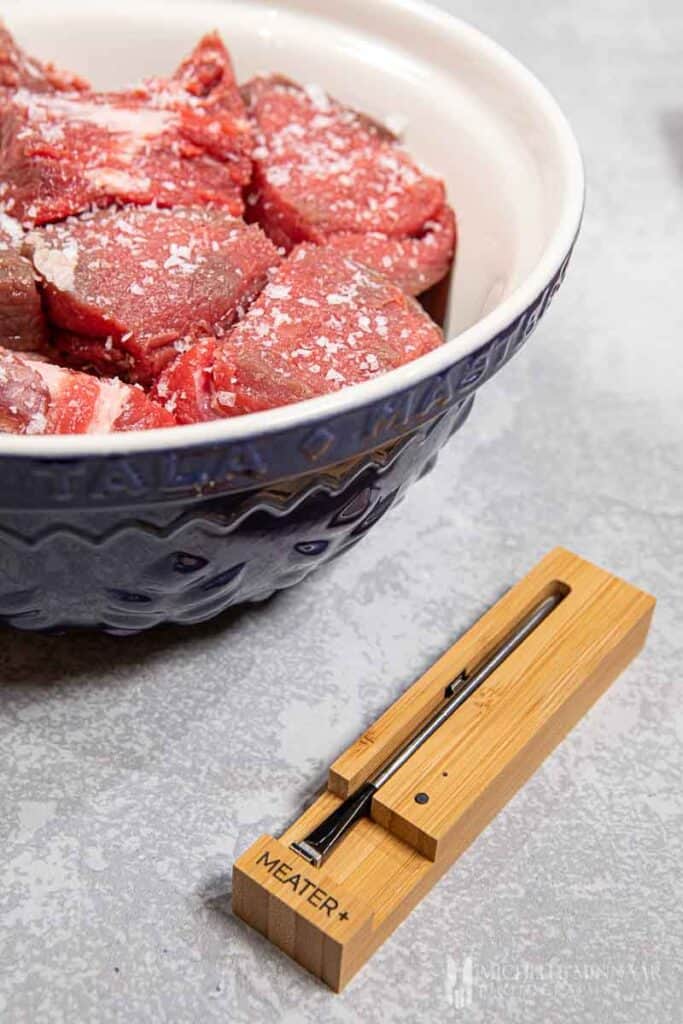 You'll be able to monitor the food as it's cooking, either through an old fashioned temperature gauge (this you can attach to the outside of the smoker) or via the thermometer's display and via your phone.
When your food has reached the desired temperature, you'll get 5 minute warnings and a final alarm from wireless digital smoke thermometers. As soon as the desired temperature is reached, take the meat off the grill and leave it to rest.
Why do you need a thermometer with two sensors?
If you want to monitor the temperature of your meat and the surrounding temperature of your smoker at the same time, you might think you need two probes. In fact, you just need a dual sensor probe thermometer.
A thermometer with two sensors enables you two measure the internal and external temperature at the same time. All you have to do is insert one end of the probe into the thickest part of the meat. As this end keeps track of the temperature of the meat, the other end of the probe measures the ambient temperature.
It's a great system, used early on by the MEATER thermometer, which was the original smart wireless meat thermometer, since built on by the MEATER+. It really gives you control over the cook, as you gauge the heat inside the smoker (this is key to the eventual flavor of the meat) as well as the internal temperature of the meat.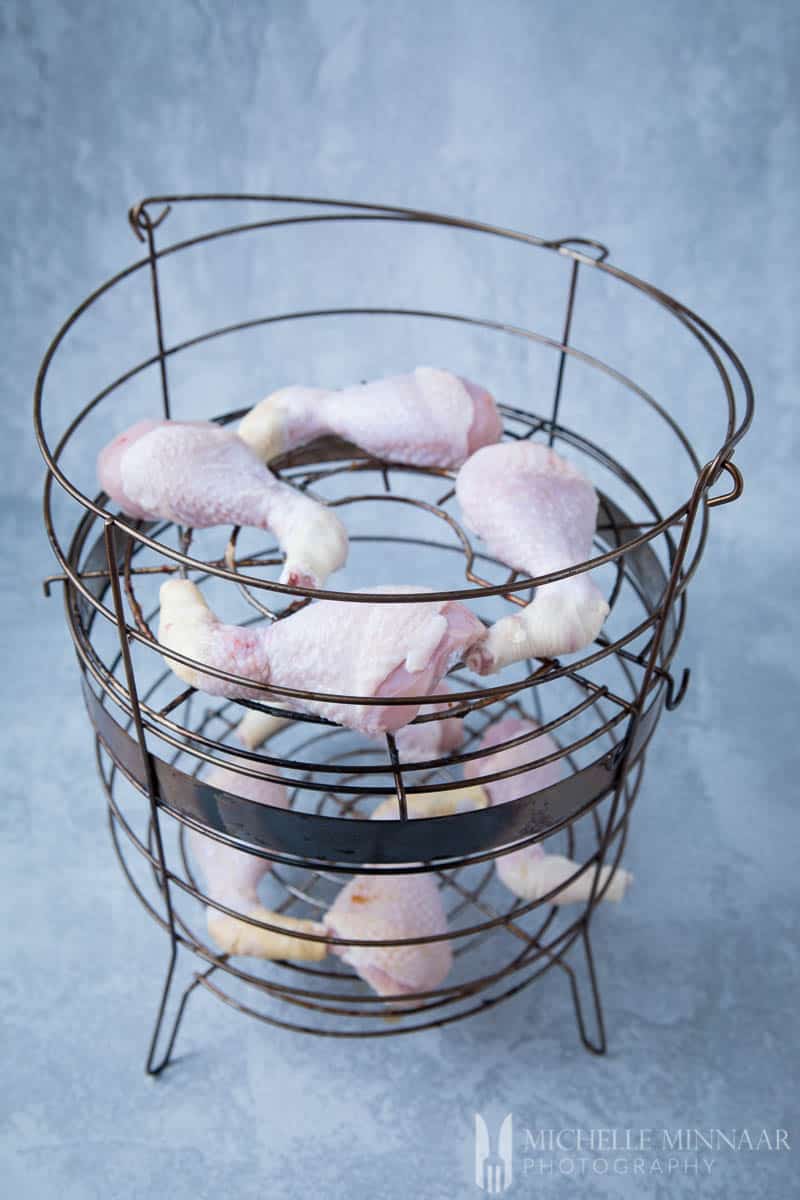 Best smoker accessories
If you want to start smoking food, there are a few essential accessories you'll need, to make the experience as safe, stress free and rewarding as possible.
BBQ gloves – these heat resistant on-slip cooking gloves are made of 3 layers of materials to protect your hands when dealing with meat on your smoker
Charcoal briquette holders – if you decide to go for charcoal briquettes, these things will keep your coals in one place, yet offer the flexibility to relocate them as and when you need them
BBQ grill brush – its essential to keep your cooking area clean and this little gizmo is great for cleaning all grill types
Grill rake – this is the best way to arrange your charcoal on the grill
Basting brush or BBQ basting mop – for certain recipes, you'll need to baste the meat to keep it moist. A special heat resistant basting brush is useful in this situation. Better yet, using a basting mop means you can baste the meat from a distance
BBQ tongs – while you shouldn't turn meat on a smoker, you'll still need BBQ tongs to take your perfectly smoked meat off the grill
Butcher block – an essential element for any BBQ enthusiast, a quality butcher block gives you the space to prepare your meat for smoking
Butcher paper – from wrapping brisket to lining a BBQ tray, butcher paper should be on every BBQ junkie's list
Slicing knife – when it comes to slicing meat, fish or veg, this thing is as good as it gets
Boning knife – another essential tool for preparing meat is a boning knife. You'll need a sharp quality knife to trim fat and remove unwanted parts of your cut of meat, before you add it to the smoker
Rib rack – this cheap little item is really worth its weight in ribs, especially as you can stack up so many ribs in your smoker at once.
Bear claws – these ingenious little cooking claws mean you shred with the best of them. Did somebody say smoked pulled pork? So, there is a heaven.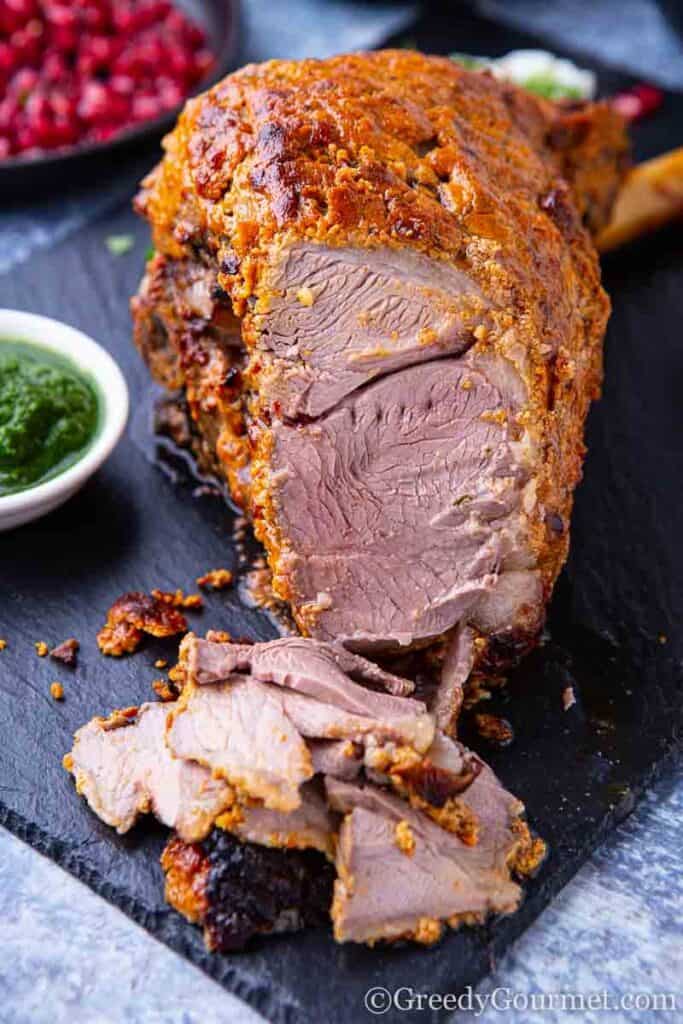 What's the best smoker out there?
There are a variety of really cool smokers out there. Here are just a few of the best smokers money can buy:
Weber Smoky Mountain – one of top all round smoker out there, this thing is made from quality materials, is easy to use and has a surprising capacity. It's also great value for money.
Dyna-Glo Vertical – not only is it easy to access – being able to open the door and use all four grill racks is so convenient – there's just something about a vertical smoker that looks incredibly cool.
Weber Original Kettle – easy to clean, with a high-capacity ash catcher, this smoker is quite compact and easy to move around. It's also made from reinforced sheets of steel, coated with porcelain enamel. So it should last a long time.
Char Broil Bullet – easy to use and to maintain a temperature, this smoker is one of the finest on the market, especially for first time meat smoker. You'll be smoking up some supreme recipes on this baby for years to come.
What's the best charcoal for smoking?
Once you've picked out your ideal smoker, you've got all the gear to get you going and you've invested in a top quality smoker thermometer, you'll need to know a thing or two about charcoal.
Luckily I've whipped up a handy guide, giving you the low down on charcoal. From the difference between briquettes and lump charcoal and the perils of using lighter fluid, to a run down of the best charcoal on the market, this guide will get you ready to start smoking some incredible recipes. Speaking of which…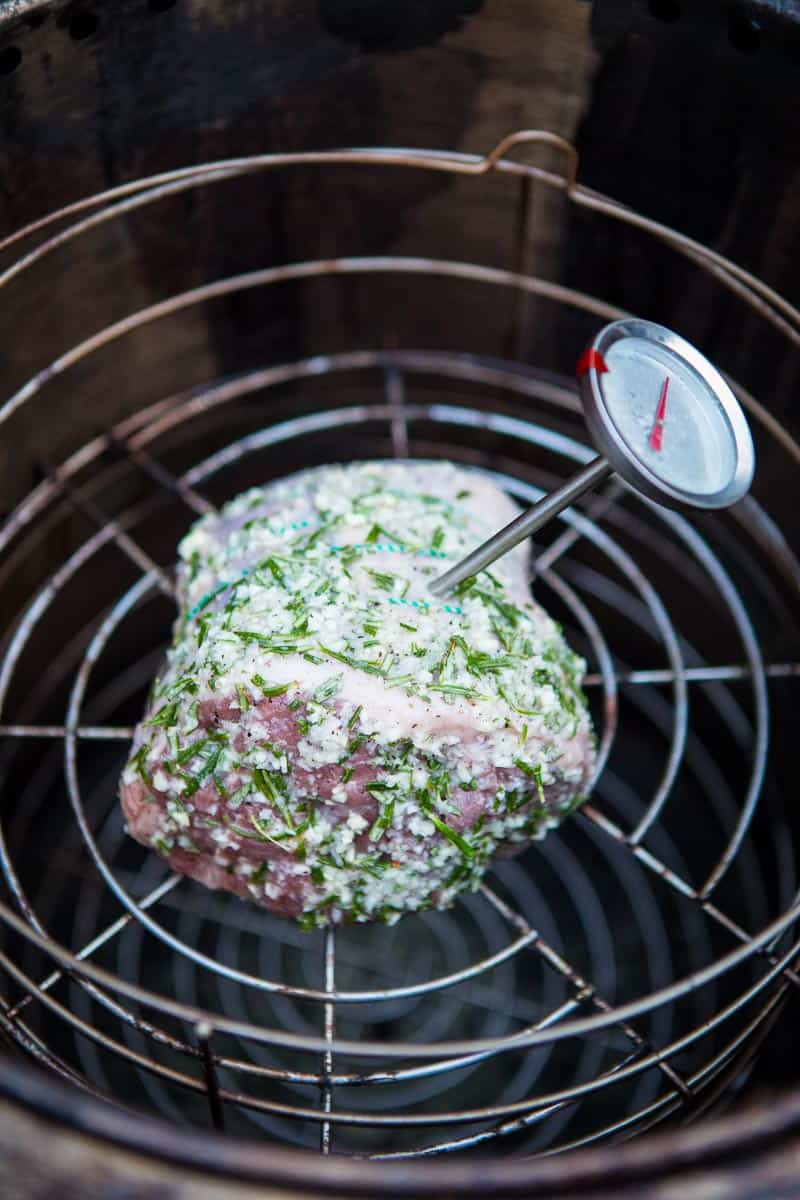 Delicious smoked recipes
Smoked chicken thighs – these tender smoked chicken thighs taste incredible and will go down a storm at your next BBQ.
Smoked chicken drumsticks – show off what your smoker can do with these intensely flavored and smoky and sumptuous drumsticks that will have you throwing BBQs every single weekend.
Smoked chicken breasts – smoke up some incredibly tender chicken breasts and serve them in a mixture of dishes, from salads and soups to sandwiches and stews.
Whole smoked chicken – for a really special occasion, whole smoked chicken is the way to go. This recipe will really impress, with tender meat infused with an incredible flavor.
Smoked beef short ribs – these beef short ribs are heaven for meat eaters. Soft and buttery, they melt in your mouth with a full on smoky flavor.
Hot smoked salmon – if you've never cooked fish in a smoker, this recipe will blow you away! The taste of this smoke salmon is just incredible – it melts in your mouth!
Smoked leg of lamb – a sumptuous slow cooked lamb recipe that takes cooking meat to another planet. With every mouthful of this heavenly lamb dish, you'll justify the price of that smoker.
Whole smoked turkey – whether you're after a twist to your Christmas lunch or a tweak to your Thanksgiving feast, this whole smoked turkey is guaranteed to amaze.
BBQ smoked ribs – what could be better finger food than sticky BBQ smoked ribs? Show what your smoker can do with this great, easy to follow recipe
Honey glazed smoked ribs – sweet, sticky and oh so tasty… smoke up these bad boys and they're guaranteed to be the star of your summer BBQ.
Have you invested in a smoker thermometer yet? What's your go to smoked recipe and what's on your 'to smoke' list? Let me know in the comments below!