For those wanting to bring some health and wellbeing to their work day, my FlexiSpot Desk Bike review should definitely pique an interest!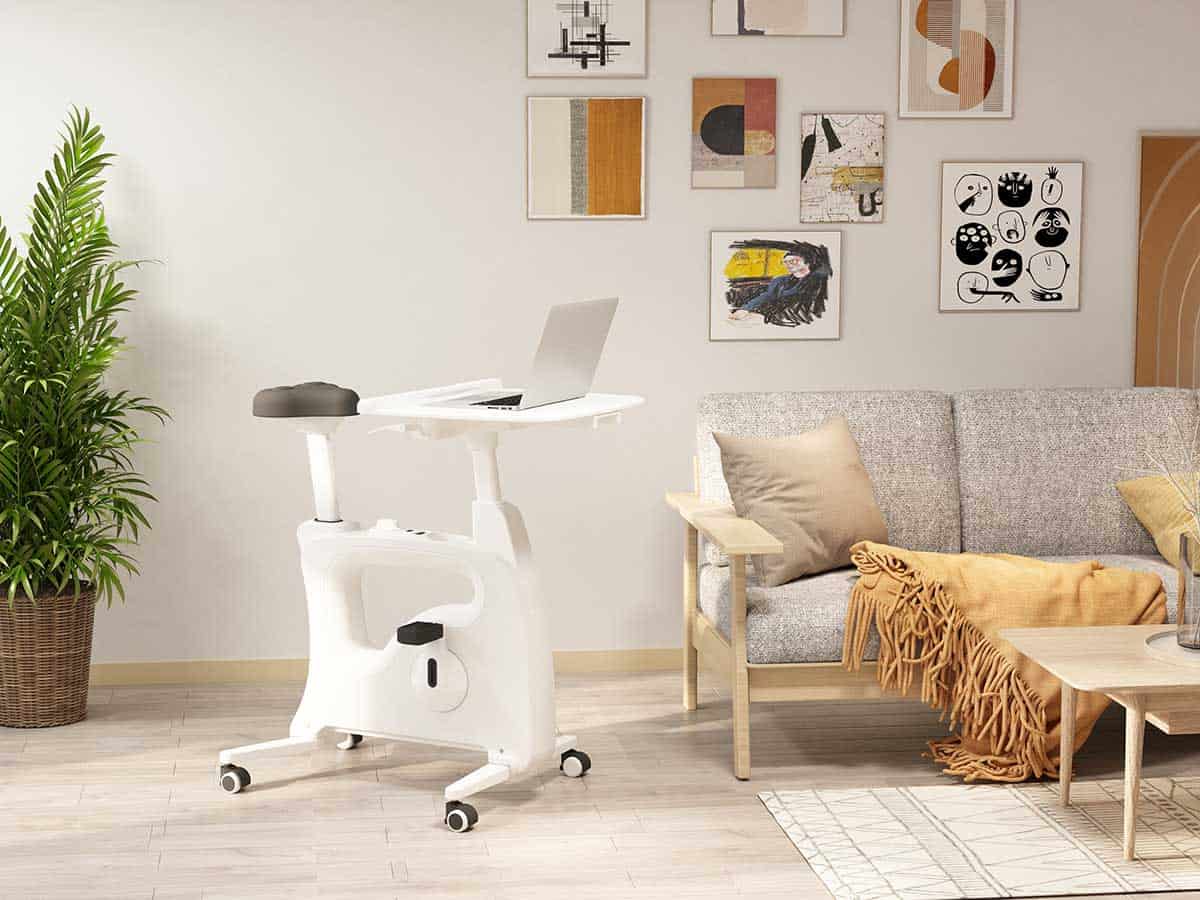 Have you ever heard of under desk bikes? Made to fit under standing desks, they are part of a new wave of seriously cool 'remote working' products that aim to help us stay healthier at work.
Intrigued? Let's dive in and see what this standing desk cycle is all about!
Pros and cons
First of all, at a glance, here's my take on the good and the bad points of this exercise bike work station:
Pros
Easy assembly
Low noise
Decent price
Doesn't take up a lot of space
Portable
The wheels lock when you sit on the saddle – a very cool feature
The cupholder is a nice little touch
Cons
The desktop wobbles a bit while in use
The desktop doesn't tilt, which would be good for reading books or watching videos on a tablet, for example
The 136kg (300lbs) weight capacity is less than some of its competitors
What is the FlexiSpot Desk Bike?
The Flexispot Deskcise Pro is an intriguing hybrid: half desk, half exercise bike. It gets you moving while you work, designed for low-impact exercise to keep you energised and focus during your workday.
Why would I need one?
Well, speaking for myself, I've noticed that when I stand or sit for a long period of time, my hips and my legs feel tight and stiff.
That's why this desk bike interests me. The idea of continuous motion while working, keeping my muscles and joints moving while getting my blood flowing seems it'll improve my overall health and flexibility.
Anything to avoid those aches and pains from sitting still all day long!
While a desk bike is great to keep the blood flowing, it's definitely not on a par with an exercise bike. If you're all about getting super fit and losing weight, I'd say it would be good in addition to other forms of exercise, rather than the main method.
However, when it comes to light cardio, burning calories, getting those legs moving during the working day and generally staying healthy, a desk bike is a great idea.
What should we be looking for in a desk bike?
A desk bike doesn't need to compete with an exercise bike. There's no point in having a thousand settings and a billion biometric sensors. In my view, all we need is:
Simplicity – a few easy to understand settings and easy assembly is really important
Low-noise – as you'll be working while sitting on the desk bike, it's crucial that the movement of the pedals is quiet
Comfort – chances are, you'll be on the bike during the whole of your working day. So, comfort is key
Build quality – you'll be getting a lot of use out of your desk bike, so it needs to be durable and well made
FlexiSpot Deskcise Pro specs
Color: White, Black
Desktop size: 20″ x 22.8″
Bike size: 37.6″ (L) x 22.8″ (W) x 42.5″-48.4″ (H)
Height adjustable seat range: 29.6″- 37.2″
Ideal fit for people between 5'1″ to 6'2″
8 levels of magnetic tension resistance
Weight capacity: 300 lbs 
Shipping weight: 89 pounds
Batteries: 2 AA batteries required
UK
Bag a bargain by visiting FlexiSpot's Special Deals, which is constantly updated.
2022 Special Offers
Get £100 off if you buy a Fitness Bike. Just use this code:
Buy up to 2 Monitor Mounts and receive 10% off.
Buy a maximum of 2 Office Chairs and receive 10% off.
---
USA
Keep an eye on Deals of the Day and don't forget to use this code to get $15 off!
FlexiSpot Desk Bike review
Unboxing
My FlexiSpot Desk Bike was delivered in a huge box! I mean, I don't know what I was expecting, but it took me by surprise just how large the package was. It was easy enough to open though.
Another thing that struck me immediately – from a customer satisfaction point of view – was that there was a customer helpline number on the box. In an age of email only customer service, it's a nice touch and gives you confidence and a little extra peace of mind from the get-go.
Assembly
I've got to say, I haven't had great experiences when it comes to assembling large pieces of equipment. Whether it's the other standing desk I reviewed previously – the FlexiSpot L-Shaped Adjustable Desk – or various exercise bikes over the years, assembly has not always been easy.
Happily, that's not the case with the FlexiSpot Desk Bike.
It basically comes in two parts. The actual bike and an optional desk. If you already have a standing desk, you can simply place the bike underneath the existing desk and get spinning. But if you get the desk, your options are endless and can be used in pretty much any room – bar perhaps the bathroom!
Assembling the bike is incredibly easy. It's pretty much already assembled – it's just a case of popping out each leg and clicking into place, then attaching the desk. Each leg has a pin that secures it in place. You just need to push the pin back in to return the leg to the inward position. Super simple!
Each pedal is tucked in flat against the frame of the bike. So, all you need to do is snap it up into place.
There's also a separate small bag that contains an Allen key (hex key, for tightening the desk bike connector screw to decrease wobbling), pedal covers, a cup holder mat and a pair of AA batteries.
The batteries slot into the little battery compartment underneath the cupholder – so, slot them in before you attach the cupholder mat.
The pedal covers are easy to slip on. They're mainly for using when you're in bare feet or socks and give you extra padding. A nice little feature.
The LCD Display
FlexiSpot Desk Bike's display is pretty simple and basic. It turns on automatically when you start pedaling and turns off when you stop pedaling.
The display screen shows a few different activity readings:
Scan – this setting flicks through the other settings at 5-second intervals
Timer – you amount of time your spent pedaling
Speed – your top and average speed while you were pedaling
Distance – the distance you would have cycled if you were on a real bike
Calories – the total number of calories burned
Odometer – the all-time total distance you would have cycled
RPM – the wheel speed
When you click the button below the display, you cycle through the activity readings above.
Pedal resistance dial
The FlexiSpot Desk Bike comes with adjustable resistance and this nifty little dial is what you use to adapt the settings.
There are eight resistance levels, from -1 (no resistance at all) all the way up to 8+ (like pedaling up a San Francisco hill). Honestly, the resistance dial is tight yet slightly rickety to operate.
The higher resistance levels are definitely not conducive with working. There's no way I'm getting anything done while pedaling on the 8+ setting. These top settings seem to be more suitable for using while watching TV, or other passive activities.
Adjustable desktop
The desk is big enough for a laptop and notebook (20″ x 22.8″) and is very easy to adjust. There's a lever you can use to slide it backwards and forwards to adjust it for yourself in the optimal ergonomic way to hit that sweet spot for maximum comfort.
That said, it would have been nice if the sitting desk itself could be slanted at different angles, e.g. for reading books.
Another good feature is the wrist pad on the desktop. It's perfectly placed and is firm enough, with just the right amount of give to bring that extra level of comfort while typing.
As it's an all-in-one standing desk and bike, you can even use the Flexispot Deskcise Pro as a standing desk. You can just stand on the other side of the desk and work while standing.
The desk height is suitable for pretty much everyone – it's easily adaptable, whether you're 5 foot tall or over 6 foot.
Adjustable bike seat
The FlexiSpot Desk Bike seat is really easy to adjust – you just need to press the seat lever upwards and set the seat to your preferred height. Not only is it adjustable on a vertical axis, it's also adjustable on a horizontal axis. So, getting the perfect seat placement is easy.
The seat is really comfortable, thankfully. Soft enough, but with just the right amount of firmness. A comfortable seat is pretty much essential, as far as I'm concerned, considering I spend a lot of the day at my desk. Luckily, FlexiSpot have nailed it.
Build quality
This desk cycle is really well made from a combination of hard plastics and heavy duty metal. The pedals are very smooth with minimal noise and all the materials look durable. The FlexiSpot desk cycle has a weight capacity of 300 lbs.
Portability
What makes this standing desk bike extra handy is the roller wheels, which makes it easily portable. You can shift it from room to room without much fuss, whether it's on a carpet or a hard floor.
The wheels are omni-directional, meaning you can easily shift it in the right direction. One very cool feature is that the wheels lock as soon as you sit on the saddle. So, no sliding around while you're pedaling – a great feature for a stationary bike.
Power
It is battery operated and needs 2 AA batteries. Batteries are needed to start it up, but I can't help but wonder whether the design could be upgraded to make it more eco-friendly. So, for example, whether the power you generate can be stored for future use.
One for other future brands, perhaps?
Design
This sit/stand desk bike looks the part. With a white finish and black trim, it's got that sleek modern look, yet it can easily fit into most decor styles and themes. You can also choose a jet black model.
Functionality
In terms of functionality, it's pretty impressive. The all-round adjustability means you can easily tailor it to your height and size. Let's take a deeper look into the functionality of each of the three scenarios:
As a bike
The FlexiSpot Deskcise Pro works really well as a desk bike. The seat is comfortable enough to sit for long periods of time, while different ways in which you can adapt settings and heights make it easy to find your ideal work setting.
On the lower resistance settings, it's easy to pedal and get work done. Higher settings aren't really suited for use during work periods, but are probably best for watching videos or quick bursts of exercise during the day.
As a sitting desk
For moments when you want to take an exercise break, it can also function as a straight forward sitting desk. The comfort of the seat and the fact that you can get the desktop to the perfect height and placement make it easily on a par with a standard desk.
As a standing desk
The fact that you can easily use the FlexiSpot desk bike as a standing desk is a real bonus. Using it as a standing desk is as easy as standing on the other side of the desktop and adjusting it to standing height.
You can even attach the desktop the other way round, to get the full advantage of the wrist support.
Final thoughts
Overall, I'm totally sold on the FlexiSpot desk bike. It's a great all-round exercise bike office desk hybrid that switches between modes in an easy, fluid way.
It functions pretty much exactly as you would hope – with low noise, full adjustability and a high level of comfort. Assembly time is quick and stress-free and it seems sturdy enough to stand the test of time.
It's not perfect. The lack of tilt-function for the desk itself is slightly irritating, as is the slight wobble you get when you peddle fast. Also, I'd love a more sustainable battery function – something that converts the kinetic energy into stored power; although that would probably jack the price somewhat.
It's a great time to get a piece of equipment like this. With more and more of us working from home full time, or at least working in a hybrid model, having a desk bike definitely makes sense.
While it's not going to get you super fit all by itself, it makes a great addition to a fitness routine and will definitely contribute to healthy wellbeing.
UK
Bag a bargain by visiting FlexiSpot's Special Deals, which is constantly updated.
2022 Special Offers
Get £100 off if you buy a Fitness Bike. Just use this code:
Buy up to 2 Monitor Mounts and receive 10% off.
Buy a maximum of 2 Office Chairs and receive 10% off.
---
USA
Keep an eye on Deals of the Day and don't forget to use this code to get $15 off!