Creme Fraiche Recipes
Creme fraiche recipes are so easy to find when it comes to savoury as well as sweet dishes.  In France, creme fraiche is an absolute necessity. You'll practically find it in the pantry of every kitchen because there are simply so many French creme fraiche recipes that call for this ingredient.
Although, creme fraiche might seem like a simple ingredient, it adds a lot of complexity to any dish. You can use it to thicken sauces or soups, use is as a decorative toping, or add it into baked goods. In comparison to sour cream, you can also enjoy creme fraiche alone with a cup of fruit.
Learn all there is to know about creme fraiche in this article and discover new creme fraiche recipes.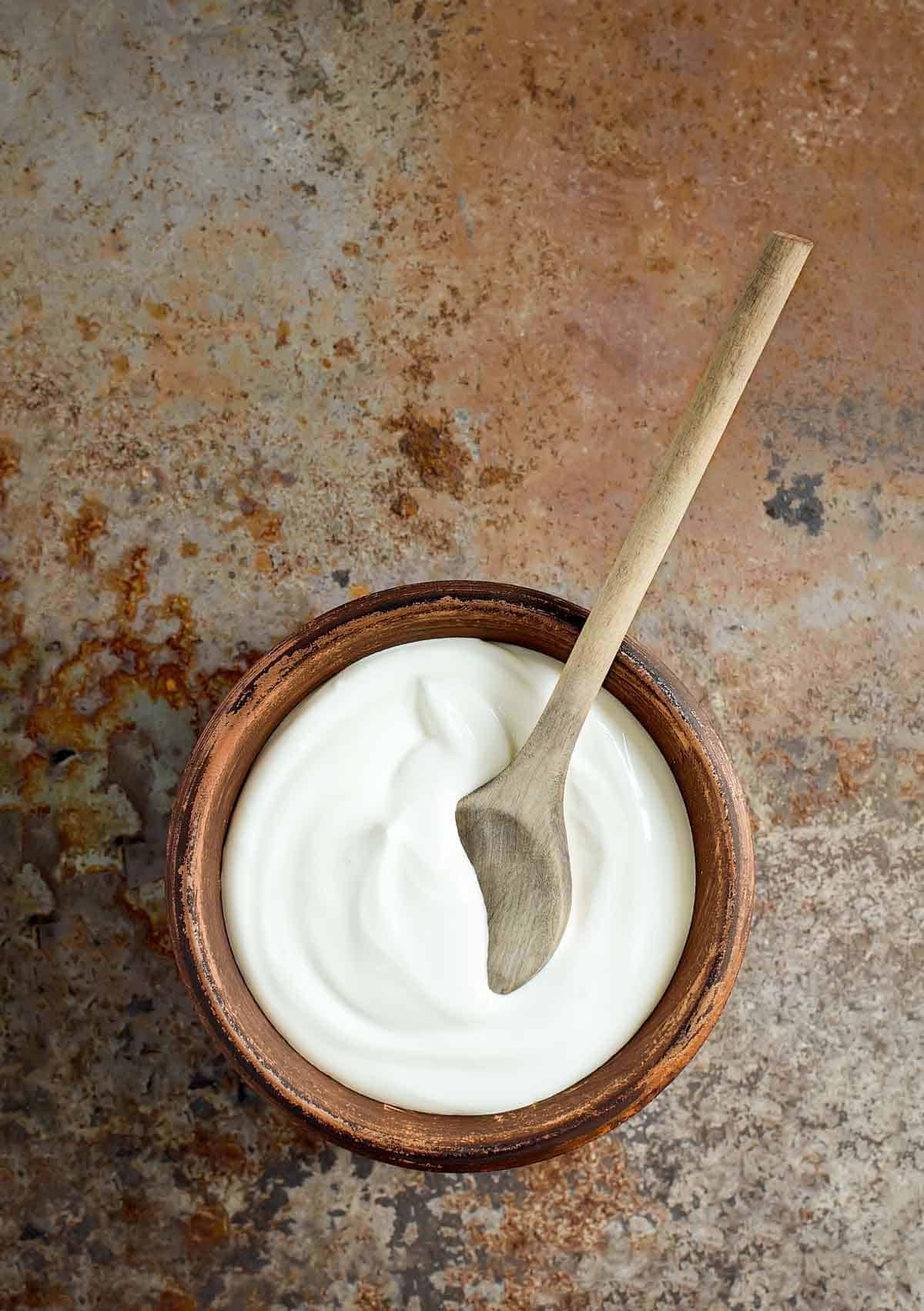 creme fraiche recipes
Generally speaking, creme fraiche recipes are not the leanest nor the most low-calorie recipes out there. When I think of a creme fraiche recipe, I think of rich meals with complex flavours. In addition, my mind immediately goes towards a meal with a thick and creamy consistency. It would be one of those family classics that your mother or grandmother would prepare. Before we explore the vast range of creme fraiche recipes, let's learn all there is to know about creme fraiche.
what is creme fraiche
Crème fraîche, is a soured cream with up to 10-45% of butterfat depending on the variety. Oftentimes, you serve it over fruit - my favourite variation is with fresh peaches or strawberries. In addition, you can also add a spoonful on top of a savoury appetizer. Also, you can add it to soups, use it to thicken up sauces or add it into baked goods. For example, you can add creme fraiche into a quiche or a delicious French soufflé. Hence, crème fraîche is must-have ingredient when it comes to your pantry because it serves both savoury dishes as well as desserts.
The literal French definition of creme fraiche is 'fresh cream'. However, in France the definition of creme fraiche is more complex because there are many varieties. Basically, creme fraiche is a fermented cream. This allows natural bacteria to thicken it up and give it a lovely tangy taste. Think of the taste as a lighter yet more delicate sour cream.
different types of creme fraiche
Different types of creme fraiche, serve different purposes. For instance, check out the following varieties:
creme fraiche - generally speaking this refers to a thick and fermented cream. This is the most common one. If you live in France or Canada, your creme fraiche recipe might be even more specific.
creme fraiche epaisse or fermentee - a very thick cream. It has the appearance of sour cream, but it's not the same. It is best used in sauces, gratins or desserts. You can store it a few days in the fridge.
creme fraiche fleurette  - this is the perfect creme fraiche if you would like to make Chantilly or whipped cream. It's not pasteurised, therefore its storage life isn't too long. You can  add it to thicken up sauces, soups - even serve a drop in your morning coffee!
creme fraiche liquide  - this is a pasteurised cream. This means you can store it unopened in your cupboard for ages. Once you open it, it lasts only a few days in the fridge. Use it in the same way like creme fraiche fleurette.
low-fat creme fraiche - you will only find this variety in the US or in some parts of the UK. This means that the cream contains roughly 15% fat content.
history
In general, there are debates amongst historians about the origin of creme fraiche. However, no region in the world is as credited for its invention as is Normandy. The town of Isigny-sur-Mer in Normandy is one of the most famous places on the planet for the quality of their creme fraiche. As such, creme fraiche actually is the only cream in the world to have an (AOC), or appellation d'origin contrôlée which was received in 1986.
creme fraiche substitutes
There are a handful substitutes you can consider for your creme fraiche recipes. These are:
- Whipping cream
- Sour cream
- Greek Yogurt
- Heavy cream or double cream
- Single cream
- Buttermilk
creme fraiche vs sour cream
Although these two creams are very similar, they differ in taste and consistency. Creme fraiche usually contains a higher fat content (ranging from 10-45%), but generally it contains 30%. In comparison to sour cream, it also doesn't contain any thickeners. Hence, creme fraiche is thicker and richer in terms of flavour.
Sour cream only contains approximately 20% of fat. Ordinarily, it tastes more tangy and sour. Also, unlike creme fraiche, it contains renin, gelatin and some enzymes to make it thicker.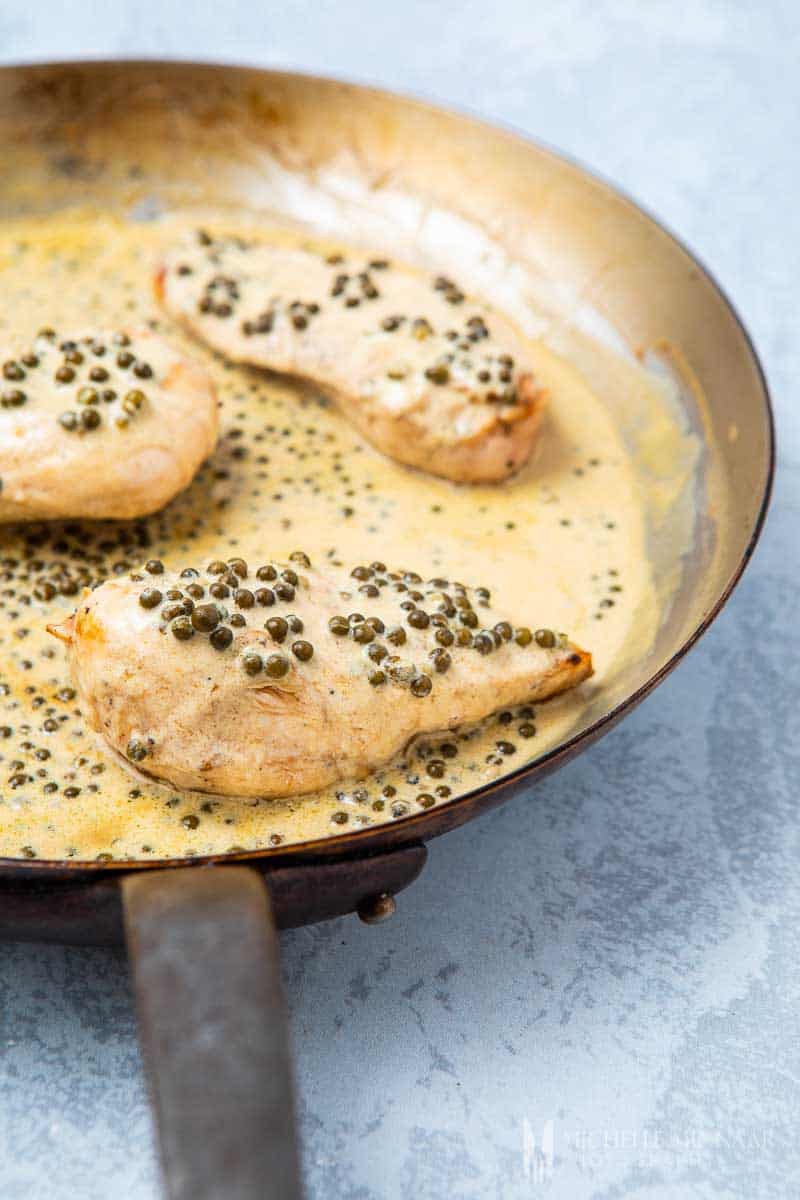 where to buy it
Today, you can purchase creme fraiche in almost every single supermarket. You might not be able to source the other types of creme fraiche though apart from France and Canada. In case you need a fleurette or some of the other types, I urge you to look online.
savoury creme fraiche recipes
There are so many savoury dishes you can prepare with creme fraiche. For instance, you can consider making a chicken dish with a creamy green peppercorn sauce out of creme fraiche. You can also use it to flavour a soup and make it rich and creamy like this one. You can also add it to thicken up a delicious creamy pasta sauce.
creme fraiche recipe dessert
On the other hand, you can also use creme fraiche to make a silky smooth panna cotta recipe. Moreover, you can always use creme fraiche alongside a fantastic cake or fruity crumble. With creme fraiche being such a versatile ingredient, your options are in fact endless.
Just check out some of these creme fraiche recipes below for some inspiration.