Onion Recipes
Some onion recipes are age-old recipes which have been around since ancient times. It's funny to think about what the world's finest cuisines would look and taste like if we didn't have onion. In my opinion, onion is one of nature's most underrated ingredients. We don't even realise just how much flavour and impact a single onion can have in a savoury recipe.
That being said, there are a few onion recipes which are adored by most people. Sometimes, the onion is at the centre of the recipe, while at other times onion is used as a complementary vegetable. In either case, there are a vast number of onion recipes which call for this humble ingredient, whether it be in soups, tarts, Asian or Indian curry, bhajis (Indian street food), simple omelets, stuffing recipes, pies and much more.
Onion recipes can differ but they are all equally delicious. Discover more onion recipes here and learn all there is to know about the onion.
onion recipes
Most onion recipes are made with the common onion, which is also known as the bulb onion. The onion itself is a close relative of these vegetables: garlic, chives, leeks or shallots. The term 'onion' is derived from the Latin word 'cepa'.
Other names you might recognise as a reference to onion:
cebolla - in Spanish
cipolla - in Italian
cerapa - in Romanian
qepe - in Albanian
cibule or cibule - in Slavic languages
kapia - in Greek
It's a fact that the earliest traces of cultivating onions are roughly 7,000 years old. Today, onions are cultivated all around the world. I am sure that many of us (those who have garden) have even tried to grow this plant.
Typically, an onion plant grows anywhere from 15-45 cm (or 6-18 inches). The leaves of the onion are flat, while the colour is greenish to yellowish. The part of the onion that is consumed is the root or the bulb. The bulb is fleshy inside, containing a cylindrical shape with a flattened side.
When it is time to harvest the onion, the leaves wilt. In addition, the bulb dries out – a sure sign that the onion is ready for harvest.
In terms of flavour profile, onion is quite acidic (as it has a pH level of around 5.5). Nevertheless, onion is known for its sharp and distinct flavour, with some varieties being less pungent than others.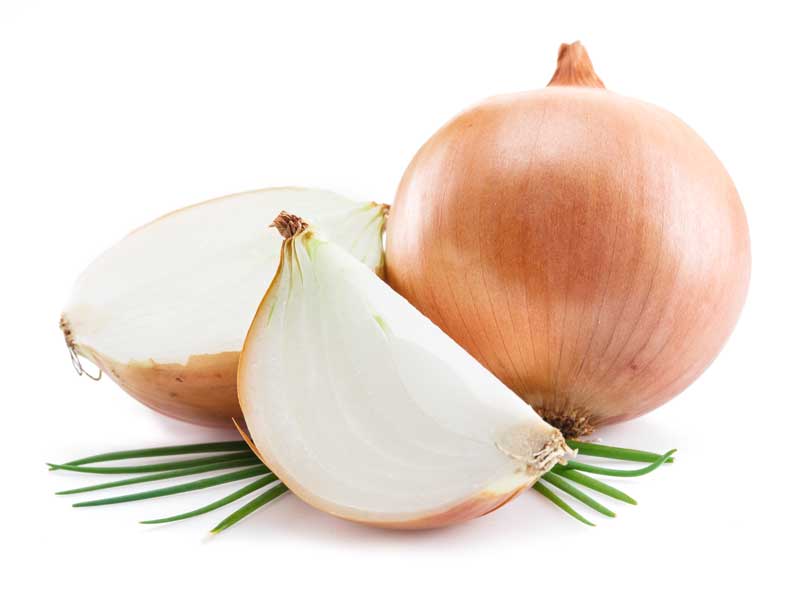 how to make onion recipes
Here's a list of things you might need to make your delicious onion recipe.
onion powder - onion recipes can also be created with onion powder (especially when it comes to Indian cuisine).
manual food chopper - cuts your preparation times in half.
onion keeper - you wouldn't want your onion to stink up your fridge. This is the perfect way to prevent that!
fried onions - can be used as a topping
onion goggles - if you've got sensitive eyes like me and tear up every single time
vegetable cutter - this machine is handy for all sorts of vegetables
bag of pickling onions - actually these are quite hard to come by
pickled onions - in case you need that extra acidic-savoury flavour in your recipe
onion chutney - can be useful just like this carrot chutney
history of the onion
Did you know that archaeologists are unsure of the onion's origin? This is because the wild onion went extinct centuries ago. In either case, it is argued that it is very possible that onions originated in Iran, the Indian subcontinent or Central Asia. This is because the cuisines from these parts of the world feature plenty of onion recipes.
As mentioned above, the earliest traces of onions appeared roughly 7,000 years ago in China during the Bronze Age (approximately at 5,000 BC). Next, onions were found in Egypt, to be used as a symbol for eternal life and as one aspect of the mummification process. Believe it or not, sometimes onions were placed instead of the eyes in actual mummies. For example, the eye sockets of the mummy of Ramesses IV had contained onions.
During the Roman era, onions were used for medicinal purposes as they were believed to heal all sorts of conditions. For instance toothaches, headaches, dog bites, and more. In addition, the Romans also had many onion recipes, as the onion was considered a gourmet ingredient. Quite a difference from our notion of the onion, I'd say.
Between the 14th-16th centuries, onions were brought into the New World by European explorers. It is possible that the onion was amongst the very first crop to be planted by the explorers in the Americas.

types of onions
In general, there are three types of onions and you can make onion recipes with any type of onion you have available.
Yellow or brown onion - the everyday onion. Sometimes, they almost turn a reddish colour. Nevertheless, when you caramelise them, they have a rich and intense savoury-sweet flavour. They can be used in practically any onion recipe.
Red onion -  is usually the top choice when it comes to eating raw onion. It can also come in a purplish colour. Best used in salad like this Greek salad or Mediterranean salad.
White onion - is heavily used in Mexico because of its sweet flavour. Usually, you find it in sauces like this pico de gallo recipe, where red onion is also an excellent alternative.
how to use onions
In short, you can cook, bake, grill, roast, boil, braise, fry and deep-fry onions. Also, you can consume them raw, if they aren't too sharp. Typically, onions are one of the main ingredients used in the making of hearty savoury dishes like this lamb and haricot bean stew or this beef stroganoff.
Sometimes though, they are used as the hero ingredient. As for instance, in a French onion soup, caramelized onions or onion chutney.
In addition, you can use onions in brines to create additional flavour. For instance, you can toss them into the brine solution and make brined chicken thighs, brined chicken breasts or brined chicken drumsticks.
Next, you can pickle them or add them to pickled recipes like this courgette pickle or pickled daikon.
Do you have a favourite way of cooking with onion?
types of ingredients which pair well with onion
Since onion is such a versatile ingredient, I'm sure you expect this list to be quite extensive – and it is! Plus, since onion is aromatic, it is paired with many items. Let's start with the basics.
any type of meat (red to white) - in stews and pies, or serve sautéed or caramelised onions on top of the meat
fish - onions are an excellent topping
garlic - sautéed together, they form the base of stews, soups, curries and pies
cream and butter - sautéed, they release a subtle sweet flavour
mushrooms - a heavenly combination with butter as well
fresh herbs - mint, parsley, coriander, rosemary, basil, oregano and more
The fact is, onions go with almost everything.

7 best substitutes for onions
Here are the top 7 substitutes for onions, which you can use for making your onion recipes:
shallots - more aromatic than onions, hence excellent for sauces
scallions - the thinnest and youngest, with a subtle sharpness
green onions - contain larger bulbs
spring onions - generally have a round bulb; similar taste to onion
Chinese onions - excellent in soups or in toppings
leeks - sweet but sharp
chives or these chives substitutes - still contain that peppery and subtle pungent flavour
10 Best Onion Recipes
Check out these fantastic onion recipes, ranging from different cuisines from all over the world. I am sure that are going to find your favourite onion recipe here.
sweet onion recipes
Sweet onions are perfect for onion recipes where you consume onions in their raw form. For instance, you can try these recipes:
Toss them into a creamy salad olivieh for extra crunch
Add them into this pear and rocket salad
Include them in a homemade wrap like this halloumi wrap with creamy carrot salad
Pair them with a seared tuna salad
onion recipes indian
In Indian cuisine, onions are used to make the curry base sauce, and they are added into curry (simmering until they soften). You might come across these types of onion Indian recipes:
Mixed vegetable curry - a vegetarian Indian curry
Beef kofta curry - a spicy and rich curry
Lamb pasanda - a creamy and spicy curry with lamb
Bhajis - popular Indian street food which can be made solely out of onions
red onion recipes
Red onions can be eaten raw as well since they are not as sharp as yellow onions. I enjoy them best raw or sautéed. Try these red onion recipes:
Spiced butternut, chickpea, red onion and raisin couscous - add as many red onions as you please
Brie sandwich with chicken, pear and balsamic onions - excellent with the acidity and savoury flavours of the onions
Minted lamb burgers - add a layer of onion in the burger for extra crunch

yellow onion recipes
Again, yellow onions can make up practically any onion-based recipe. I suggest using yellow or brown onions in soups, stews, roasts and in baking. This way, the sharp flavour cooks off and turns into a subtle sweet flavour.
Under any circumstance, I wouldn't recommend eating raw yellow onion before an important meeting!