Not one, two or three alarms but FOUR were set to wake me up on the day at 3.15am. No, I have never heard of obsessive-compulsive disorder. I only checked that my passport is in my bag something like ….uhm….twenty-four times. After having struggled so much with just obtaining a visa the last thing I wanted to do was blow this trip by oversleeping. For those of you who wondered which alarm won, it was my old-fashioned clock, which rang FIFTEEN minutes early. There was no time to ponder about how I am possibly going to cope on four hours' sleep; I had a train to catch!
The trip to King's Cross St. Pancras station went off without a hitch. When I arrived at the foot of The Meeting Place a few bloggers were already gathered. At last I got to meet the faces behind these excellent blogs!
We were lucky. Eurostar has treated us to the Leisure Select service and I didn't miss any Economy "Make Me Feel Like A Fat Cow" Seats one bit. Two rows of seat shared tables between each other and the trays placed on top were nifty enough to stay where they are. (Terrible memories come to mind when I think of plane flights, turbulence and food.)
For breakfast we had a choice between Organic Irish Smoked Salmon with Fresh Potato Blinis and Red Onion & Dill Crème Fraîche or Spinach and Ricotta Crêpe with Cumberland Sausage, Sliced Field Mushrooms, Cherry Tomatoes and Diced Potatoes. Also included was organic yoghurt, bread, pastries and fresh orange juice.
Disappointingly, by the time the waiters reached our table they have run out of the Smoked Salmon course. The portions also seemed miniscule. The sausage breakfast ended up being a good option; the portion size was decent and as far as "travel" food goes tasted surprisingly good. I could not fault the rest of the service.
In what feels like five minutes we arrived at Lille. (Travel time is about 90 minutes.) It is the fourth largest city in France and the capital of Nord-Pas de Calais region. The name Lille, the old name "L'Isle", comes from "insula" or "l'isla" since it was at one time marshland.
Do you see those round, grey things? They are Austrian cannonballs that remained stuck in the façade.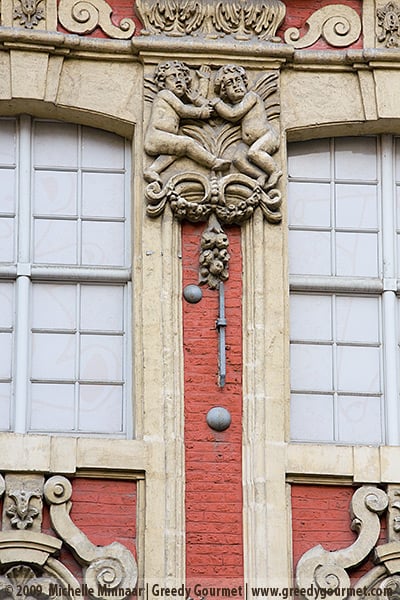 We had a peek in the world-famous chocolatier's shop, Benoit Nicolay.
The smell of freshly baked bread wafted through the air, down the street and up our nostrils. Would you be surprised to learn that there was a sudden stampede in the narrow street?
Pile upon pile of beautifully baked bread awaited us.
The back of the shop had glass windows where you could enjoy your very own food porn peepshow. Mountains of meringues and heaps of grated chocolate lured the bunch of us to simply stare and appreciate from a distance while the staff inside continued with their chores.
A macaron is one thing I haven't tried up now. With my nose constantly in cookery books, I have noticed there are ample recipes out there but how would I have know my creation is actually successful? Here's a clue; first try the macaron produced by the masters and then create my own. This works for every classic dish/recipe. (Macarons from Patrick Hermand.)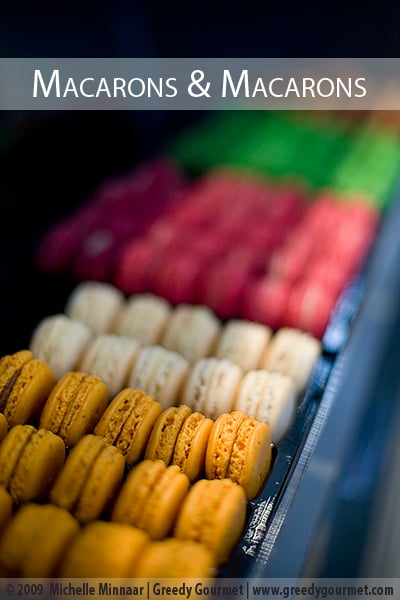 Aren't these desserts just impeccable?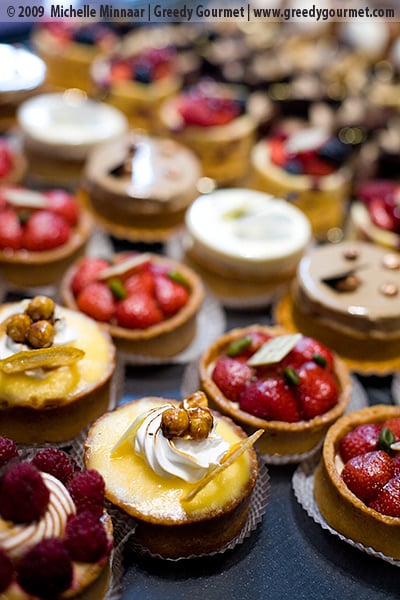 Suffice to say every shop's floor had to be mopped up after we left, having salivated over their creations.
After walking around for a few hours, we worked up quite an appetite. Time for tea!
To be continued…