Recently I stayed at The Gibson Hotel on a press trip to Dublin.
Having opened its doors in July 2010, the place still has a "new" feel to it. By European standards the rooms are very spacious and have full en-suite bathrooms. Standing on the balcony, you could see that the recession hit Ireland hard and there are plenty of unfinished buildings in the vicinity which is a tragic and depressing sight.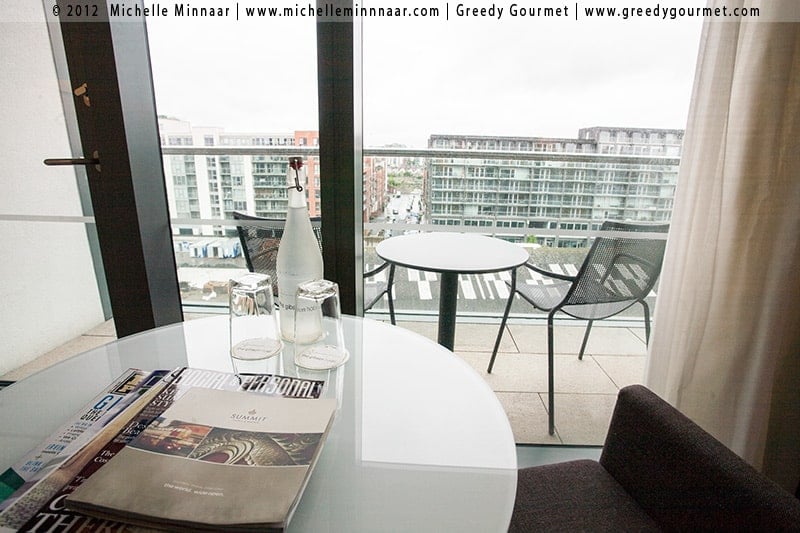 Instead of dwelling on our economic woes one of life's perfect distractions is abundantly available – the internet. When you check in you receive a card with a username and password and if lo and behold your wifi quota runs out you can simply go to reception and pick up another card.
The Gibson Hotel is just 15 minutes from the airport. Right on its doorstep is the Luas tram line, which my taxi driver proudly told me was one of the few modes of transport that actually functioned during that terribly snowy winter a few years ago. This will take you right to the city centre. The O2 is right opposite the hotel so if you're seeing a show, the hotel's location is ideal.
Truth be told, I completely forgot to take photos of the breakfast but it was reasonable. Fresh fruit, smoked salmon, parma ham and other deli meats and cheeses, were available buffet style. Warm foods, such as crispy potatoes and fried eggs, were in closed containers, which are regularly topped up. The only things you need to order from staff are toast and tea/coffee.
I enjoyed my stay and wouldn't hesitate to sleep over at the Gibson Hotel next time I visit Dublin.
The Gibson Hotel
Point Village
Dublin 1
The Gibson Hotel
P.S. I was a guest of Bord Bia – Irish Food Board.