Often in literature, it is mentioned that if you want to feel small and insignificant you should gaze at the stars on a clear night. Truth be told, you don't have to look that far to experience this. Just go out on a boat in the open water. You can do so by taking a trip of a lifetime and go fishing for bonito in Gran Canaria. This was my first ever excursion to try open water fishing. I highly recommend anyone to undertake such an adventure and try something new. As a bonus, the end result is very much enjoyed on a grill with some herbs. Stay tuned for this recipe!
fishing for bonito - tips on how to catch bonito
Trust me, it doesn't matter what size the boat is if you're out in the seemingly endless ocean – you'll feel small in a record amount of time.
Handy tip: Lather yourself with swathes of sun cream because unbeknownst to me at the time, the UV rays are much more extreme in these conditions, which explains why I sported a heavy tan mid-thigh for the rest of the summer. Super sexy.
Another tip: If you're prone to seasickness, read this article on how best to manage symptoms from seasickness.
At the time I loved the radiant sunshine, the gentle bobbing of the boat and the pure serenity of the Canarian waters. This was my first ever fishing adventure and it was fun when Pedro showed me the ropes, err rods, when he set up the fishing gear. A special fishing chair is even installed on the boat to help assist when grappling with a big catch.
Some tips for fishing for bonito include:
To find the fish, you need to look for birds and white water. This is where they will most likely be!
Use a silver spoon (a shiny jig also works) which you can easily cast. Apparently, bonitos like flashy silvery lures.
To work the jig, you need to roll your wrist and reel in.
All in all, just make sure that your lure is very flashy because that's what fishing for bonito is all about.
In the end, we caught three Atlantic bonito, which is a type of tuna found in Canarian waters. If that wasn't an adventure in itself, the absolute highlight was when a pod of dolphins accompanied us as we made our way back to shore. They jumped. They dove. It was as if the dolphins had come out to play, being kindred spirits.
Atlantic bonito fishing in open water
Bonito, or sarda sarda, is a medium-sized fish with very notable blue stripes on its silvery body. It shares the same family as these fish:
Therefore, these fish are the best substitutes for bonito. Most of all, as its name suggests, the name bonito means pretty in Spanish and in Portuguese. Therefore, it is indeed a very pretty fish. Just take a look further down!
Eating-wise, bonito has quite a firm texture and a dark flesh. It is not the leanest of fish and has a moderate fat content. In comparison, the younger bonitos are relatively smaller in size and have a lighter flesh colour. As a result, you can actually use the young bonito as a substitute for the expensive skipjack tuna. Often, someone might refer to the skipjack tuna as oceanic bonito.
In essence, bonitos are predatorial fish and quite swift. Similarly to tuna, they also have a forked tail and a row of very small fins. To learn more information about the bonito fish, click here.
how to catch bonito from a pier
I am not really sure that this works out as one needs to go open water fishing to best find this type of fish. Although, if you've got time on your hands, make sure than you cast the lure as far as possible into the open water.
Also, double check with local authorities whether or not fishing from a pier is possible. Especially, please, also consider the health and safety risks. You never know whether or not there are people below the pier. Hence, exercise extreme caution.
how and where to go fishing for bonito
This excursion was organised by Bohemia Suites and Spa, a 5-star adult-only hotel in Gran Canaria that makes catering to its clientele its topmost priority. It was truly a luxurious stay and gives you those precious moments for yourself.
Just as you can find Atlantic bonito in the Mediterranean and the Black Sea, you can also find it in the warm waters of the Canary Islands. The latter is the place to be if you wish to go fishing for bonito.
After fishing for bonito, chef Juan then gave me a masterclass, during which I learned how to clean and gut a fish from a top chef. Next, I also learned how to cook it with the help of chef Juan.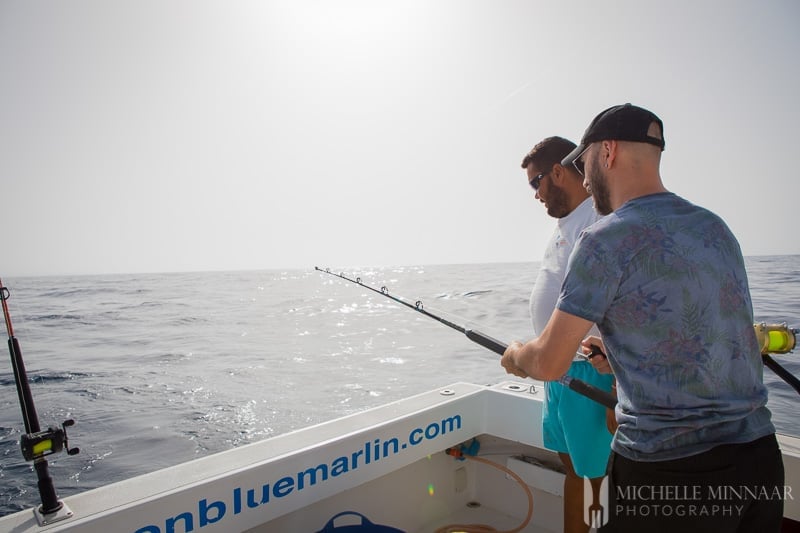 about the fishing for bonito excursion
So, first, we went fishing with a company called Fish On! Fish On! has more than 25 years of fishing experience in the Gran Canaria waters. You can trust these guys to know what they are doing and where to find the perfect spot when it comes to fishing for bonito. In any case, these waters are famous for their stick of tuna and world-class marlin. The boat used by Fish On! is a 35-foot CAT Sportfisher from Alicante, Spain. She can carry a crew of up to 12 people.
The crew, captained by Pedro Betancor, offers you the possibility to experience all types of sea creatures. For example, leaving the port of Pasito Blanco, you'll be able to spot dolphins, whales, turtles, sea gulls, flying fish and more. You will also have the opportunity to experience the power of blue marlin, or catch any kind of tuna: bluefin, yellowfin, longfin, bigfin, big eye and skipjack.
More specifically, you can choose from:
Trolling Fishing: the trolling starts from mid-April to August where you can catch up to 3 billfish in a single day!
Bottom Fishing: you can catch the bottom dwellers such as sea bass, rays, snappers and angel sharks!
Deep Bottom Fishing
You can contact Fish On! here.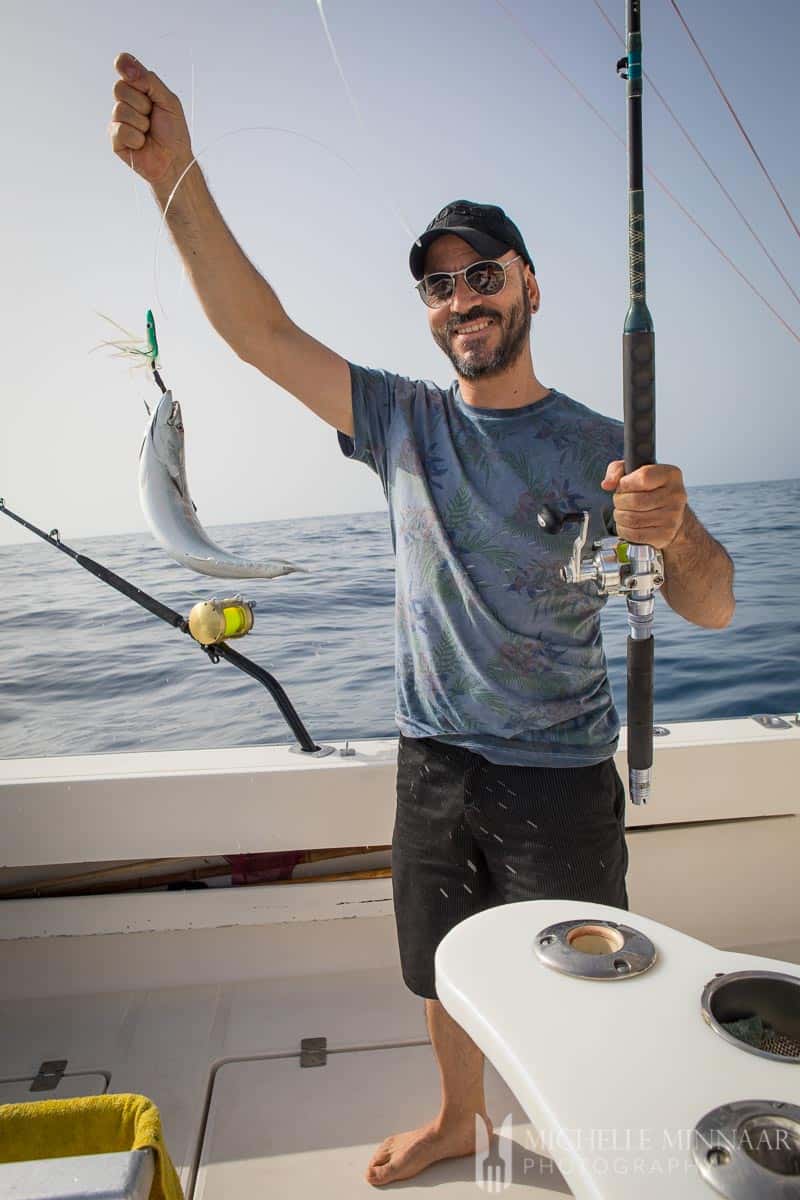 the market excursion experience
A day after the trip, we had another excursion to a famous Sunday food market in the great company of chef Juan from the Bohemia Suites & Spa. He gave us excellent suggestions on how to prepare a delicious grilled bonito recipe and one for grilled wreckfish. It was really fun to explore the different fresh produce available on the island. Overall, this was a fantastic experience. Bohemia Suites & Spa really goes above and beyond when it comes to excursions.
The top 5 excursion requests from their customers include:
Exclusive trip with chauffeur
Helicopter tour
Private sailboat or yacht tour
Buggy tour
Star-gazing
Fishing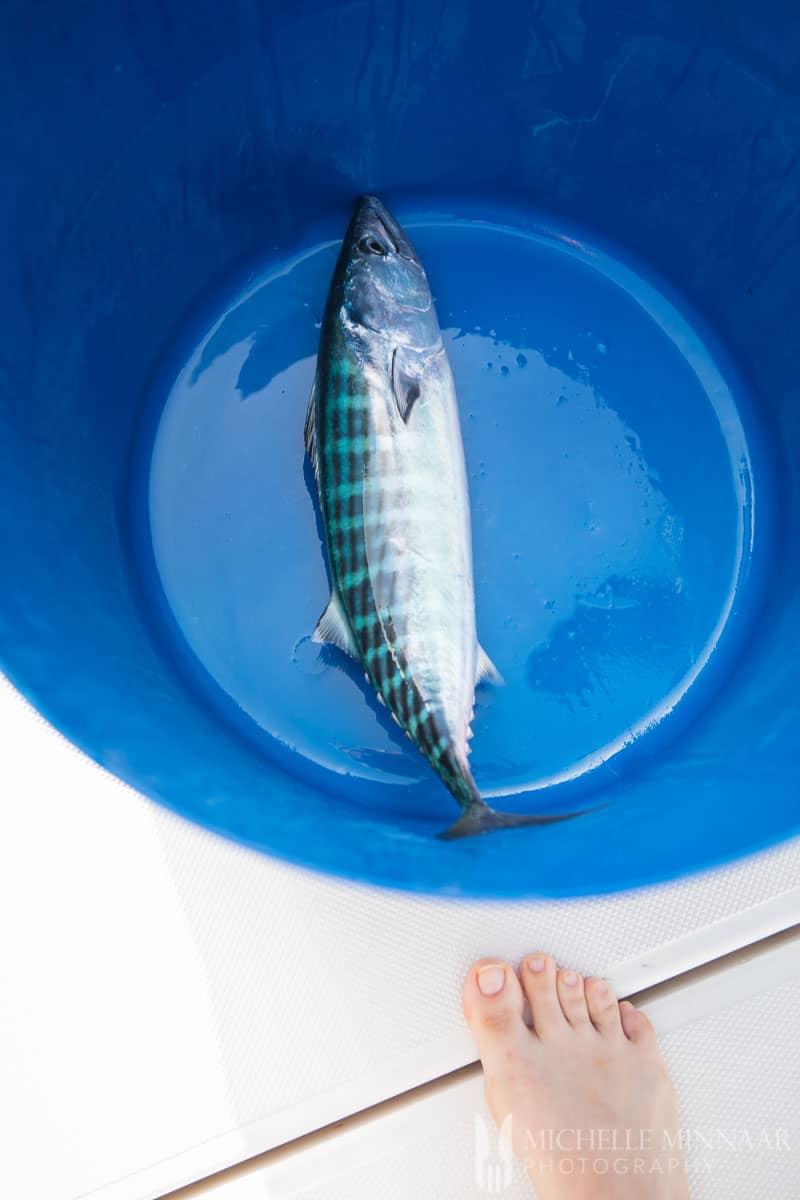 how to prepare freshly caught bonito
Want to know more about what happened to the fish we caught? We cooked it! Stay tuned to find out how to cook Atlantic bonito. It's absolutely a wonderful fish to cook!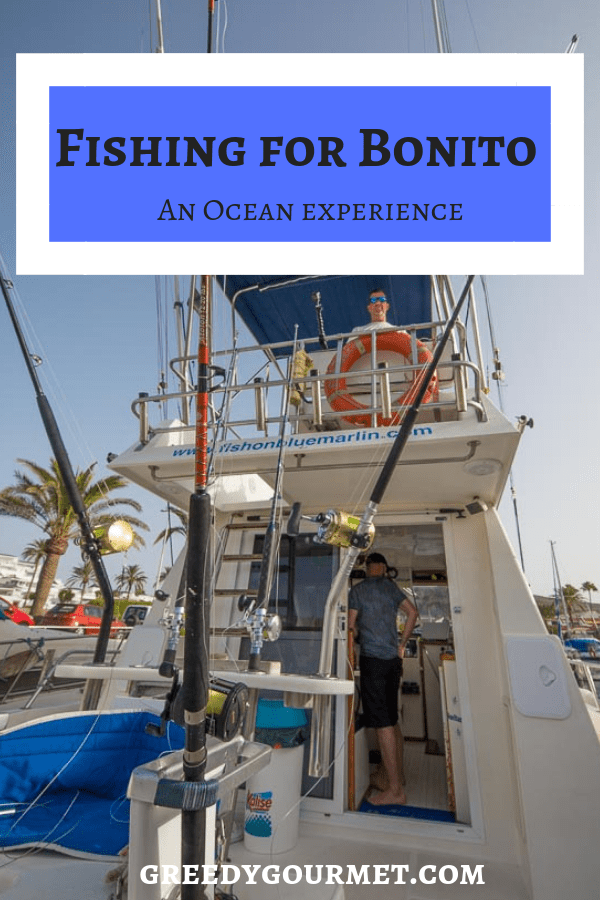 P.S. A special thanks to Bohemia Suites and Spa for making this trip possible.