Find out everything there is to know about Hotel Botanico's weight loss retreat. Its Slim and Wellness programme isn't restricted to just weigh loss though. Find out more about this wellness programme in this thorough, fully illustrated review.
"

Darling

, do you remember that time we went on holiday and had breakfast, a respective three course lunch and dinner every day, AND lost weight?"
Said no one. Ever.
Until now.
From the moment you step into Hotel Botanico you're treated like royalty. Don't know where to park? Park in front of the building and the concierge will unpack your car, park it and return with the keys. Heck, he'll even take your baggage to the room and ask how else he can please you. Upon arrival, a welcome package is waiting in your room for you. A handy booklet also helpfully lays out all the weight loss retreat's facilities, a map, and activities available.
A fully personalised weight loss program
Having arrived at lunchtime, we were swiftly fed at The Slim restaurant and then eagerly awaited our Nutritional Meeting, where we were about to find out what was going to happen to us the next seven days. In the meeting, an in-depth interview is conducted about your lifestyle, needs and goals. You're meant to arrive in a swimsuit and Hotel Botanico's signature bathrobe, which makes things easier when it comes to weighing and measuring inches.
An InBody machine is used to analyse your body composition, which comprises muscle, water, bone and fat. In fact, it spits out a report that breaks down the different regions in your body, guiding you as to which areas you need to focus on. Apparently, my legs needed more strengthening and they were catered to in my assigned personal training sessions.
The meeting for two people took 1.5 hours and it was revealed that I'll benefit most from a daily 1200 calorie diet plan. Below you'll find out everything I ate for the week, and I have calories jotted down in brackets. The stated calories on the menu caters for people on 1500 calories a day diets. However, the kitchen tweaked my portion sizes to fit within my limitations and treat each guest according to his dietary needs.
The Origin of The Slim and Wellness Program
There appears to have taken a global shift towards health consciousness. A lot of people attempt to lose weight before going on holiday, in an attempt to look sexy in a bikini or swimming trunks. While some might go crazy on holiday and splurge on all things decadent, others have started questioning the bizarre logic. Why undo all that hard work? Hotel Botanico's health spa is ideal for the latter party.
Obesity isn't picky when it comes to selecting victims. Whether you're young or old, rich or poor, black or white, short or tall, if you're not careful and conscious of your actions on a daily basis, you risk falling victim to it. Mr. Kiessling is the owner of Hotel Botanico, and multiple establishments in the Canary Islands, such as Hotel Botanico, Poema del Mar, Brunelli's, Siam Park and Loro Parque. For years he has struggled with his weight and in the process of trying out 30 different diets he came across one concept that actually worked for him.
This plan, found in Quiberon (France) devised by chef Patrick Jarno, did not leave him hungry and frustrated. It turned out to be a relaxing holidays paired with weight loss. Happy days. Excited, Mr. Kiessling decided offer a similar type of plan at Hotel Botanico, with the help of chef Patrick. It's available from July 2019.
Spa Treatments at the Oriental Spa Garden
While weight loss might be the main goal for many people, this program is more than just about calorie restriction and exercise. The Botánico Slim & Wellness is about feeling good in your body again, through weight regulation, firming your body, healthy nutrition and digestion. It's aim is for you to recognise your own awareness of health. If you are the master of your body and mind you do not relapse, and fall for the yo-yo trap.
Everything begins with your mind and it takes time to reach this state. Hotel Botánico and The Oriental Spa Garden's aim to give the first impulses for the right direction, i.e. through light meals with natural products, effective treatments and mindful physical exercises.
Weight Loss Retreat's Spa Treatments
What also makes this luxury holiday unique is the addition of spa treatments at this weight loss retreat. The program includes:
CV Reducer Treatment: The treatment increases the temperature of the skin, generating high thermogenic activity and fat burning. All products used are 100% natural.
Seaweed Body Wrap & Lymphatic Drainage Massage: If you're not familiar with these treatments, click on the links to read up more about them.
Subaquatic Bath & Thalgo Reducer Treatment: Underwater massage is a deep massage performed with an underwater jet moving it manually over the body. It is effective for anti-cellulite treatment and weight-loss treatment It also helps improve circulation.
Term Integral Stimulation & Thalgo Reducer Treatment: The aim is to dissolve cellulite nodules and reduce fat. Deep, intensive movements are carried out to restore the muscle tone of the skin.
The collective objective of the treatments are to detoxify, firm up your body, promote weight loss and improve blood circulation. There are four spa treatments included in this health programme but it's best to receive them as early as possible in the week for maximum benefit.
Of course, if you get hooked on lying down and getting pampered, you can book yourself extra therapies. The spa has a plethora of services available for guests to take advantage of. The minimum duration is 25 minutes per treatment, with 50 minutes being average and 80 minutes the maximum. If you really want to spoil yourself you can go for a 120 minute Arctic Ritual, which is a series of treatments of hot or cold to unlock the secret of health the Scandinavians have enjoyed for centuries.
Other spa treatments include: oriental massages, Ayurveda, cellulite reduction treatments, facials and personalised programs. A hairdresser is on standby, as well as standard beauty salon services.
The Best Weight Loss Retreat
Below you will find everything I ate for the week. No cheating!
Breakfast
A menu is delivered to your room on a daily basis with a bunch of checkboxes, neatly grouped in different categories according to type of food. I ended up having the following:
Egg

Smoked salmon

One slice of bread
All of this amounted to roughly 350 calories. The rest of the days' meals were completely different, as you'll find out below.
There are worse ways to start the day, aren't there? What I didn't mention was that you on the weight loss retreat's menu card you also state when you would like your food to arrive. Each morning, on the dot, there was a quiet knock on the door, and magically our food rolled in. Since the table could be wheeled around, we had the choice of staying in the comfort of our air conditioned room or enjoy the stunning views on the balcony outside.
On most days, the fruit platter was a showpiece by itself and the highlight of breakfast. With Hotel Botanico situated in a balmy location such as Tenerife, you can be certain that you'll be served with perfectly ripened fruit. Admire the array of colours!
While carbs were mostly off the menu on the diet program at this weight loss retreat, it was offered for breakfast and we were even encouraged to have a slice of bread to charge us up for the physical training ahead of us. Wholegrain mustard spread on the toast cut through the richness of the protein and starch combination. The concoction landed with a delightful thud in the stomach as we readied ourselves for the day ahead.
To clarify, you could change your breakfast every day and swap numerous elements on the plate. Of course, you can be like me and stick to your favourite combo!
What follows look nothing like diet food. This certainly blows up the misconception that you have to live off poached chicken and lettuce to lose weight and live a dull food-life.
Lunch and Dinner at The Slim Restaurant
Hotel Botanico boasts four restaurants, of which The Slim is one. The latter isn't strictly dedicated just for guests who signed up to the wellness programme and members of the public are welcome to enjoy less calorific meals as well. At the entrance there is an open kitchen where you can watch chefs prepare your food with painstakingly precision because it's hard work to make food look so pretty!
The menu items in bold all have photos in this article. While I've tried to insert photos as closely to the corresponding titles, it proved to be tricky, so have fun playing matching game.
Day 1
We arrived at the weight loss retreat at lunchtime and did the following:
Lunch at The Slim
Nutrition Interview
Aromatherapy room – 15 minutes
Steam room – 15 minutes
Dinner
LUNCH
Oyster tartar (130 calories) – one of my favourite starters
Roasted Lamb in gravy, stuffed with aromatic herbs and garlic, served with cherry tomatoes and ratatouille nicoise (320 calories)
Vanilla Panna Cotta with red fruit marmalade (145 calories) – not the best, 0% fat cheese made the panna cotta too thick
DINNER
White asparagus with mousseline sauce (80 calories)
Fillet with ratatouille nicoise (340 calories)
Fruit salad with dried fruit ice cream (140 calories)
Day 2
Putting course (40 minutes)
Tennis (1 hour 15 minutes)
Steam Room (15 minutes)
Sauna (15 minutes)
Spa treatment (80 minutes)
LUNCH
Grilled giant prawns with creamy fennel marmalade (170 calories) – another favourite
Stone Bass with cider vinegar and peppers (170 calories)
Tarte Tatin (160 calories)
DINNER
Fish soup (120 calories)
Mustard-crusted cod with spinach and sabayon (170 calories)
Amandine pear (190 calories)
Day 3
Personal training (40 minutes)

Qi gong (50 minutes)

Tai chi (50 minutes)

Aqua gym (30 minutes)

Spa treatment (80 minutes)
LUNCH
Fish rillettes, tender sprouts and balsamic vinaigrette (150 calories)

Beef tenderloin with bordelaise sauce (102 calories)

Pear in wine (128 calories)
DINNER
Shrimp Cocktail(80 calories)
Sea bass with saffron and fennel sauce and carrot mash (238 calories)
Raspberry au gratin (132 calories) – favourite dessert
Day 4
Personal training (50 minutes)
Stretching (50 minutes)
Yoga (1 hour)
Pilates (50 minutes)
Spa treatment (80 minutes)
LUNCH
Salmon tartar with chives cream (150 calories)
Turkey skewers with apple and sour sauce served with shiitake in raspberry, vinegar and grilled tomato (352 calories) – deceptively little meat, only four cubes, the others are chunks of apples
Red fruit and meringue cup (55 calories)
DINNER
Vegetable salad with sweet and sour sauce (90 calories) – a surprisingly big portion for the small amount of calories.
Steamed pollack fillet with vegetables, cream and stuffed zucchini (210 calories)
Kiwi soup with mint (150 calories)
Day 4
Personal training (50 minutes)
Stretching (50 minutes)
Yoga (1 hour)
Pilates (50 minutes)
Spa treatment (80 minutes)
LUNCH
Salmon tartar with chives cream (150 calories)
Turkey skewers with apple and sour sauce served with shiitake in raspberry, vinegar and grilled tomato (352 calories) – deceptively little meat, only four cubes, the others are chunks of apples
Red fruit and meringue cup (55 calories)
DINNER
Vegetable salad with sweet and sour sauce (90 calories) – a surprisingly big portion for the small amount of calories.
Steamed pollack fillet with vegetables, cream and stuffed zucchini (210 calories)
Kiwi soup with mint (150 calories)
DAY 5
Gym (50 minutes)
Qi Gong (50 minutes)
Tai Chi (50 minutes)
Spa treatment (80 minute)
LUNCH
Botanico-style salad with vegetable vinaigrette (140 calories) – this was more like the quintessential diet food I'm used to
Cordon Bleu beef fillet with shallot sauce and turnip cream with spices, served with baked endives (310 calories) – pork was accidentally served to me, whoops
Pineapple and nuts dessert (155 calories)
DINNER
Cold cream soup of Andalusia (75 calories)
Baked sea bass supreme with raspberry vinegar sauce and broccoli parmentier (223 calories)
Liege chocolate (130 calories)
DAY 6
Gym (50 minutes)
Stretching (50 minutes)
Yoga (50 minutes)
Tennis class (45 minutes)
Walking (20 000 steps)
LUNCH
Cuttlefish in American sauce (155 calories)
Quail stew with a vegetable brunoise and versus sauce, served with sautéed mushrooms (310 calories)
Orange souffle (90 calories)
DINNER
Watercress cream soup (82 calories)
Steamed tuna fillet with herb aroma and fennel fondue (285 calories)
Fresh fruit salad in own juice (85 calories)
DAY 7
I took a break! By now I was exhausted and my upper body was sore from not listening to our personal trainer, Saha. In my quest to be forever the Queen of Badassness, I lifted heavier weights as suggested on earlier days and paid the price. It felt good though.
10 000 steps, as you do
Meditation class (50 minutes)
LUNCH
Gourmet salad with smoked fish (156 calories)
Black pepper fillet steak with vegetables (350 calories)
Sauteed red fruits with custard (120 calories)
DINNER
Florida Cocktail (85 calories)
Red mullet supreme with mustard, served with cauliflower with fine herbs (250 calories)
Apple with honey (162 calories)
A quick question and answer session…
Is the Slim and Wellness Programme only for fat people?
No. While the name might suggest that it's about fat loss, Hotel Botanico's approach is holistic in nature. The Canary Islands are historically renowned for its health retreats. Many people visit Tenerife for medical reasons, such as recovering from health issues and this hotel is the ideal place to visit. Each programme is fully customised to each guest's goals and chefs can easily adjust portion sizes to more calories to help guests pick up weight and invigorate their enthusiasm for eating.
Do I have to exercise like a nutcase?
Nope. You can do what you please, when you please at this weight loss retreat. Just make sure to show up for the spa treatments though, otherwise you're missing out.
In my case, it's not every day I get offered to shed fat, more like the opposite with a constant stream of food offerings guaranteed to fatten me up. As a mother who runs around like a headless chicken on most days, who somehow managed to keep her kids alive for the past 12 years while running a business, it was a novelty to actually focus on myself for once, so this is how I chose to spend my time.
It would be silly not to take advantage of at least some of the fitness classes available though. Standard Hotel Botanico guests have to pay €15 per person per class, and in this programme everything is included. Another reason why I attended just about all the classes was to get an overview of what was available. To date, I had no experience of Qi Gong or Tai Chi, so learning from Saha, the instructor, was a novelty. I doubt I'll ever reach his high level of perfection though as he moves to flowingly from one stance to another with such ease. He was also out personal trainer.
Other fitness classes include stretching, pilates and aqua gym.
The mind and body connection
That said, while the personal training classes can potentially full on, the level of difficulty is adjusted to your proficiency in the subject. Most classes end up being quite gentle and classes in yoga are always popular at this weight loss retreat. Ely presents the latter as well as meditation, which is majorly underrated in mainstream society.
Another point of note is that The Slim and Wellness Program is not solely about food and exercise. It takes a holistic approach and tending to your mind will assist your health in leaps and bounds. One of the program's goals is to leave with a greater mind and body connection, and for you to simply become more aware.
Did the food actually taste good?
Most of the time, yes. As expected, converting old favourites into something healthy doesn't always yield the same results, so manage your expectations. Check out the Apple Tarte Tatin below – it ain't the same thing. The chefs rely heavily on low fat cheese to recreate classic dishes at this weight loss retreat.
Plenty of thought and creativity have been put into developing tempting and memorable dinners with healthy ingredients. In fact, there is a two week running menu that will ensure that you don't get served the same meal twice.
Sometimes the menu descriptions didn't do the food justice. For example, the kiwi soup turned out not to be a soup but a tian of kiwi slices instead, which was a very green and great dessert.
Sometimes you just have to be brave. The "pineapple and nuts" above didn't mean much on paper and looked weird in real life but turned out to be quite good and unusual to the palate.
But I can't cook this kind of stuff at home!
Yes, you can! I did a photo shoot with The Slim's chefs to prove you wrong. The reason why the food looks intimidating is because of the beautiful presentation at this weight loss retreat. You can easily create more rustic versions of this kind of food at home. Just check out the Sauce Vierge and Steamed Cod recipes if you don't believe me.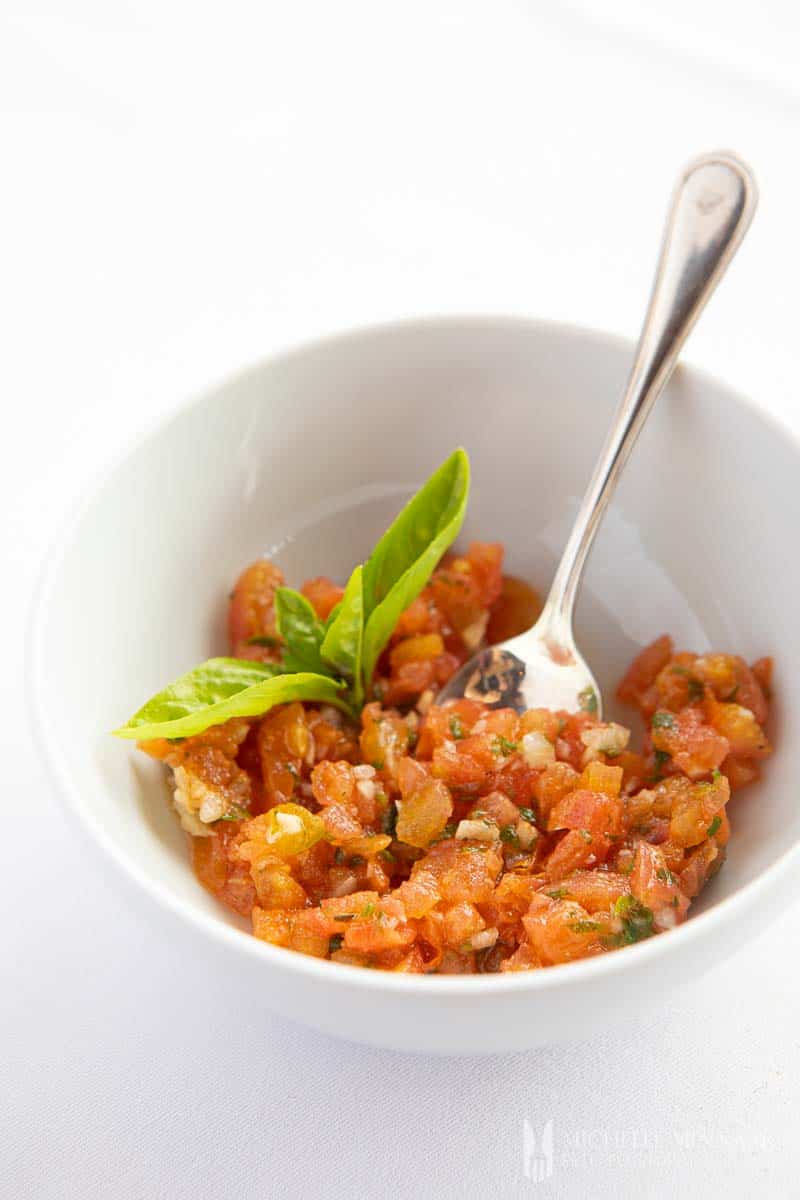 Did you get hungry?
When you start the day with the breakfast that I had followed by a big fruit platter, it's a good thing. Most of the time I felt fine except when it got close to mealtimes when pangs of hunger sometimes struck.
The only time I felt a sense of deprivation was on day 4. After four hours of exercise, I was demoralised when presented with a measly lunch. This was exacerbated by a partner who is a foot taller than me, with more than double my muscle weight eating the same food but double the portions. It was hard.
Never in my life was I so happy to see a big pile of salad vegetables that evening for dinner as a starter. Compared to lunch it was positively massive and psychologically I reached an equilibrium again.
Naturally, warm weather helps to suppress appetite and having plenty to do for amusement takes your mind off things, while at the weight loss retreat. During the day the hotel has some activities on, depending on what day it is. Of course, there is the whole outside world to explore as well and walking guides are supplied if you want to explore the area.
Pssst, don't walk along the seafront if you're easily tempted because there is a great array of desserts to lead you astray.
What did you drink?
The weight loss retreat room's mini fridge was stocked full of bottles of water, in all shapes and sizes. Some bubbly, some not. This is all you're allowed to drink for the week, except for tea and coffee in the morning. No fizzy drinks or fruit juices, unless you have the latter as part of breakfast. Definitely no alcohol.
Was the experience enjoyable?
Yes! You can take it easy or go as mental as you like. It didn't feel like work. I liked the tennis classes, which was highly educational and interactive. It's easy to forget that there's a whole world out there because there is so much to do at Hotel Botanico. Don't forget, you can make the most of its spa facilities by trying out all the different saunas, showers and jacuzzis. There are board and card games, pool and billiard to play as well.
Outside, you can explore Puerto de la Cruz on foot and Loro Parque is a stone's throw away. In the evenings, after dinner, we pretended to be normal people, which can be hard at times, and went downstairs to watch live music while playing cards
Rather strangely, time passed much slower than we usually experience on holiday. My only theory is that routine was involved and after three days you feel as if the hotel staff is part of the family.
Does that mean you're stuck at the resort all day having to eat three meals a day there?
Nope. If you're keen on sticking to the weight loss plan, but would like to escape the weight loss retreat for a little while, just let the kitchen know in advance. The chefs will package your meal up and you can take it with you. Think of it as going on a picnic.
Did you lose weight?
Oh yeah, that was the point of this whole experience, right? Lost 1.8kg (4lbs) and partner 3.6kg (8lbs) in one week. After concentrating on exercising my legs the whole week, unsurprisingly, inches were lost in that area. The spa treatments left my skin feeling smoother and firmer. If we stayed longer, for the recommended two week period, the results would have been even better.
Our energy levels felt better, we were more relaxed, and appetites suppressed so the need to eat so much has dissipated. We were more aware of healthy choices that can be made as well.
The last Nutritional Meeting took place on the morning of the last day. The Inbody's analysis revealed that pure fat was lost and I maintained my muscle weight in the process, which was great news. All in all, a fantastic result!
What I learnt from a one week stay at a weight loss retreat
Upon reflection, I need to go easier on the oil, salt and carbs at home.
The path to a true health and a sensible weight is through the habit of making healthy choices. Every day.
Pampering feels good. So much so that after introspection I realised that I need to increase my self-worth and make more time for things I enjoy, like hanging out at spas and weight loss retreats!
A quiet mind leads to a better life. It's pivotal to carve out time out of your day for some quiet time.
You can have calorie-dense food, but fill up your rest of your plate with vegetables to balance it out.
If you crave something sweet, turn to fruit.
Not all bodies are created equal. It drove me nuts at the beginning that my partner could eat more than me. After careful logical consideration, he does have more than double my muscle weight, which equates to a higher metabolic rate. It's okay if people eat more than me and it's not a competition. As long as we eat the same food, I'm not missing out and there's no need to stuff myself.
If I build more muscle, my metabolism will increase, which means…. I can eat more!
How much does this weight loss retreat cost?
There are two packages available at this weight loss retreat. The basic package is €1820 per person per week, which includes accommodation and food. For €2800, you get all the spa treatments and fitness classes included. Keep your eyes peeled for special offers! For more information, click here.
Hotel Botanico & The Oriental Spa Garden
Calle Richard J. Yeoward, 1
38400
Puerto de la Cruz
Santa Cruz de Tenerife
Spain
Website
P.S. I was a guest of Hotel Botanico. All views are my own.