Have you ever made chutney? If not, you're in for a treat with this recipe! Fresh apricot chutney is like a little homemade jar of joy and, guess what?
It's really easy to make! Let's get started.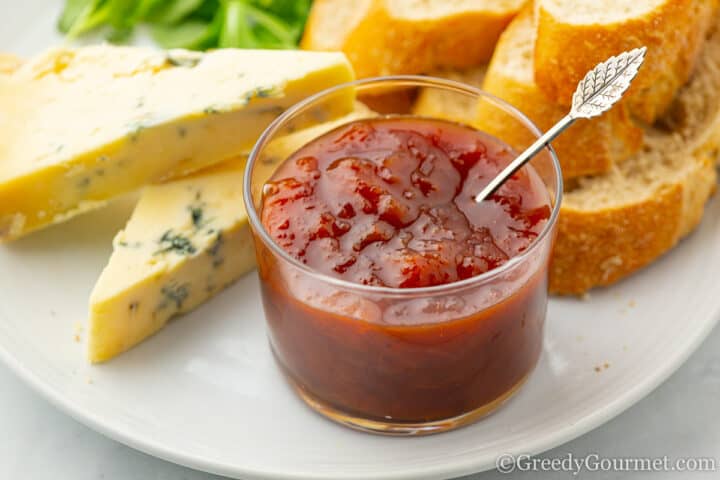 Fresh Apricot chutney recipe
Instead of buying a jar of chutney from the supermarket, you simply have to try making your own! It's so very easy to make, tastes out of this world and can be used to bring next-level flavor to such a variety of dishes.
This recipe combines apricots with onions (essential for a good chutney), white vinegar (apple cider vinegar will do), brown sugar, salt and a fragrant spice mixture including cloves, cayenne pepper, mixed spice, nutmeg and curry powder.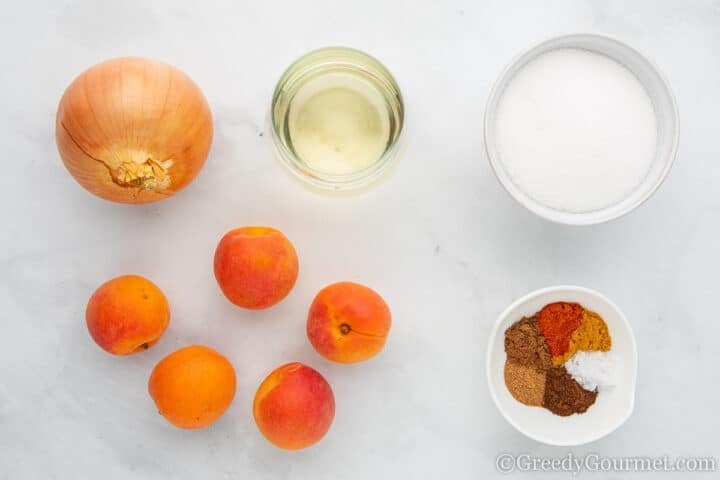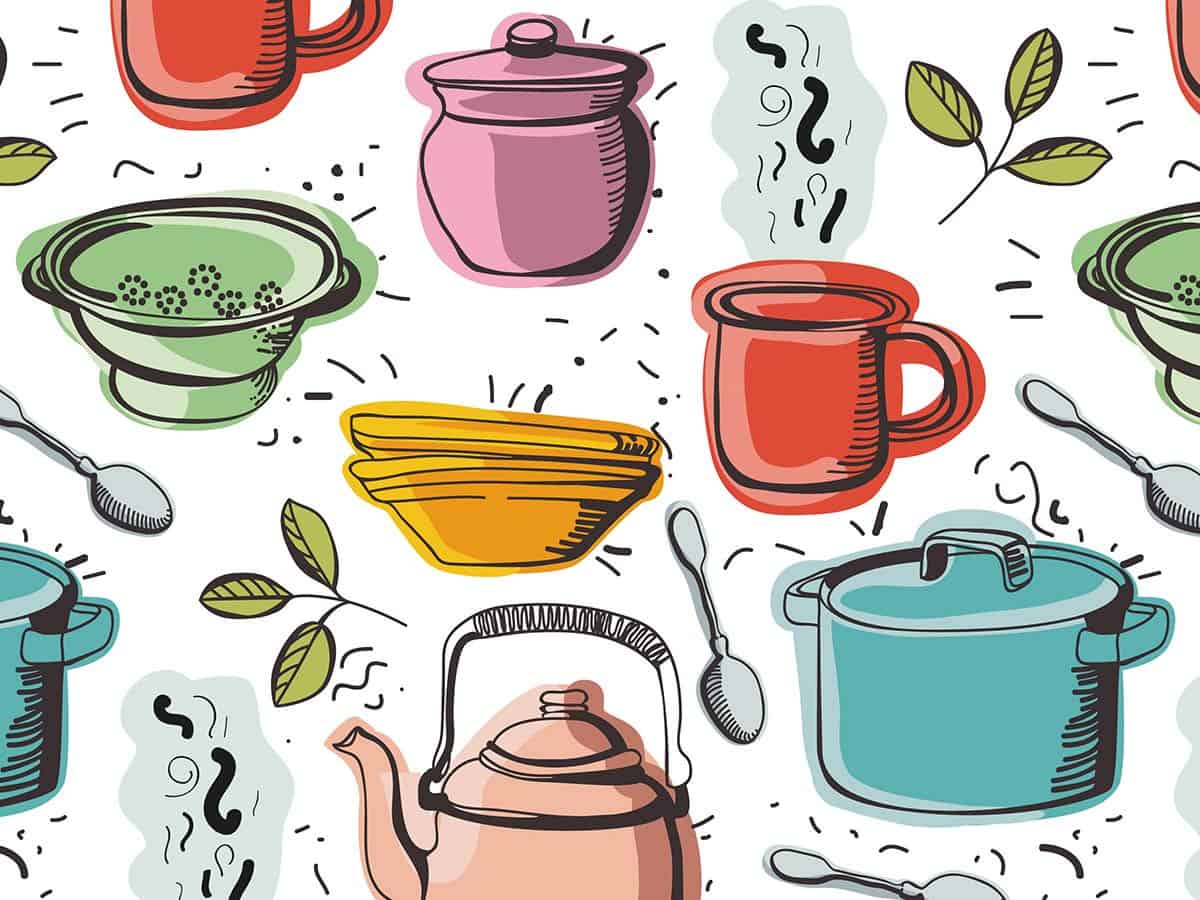 CHUTNEY EQUIPMENT YOU NEED
Check out the ultimate list to chutney making equipment. You actually don't need that much and most of the items are quite affordable!

Making your own preserves is a great and satisfying hobby. Giving the gift the lovely food to your friends and family are especially rewarding!
When are apricots in season?
Apricots are a spring/summer fruit. They are in season from early May to July.
What do you do with lots of apricots?
When you find yourself with a load of apricots, an apricot chutney recipe is the way to go! It lasts for ages, tastes amazing, goes with almost anything and is really easy to make.
Of course, apricots can always be made into apricot jam, as well as apricot desserts such as apricot tart or apricot cobbler. For me though, an apricot chutney is definitely the way to go!
Did you know that apricot pairs well with meat? Check out the following recipes:
- Pork Medallions with Apricot and Leek Sauce - apricot goes especially well with pork
- Lamb and Apricot Sosaties - you can substitute dried apricots with fresh ones!
- Grilled Curried Lamb Chops with Apricots - you can fling fresh apricots on the barbecue
- Halloumi Salad with Apricots, Avocado and Almonds - trust me, just try it with halloumi cheese!
Another idea is to dry the apricots. Dried apricots are delicious and good for you. Best of all, you can use dried apricots in anything, from cereals to smoothies or even as eaten on their own as a healthy snack.
How do you pick good apricots?
 A good rule for selecting apricots: If they smell sweet, they probably taste terrific.
For extra sweetness, they should be slightly soft when you give them a gentle squeeze.
How do you remove seeds from apricots?
To remove the seed or 'pit' from apricots, you'll need a sharp paring knife.
First, press the knife into the grain of the fruit, right up to the seed. Then, carefully turn the apricot to slowly cut it in half.
Now, take the pitted side and flip it pitside down. Repeat the first step, pressing the knife into the fruit and slowly cutting a line from top to bottom.
Take the quartered apricot, give it a pinch, and gently remove the stone.
How do you make this chutney smoother?
Before you add all your ingredients to the cooking pot, you can blitz them in a food processor. This will give you a smoother consistency, instead of the traditional chunky chutney.
How do you store apricot chutney?
If kept in a cool, dry and dark place, this chutney will keep for up to 2 years. Once opened, keep the apricot chutney in the fridge and consume within 3 weeks.
Can you freeze this chutney?
It lasts such a long time when sealed and stored in a cool, dark place, that freezing isn't really necessary.
How do you sterilize jars?
In order to sterilize them, they need to be submerged in boiling hot water for 10–15 minutes.
The easiest way to do this is to use a canner (see 'Products you need for this recipe'). 
If you haven't got a canner, you can follow my guide and learn how to sterilize jars in an oven.
What other fruit can you combine apricot with?
The great thing about chutney recipes is their flexibility. So, with this recipe, make up your own divine combinations! 
Swap 50% of the apricots in the recipe below with one of these following fruits:
Mangoes – like a shot of summer, mango and apricot is pure fruity heaven
Oranges – add a little zing to the chutney. Grate in some zest too
Peaches – they're from the same family as apricots and make for a good pairing. Go for over ripe peaches for an sweet dimension
Raspberries – sweet and tart, raspberries are a good chutney ingredient
Cherries – bring a little tartness and sourness with a handful of cherries
Lingonberries – a distant cousin of cranberries, these little berries are sour and juicy, making for an interesting counterbalance to the sweet apricot
Nectarines – another from the Prunus family, the same as apricot, nectarine and apricot go great together
Pineapples – brings a zesty tang or a deep sweetness, depending on whether it's a young or ripe pineapple
Plums – plums are a fantastic chutney ingredient. Pair them with apricot for a incredibly tasty chutney
Strawberries – this makes for a very interesting flavor combination
Cooking apples - tart apples work really well with apricot and spices, e.g. Bramleys
Sultanas – in this recipe you can reduce the apricots by 250g (½ lb) and replace them with 250g (½ lb) sultanas
What other flavors work well with apricot chutney?
Again, with this chutney recipe, flexibility is the key. There's a seemingly endless amount of flavor combinations you can use to create your very own masterpiece.
Here are a few suggestions of ingredients you could add to this apricot chutney recipe:
4 cardamom pods, crushed
1 cinnamon stick
3g (2 tsp) ground coriander
3g (2 tsp) cumin
5cm (2in) fresh ginger root, finely chopped or grated
15ml (1 tbsp) rose water
1g (1 tsp) fresh rosemary, finely chopped
1 vanilla pod
1 garlic clove, minced
22g (2 tbsp) mustard seeds
3g (1 tsp) ground turmeric
1 lemon, juice and zest
1 lime, juice and zest
1 orange, juice and zest
1g (½ tsp) allspice
What alcohol pairs well with apricot?
Chutney has such a rich, complex taste, it's no surprise that it pairs well with a fine tipple. Especially with some cheese added into the mix!
So,  enjoy this apricot chutney as part of a cheeseboard, and try any of the following for a delicious three part combo: 
Brandy
Cognac
Cointreau
Grand marnier
Kirsch
Sauternes
Alternatively, you can actually make your chutney boozy! Simply pour in 125ml (½ cup) of your preferred alcohol at the end of cooking time and bottle up your chutney as soon as possible.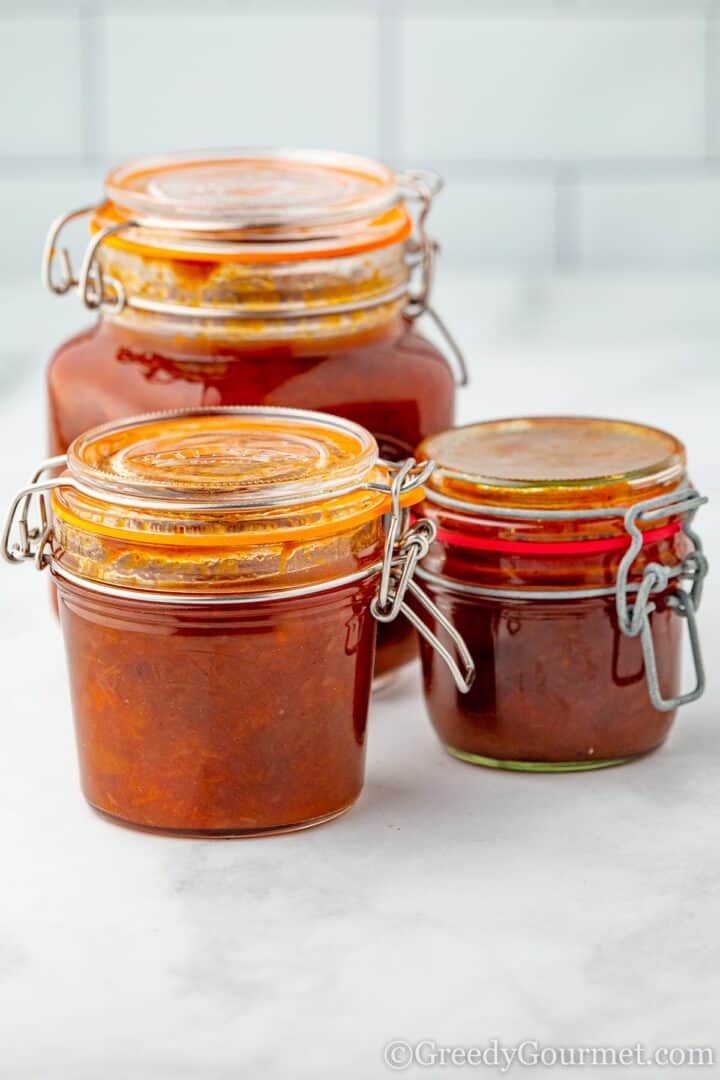 How to use apricot chutney
There are so many ways to use this apricot chutney. Here's some inspiration:
Spoon some over your favorite sandwiches or wraps
Slather it over roast ham, pork, lamb, turkey, chicken or fish before or after cooking
Have with your favorite cold meats
Serve with crudites for a tasty appetizer
Add towards the end of a curry for a fruity, spicy flavor bomb
Add with cream cheese for a heavenly topping for biscuits or crackers
Have on the side of scrambled eggs
Serve as a pairing with goat's cheese or hard cheese
Pair with hazelnuts, sesame seeds or pistachios
Use as a deliciously fruity burger topping
Spoon over dark chocolate desserts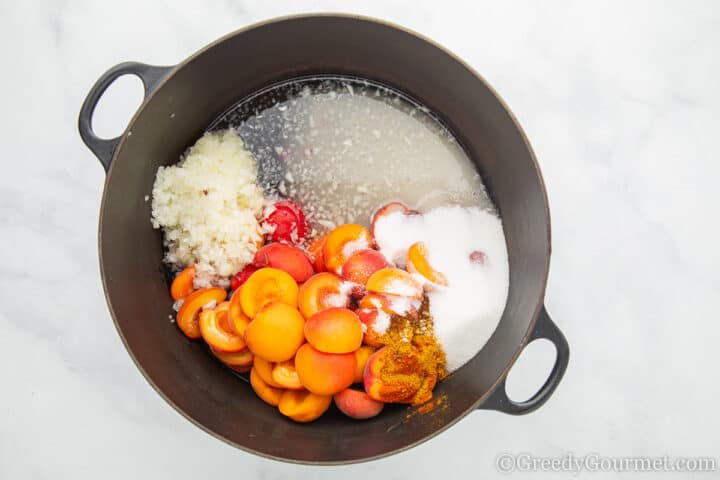 Tips for the perfect apricot chutney
A few little pointers on how to get this chutney recipe right:
Don't overcook the chutney or it will be too thick. Remember… it does thicken as it cools down
The proper consistency should be thick and syrupy, with no running liquid. Draw a little channel with a spoon in the chutney – if the channel stays for a few seconds before liquid rushes in, it's ready!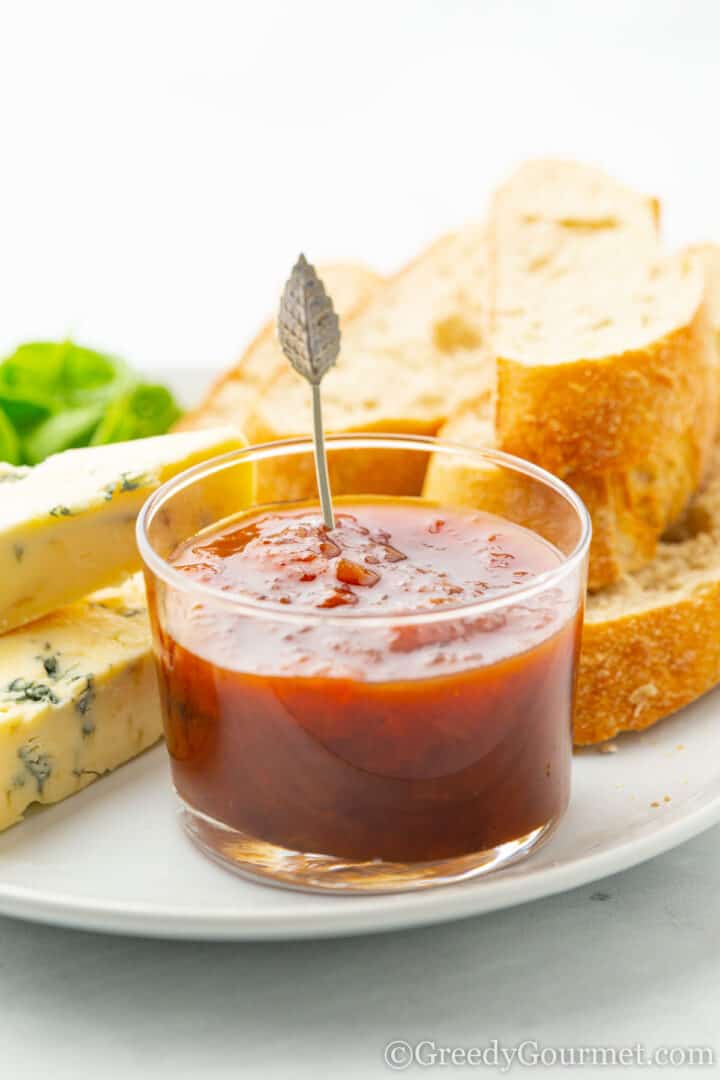 More fresh apricot recipes for you
More amazing chutney recipes
If you enjoy making this chutney recipe, I've got many more fantastic recipes for you to try. Work your way through the list below and discover the magic of chutney!
Dried Apricot Chutney - if you can't get hold of fresh apricots, dried apricots work just as well!
Mrs Balls chutney – a classic South African chutney, this one has a sweet tangy taste with an afterbite of chili to keep you on your toes. While the original recipe is a closely guarded secret, my version stays true to the ingredients and flavors that have a national treasure in South Africa
Blueberry chutney – not the first ingredient you think of when you think of chutney, but one taste and you'll never forget it. Try it on the side of a roast and you'll be in heaven 
Strawberry chutney – light and sweet with hints of sour and spice, this is one fine chutney
Grape chutney – so, so good! Grape is a particularly good chutney ingredient. Cooking apples bring a hint of sourness, for a light, fruity chutney
Orange chutney – a tangy and aromatic chutney that balances the vibrant citrus flavors of oranges with a blend of spices.
Cherry chutney – add a burst of fruity flavour to your meals
Black grape chutney – a grape chutney that goes perfectly with cheese
How would you enjoy apricot chutney?
Print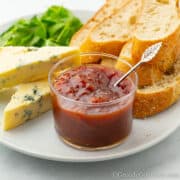 Apricot Chutney
---
Author:

Michelle Minnaar

Total Time:

1 hour 30 minutes

Yield:

2

kg (4lb 8oz)

1

x

Diet:

Vegan
Description
Make your very own apricot chutney! A glut of apricots is used. The recipe is gently spiced and plenty of variations given.
---
1.5

kg

(6 1/2 cups) fresh apricots, halved

500

g

(3 cups) onions, chopped

500

ml

(2 cups) white vinegar

750

g

(3 3/4 cups) sugar

6

g

(1 tsp) salt

2

g

(1 tsp) ground nutmeg

2

g

(1 tsp) mixed spice

2

g

(1 tsp) ground cloves

2

g

(1 tsp) cayenne pepper

2

g

(1 tsp) curry powder
---
Instructions
Remove the stones from the apricots then chop the halves roughly. 
Place all the ingredients in a large, heavy bottomed pot and bring to a boil.
Lower the heat to a simmer and cook uncovered for 1 hour. Give it a stir every now and then.
If the chutney hasn't thickened, cook for 10 minutes more or until no excess liquid is detected. 
Spoon into hot, sterilised jars. Seal and then let it cool down. 
This chutney doesn't need maturing and can be eaten at once. Enjoy!
Notes
Instead of white vinegar, you can use apple cider vinegar.
If kept in a cool, dry and dark place, this chutney will keep for up to 2 years. 
Once opened, keep the chutney in the fridge and consume within 3 weeks.
Prep Time:

20 minutes

Cook Time:

1 hour 10 minutes

Category:

Condiment

Method:

Boiling

Cuisine:

American
Keywords: apricot chutney, fresh apricot chutney, apricot chutney recipe, apricot chutney for pork, how to make apricot chutney