The perfect condiment for cold cuts or a delicious cheese board on warm summer nights, cherry chutney is a melt-in-the-mouth marvel, with enough flavor to send your taste buds wild!
If you've made chutney before, but are yet to try the cherry version, get ready for something special. If you're a newcomer to chutney, this easy recipe is a good place to start!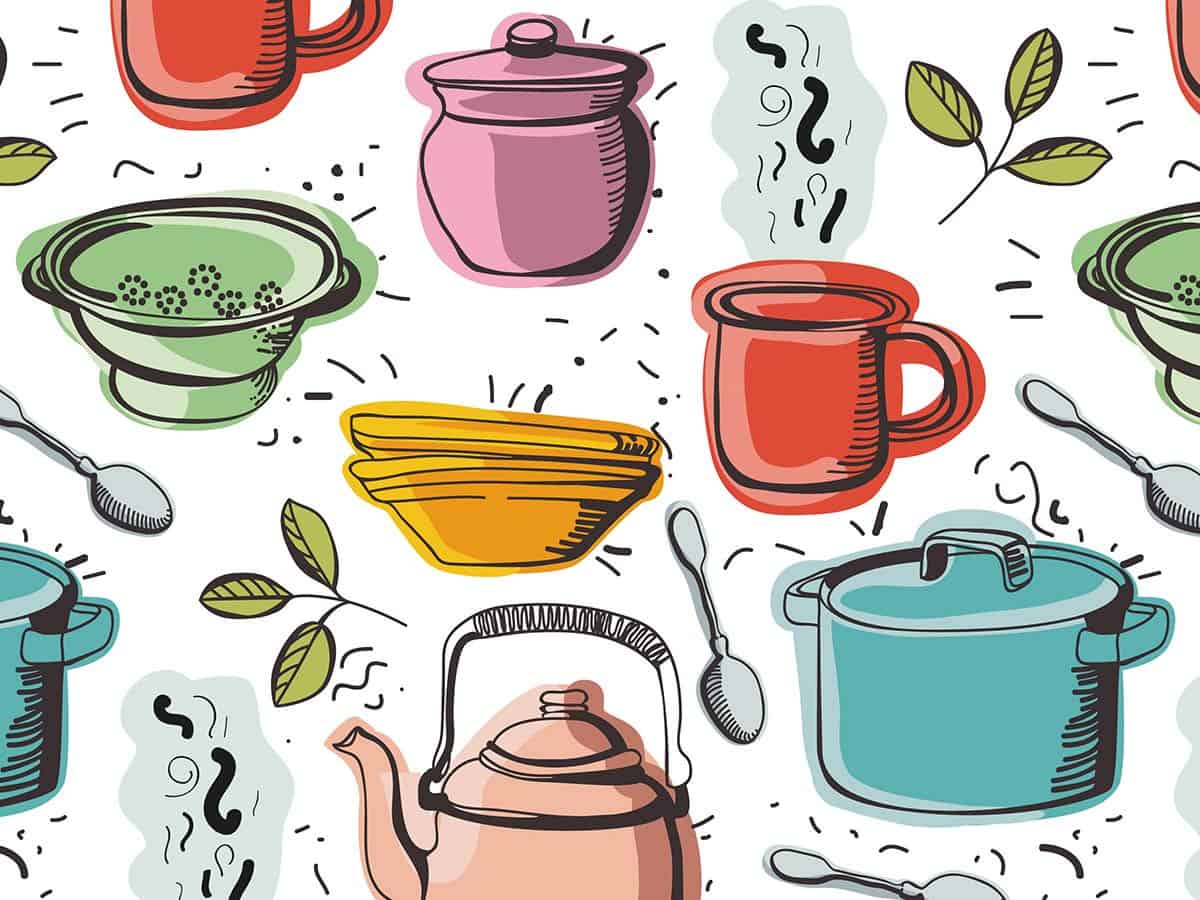 CHUTNEY EQUIPMENT YOU NEED
Check out the ultimate list to chutney making equipment. You actually don't need that much and most of the items are quite affordable!

Making your own preserves is a great and satisfying hobby. Giving the gift the lovely food to your friends and family are especially rewarding!
Why You Will Love This Recipe
Making chutney is one of life's simple pleasures! It's all about mixing a few select ingredients and letting them simmer away in a pot while stirring occasionally, leaving them to work their magic.
There's something very old-fashioned about chutney making. After all, chutneys go back hundreds of years, when cooks would make preserves to last the whole winter. Making a chutney today is like making a connection to the past, when food was about bringing people together.
This recipe will certainly bring people together. With its wonderful warmth, subtle spiciness and a jammy sweetness, this cherry chutney is an out-and-out crowd pleaser. It's versatile – perfect with anything from pork loin and grilled chicken to cheese and crackers – and very easy to make.
All the cooking is done in one pot – so minimal mess and much less stress. Plus, the list of ingredients is short and sweet.
There's a splash of balsamic vinegar, a sprinkling of brown sugar, a dusting of cinnamon, a scraping of a fresh vanilla pod, a smattering of sultanas and, of course, the star of the show – cherries, glorious sweet cherries!
What are the best cherries for this recipe?
Bing
These are the most common type of cherries. Chances are, if you're buying your cherries fresh in a supermarket or grocery store, you're buying Bing cherries.
Firm, juicy and dark, these little heart-shaped sweet cherries are perfect for chutney making. The darker they are, the riper they are, so look for the darkest Bing cherries you can find.
Rainier
These slightly larger cherries can be distinguished by their yellow-red coloring. Native to Washington State, they are slightly sweeter than Bing cherries and can be quite pricey.
Chelan
These tough little cherries hold their shape, making them perfect for those who prefer a chunky chutney. They look similar to Bing cherries, although they are slightly less sweet.
Montmorency 
These big bold bright red cherries are all about the tang! They usually come frozen or canned and are ideal for those who love cherries that are sour. 
Amarena
An extra special Italian cherry, Amarena cherries have a dark red color and extra sour taste. They are typically used for indulgent desserts, but would work well if you prefer your chutneys on the sour side.
When is cherry season?
Fresh cherries are only available from your supermarket or grocery store for a certain period of time. That's why it's important to know when you should be on the lookout for those sweet fantastic fruits.
Cherries are a summer fruit. In the States, the harvest begins in California around about April. The harvest comes to an end by early June, which is when fresh cherries start to appear in stores all over the country.  
Cherry season lasts for about 4 months. By September, fresh cherries will start to disappear from supermarkets and grocery stores.
Of course, you can buy canned and frozen cherries all year round
What if my cherries are too tart?
Tart cherries may not taste great when eaten fresh, but they are fine for cooking. You should always pick ripe cherries – the darker and softer the better. Also, go for a sweeter variety of cherry. See 'What are the best cherries for this recipe' above.
You could also add an extra teaspoon of sugar if your cherries are too sour.
Why is sugar added to chutney?
Sugar is a natural preservative and acts to keep chutney fresh for longer. It also acts to balance out the flavor, bringing the sweetness of this cherry chutney up a notch or two.
How do you pit cherries?
First of all, the best way to quickly and easily pit cherries is to get a cherry pitter tool. See 'Products you need for this recipe.' It's an ingenious little gizmo and will save you a lot of time and effort.
If, for whatever reason, you can't get hold of one, there are a few other options. The cleverest is to use a chopstick to pop the cherry! Just hold the cherry steady between forefinger and thumb, then push a chopstick through the stem hole. It should pop right out!
The other way is to use a paring knife to cut each cherry in half. Then, simply open the cherry and gently squeeze until the pit falls out.
If your cherries are ripe enough, you can simply tear them open and discard the pit.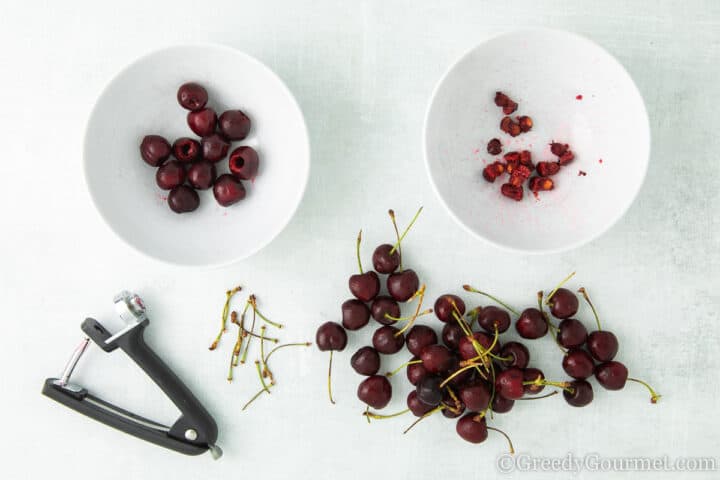 What's the best vinegar to use in cherry chutney?
Vinegar is a very important element to any chutney – cherry chutney included. It's the key preservative that keeps things fresh for longer. It also brings balance to the flavors, with an essential hint of acidity.
There are a few different options when it comes to adding vinegar to this recipe. Here are some of my recommendations.
Balsamic vinegar
This works really well in most fruity chutney, cherry especially. For me, it's the best vinegar to use in this recipe, as the intense tang and sweetness make an ideal match for the fruitiness of the cherries. 
If you want an extra special luxurious cherry chutney, go for a cherry balsamic vinegar. Your chutney will have that wow factor!
Apple cider vinegar
This zesty vinegar goes particularly well with tart cherries. Not as effective as balsamic vinegar when it comes to rounding off the taste, apple cider vinegar is still a good match for this particular recipe. 
Red wine vinegar
Go for a slightly more expensive red wine vinegar and you'll end up with a wonderful tasting cherry chutney. The deep red color of the red wine vinegar will also pair well with the dark red tone of the cherry. 
White vinegar
A more neutral tasting vinegar, white vinegar works well with most chutneys.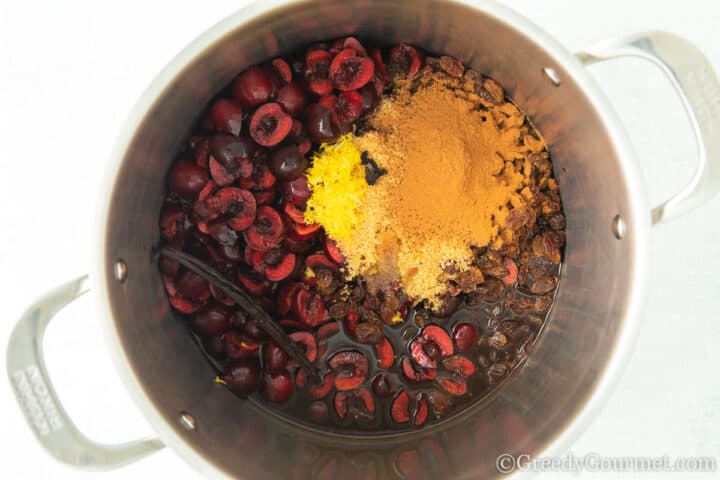 Other fruit you can combine cherries with
Make up your own divine combinations! Swap 50% of the cherries in the recipe below with one of the following fruits:
Fresh coconut shavings
Apricots
Banana
Redcurrants
Nectarine
Plums
Peach
Other flavours you can play with
Add an extra dimension of flavour to your cherry chutney with any of the following:
1 cinnamon stick
½ tsp ground cinnamon
1¼ tsp allspice
1 vanilla pod
4 cardamom pods, shells removed and seeds ground
12g (½ cup) fresh mint
50g (½ cup) almonds, chopped or slivered
50g (½ cup) hazelnuts, chopped
50g (½ cup) walnuts, chopped
1 lemon, juice and zest
1 teaspoon red pepper flakes
1 teaspoon garam masala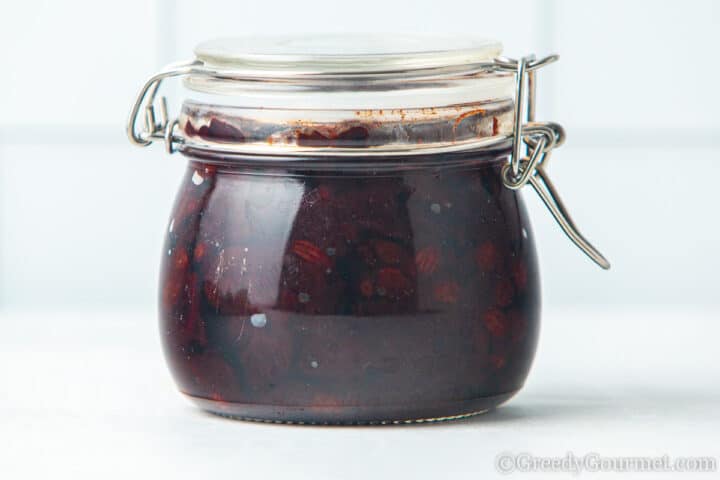 Alcohol that pairs well with cherries
Probably the simplest and most enjoyable way to enjoy cherry chutney is part of a cheeseboard.
If you pair your cherry chutney with a cheeseboard, you might want to take a dream double to a triple with a nice little tipple!
While enjoying this cherry chutney as part of a cheeseboard, you can enjoy the following drinks with it.
Armagnac
Brandy
Cognac
Grand marnier
Kirsch
Port
Alternatively, you can actually make your chutney boozy! Simply pour in 125ml (½ cup) of your preferred alcohol at the end of cooking time and bottle up your cherry chutney as soon as possible.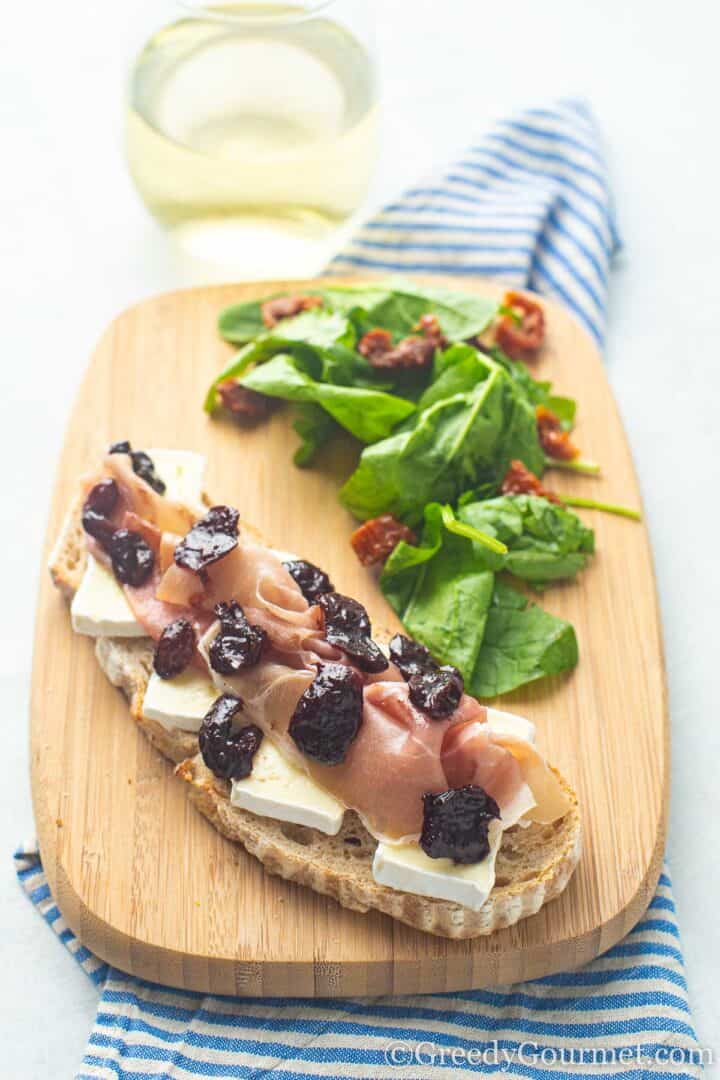 Ideas for how to use this chutney
Serve with roast lamb, any kind of grilled meat (grilled chicken or pork) pork loin, goat's cheese, cup of coffee, smoked fish, chocolate pudding/cake, cream cheese or ice cream.
Print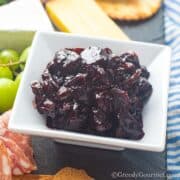 Cherry Chutney Recipe
---
Author:

Michelle Minnaar

Total Time:

45 minutes

Yield:

750

ml (3 cups)

1

x

Diet:

Vegan
Description
Learn how to make delicious Cherry Chutney. This easy chutney uses sweet cherries to create a tangy preserve. 
---
1

kg (2¼lb) cherries, pitted and chopped

150g

(

1 cup

) sultanas

110g

(

½ cup

) brown sugar

1

lemon, juice and zest

250

ml (1 cup) balsamic vinegar

1

vanilla pod

2g

(

1 tsp

) ground cinnamon
---
Instructions
Place all the ingredients in the jam pan or large saucepan.
Stir the contents over a medium heat until the sugar has dissolved.
Crank up the heat and let the mixture reach a boil, then reduce to a steady simmer.
Continue to cook uncovered for 30 minutes or until the chutney has thickened. Do give it a stir every now and then to prevent the food from sticking to the bottom of the pan.
Spoon into hot, sterilised jars. Seal and then let it cool down.
Label the jars, then let the chutney mature for at least a month before opening. Enjoy!
Notes
You can substitute the balsamic vinegar with white vinegar.
Prep Time:

15 minutes

Cook Time:

40 minutes

Category:

Chutney

Method:

Boil

Cuisine:

American
Keywords: sweet cherry, how to make chutney, cherry chutney, sweet chutney, homemade chutney,