Fruity, spicy and oh so delicious, this fantastic dried apricot chutney is homemade heaven in a jar!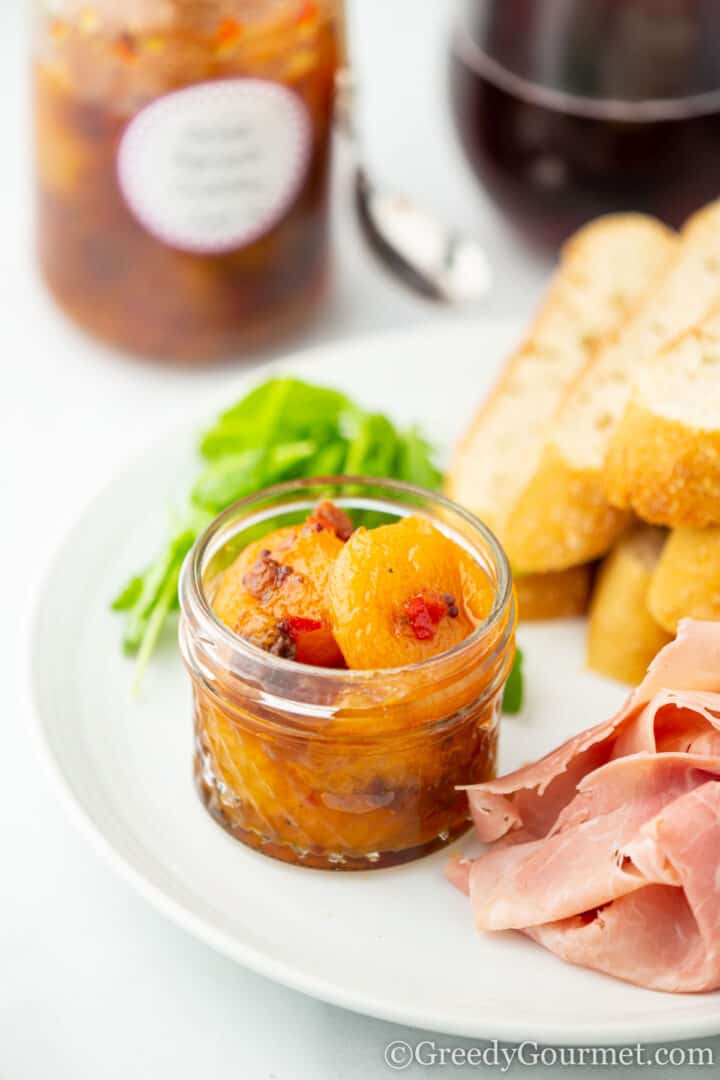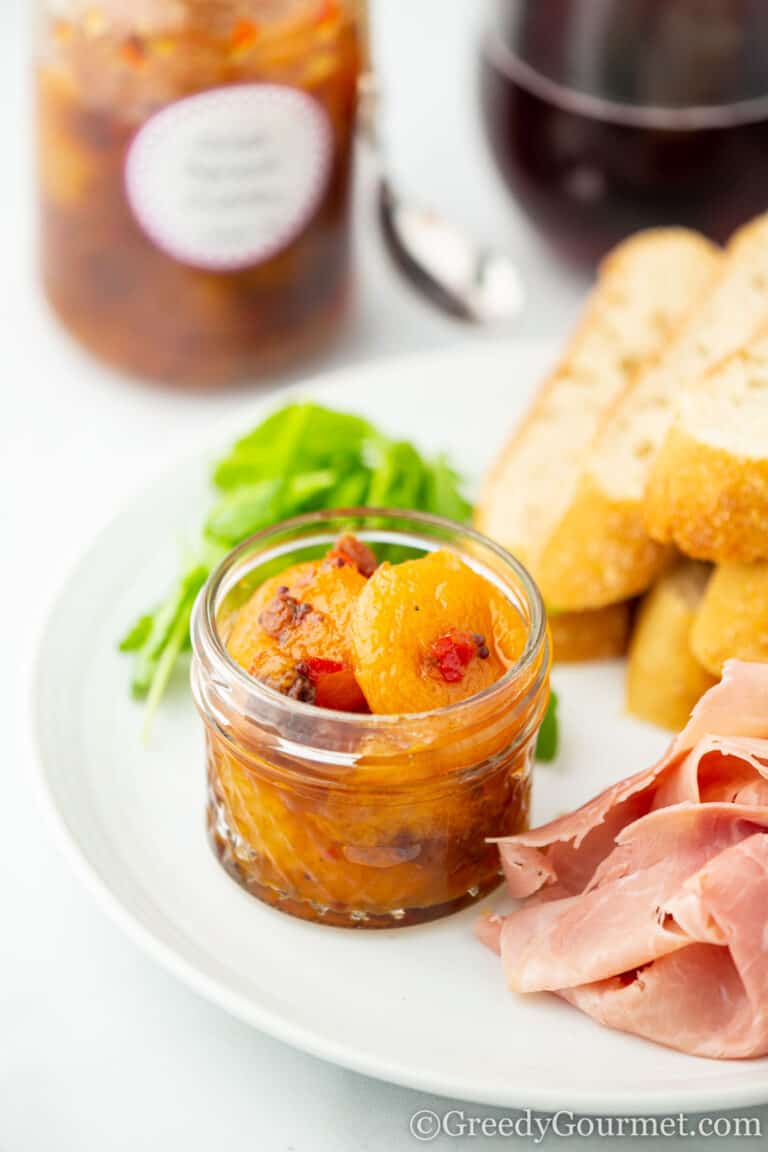 It's so simple to make… just one taste and you'll be hooked on making homemade chutneys. Just as well I've got a whole host of terrific chutney recipes for you to try your hand at!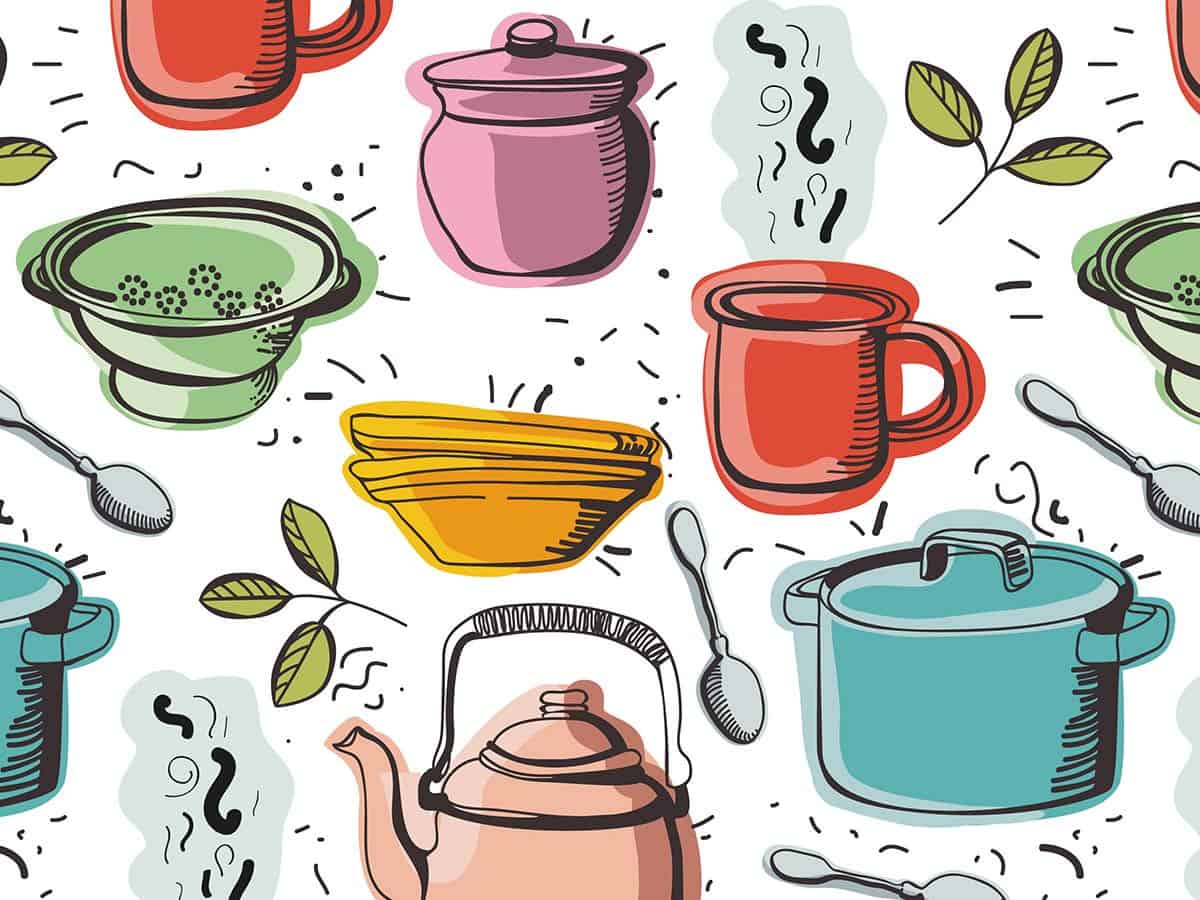 CHUTNEY EQUIPMENT YOU NEED
Check out the ultimate list to chutney making equipment. You actually don't need that much and most of the items are quite affordable!

Making your own preserves is a great and satisfying hobby. Giving the gift the lovely food to your friends and family are especially rewarding!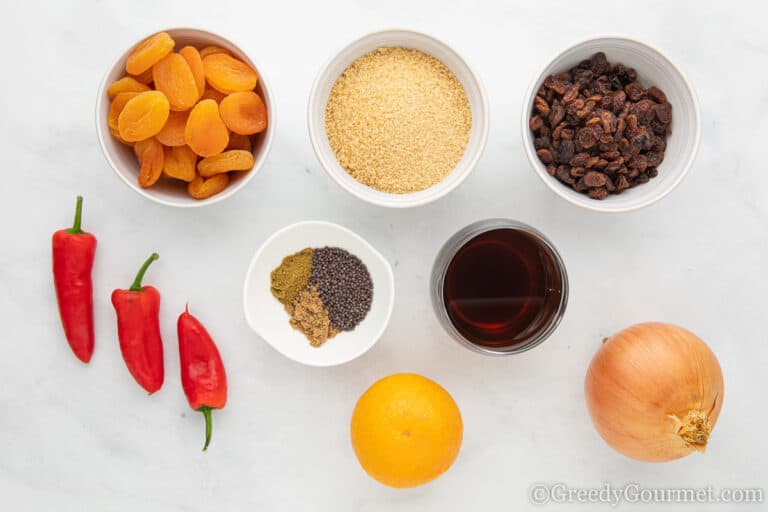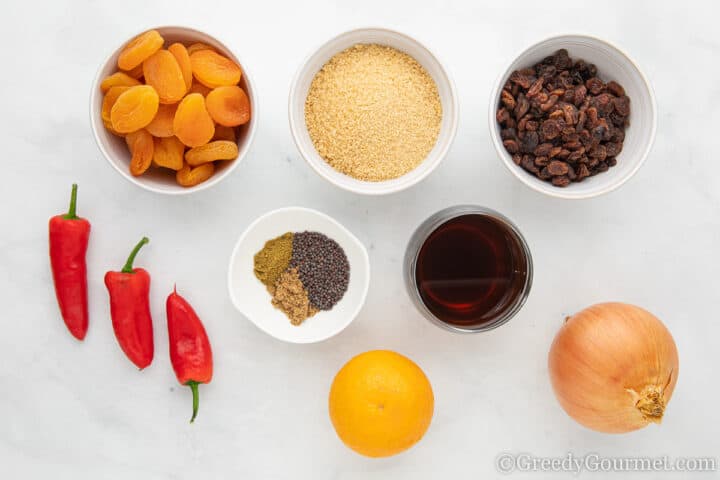 Dried apricot chutney recipe
Sweet, spicy and sharp with heaps of flavor, this is an easy chutney recipe that brings so much flavor to lots of different dishes.
It tastes amazing paired with roast meats – think chicken, turkey or pork especially. Also, with fish – particularly meaty white fish like cod, halibut or monkfish.
You could keep it really simple and spread on toast or simply eat it straight from the spoon. If you're a fan of Indian cuisine, this would be delicious added to your favorite curry.
The secret to getting a great chutney is the balance of flavors. That's what makes this chutney really stand out.
A rich fruity sweetness from the dried apricots and sultanas, an earthy heat from the mustard seeds and earthy spiciness from the coriander and cumin.
The malt vinegar adds acidity and acts as a preservative, to keep your chutney fresh and delicious for a long time.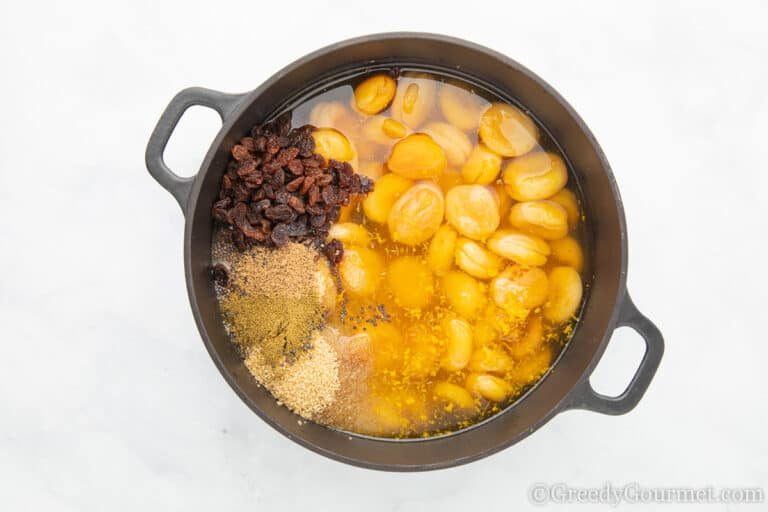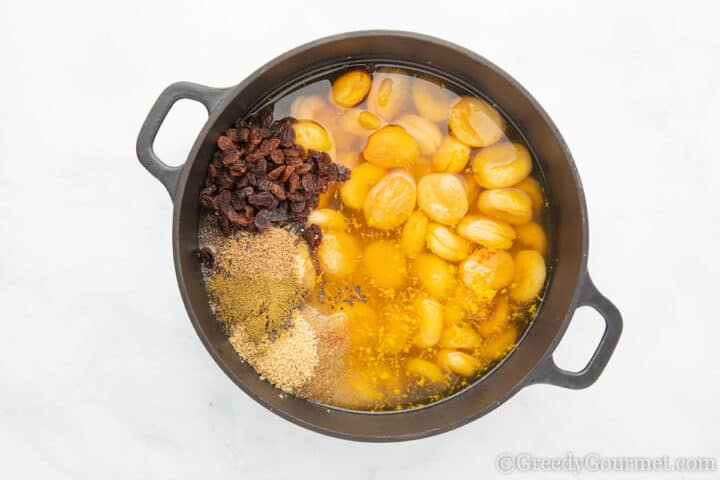 Other fruit you can combine with apricot 
This dried apricot chutney recipe is flexible, so feel free to make up your own divine combinations! Swap 50% of the apricots in the recipe below with one of the following fruits:
- Mango
- Orange
- Peach
- Raspberry
- Cherry
- Lingonberries
- Nectarines
- Pineapple
- Plums
- Strawberry
- Cooking apples, such as Bramleys
- Sultanas – in this recipe you can reduce the apricots by 250g (½ lb) and replace it with 250g (½ lb) sultanas
Other flavors you can play with
The great thing about chutney is that you can adapt it to your tastes. Here's a list of ingredients that you can use to add an extra dimension to your chutney.
- 4 cardamom pods, crushed
- 1 cinnamon stick
- 3g (2 tsp) ground coriander
- 3g (2 tsp) cumin
- 5cm (2in) fresh ginger root, finely chopped or grated
- 15ml (1 tbsp) rose water
- 1g (1 tsp) fresh rosemary, finely chopped
- 1 vanilla pod
- 1 garlic clove, minced
- 22g (2 tbsp) mustard seeds
- 3g (1 tsp) ground turmeric
- 1 lemon, juice and zest
- 1 lime, juice and zest
- 1 orange, juice and zest
- 1g (½ tsp) allspice
- 5 black peppercorns
Alcohol that pairs well with apricot
While enjoying this apricot chutney as part of a cheeseboard, you can enjoy the following drinks with it. 
- Brandy
- Cognac
- Cointreau
- Grand Marnier
- Kirsch
- Sauternes
Alternatively, you can actually make your chutney boozy! Simply pour in 125ml (½ cup) of your preferred alcohol at the end of cooking time and bottle up your chutney as soon as possible.
What can I serve with dried apricot chutney?
Need some inspiration on how to serve up this dried apricot chutney? Here's a list of the best foods that will complement your delicious chutney:
- Almonds
- Almond butter
- Dark chocolate dessert
- Goat cheese
- Hard cheese
- Lamb
- Pork
- Hazelnut
- Hazelnut butter
- Pistachio
- Rice
- Sesame 
- Tahini
How do you store this chutney?
This chutney, and any homemade chutney, needs to be stored in steralized jars. This is to keep any harmful bacteria out. Once sealed, you'll need to keep it in a cool, dry place.
Storing it this way for around a week or two will allow the flavors to settle and mingle, giving you a richer, tastier chutney.
Once you've opened your chutney and had that first divine taste, you'll need to store it in the refrigerator.
How long does this dried apricot chutney last?
Unopened, this dried apricot chutney will last as long as a year. Once opened, it will last 3 weeks in the fridge.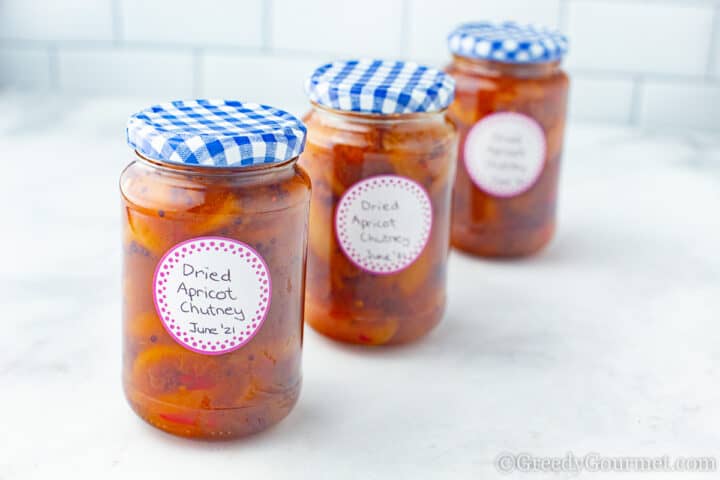 Other flavor combinations
Apricot and ginger chutney
Using the recipe below, add 30cm (12in) of fresh ginger root and 200g (7oz) blanched whole almonds to the mix before cooking for 1½ hours.
Alternatively, you can use 300g (10½ oz) preserved stem ginger [finely chopped] instead of fresh ginger.
Apricot and banana chutney
When the chutney has finished cooking, add 4 medium (600g/1½lb) chopped bananas to it and stir for 5 minutes. Proceed with transferring the chutney to jars and seal.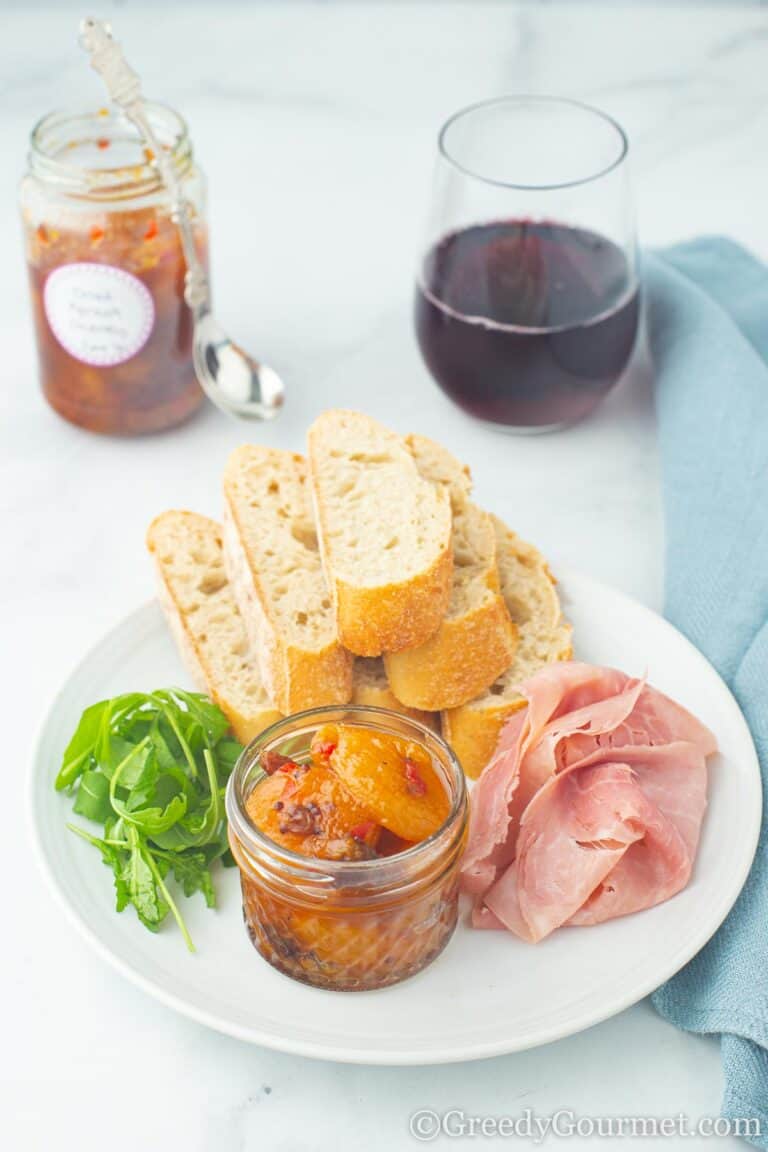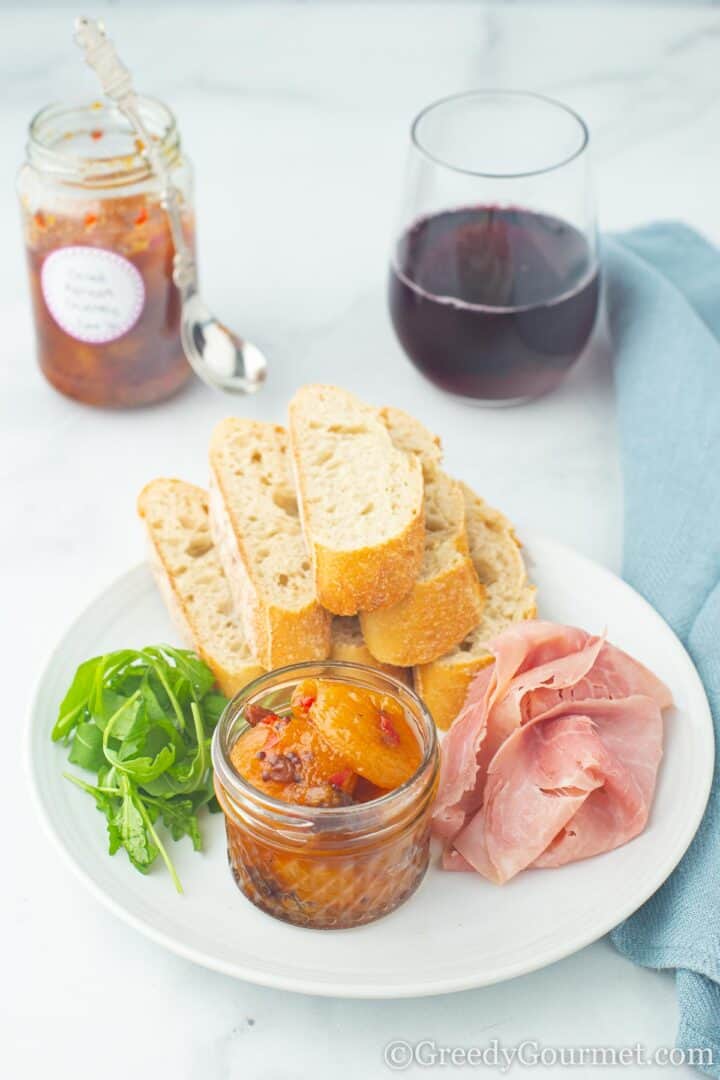 More delicious chutneys
Can't get enough chutney? The homemade kind is so special and it's really worth putting the time and effort in to make your own. Here are a few more chutney recipes that you'll love just as much as this one:
Print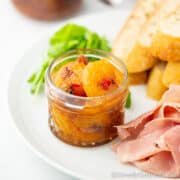 Dried Apricot Chutney
---
Author:

Michelle Minnaar

Total Time:

1 hour 45 minutes

Yield:

7 cups

1

x

Diet:

Vegan
Description
Have you ever tried a dried apricot chutney? This easy homemade chutney is the perfect blend of fruity and spicy. Best served as part of a cheeseboard but goes great with meat too.
---
Soaked Apricots
1 3/4

l (7 cups) water

750

g

(6 cups) dried apricots
Apricot Chutney
4

onions

1

cup

sultanas

2 1/2

cups

brown sugar, firmly packed

1 tbsp

mustard seeds

3

red chillies, finely chopped

500

ml

(2 cups) malt vinegar

1

orange, juice and zest

1 tsp

ground coriander

1 tsp

ground cumin
---
Instructions
Soaking the Dried Apricots
Place the apricots in a large bowl and cover with the measured water. Ensure everything is submerged. 
Cover the bowl and leave to stand overnight.
Cooking the Apricot Chutney
Tip the soaked apricots and any remaining liquid in a large saucepan. 
Add the rest of the ingredients to the apricots. 
Stir, over a medium heat, until all sugar has been dissolved.
Bring to a boil then lower the heat until a simmering point has been reached. 
Continue to cook, uncovered, for 1½ hours, or until the chutney has thickened.
Season to taste, then spoon into hot, sterilised jars. Seal and then let it cool down.
This chutney doesn't need maturing and can be eaten at once. Enjoy!
Once opened, keep the chutney in the fridge and consume within 3 weeks.
Notes
[Optional] Once the chutney has finished cooking, you can add ½ cup of chopped pecans, walnuts or almonds. Stir, then bottle immediately. 
You can substitute the malt vinegar with white vinegar.
Prep Time:

15 minutes

Cook Time:

1 hour 30 minutes

Category:

Condiment

Method:

Boil

Cuisine:

South African
Keywords: dried apricot chutney, chutney recipe, dried apricot recipe, dried fruit chutney recipe, spiced apricot chutney