Homemade chutney is one of life's simple pleasures, but have you ever wondered how to store chutney?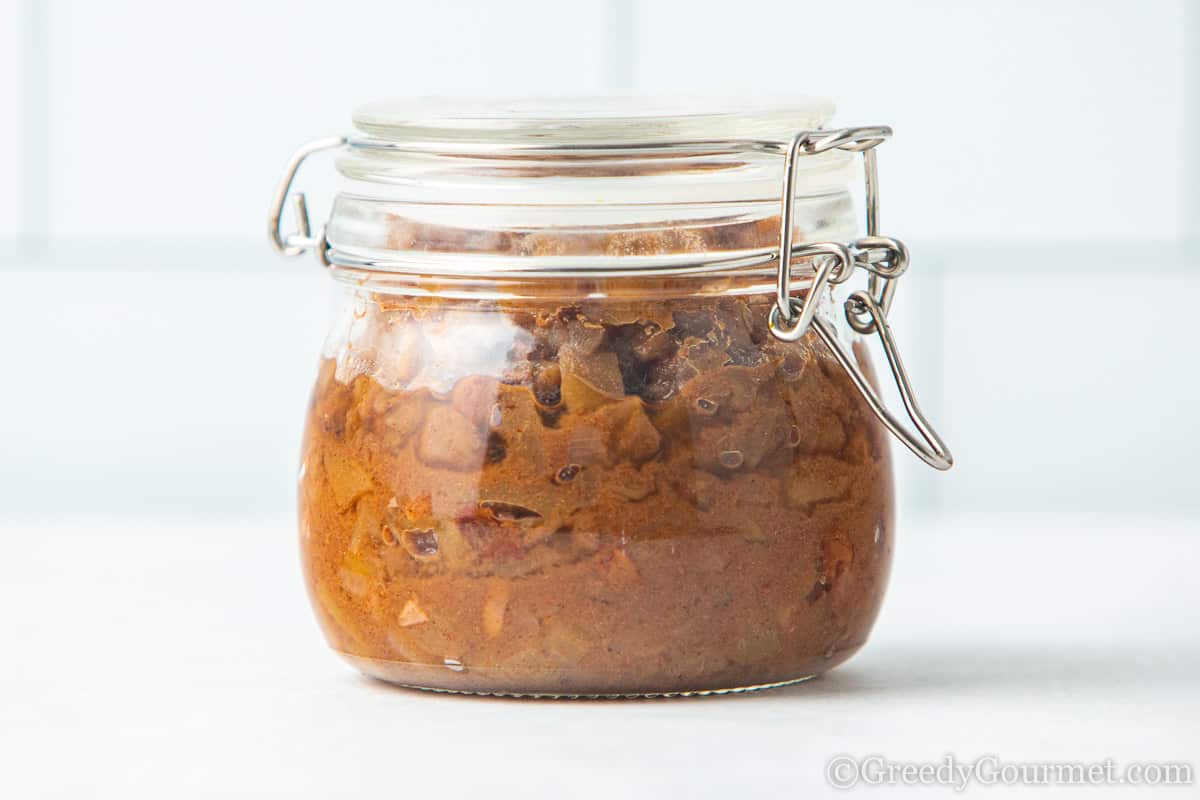 Making chutney is a two stage process – the cooking process and the storing process. You'd be forgiven for thinking 'job done' once your chutney is cooked. However, the way you store your chutney will have a big impact in its shelf life, giving it time to mature and take on those wonderful flavours.
So, here's our guide to storing chutney. Follow each of the points below and you'll end up with perfect chutney that will last a whole year! Also, keep reading until the end to discover some amazing chutney recipes that you won't want to miss…
Equipment needed to store chutney
Before you think about storing your chutney, there are a few pieces of kitchen that you'll need.
Every chutney maker has their trusty chutney making kit to hand, especially when making several chutney recipes throughout the year.
Check out Greedy Gourmet's 'chutney equipment buying guide' for an in-depth look at the pieces of equipment you'll need when making and storing chutney.
Where to store unopened chutney
Homemade chutney should be stored in a cool dark place, away from any sunlight.
Where to store opened chutney
Once you've opened your chutney, store in the fridge. This way you'll extend the shelf life of your chutney.
Opened chutney that's continuously refrigerated lasts up to a month.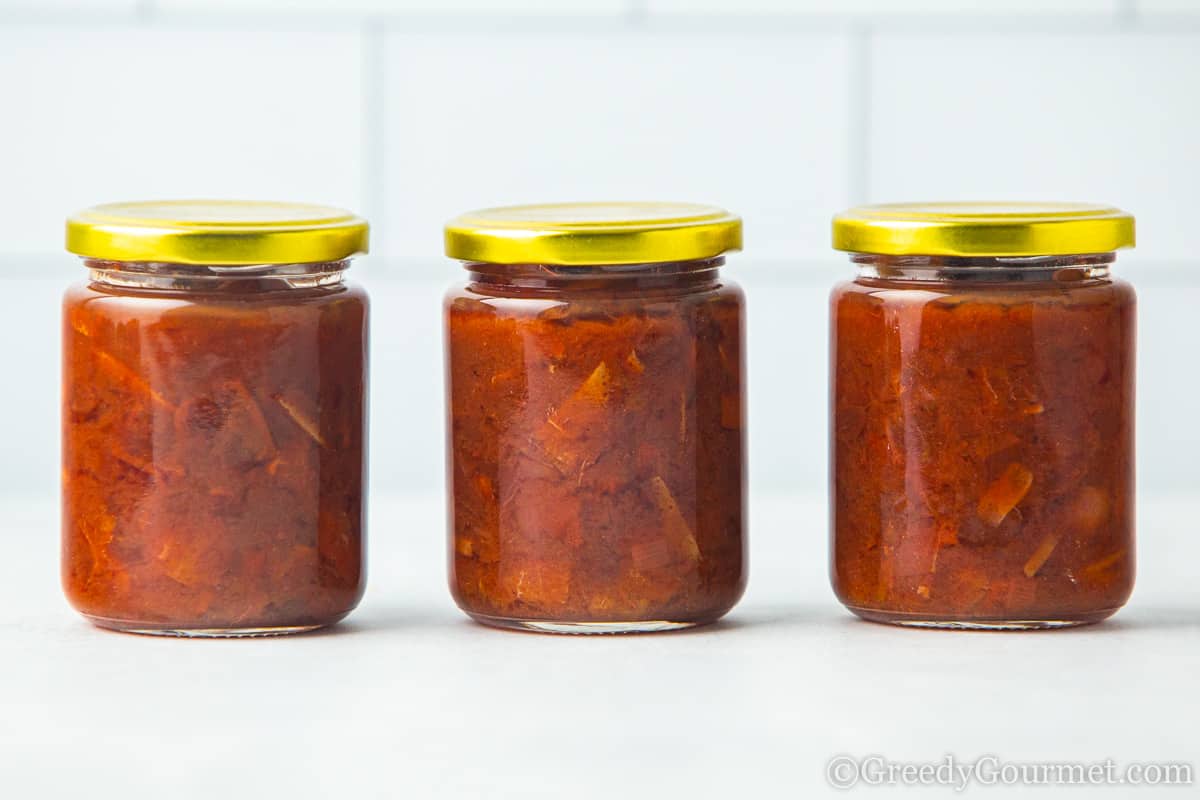 Top Tips on Storing Chutney
Here are a few key pointers to keep in mind when it comes to storing chutney:
You should always sterilise the glass jars that you store your homemade chutney in.
When spooning your chutney into the jars, make sure you use a jam funnel. This way, you won't spill any around the outside of the jar.
Also, it's important that the chutney and the jar are at a similar temperature. If your chutney is piping hot and the jar is cool, it could damage the glass.
If you're using Kilner jars with a rubber seal, we recommend that you use a wax paper disc to help form an airtight seal.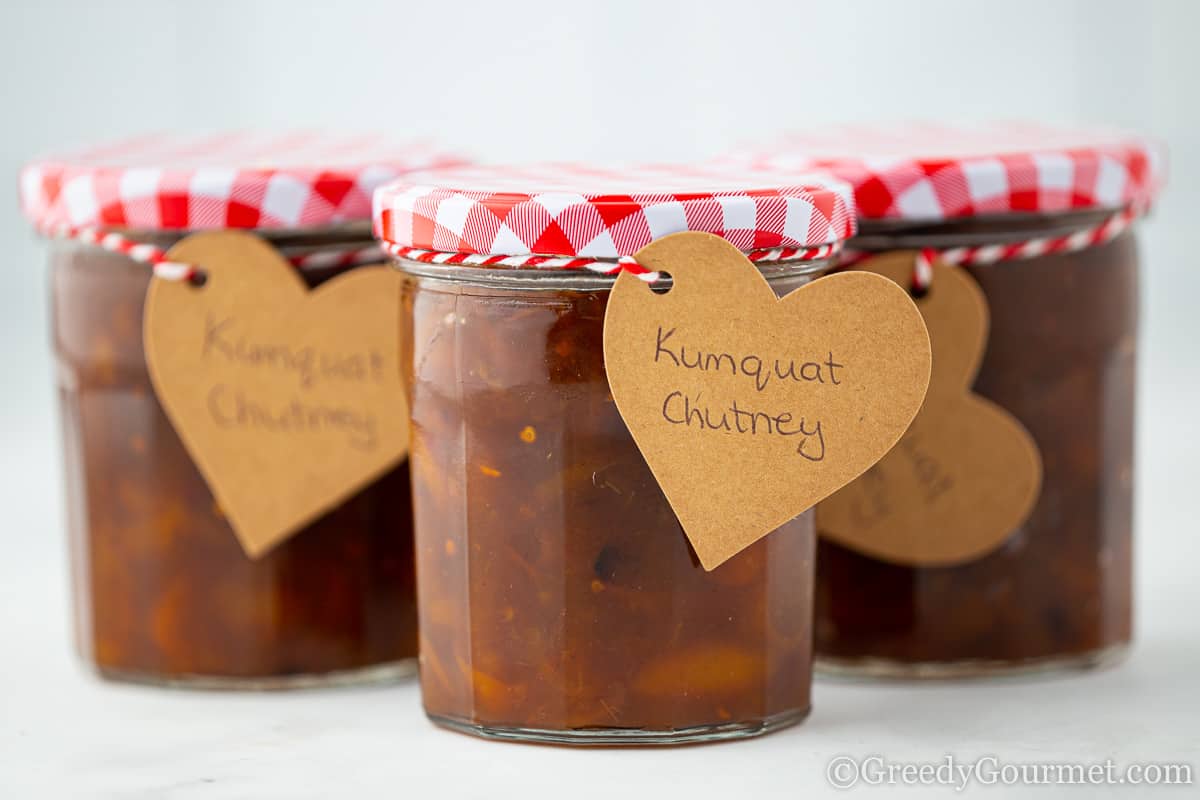 How do you know when chutney is ready to be stored?
The slow cooking period is what makes chutney so rich in taste. It also  gives it that wonderful thick texture. Still, as chutney cooks for a long time, it can be hard to know when it's ready.
You'll know when chutney is ready by drawing a wooden spoon through the base of the pot. If the vinegar in the chutney runs straight through the channel, it's not ready yet. 
The chutney should be thick enough to hold its shape for a few seconds, before the vinegar runs through the channel you made with your wooden spoon.
What should I store my chutney in?
A good quality Kilner jar is your best bet.
Do the jars need to be sterilised beforehand?
Can I reuse jars to store my homemade chutney?
Absolutely. Reusing old jam jars or chutney jars is a great idea. Just make sure you check the glass for nicks, cracks or other imperfections, which could be a breeding ground for harmful bacteria.
Also, if you help removing the labels from old jars, check out our guide on 'How to remove labels from jars.'
Should the jars be warm when spooning in the chutney?
Yes. This is very important, because if there's a big difference in temperature, the glass jars may crack. Cool jams or chutneys spooned into warm jars or warm jams or chutneys spooned into cold jars will put pressure on the glass.
So, spoon your warm chutney into warm jars and you'll be fine.
How long does chutney last?
When stored correctly, a long time! Like fruit liqueurs and mincemeat for mince pies, chutney has a long shelf life. Like most finished unopened preserves, chutney has at least a year's shelf life, as long as it's stored in a cool dark place. Some chutneys might even last up to two years.
When opened, tightly covered and stored in the fridge, chutney should last at least a month.
How come chutney has such a long shelf life?
Chutney can be stored unopened for a long period of time because it contains a lot of vinegar, which acts as a preservative. 
Chutneys can contain different types of vinegar. The kind of vinegar for a chutney recipe depending on the other ingredients. Some chutneys have malt vinegar, others have apple cider vinegar or balsamic vinegar. It all depends on the flavour profile.
Delicious chutney recipes
Now that you know how to store chutney, let's make some! Here are some of our best chutney recipes that never fail to hit the spot: