If you absolutely love fresh peaches but dread waiting all winter to enjoy them again, why not make your own homemade peach chutney?
Using ripe fresh peaches that are in season between June and August, you can preserve that taste of summer by making a versatile peach chutney that can be used on a variety of sweet and savory dishes.
This delicious homemade chutney is so much better than anything you've ever bought at the grocery store. Plus, by making it at home instead of buying store peach chutney, you can customize it with the flavors you love most.
If you have an abundance of stone fruits, fruit chutney is always a great way to avoid wasting and instead keep that fruit or vegetable preserved, and it also works as a great gift come the holiday season!
There are endless types of fruit chutneys out there, from tomato chutney to quince chutney, but this delicious chutney recipe is a real treat! Peach chutney is great on proteins such as pork chops or grilled chicken and exquisite on bread with goat cheese without being overly sweet.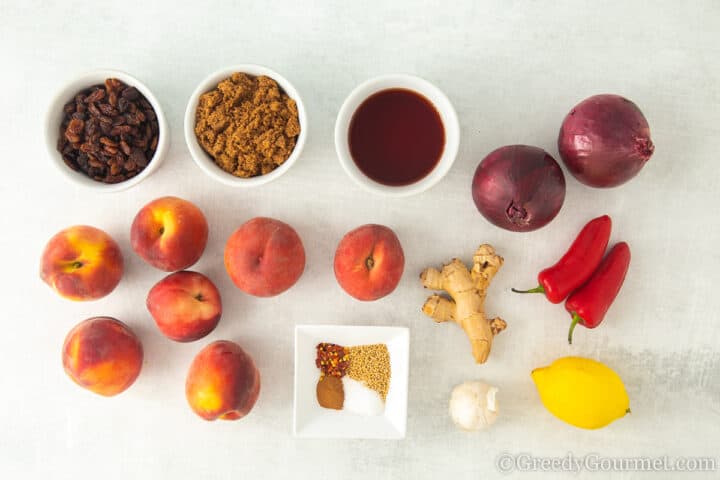 Spoon this perfect condiment over vanilla ice cream for a spicy and slightly savory combination or along with cheese and charcuterie with a glass of crisp white wine.
Why You'll Love This Recipe
It's fun and easy to make your own chutney
Use just one pot during the cooking process
You can experiment with different flavor combinations
No wasting an abundance of ripe peaches
Special Equipment Needed to Make This Recipe
Below are a few of the essentials for making and canning your chutney. Refer to my extended chutney-making guide for additional tools and information.
Special Ingredients You Need for this Recipe
Cardamon pods - green cardamom pods give your peach chutney a citrusy, spicy flavor that is much milder and less smokey than black cardamom pods. Use a spice grinder or a mortar and pestle to grind them fresh for the best flavor.
Mustard seeds - yellow mustard seeds give this recipe a hint of heat for a spicy peach chutney along with other warm spices ginger and cinnamon. Black mustard seeds are much stronger in flavor, making yellow mustard seeds ideal. You can omit them if you don't care for the spice and tang of mustard seeds.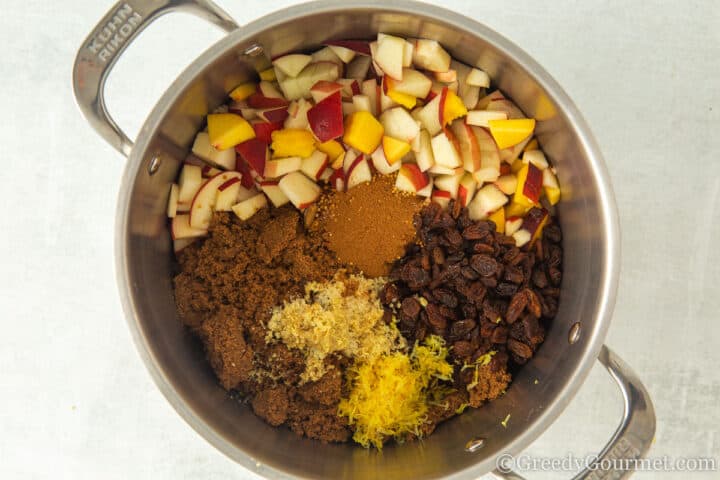 Top Tip
Chutneys get better with a little bit of time on the shelf, so don't skip the aging period. Your peach chutney should be ready to eat and fully flavorful after about a month of storage in a cool, dry place.
What to Serve your Peach Chutney with
The warm spices of this peach chutney work great alongside sweet and savory delicious recipes alike.
Appetizers
Cream cheese - Spoon chutney over and pop it into the microwave for thirty seconds; serve alongside crackers and bread as a spread
Baked brie - use homemade chutney to make a baked brie by adding it inside of the phyllo dough before baking; the sweetness of the peaches will go great with the funkiness of the brie
Grilled halloumi - enjoy this delicious grilled low-moisture cheese along with some peach chutney on its own; eat on a piece of bread or add it over salad greens for something a bit healthier
Potato bhajis - fried potato bhajis are full of Indian spices that go great with chutney, and this peach chutney is no exception
Mains
Pork chops, pork loin, grilled chicken, chicken sausage - serve chutney over any of these proteins for an amped-up meal with lots of flavor and spice
Beef kofta curry - for an interesting twist on this already spice-forward dish, dry a dab of chutney on the side
Chia seed bread - if you love a healthy breakfast bread with jam, change it up by topping a toasted slice of chia seed bread with sweet and spicy chutney. This combo may forever change your morning breakfast routine
Leftover stuffing waffles - this fun way to use leftover stuffing is complemented by a topping such as chutney, a little butter along with the chutney would make this a divine combination
Desserts
Pineapple ice cream - fruity pineapple ice cream with a subtle sweetness makes a perfect dessert alongside spiced peach chutney.
Crempog - this simple Welsh pancake recipe is versatile and great for breakfast, lunch, dinner, or dessert. You can top it with anything from syrup to fruit, but why not try it with some chutney to mix things up a bit
What Kind of Peach Should I Use?
There are many types of peaches out there, ranging from easy to find to less commonly found. Different varieties of peaches fall under three categories: freestone, semi-freestone, and clingstone.
When making chutney, any of these types will work, as long as you have ripe peaches, and of course depending on what you can find in your area.
Yellow peaches are the most common, with white peaches being the other color you'll find in your store or farmer's market. All three types have both yellow peaches and white peaches.
Freestone peaches
These are the most commonly found peaches in the grocery market. They are called freestone because the flesh of the peach falls easily away from the pit or the "stone." With yellow or white flesh, these peaches tend to be less juicy than semi-freestone and clingstones. Varieties include Nectarines, Honey Babe peaches, and Madison peaches.
Clingstone peaches
This type of peach has flesh that commonly clings to the pit of the peach, making it slightly harder to separate. Despite that inconvenience, they are sweet, soft, and very juicy. Unfortunately for the average consumer, clingstone varieties tend to be difficult to find because they are used commercially in restaurants more commonly than freestone. Varieties include Peento peaches, Melba peaches, and Cardinal peaches.
Semi-freestone peaches
Somewhere between clingstone and freestone lies semi-freestone. These peaches are nearly as sweet as a clingstone, with flesh that easily removes from the pit. Varieties of these peaches include Babcock peaches, Red Haven peaches, and Donut peaches.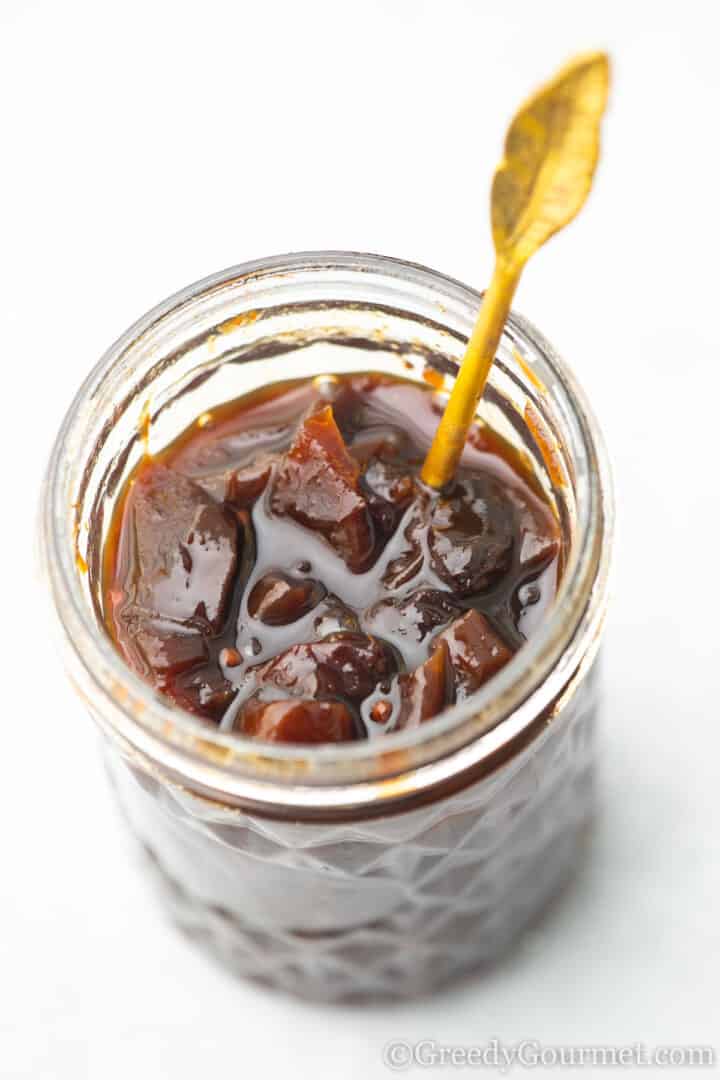 Popular Substitutions for this Recipe
Vinegar
Substitute red wine vinegar with apple cider vinegar. This will go especially well if you choose to use some granny smith apples in your chutney for a more tart flavor. Apple cider vinegar is more mellow and fruitier than red wine vinegar. You can also add some lime juice to give it more of a citrusy acidity
Chilli flakes
Instead of chilli flakes, use cayenne pepper in a 1:1 ratio to substitute. Both chilli flakes and cayenne come from the same pepper and will give you a slightly spicy peach chutney.
Sugar
You can replace brown sugar with regular white cane sugar if you don't have brown. The main difference between the two is the presence of molasses, which will make your chutney darker while adding a deeper caramelized flavor to it
Ginger
You can replace fresh ginger with ground ginger in your peach chutney. Remember that fresh ginger has a more complex and sweeter flavor than ground ginger, which may make your chutney a little spicier.
Variations to this Recipe
Use a spice bag with your whole spices such as cardamom pods and mustard seeds, as well as any additional spices you choose to use like whole cloves. You can easily pick out the bag with a slotted spoon and avoid grinding your whole spices.
Add apricots, cherries, plums, or any other stone fruit or berries you would like to this chutney to bulk it up or to create your own unique flavor profile. See the list below for more ideas.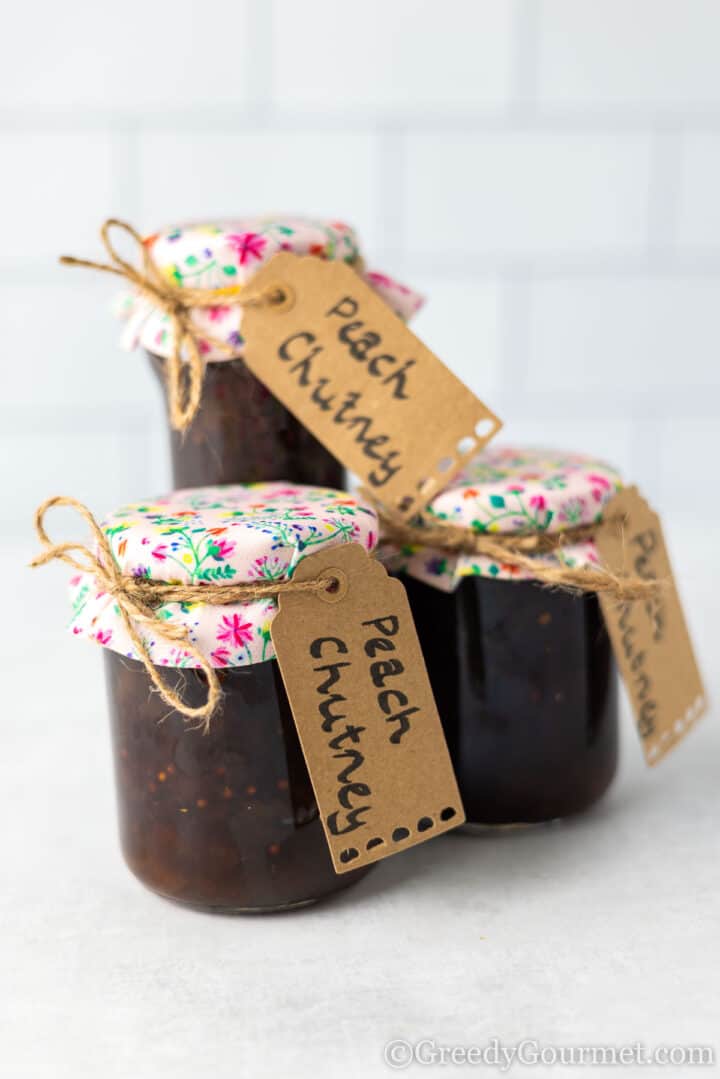 Other fruit you can pair peaches with
Make up your own divine combinations! Swap 50% of the peaches in the recipe below with one of the following fruits:
Apricot
Blackberry
Blueberry
Cherry
Grapes
Mango
Orange
Raspberry
Strawberry
Coconut
Redcurrants
Plum
Nectarine
Other flavours you can play with
Add an extra dimension of flavour to your peach chutney with any of the following:
1 cinnamon stick
½ tsp ground cinnamon
1 lemon, juice and rind
1 lime, juice and rind
1 orange, juice and rind
1 vanilla pod
0.5g (¼ tsp) ground cloves
2g (1 tsp) ground mace
2g (1 tsp) ground allspice
2g (1 tsp) dry mustard
10 fresh basil leaves, shredded
5cm (2in) fresh ginger root, grated
50g (½ cup) almonds, chopped
50g (½ cup) hazelnuts, chopped
50g (½ cup) pecans, chopped
Top Tip
To create a thinner and less chunky peach chutney, use a potato masher to help break down some of the larger chunks in the chutney during the simmering process.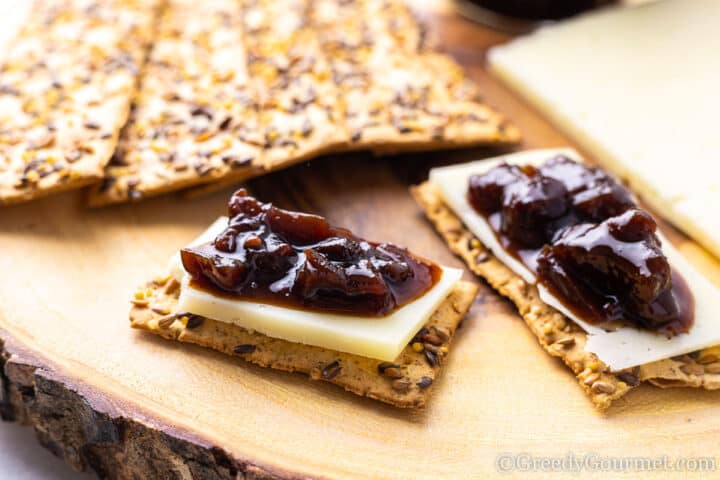 Alcohol that pairs well with peach chutney
Champagne
Bourbon
Brandy
Calvados
Cassis
Cognac
Cointreau
Framboise
Grand Marnier
Kirsch
Madeira
Marsala
Port
Rum
Sherry
Red wine, especially Burgundy
Alternatively, you can actually make your chutney boozy! Simply pour in 125ml (½ cup) of your preferred alcohol at the end of cooking time and bottle up your peach chutney as soon as possible.
How do I store leftovers?
You should store leftover peach chutney in the refrigerator with the top tightly sealed.
How long will this food last in the fridge?
This peach chutney will keep in the fridge for two months. Avoid contamination of the chutney by using a fresh spoon to serve the chutney, and never put the chutney back into the jar once it's been sitting out.
Can this recipe be scaled?
Yes, if you have so many peaches that you can make many batches of this delicious peach chutney, do it! Simply tweak the amounts to the weight of your peaches for a glorious supply of peach chutney.
Can this recipe be made in advance?
Yes, and chutney is even better having sat for a while before opening. So be sure to give your peach chutney at least a month in a cool, dark place before opening and enjoying it for the best results.
Ideas for how to use this chutney
Serve as part of a cheeseboard - it pairs particularly well with blue cheese and prosciutto. 
For something offbeat, serve peach chutney with a caramel or praline-based dessert.
Print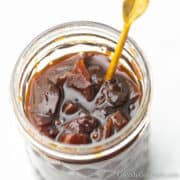 Peach Chutney
---
Author:

Michelle Minnaar

Total Time:

2 hours 35 minutes

Yield:

66

servings, 30ml (

2 tbsp

) per serving

1

x

Diet:

Vegan
Description
This easy and delicious homemade Peach Chutney is best served as part of a cheeseboard or with meat.
---
2

kg

(4 1/2 lbs) peaches, chopped

675

g

(1 1/2 lb) red onions, finely chopped

1

lemon, juice and rind

675

ml

(2 1/2 cups) red wine vinegar

1

kg

(4 cups) brown sugar

150

g

(1 cup) raisins, chopped

5

cm (2 in) fresh ginger root, grated

3

g

(1 tsp) ground cinnamon

11

g

(1 tbsp) mustard seeds

4

cardamom pods, crushed

2

g

(1 tsp) dried chilli flakes

6

g

(1 tsp) salt
---
Instructions
Place all the ingredients in a large saucepan. 
Stir over a medium heat until all the sugar has dissolved. 
Turn up the heat until a boiling point is reached, then lower it to reach a steady simmer. Cook for 2 hours or until the mixture is thick. 
Pour the chutney into hot sterilized jars and seal immediately. 
Store in a cool, dark place for a month to let the chutney mature. 
Serve as part of a cheeseboard. Enjoy!
Prep Time:

20 minutes

Cook Time:

2 hours 15 minutes

Category:

Chutney

Method:

Boil

Cuisine:

British
Keywords: peach chutney, indian peach chutney recipe, southern peach chutney, spicy peach chutney, peach chutney for chicken, peach chutney for pork, simple peach chutney recipe, peach jalapeno chutney