This is one tasty chutney! Pear chutney has all the fruity sweetness you would expect from a classic fruit chutney, with a spicy edge that takes it to a whole new level.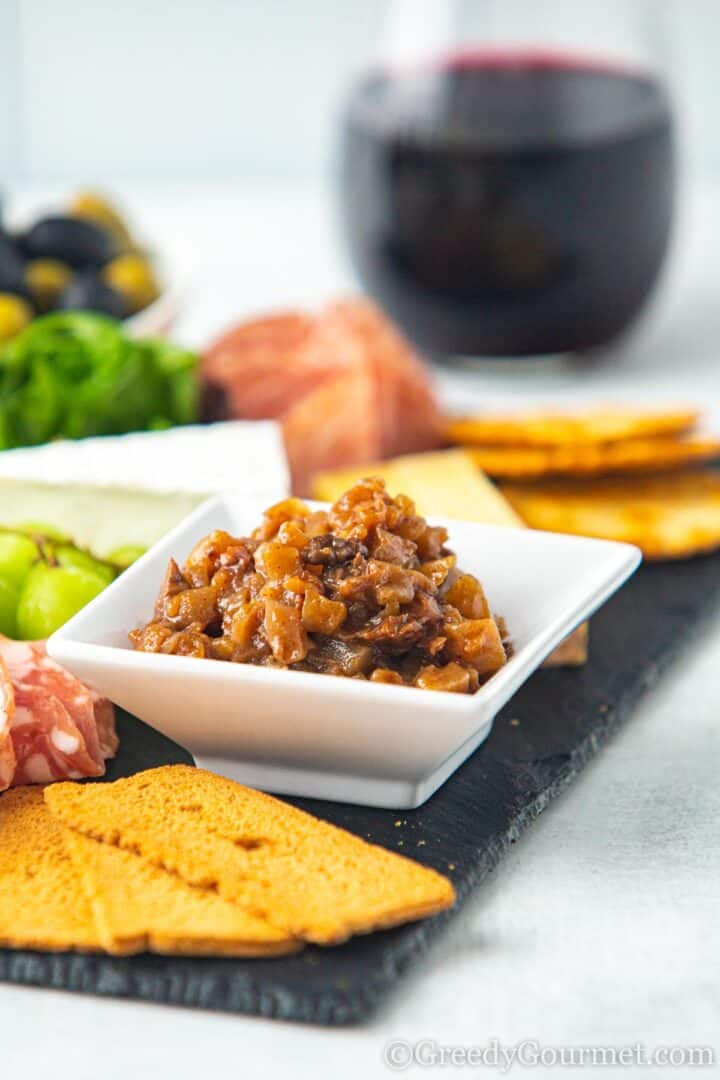 It's a simple, one pot recipe that will get you hooked on making homemade chutney.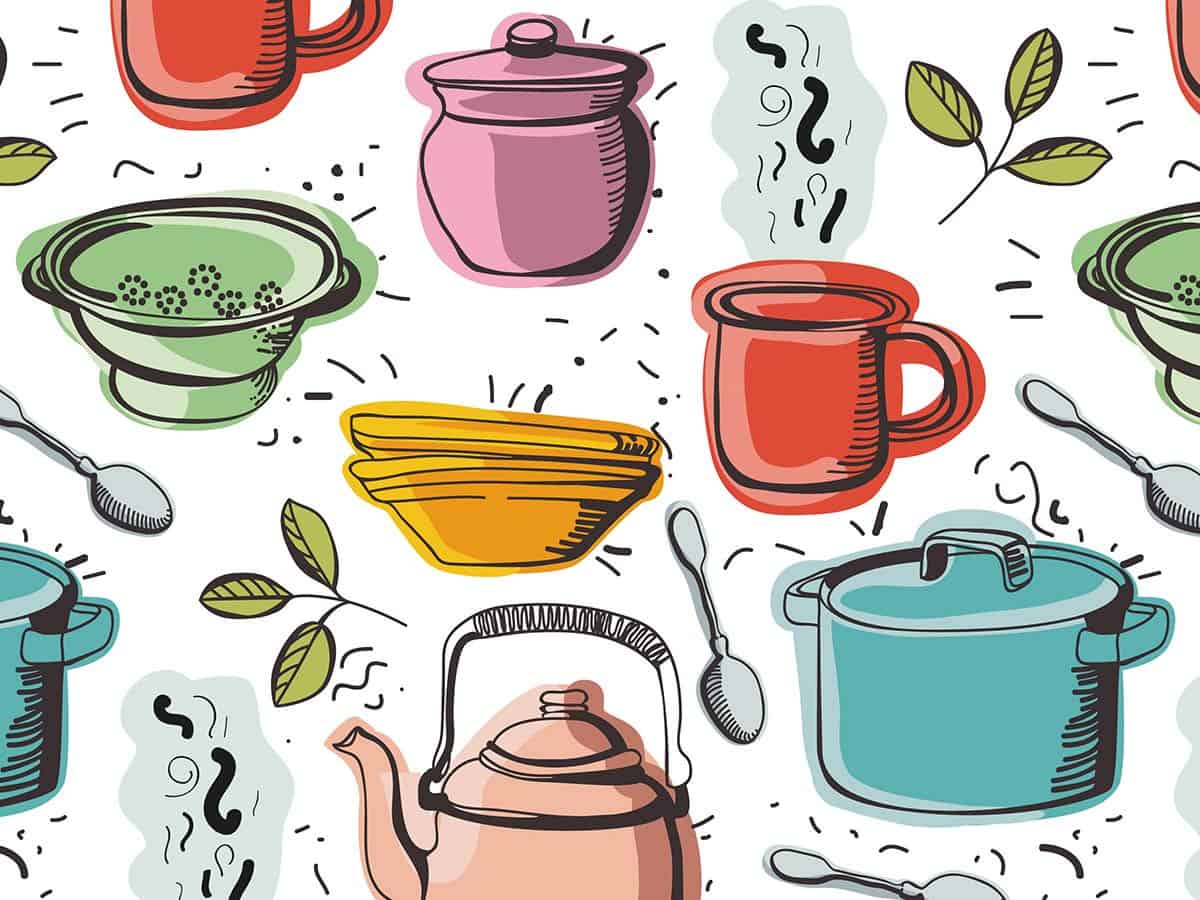 CHUTNEY EQUIPMENT YOU NEED
Check out the ultimate list to chutney making equipment. You actually don't need that much and most of the items are quite affordable!

Making your own preserves is a great and satisfying hobby. Giving the gift the lovely food to your friends and family are especially rewarding!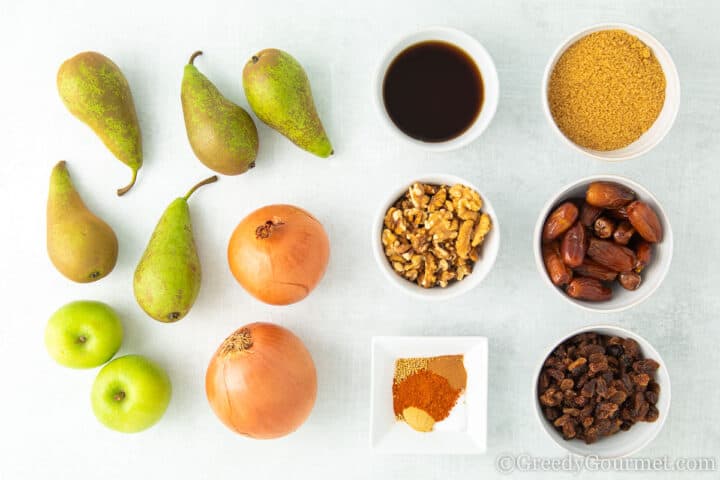 Spiced pear chutney recipe
Stuck for some inspiration on how to get the best out of pears? Look no further! This is a sensational recipe with the perfect blend of sweetness, tanginess, richness and spice, with a luscious texture that really makes the mouth water.
The ingredients are simple and healthy – no additives in sight! So, forget the store bought stuff and make your own.
Apples, sultanas, dates and brown sugar bring the sweetness. Don't be tempted to use white sugar – for me brown gives it that caramel edge.
Walnuts add a wonderful nuttiness that complements the fruit. Spice-wise, we're talking ginger, mustard seeds, cinnamon and cayenne pepper, with a pinch of salt.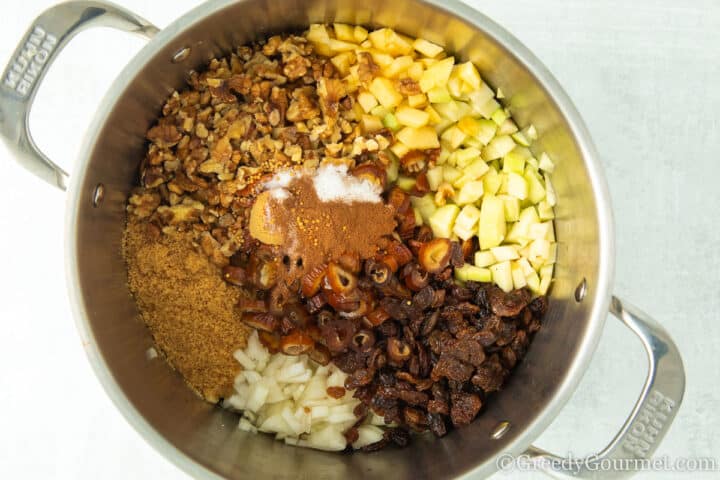 What are the best pears to cook in chutney?
Bosc
These hold their shape very well when cooked, making them fabulous for making chutney. Very common and widely available, they are the classic example of the brownish russet skinned ones you see in your local supermarket, grocery store or elsewhere.
Boscs are available for a large part of the year, usually from September all the way through the winter, although some orchards produce a bumper crop into April.
Bartlett
Deliciously juicy, they are great to eat raw, but lose their shape when cooked. For me, they're not the best for this recipe, as you could end up with a mushy mixture instead of a chunky one.
If you do opt for bartletts, use a mixture of semi-ripe and ripe, for a more interesting texture combination. Bartletts are in season from July through to October.
Anjous
Mild in flavor and firm in texture, these sweet little wonders are fabulous for a decent choice. They come in green and red varieties, but the color doesn't mean any major difference to flavor or texture. 
Anjous can be eaten raw or used to cook sauces, condiments and other dishes. Pick anjous that are bright and firm when lightly squeezed in your palm and ones that feel heavy for their size.
Anjous are usually available from October through May.
French butter
Another excellent cooking pear, these are rich and juicy with a tenderness that makes them great for eating raw but also cooking.
French butter pears are prevalent in the fall.
When is pear season?
They typically grow for a large part of the year. In the States, they are grown in Oregon and Washington, with August through to May being the typical harvesting period. 
Buy them locally at farmers' markets for the best tasting types!
What can I do with a glut of pears?
Make chutney while the sun shines! Okay, there are many other great dishes you can make – I'm thinking crumbles, cobblers and other delicious desserts – but, for me, you can't get better than chutney.
There's just something so wonderful about that sweet, savory, spicy taste. Plus, it goes with so many different foods!
What can I do with unripe windfall pears?
Bake them. Unripe pears hold their shape when baked; unlike ripe ones, which quickly turn to mush. This makes them perfect for pies, crumbles and – guess what – yep, chutneys!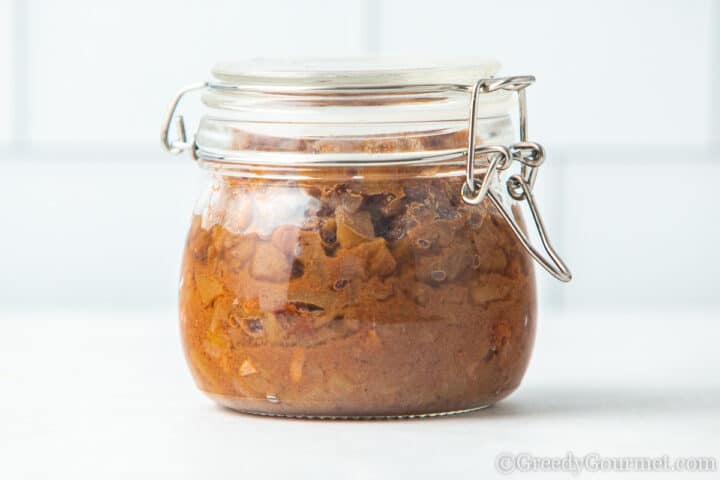 How do you store pears?
It depends. If you've bought unripe pears and you want to ripen them, store them loosely in a paper at room temperature. This way, they will ripen quickly.
Otherwise, store them in the refrigerator.
What's the best vinegar to use?
Vinegar is an essential preservative that helps chutney to stay fresh for longer. Different types of chutney suit different chutneys. For spiced pear chutney, there are a few options:
Malt vinegar
My pick for this recipe is malt vinegar. With notes of caramel and citrus, with nutty undertones, it has the ideal flavor profile to complement the sweetness of the pear and sultana flavors.  
Cider vinegar
Another good choice, either apple or pear cider vinegar would bring a nice tang to this chutney.
White wine vinegar 
It has a mellower, softer taste, which would allow the pear to take center stage. Avoid cheap white wine vinegars.
Balsamic vinegar
A great pairing with pear chutney, balsamic vinegar can bring lots of different flavors, ranging from fig and prune to chocolate and cherry. Go for a quality balsamic and you can't go wrong.
What can I use instead of sultanas?
You can easily substitute sultanas for raisins or blackcurrants.
Does this chutney need to mature?
Yes. It's best to leave your spiced pear chutney to mature for at least a month.
Can you freeze pear chutney?
Yes you can. If you want to keep your spiced pear chutney for longer, store it in an airtight freezable container. It will stay fresh in the freezer for up to 12 months.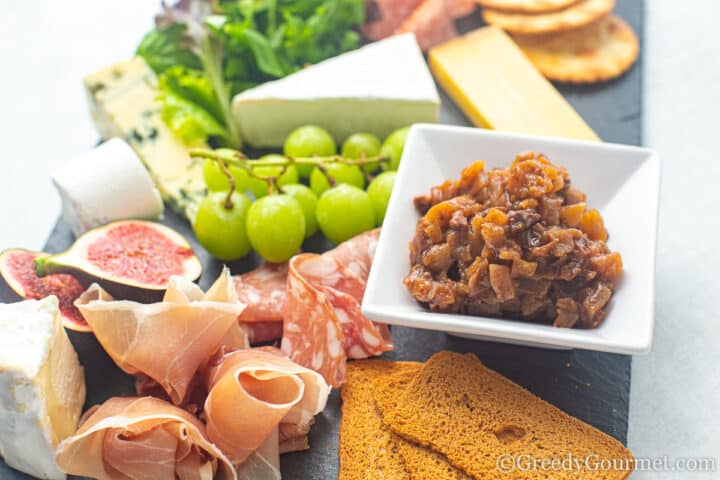 Other fruit you can combine pear with
Make up your own divine combinations! Swap 50% of the pear in the recipe below with one of the following fruits:
Apples
Banana
Blackberries
Lingonberries
Oranges
Figs
Pineapple
Prunes
Quinces
Raspberries
Other flavours you can play with
Add an extra dimension of flavour to your pear chutney with any of the following:
1 cinnamon stick
½ tsp ground cinnamon
1 vanilla pod
4 cardamom pods, crushed
5cm (2in) fresh ginger root, grated
1 small red onion, finely chopped
50g (½ cup) almonds, chopped or slivered
50g (½ cup) pecans, chopped
3 star anise
½ tsp ground cumin (freshly ground cumin seeds for best results)
½ tsp ground nutmeg
½ tsp ground coriander
½ tsp red chilli flakes
½ tsp chilli powder
¼ tsp ground cloves
¼ tsp ground mace
1 tsp ground black pepper
3 cloves
50g (½ cup) walnuts, chopped
50g (½ cup) hazelnuts, chopped
1 lemon, juice and rind
100g (¾ cup) cooked chestnuts, chopped
Alcohol that pairs well with pear
Probably the simplest and most enjoyable way to eat chutney is part of a cheeseboard.
If you pair your pear chutney with a cheeseboard, you might want to take a dream double to a triple with a nice little tipple!
While enjoying this pear chutney recipe as part of a cheeseboard, you can enjoy the following drinks with it.
Armagnac
Beaujolais
Bourbon
Brandy
Calvados
Cassis
Chablis
Cognac
Curacao
Marsala
Muscat
Grand Marnier
Grappa
Riesling
Kirsch
Burgundy
Perry
Alternatively, you can actually make your chutney boozy! Simply pour in 125ml (½ cup) of your preferred alcohol at the end of cooking time and bottle up your pear chutney as soon as possible.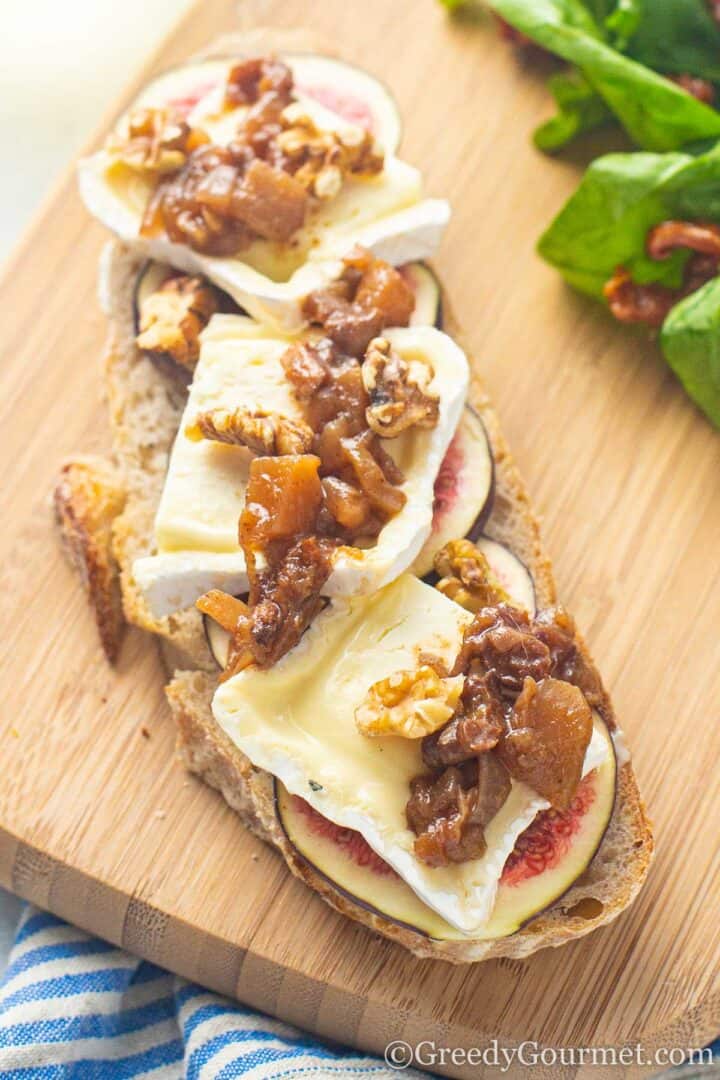 Tips for perfect pears
A few tips on how to pick the perfect pear:
Go for firm pears that are bruise-free
To ripen your pears at home, store them in a paper bag at room temperature
Peel your pears before cooking, as the skin is tough and unpleasant when cooked
Buy in season from a local market!
Don't pinch or poke pears with your fingers to test for ripeness. Instead, use your palm to gently squeeze them.
Ideas for how to use this chutney
Serve it alongside roast beef, pork or chicken, salmon, any hard cheese, blue cheese, goat's cheese, prosciutto, brie, cantal, feta, gorgonzola or roquefort!
More pear recipes
Check out these recipes for other ways to use this wonderful fruit:
More chutney recipes
Want to bring some consistency to your chutney game? I've got some seriously tasty homemade recipes for you to master:
Print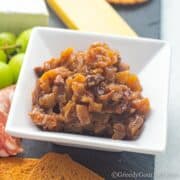 Pear Chutney
---
Author:

Michelle Minnaar

Total Time:

1 hour 50 minutes

Yield:

1.5

litres

1

x

Diet:

Vegan
Description
Learn how to make this easy and delicious homemade Pear Chutney. Best served as part of a cheeseboard and meat.
---
10

medium pears (

1

1/2kg) pears, peeled and chopped

2

large apples (

400g

) apples, peeled, cored and chopped

500

g

(4) onions, finely chopped

500

ml

(2 cups) malt vinegar

200

g

(1 cup) brown sugar

170

g

(1 cup) sultanas

225

g

(1 cup) dates, pitted chopped

150

g

(1 cup) walnuts, chopped

2

g

(1 tsp) ground ginger

5

g

(1 tsp) yellow mustard seeds

3

g

(1 tsp) ground cinnamon

3

g

(1 tsp) cayenne pepper

15

g

(1 tbsp) sea salt
---
Instructions
Place all the ingredients in a jam pan or large saucepan. 
Stir the contents over a medium heat until the sugar has dissolved. 
Crank up the heat and let the mixture reach a boil, then reduce to a steady simmer.
Continue to cook uncovered for 1¼ hours or until the chutney has thickened. Do give it a stir every now and then to prevent the food from sticking to the bottom of the pan. 
Spoon into hot, sterilised jars. Seal and then let it cool down. 
Label the jars, then let the chutney mature for at least a month before opening. Enjoy!
Notes
You can easily substitute the sultanas with raisins or black currants. 
The malt vinegar can be substituted with white wine vinegar, apple cider vinegar or balsamic vinegar.
Prep Time:

20 minutes

Cook Time:

1 hour 30 minutes

Category:

Chutney

Method:

Boil

Cuisine:

British
Keywords: pear chutney, spiced pear chutney recipe, pear and walnut chutney, pear recipe, homemade chutney recipe