An enticing blend of sweet and savory flavours with a hint of spice, rhubarb chutney tastes delicious served with your favourite cheese or cold cuts or spread on your favourite sandwiches.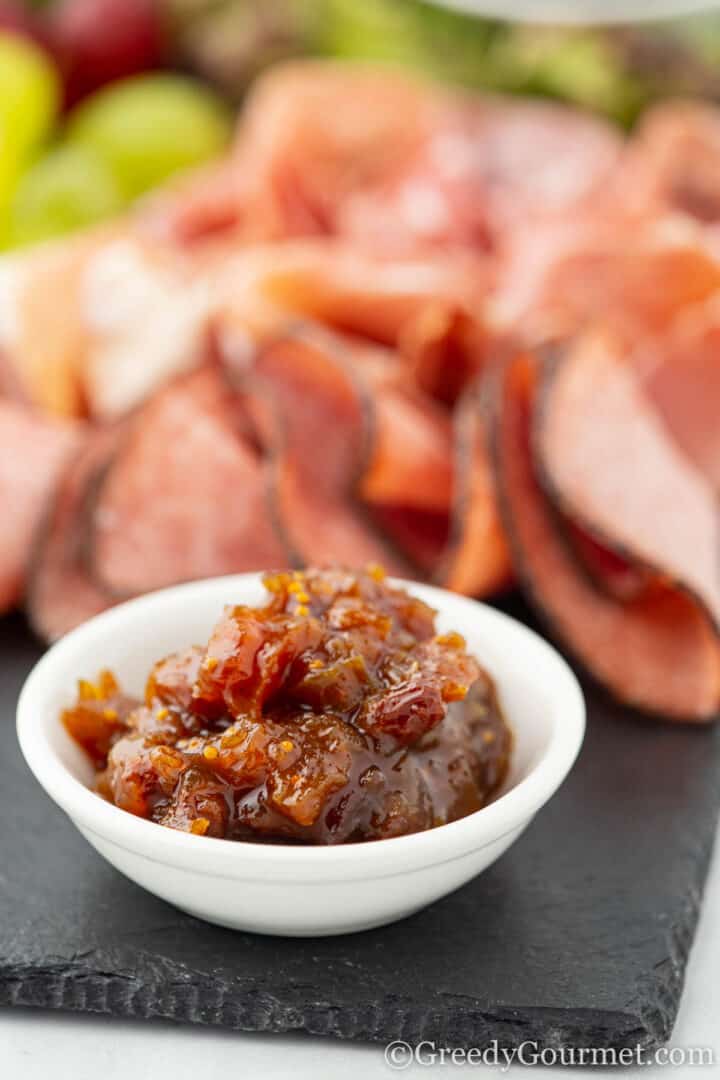 So, if you have a large supply of rhubarb and want a great recipe to get the best out of this terrific ingredient, this recipe is for you!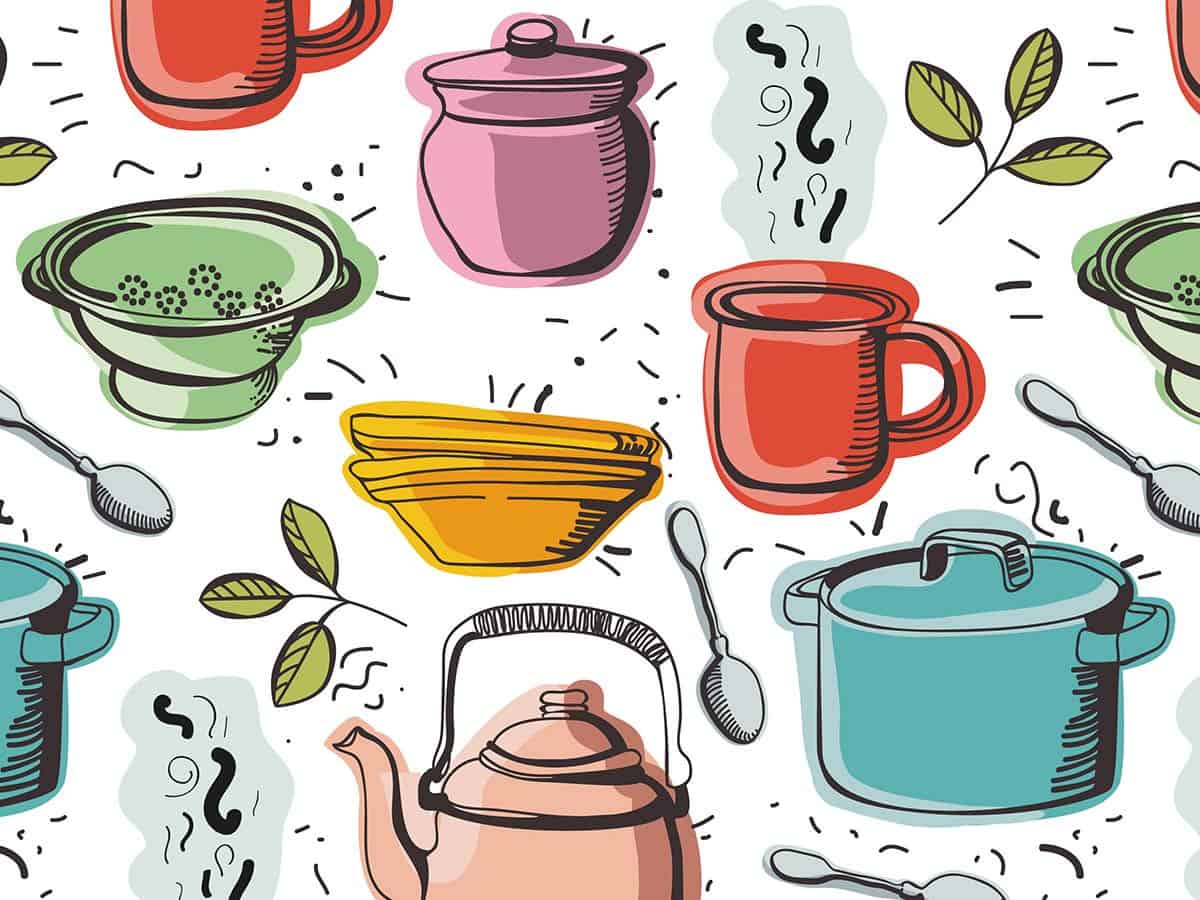 CHUTNEY EQUIPMENT YOU NEED
Check out the ultimate list to chutney making equipment. You actually don't need that much and most of the items are quite affordable!

Making your own preserves is a great and satisfying hobby. Giving the gift the lovely food to your friends and family are especially rewarding!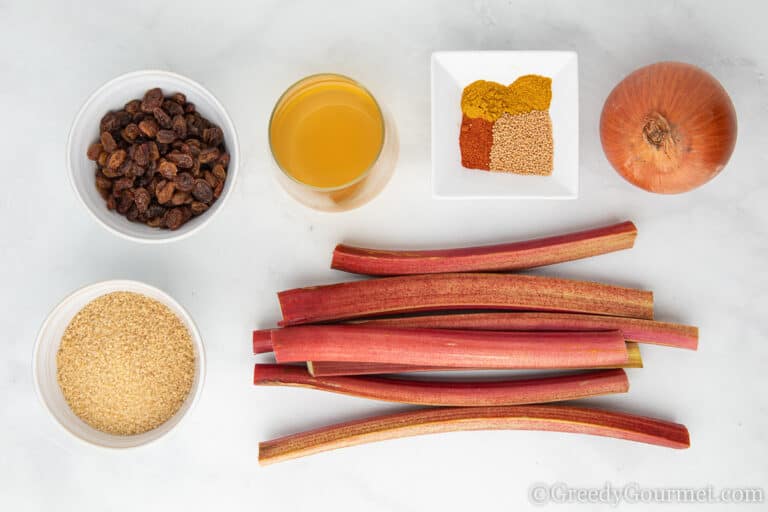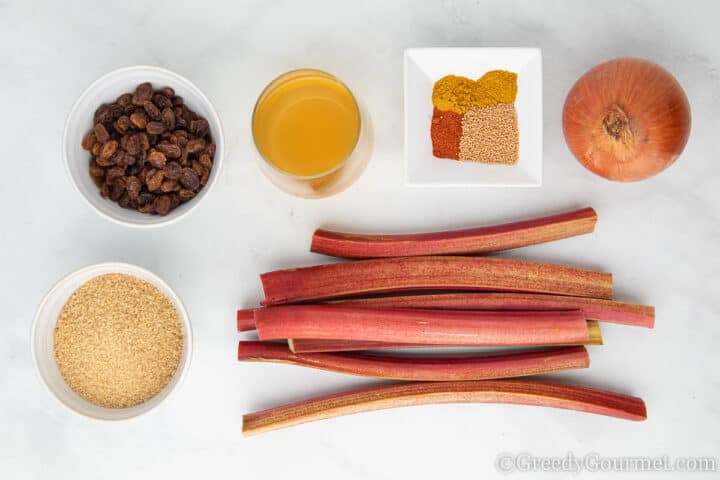 Rhubarb chutney recipe
A wonderful mixture of flavours makes rhubarb chutney one of the best preserves to make for this time of year.
If you have a rhubarb patch, this recipe is absolutely essential! Even if you don't, at the right time of year rhubarb is a fantastic ingredient that grows in abundance. Many people don't know what to do with it though! That's where my chutney recipe comes in.
The sour tangy taste of the rhubarb balances wonderfully well with the subtly sweet and savory onion, the tang of the apple cider vinegar, the sweetness of the brown sugar, the fruitiness of the sultanas and the earthy heat of the curry powder, cayenne pepper and white mustard seed.
It's an incredible combination that, when simmered together for a period of time, brings some out of this world flavour.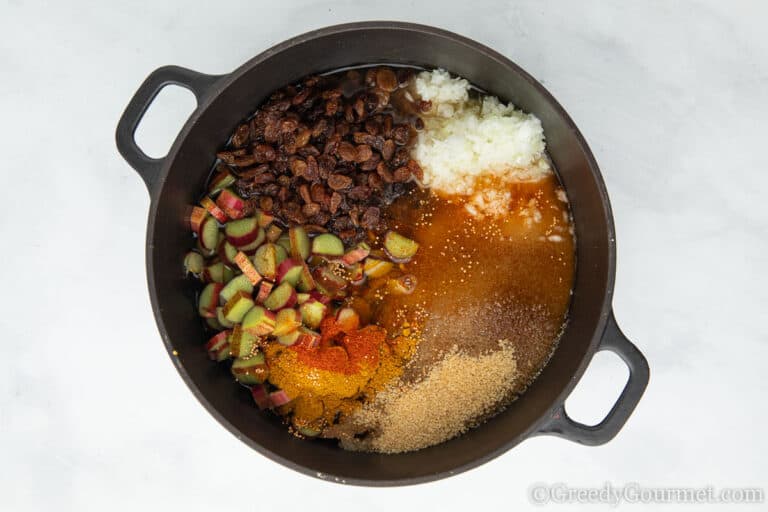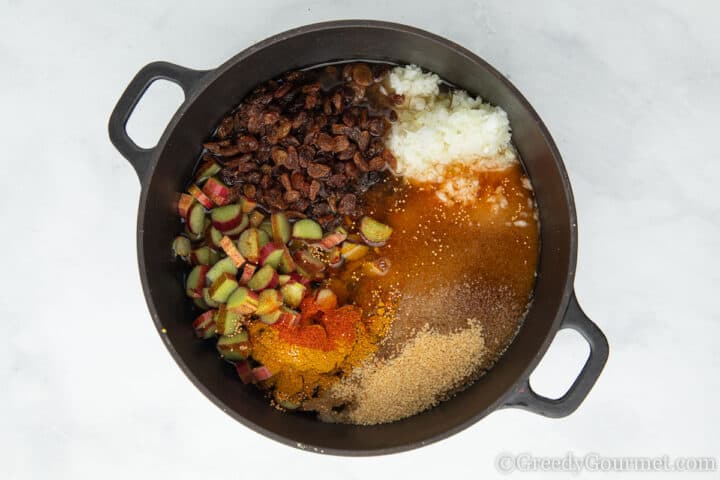 What exactly is chutney?
It's a thick sauce, dip or condiment (depending on your definitions) that is made from a combination of vegetables, fruits and spices. It's always made with vinegar – a key component of any chutney that helps to keep it fresh for longer and gives it its customary 'zing.'
Chutney is normally tangy, sweet or spicy in taste.
Where does chutney come from?
Chutney comes from the Indian continent. It was made and used as far back as 2,000 years ago as a way to keep food fresh for longer. The sugar and the vinegar in the chutney would act as a preservative, preventing bacterial growth.
Unlike the chunky consistency typical of modern chutney, the original form of chutney was much smoother. It was more like a paste or sauce.
Later down the line, chutney became a popular dish for the Romans, who would make it in large batches and use it to flavor favorite dishes of the times. Hundreds of years later, it became popular in Britain. Eventually, the magical Indian condiment became hugely popular all over the world.
How is chutney made?
The brilliance of chutney, apart from the wonderful flavour that goes with anything, is the amazing simplicity of the cooking process. Rhubarb chutney is made in one pot. All the ingredients are added to the pot, brought to the boil, then lowered to a gentle simmer.
When cooking chutney, it's important to have a solid, sturdy, heavy-bottomed cooking vessel. Aside from a standard cooking pot, you can use a pressure cooker – something like an Instant Pot or a Tefal.
What does rhubarb taste like?
When eaten raw, rhubarb has a very tart, bitter taste. Kind of like an unripe cooking apple or unripe grapes. It's what puts a lot of people off using rhubarb in cooking.
However, when you cook rhubarb and pair it with sweet ingredients, like the brown sugar and sultanas in this recipe, it really comes into its own.
That's why recipes like rhubarb chutney, where you cook the rhubarb on a simmer for a long period of time, are so popular.
Aside from sweet fruit, the taste of rhubarb lends well to being paired with spices.
Is rhubarb a fruit or a vegetable?
Lots of  people make the mistake of thinking rhubarb is a fruit. In fact, it's technically a vegetable. It's an amazing ingredient in pies, crumbles, jams and jellies, which is why there's a wide belief that rhubarb is a fruit.
When is rhubarb in season?
As it's a cold weather plant it grows best in cold climates during the winter. Even better if the climates are sunny and cold – in Alaska, for instance, a few long days of summer sun can help rhubarb grow to five feet or more... That's a lot of chutney making!
In the UK, rhubarb season is typically from January through to March.
You can even grow rhubarb yourself. Even if you don't have a green thumb, you cannot go wrong with growing this amazingly hardy plant. It needs next to no maintenance, and will grow extensively when left to its own devices. So, get out there and plant some rhubarb!
What are the benefits of eating rhubarb?
Well, the Chinese have been using rhubarb as a medicine for centuries. As far back as 2,700 B.C., they were using it as a folk remedy to cure digestive problems.
Folk tales aside, the science is clear – rhubarb contains many antioxidants that have anti-bacterial, anti-inflammatory and anti-cancer properties, which can help protect you from many health-related issues.
It also contains many essential vitamins and minerals such as vitamin C and K, calcium, potassium and lutein.
Can you eat rhubarb leaves?
No. Rhubarb leaves are actually poisonous. They contain high levels of oxalic acid, which is not for consumption. That's why the leaves are removed during the harvesting process.
What does forcing rhubarb mean?
It's the process of covering rhubarb to block its exposure to sunlight. This encourages an early growth, which makes rhubarb sweeter and gives it a more vibrant pink colouring.
Forced rhubarb came about out of necessity in Yorkshire in the 19th century. Other fruit was scarce during the winter, so forcing sheds were invented to speed up the rhubarb harvest.
Non-forced rhubarb is known as maincrop rhubarb. It has thicker stalks and more of a red colouring, rather than the bright pink of forced rhubarb.
Can you use frozen rhubarb?
Yes, you can absolutely use frozen rhubarb in this recipe. If it wasn't chopped before you froze it, you'll need to allow it to defrost slightly before chopping.
What's the difference between a jam and a chutney?
A jam tends to be purely cooked fruit with the addition of sugar and pectin. Chutneys, on the other hand, are far less sweet. In fact, many chutneys aren't sweet at all.
Chutneys also tend to use sugar and vinegar as a preservative, while including a mixture of spices to complement the flavour.
Why use vinegar in this chutney?
Vinegar is the main ingredient that acts as a preservative in chutney. It is what makes it last for such a long time. It also helps to add balance to the taste.
As it is such an important ingredient, it stands to reason that you want to go for a high quality vinegar. The better the vinegar, the better the chutney – it's as simple as that.
Below, you'll see my thoughts on the best type of vinegar to use for this chutney.
What vinegar is best for rhubarb chutney?
Vinegar is an essential part of the chutney making process, as it helps to preserve it for longer. There are a few different types of vinegar you can use in this recipe:
Apple cider vinegar
The sweet tangy taste of apple cider vinegar makes it the best type to use for this chutney.
White wine vinegar
Another good option, white wine vinegar brings good acidity and a balanced flavour.
Balsamic vinegar
A more expensive option and with more of a pronounced taste, balsamic makes for a good alternative to apple cider vinegar in this recipe.
How do you store rhubarb chutney?
You'll need to store your rhubarb chutney in steralised airtight containers in a dry, cool dark place away from direct sunlight.
How long does rhubarb chutney keep?
Most chutneys will last for at least a year unopened. Once opened and stored in the refrigerator, it will keep fresh for up to 6 weeks.
Can you freeze rhubarb chutney?
Yes. If you want to keep it for longer after you've opened it, you can freeze this chutney for up to a year. Don't store it in a jar though, as it may break when the frozen chutney expands. Instead transfer it into an airtight storage container.
How do you thicken this chutney?
The best real method for thickening up chutney is to heat it for longer. This leads to the liquids evaporating. The length of time you cook it for and how much cooking liquid you have depends partly on how much you make.
Stirring the chutney as it simmers helps the water to evaporate. Using a wide pan also helps, as more steam can be released.
Other fruit you can combine with rhubarb
Make up your own divine combinations! Swap 50% of the rhubarb in the recipe below with one of the following fruits below.
- Mango
- Strawberries (other berries work too)
- Apples
- Plums
- Dates
- Apples
Other flavours you can play with
Some more flavour combinations that work really well with rhubarb chutney:
1 star anise
2.5cm (1in) fresh ginger root, grated
1 orange, zest and juice
1 lemon, zest and juice
1 lime, zest and juice
1 tangerine, just the rind finely chopped
1g (1 tsp) fresh rosemary leaves, finely chopped
15g (½ cup) fresh mint, chopped
1 vanilla pod
1 cinnamon stick
4g (2 tsp) black peppercorns
4g (2 tsp) pink peppercorns
5 cloves garlic, crushed
2g (1 tsp) mixed spice
3g (1 tsp) ground ginger
3g (1 tsp) ground cinnamon
15g (½ oz) whole coriander seeds
Pinch of ground cloves
Pinch of asafoetida
Pinch of saffron
2g (1 tsp) garam masala
2g (½ tsp) nigella seeds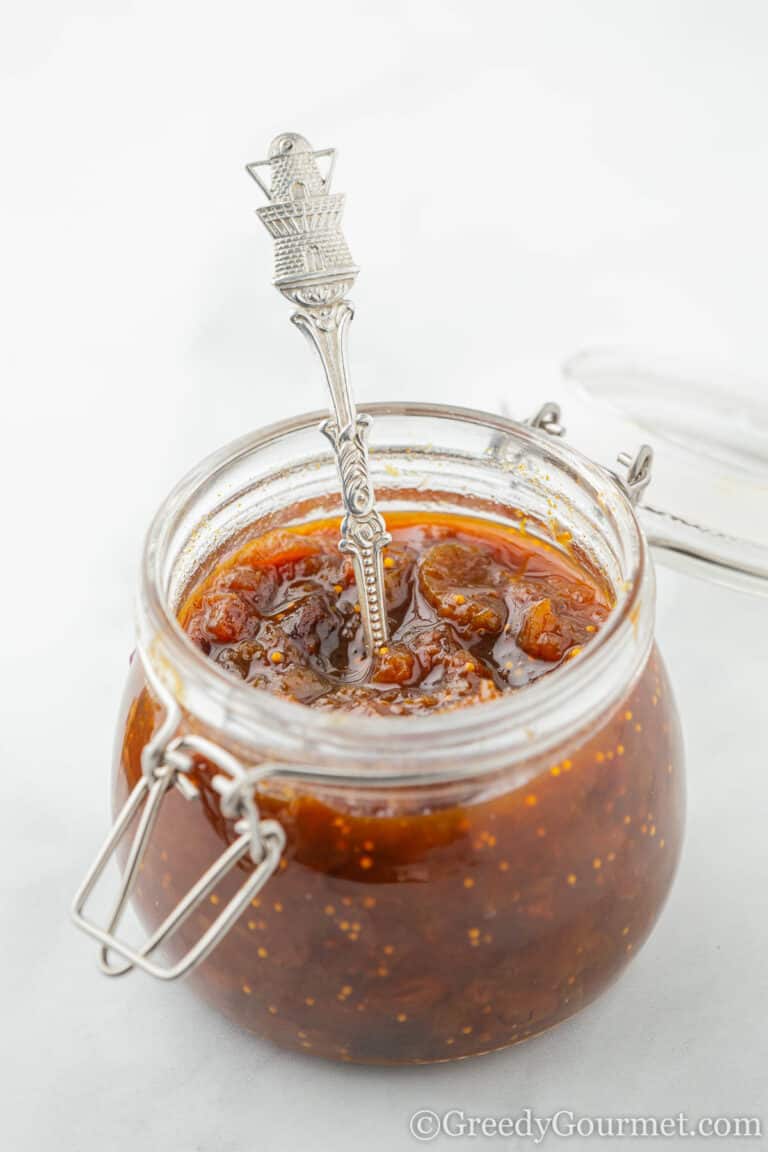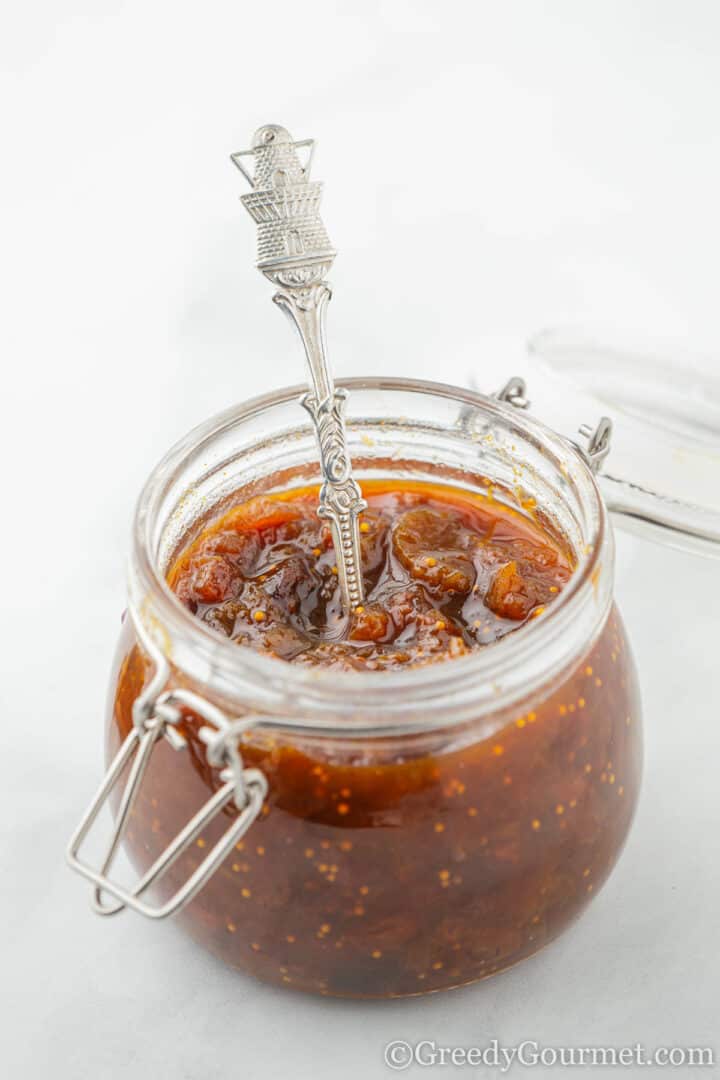 Alcohol that pairs well with rhubarb
While enjoying this rhubarb chutney as part of a cheeseboard, you can pair brandy with it.
Alternatively, you can actually make your chutney boozy! Simply pour in 125ml (½ cup) of brandy at the end of cooking time and bottle up your chutney as soon as possible.
What can I serve with rhubarb chutney?
When it comes to pairing food with this rhubarb chutney, there are plenty of options: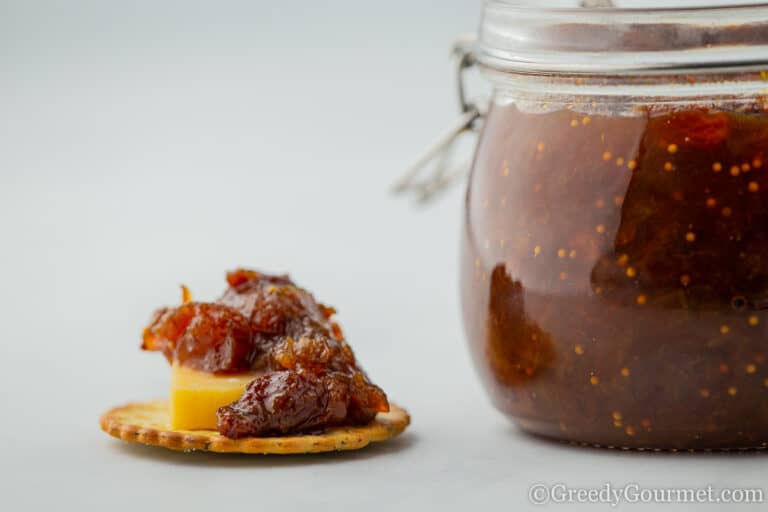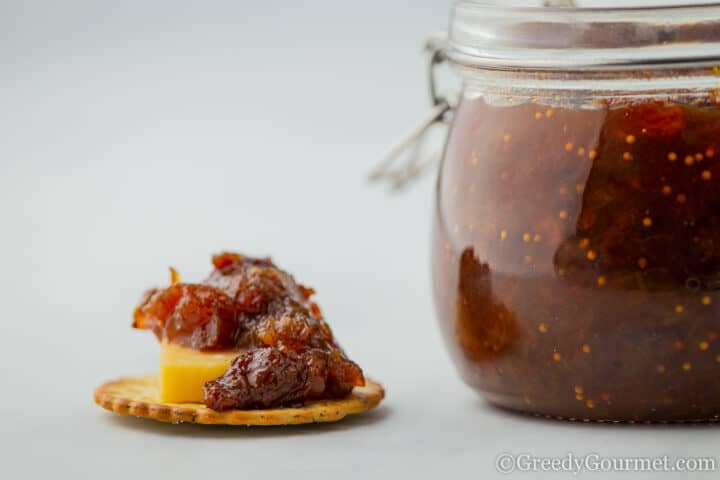 More delicious chutney recipes
Follow up this wonderful recipe with some other more delicious chutney recipes:
Black grape chutney – wonderfully fruity with a herby twist, we also have this grape chutney
Strawberry chutney – add a little zing to your favorite foods with this lightly spiced fruit chutney
Mrs Balls chutney – a South African favorite, this peach and apricot chutney has a mild fruity flavor that goes so many different dishes
Damson chutney – with its deep rich plum flavor and warming, earthy spices make this chutney so incredibly tasty
Marrow chutney – fresh, fruity with a hint of spice, this is the perfect recipe to use up a glut of marrows
Nectarine chutney - you can't find it at the shops but you can easily make your own!
Orange chutney - an aromatic chutney that balances the vibrant citrus flavors of oranges with a blend of spices.
Apricot chutney - the perfect chutney to bring along on a summer picnic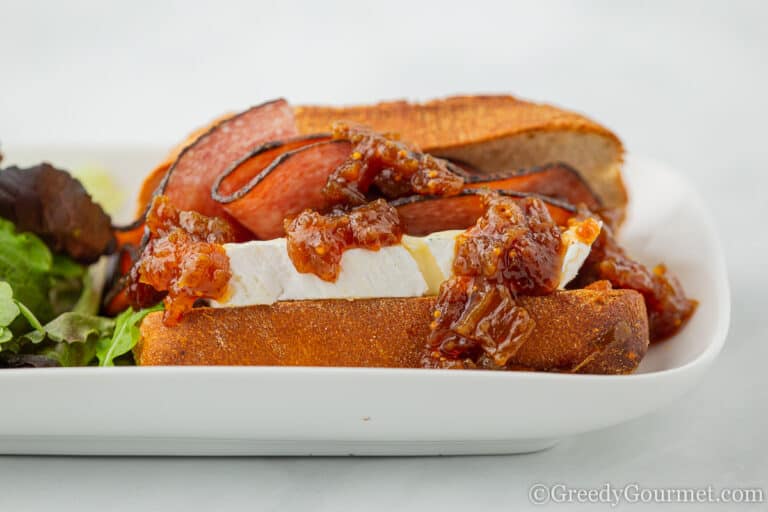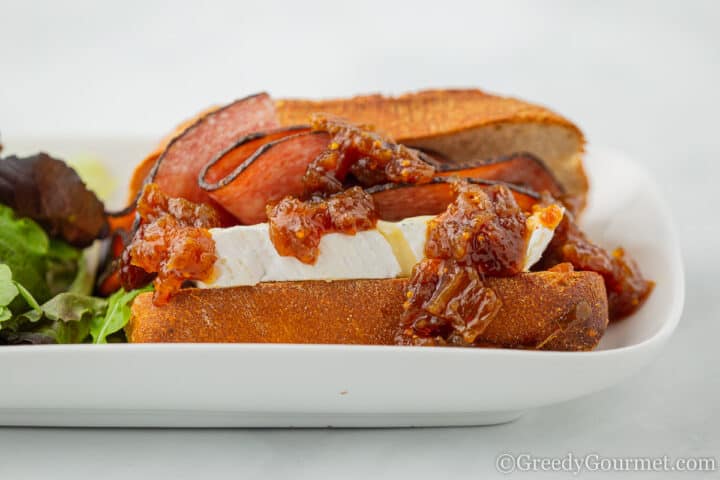 More rhubarb recipes
Are you a rhubarb fanatic? Check out these other recipes that make the most of this underrated ingredient:
What is your favourite way to enjoy rhubarb?
Print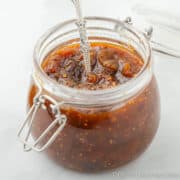 Rhubarb Chutney
---
Author:

Michelle Minnaar

Total Time:

1 hour 50 minutes

Yield:

1.5

L (6 cups)

1

x

Diet:

Vegan
Description
Learn to make this easy and delicious homemade Rhubarb ​Chutney. Best served as part of a cheeseboard, and even meat!
---
1

kg

(2.2lb) rhubarb, chopped

2

onions, chopped

600

g

(3 cups) brown sugar

240

g

(1 1/2 cups) sultanas

625

ml

(2 1/2 cups) apple cider vinegar

6

g

(2 tsp) curry powder

3

g

(1 tsp) cayenne pepper

11

g

(1 tbsp) white mustard seed
---
Instructions
Place all the ingredients in a large, heavy-bottomed pan and bring to the boil. 
Lower the heat to a simmer, then continue to cook, uncovered, for 1½ hours, or until the chutney has thickened. 
Pour into hot sterilised jars, seal and label. Enjoy! 
Notes
The onions should altogether weigh roughly around 225g (1/2lb).
You can substitute the onions with 450g (1lb) sultanas.
A different vinegar, such as white or white wine, can be used instead of cider vinegar.
Prep Time:

20 minutes

Cook Time:

1 hour 30 minutes

Category:

Chutney

Method:

Boil

Cuisine:

British
Keywords: rhubarb chutney, rhubarb recipe, chutney recipe, how to cook rhubarb