Have you made a large batch of homemade alfredo sauce and wonder if you can freeze some of it for next time?
Let's read on to find out!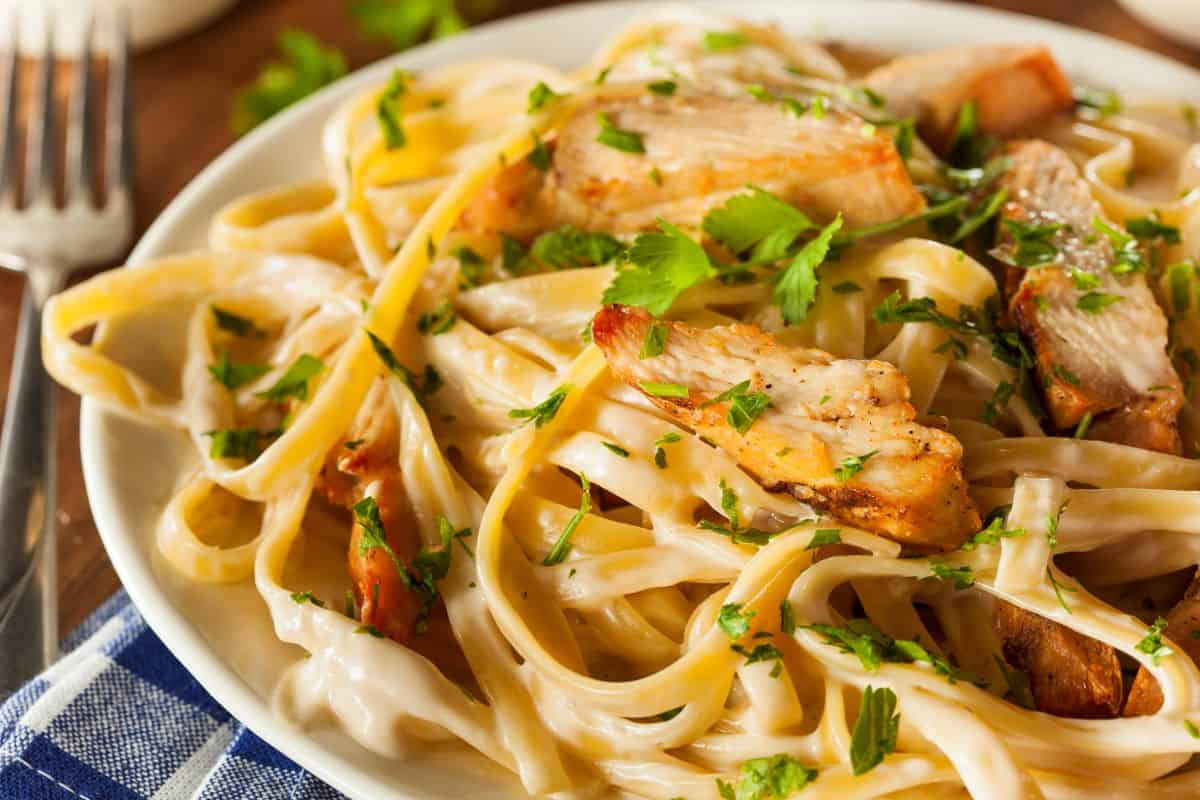 CAN YOU FREEZE ALFREDO SAUCE?
The answer is yes! Freezing alfredo sauce can be a success if you follow some simple tips and tricks. 
When it comes to dairy based items, especially sauces which are high in fat and water content, there are often textural changes during the thawing process. This is because the fat and water separate.
Because of this, your frozen alfredo sauce may even change slightly in color, making it a more pale yellow rather than white. 
Freezing in the proper way will preserve alfredo sauce and ensure that you have a frozen sauce that will withstand the cold temperatures and defrost properly.
So next time you make too much alfredo sauce for your pasta, worry not! 
PRODUCTS YOU NEED TO FREEZE ALFREDO SAUCE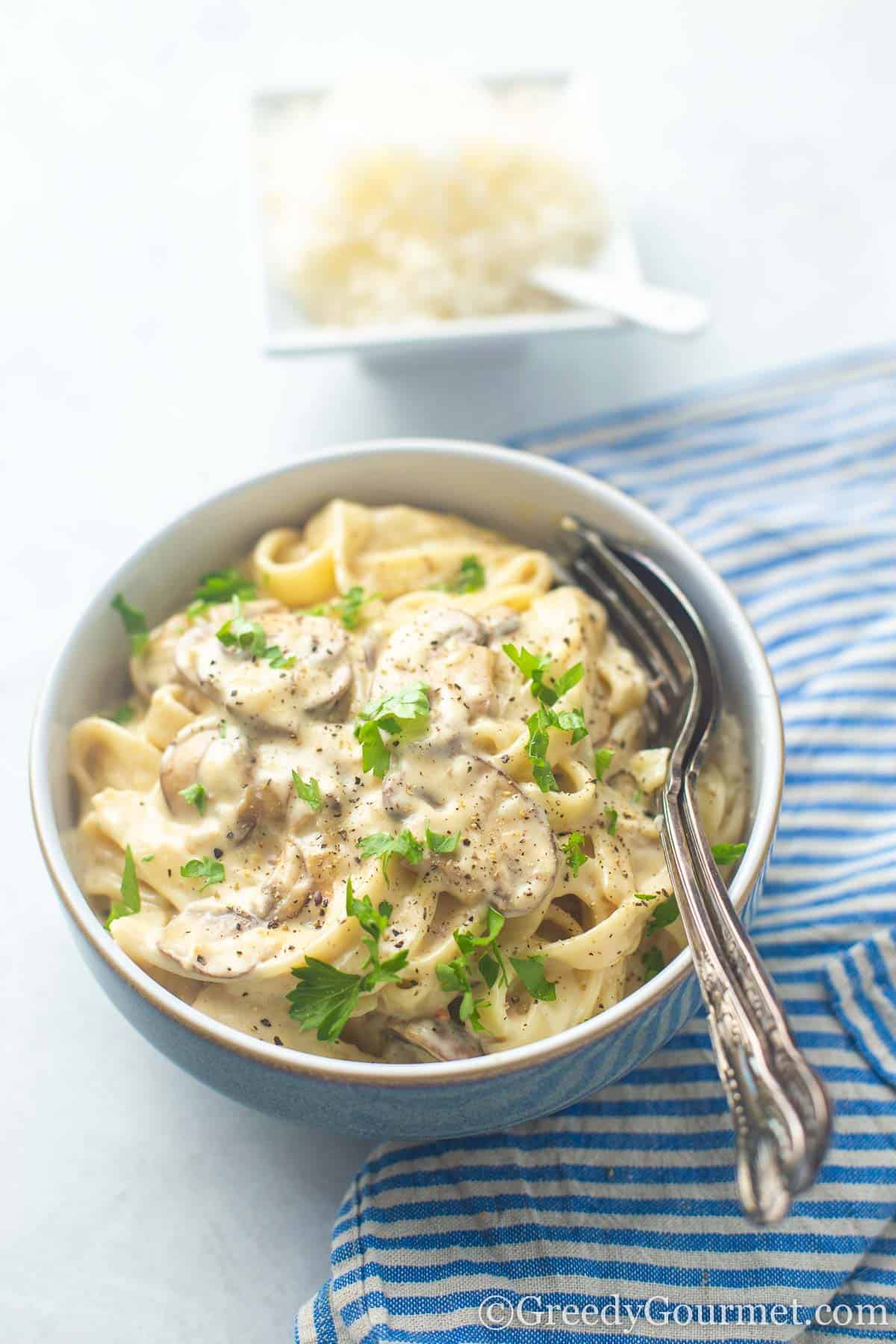 WHAT IS ALFREDO SAUCE?
Born in Italy, traditional alfredo sauce is made of butter and parmesan cheese. Usually a splash of cream and some garlic is added to make the creamy consistency that we know and love. In quick versions, cream cheese is even sometimes used. 
Typically served over pasta, fettuccine alfredo is a well known dish. Sometimes chicken, shrimp, or vegetables are added to the sauce for extra flavor and protein. Different herbs and types of cheeses can be added to make slight variations in flavor.
Alfredo sauce can also be a nice addition to other savory dishes that would benefit from a cream based sauce. Pizza, casseroles, potatoes, and meat dishes all taste delicious made with homemade alfredo sauce.
While alfredo is a simple sauce to make at home, there are also store bought options. If you can make your own, that is always better. Commercially produced sauce contains stabilizers and additives that increase shelf life but tend to add flavor that may not be desirable.
DOES ALFREDO SAUCE FREEZE WELL?
Yes, but it is important to keep some things in mind. When anything cream based is frozen, the fat and water within tend to separate during the thawing process. So when you defrost frozen alfredo sauce, it is important to do it properly.
Freezing leftover alfredo sauce for longer than 3 months is not recommended, as it increases the changes of the creamy sauce to change in texture and color. When stored in the freezer for too long, ice crystals can form in the leftover sauce, causing a grainy texture to result. 
Don't worry, however, by following some simple steps you will ensure that freezing alfredo sauce is a success.
CAN YOU FREEZE PASTA WITH ALFREDO SAUCE?
If you are looking for a quick dinner, freezing some pasta along with your alfredo sauce is an option. Do make sure to undercook your pasta by a couple of minutes so that when you defrost it does not get mushy. 
You can freeze alfredo pasta together or in separate containers. You may find that you have more control of how done the pasta gets if you keep it separate from the alfredo sauce. If freezer space is an issue, freezing the pasta and alfredo sauce together is just fine. 
Simply reheat the frozen alfredo pasta in a saucepan right out of the freezer, or let it thaw overnight in the fridge if you have time to plan ahead.
HOW LONG SHOULD YOU FREEZE ALFREDO SAUCE?
Stored properly, alfredo sauce has a shelf life of about 3 months, whether it is homemade or store bought sauce. 
Be sure to mark down the freezing date whenever you are putting anything in the freezer so that you know when it needs to be used by.
HOW DO YOU KNOW WHEN ALFREDO SAUCE HAS GONE BAD?
The easiest way to know if something has gone bad is by giving it a smell. Always avoid tasting something you are suspicious of before smelling it, as you may get sick. 
If the color is off putting, and the smell is not right, make sure to discard the sauce as it was likely contaminated before it was frozen and is no longer good. 
Do not refreeze sauce that has been reheated.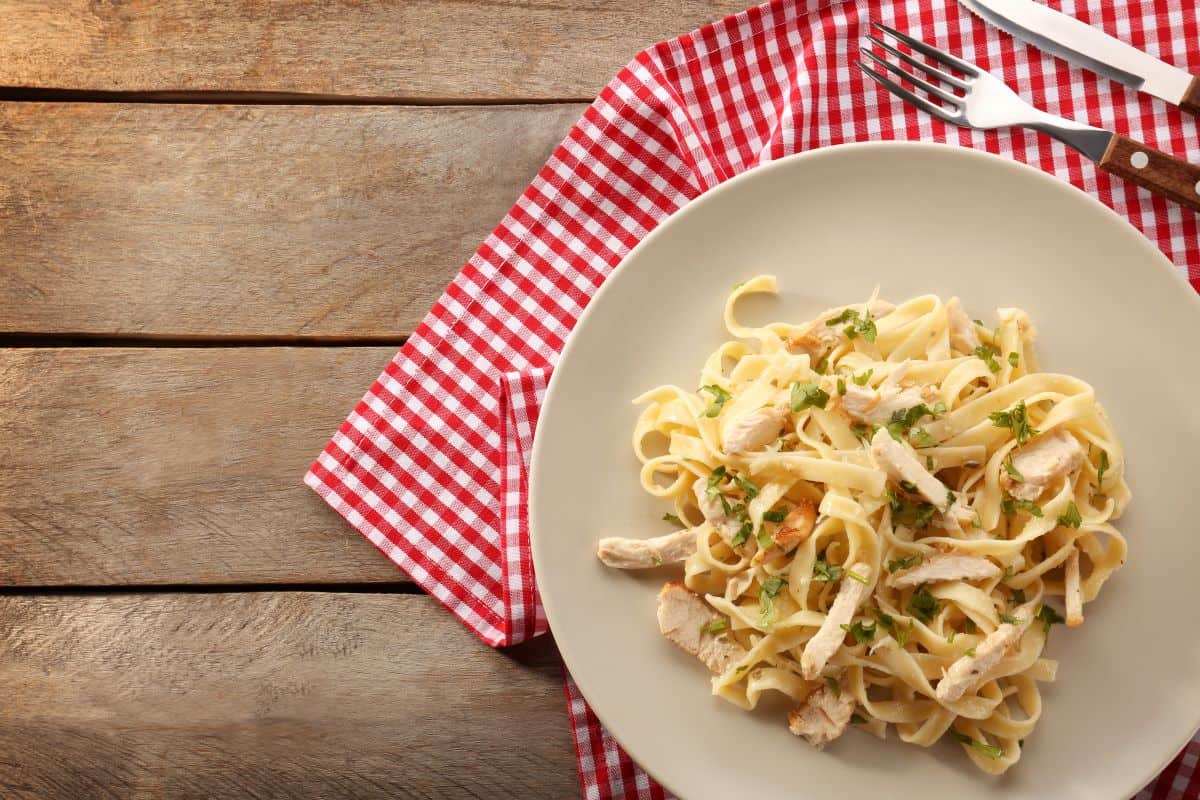 HOW DO YOU FREEZE ALFREDO SAUCE?
As I mentioned earlier, foods with dairy in them, especially cream sauces, can separate during the freezing process. So make sure not to freeze for longer than 3 months, as the consistency will change.
To freeze, use a freezer bag or other airtight container to keep the sauce. When using a freezer bag, make sure that as much as as possible is out of the bag so that there is minimal air contact. Then, simply keep in the freezer until ready to enjoy!
HOW DO YOU DEFROST ALFREDO SAUCE?
Whether you have chosen freezer bags, an airtight container, or ice cube trays, you need to go through the reheating process of your alfredo sauce safely. This can be done by placing the container in the fridge overnight and allowing it to do so slowly. 
By allowing your leftovers to thaw overnight, you can plan ahead for dinner the next day and not have to worry about keeping it on the stove for as long, as it will already be mostly thawed when you are ready to heat it. 
Alternatively, you can add the still frozen sauce to a sauce pan and allow to heat up over a medium low heat while giving it a good stir. 
If the sauce appears to be on the watery side, simply make a slurry with some cornstarch and milk or heavy cream and stir it into the sauce. As with all cream based sauces, make sure to continuously stir the sauce and keep an eye out to not burn the bottom. 
Once you have the desired consistency, remove the sauce from the heat and enjoy your alfredo pasta or whatever recipe you are incorporating your extra sauce into. 
Look out for things like freezer burn which is a common problem with frozen foods. This happens when your food is exposed to too much air and crystals form on the surface. This can cause a really unpleasant taste and texture. 
You can avoid this by not letting as much air into the freezer bags or whatever container you are using, and making sure to seal tightly before placing them in the freezer.