Freezing celery is a simple way to reduce food waste in the kitchen. With a little effort, you can have frozen celery ready to add to your favorite recipes. Follow these easy steps to freeze celery.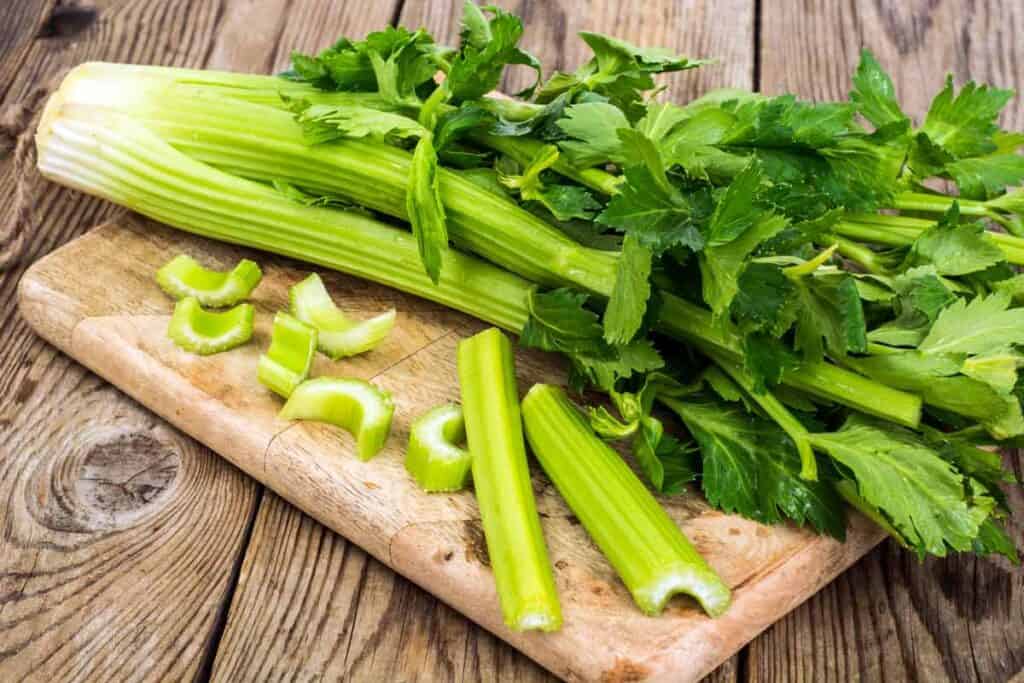 Well… can you freeze celery?
You can freeze celery for around 12 months. To freeze celery, you can freeze it as stalks or chopped up, ready to be used in soups, stews and sauces.
From smoothies to stuffings, frozen celery is a perfect add-in for increased nutritional value and provides an aromatic kick.
Products you need to freeze celery
There are a few items you'll need to be able to freeze celery: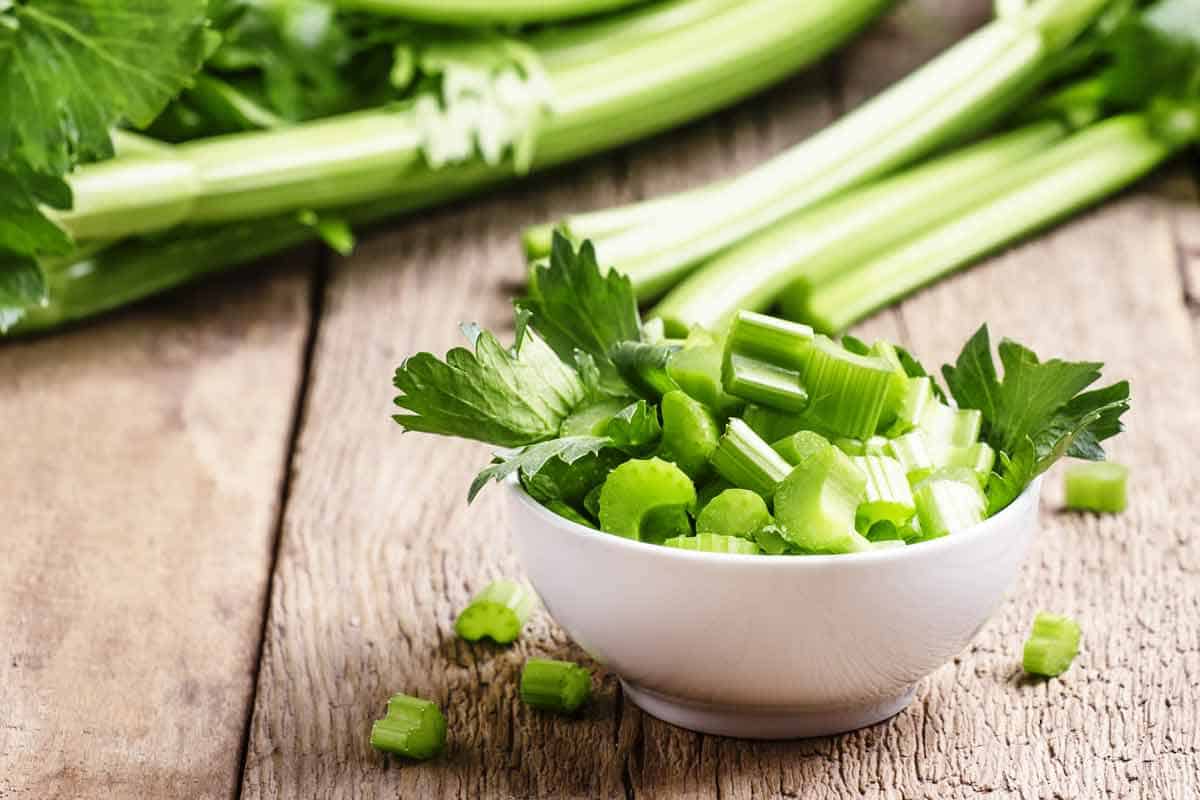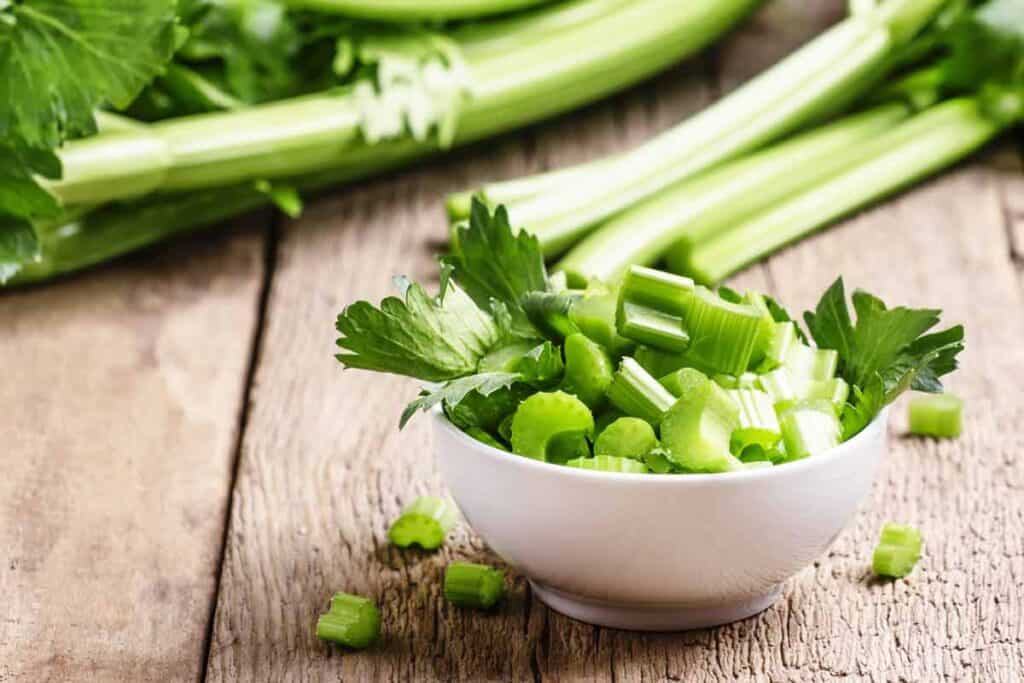 Does celery freeze well?
Well, it depends on how you're planning to use the celery after thawing.
It won't retain that satisfying crunch and delicious refreshing flavor of fresh celery. So, in terms of eating celery sticks on their own, celery doesn't freeze great.
However, if you're looking to use celery in a dish, whether it's a stew, a sauce, a soup or a casserole for example, freezing celery is a great idea.  
Also, just how well celery freezes largely depends on how you freeze it. In fact, there are a few important steps to take to get the best taste, texture and lifespan out of your frozen celery.
For more on this see "Tips for freezing celery."
How long can you freeze celery?
Frozen celery lasts for up to a year in the freezer, providing you've blanched it beforehand. 
If you haven't blanched it, it will last only 3 months before the taste and texture are affected too much.
Can you freeze celery leaves?
Celery leaves have a delicate floral flavor that works really well in salads and soups. This delicate flavor is too easily lost when frozen. 
So, while they are safe to freeze, I recommend you remove celery leaves, keep them in the refrigerator and use them within a few days.
Can you freeze celery soup?
Absolutely. Like most soups, celery soup freezes really well. Simply pour your celery soup into airtight freezer-safe containers – remember to leave a small gap at the top, as the soup will expand when frozen.
Can you freeze celery juice?
Yes! Again, freeze in an airtight container or freezer bag. You can even freeze celery juice in ice cube trays. Then, when you need to defrost some, you can take small amounts at a time. This is especially good for smoothies.
Use frozen celery juice within 6 months to avoid losing the national value.
How do you blanch celery?
Blanching celery is simple and extends the lifespan of celery from 3 months to 12 months. So, make sure you blanch it before freezing – it's definitely worth doing!
Blanching, or partially cooking celery or other vegetables before freezing helps to slow the growth of enzymes that cause flavor and texture loss. It also gets rid of any bacteria that might be on the celery.
To blanch your celery, simply bring a pot of water to the boil, add the celery and cook for 3 minutes.
Use a slotted spoon to remove the celery and immediately transfer it into a bowl of ice water. Remove after a few minutes and pat dry with a paper towel. Your celery is now ready to be frozen!
Why do you need to flash freeze celery?
Flash freezing means you can store lots of celery sticks in a container without them sticking to each other.
So, when you flash freeze, you basically freeze them all on a baking sheet for a few hours. Then, when properly frozen, you transfer them over to an airtight storage container.
Trust me, you don't want to be trying to peel pieces of frozen chopped celery apart. Flash freezing is definitely the way to go.
How do you thaw frozen celery?
There are a few options when it comes to thawing or defrosting frozen celery.
Overnight in the fridge
The best way to defrost celery is over a long period of time. The less of a change in temperature, the less the celery will be affected in terms of taste and texture.
Defrosting in the fridge overnight is simple. Just transfer the container from the freezer to the fridge and, come morning, you'll have defrosted celery, ready to be added to your dish.
In water
You can also defrost celery in a bowl full of water at room temperature. This method is quicker than defrosting overnight, but you will end up with lower quality celery.
Don't defrost it!
In most cases, you don't even need to defrost your celery. It will defrost on its own when cooked into soups, stews, casseroles or sauces. So, just throw it straight in!
Can you freeze celery for smoothies?
Yes, you can. You can either blanch it, blend it then freeze it as ice cubes; or you could blanch it, flash freeze it and store it in a container, then blend it once defrosted.
Can you refreeze celery?
I wouldn't recommend it. You'll lose way too much flavor if you refreeze celery. Instead, freeze it in smaller portions, then only use as much as you need each time.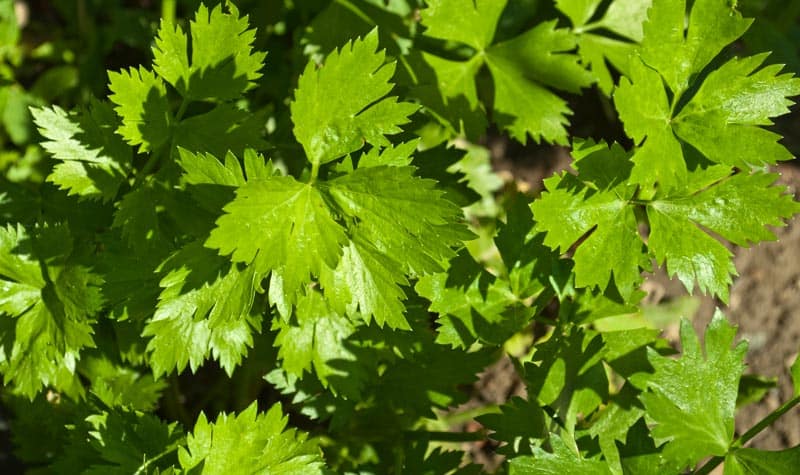 Tips for freezing celery
Let's recap some important points when it comes to freezing celery:
Always blanch the celery first. You'll lock in the taste and texture, while removing harmful bacteria.
Flash freeze to make sure the pieces don't stick together.
Most of the time, you won't need to thaw. Just add it straight to dishes when frozen, then heat it through.
Don't freeze the leaves. Use them in soups and stocks or salads.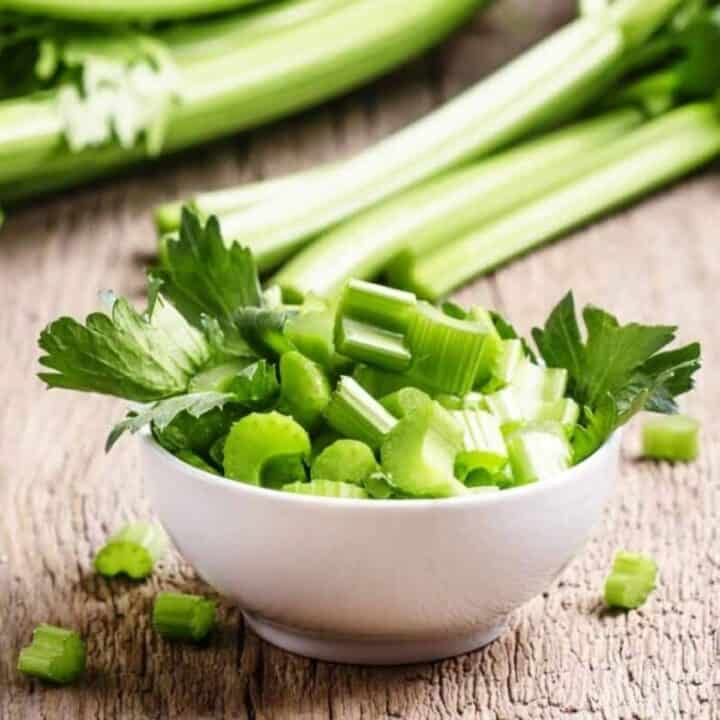 How To Freeze Celery
If you were wondering whether you can freeze celery, check out this complete guide on how to do it, as well as how to thaw and use it.
Materials
Baking sheets
Parchment paper
Kitchen towels
Tools
Vegetable peeler
Large pot of water
Large slotted spoon
Large bowl
Knife
Cutting Board
Ziploc freezer bags
Instructions
How to freeze celery stalks
Rinse the celery. Remove the stalks.
Top and tail each celery stick. If any of them seem stringy, use a vegetable peeler to remove the stringy bits.
Chop the celery into your preferred size.
Bring a large pot of water to the boil. Drop the celery pieces in and boil for 3 minutes.
Remove the pieces with a large slotted spoon and transfer them into a pre-prepared bowl of ice water. Allow to sit for 4–5 minutes.
Pat dry with a kitchen towel.
Arrange the celery pieces on a baking sheet lined with parchment paper, making sure none are touching.
Place the baking sheet in the freezer until the celery is fully frozen. This should take around 2 hours.
Transfer from the baking sheet to an airtight freezable container or ziploc bag.
Label the container or bag with the contents and date of freezing. Use within 12 months.
What to do with frozen celery
The best way to use frozen celery is to add it frozen straight into your favorite soup, stew, casserole or sauce recipes. Here are a few recipes that would work particularly well with the addition of celery: