So, you've bought a whole load of leeks for that delicious soup you're making. And it turns out you bought too many and you don't know what to do with them.
Can you freeze leeks?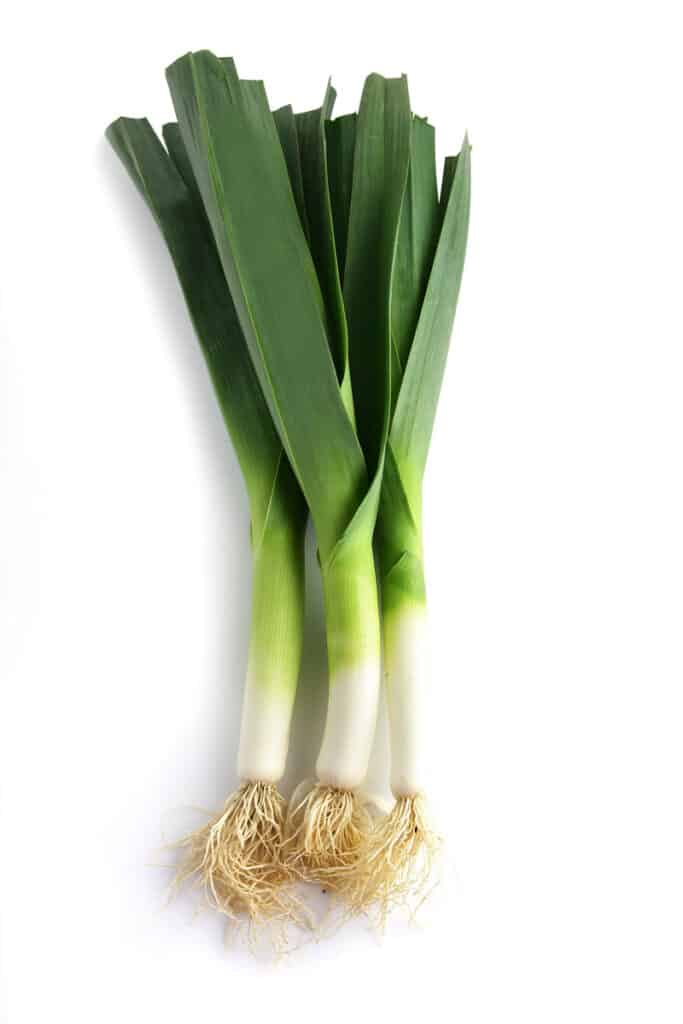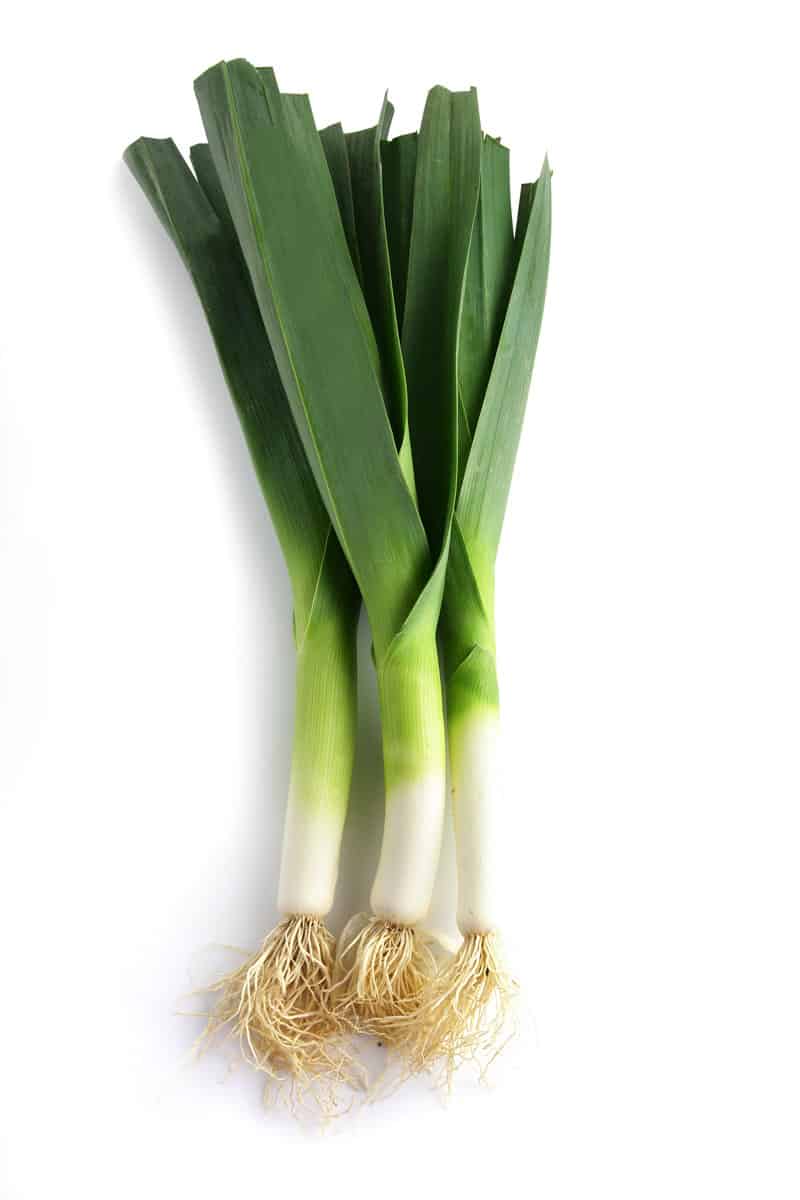 Don't worry. Freezing leeks is easy! They'll stay fresh and keep that great mild sweet flavour, ready to be called on when needed.
So, if you like these little green marvels and you're wondering how to store leeks for a long time, we've got a step by step guide.
But first, let's find out more about the unsung hero of the onion family.
What are leeks?
Leeks belong to the same family as onions, garlic, shallots and chives (the allium family). Long and green, with a white bulb at the end, leeks are milder than onions, with a slightly sweet taste.
They make a really good addition to soups, stews, casseroles, pasta and risotto dishes, and even as a base for a creamy sauce.
Their mild, sweet flavour means that they pair well with many different foods. Leek and potato? Utterly delectable. Leeks and cheese? Pure bliss. Leeks and bacon? Well, I'm salivating at the thought of it.
Items you'll need to freeze leeks
If you want to blanch your leeks, you'll need the following:
Large saucepan – you'll need to fill a large saucepan full of water
Saucepan lid – covering the saucepan helps the leeks to blanch quickly
Blanching basket or colander – a blanching basket will make putting the leeks in the boiling water and taking them out nice and easy. A colander would work just as well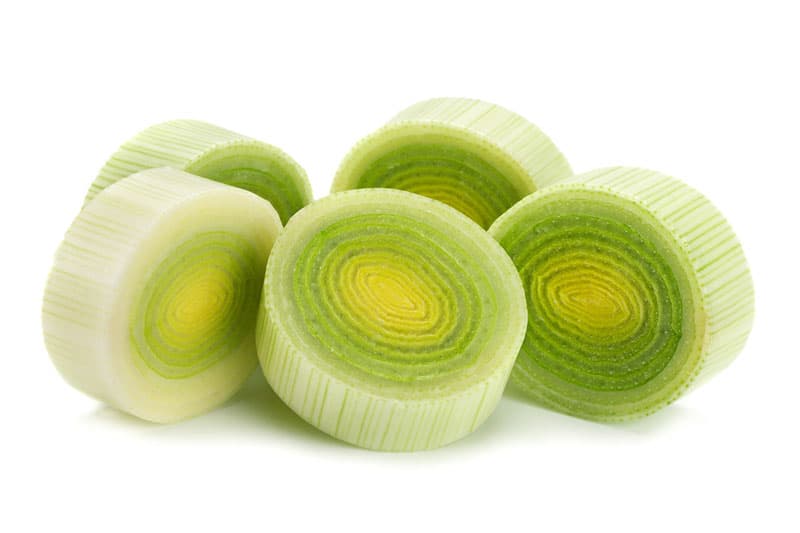 The origin of leeks
This thin green gift from the gourmet gods has its roots in the Mediterranean and the Middle East. Today, leeks are grown globally– the biggest producers are France, Belgium, Turkey, Indonesia and South Korea.
Although they're typically more expensive than other types of onion, their subtle sweetness, versatility and ease of preparation make them very popular with chefs and foodies all over the world.
How long do leeks last in the fridge?
If you've bought too many leeks for your recipe and you want to use them fairly soon, freezing them won't be ideal. Instead, store them in the fridge. They'll last between 7 and 14 days in the fridge.
If you want to keep them fresh in the fridge, don't wash them. They'll last longer – just wash them before you cook them. When keeping them in the fridge, store them in a perforated veg bag. This will help them keep their moisture.
Leeks may start to become mushy after a couple of weeks in the fridge. So, if you want to keep them fresh for this long, you may want to think about freezing them.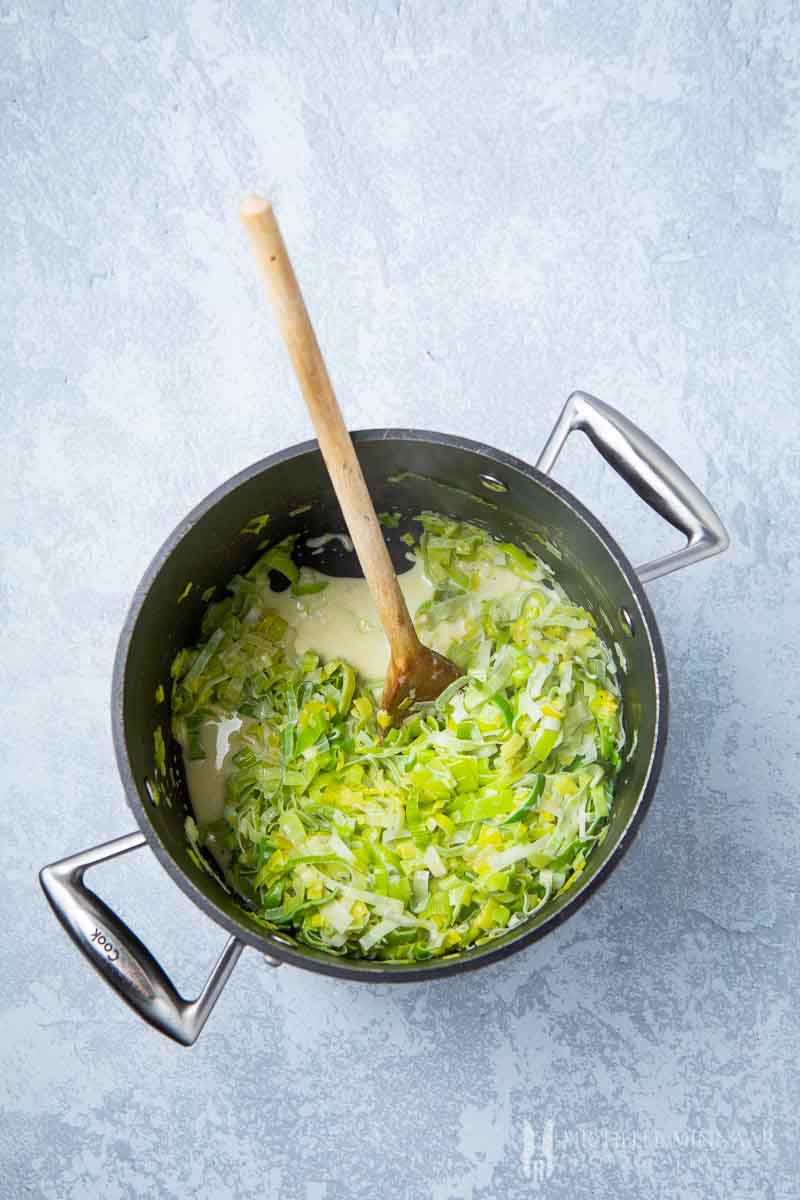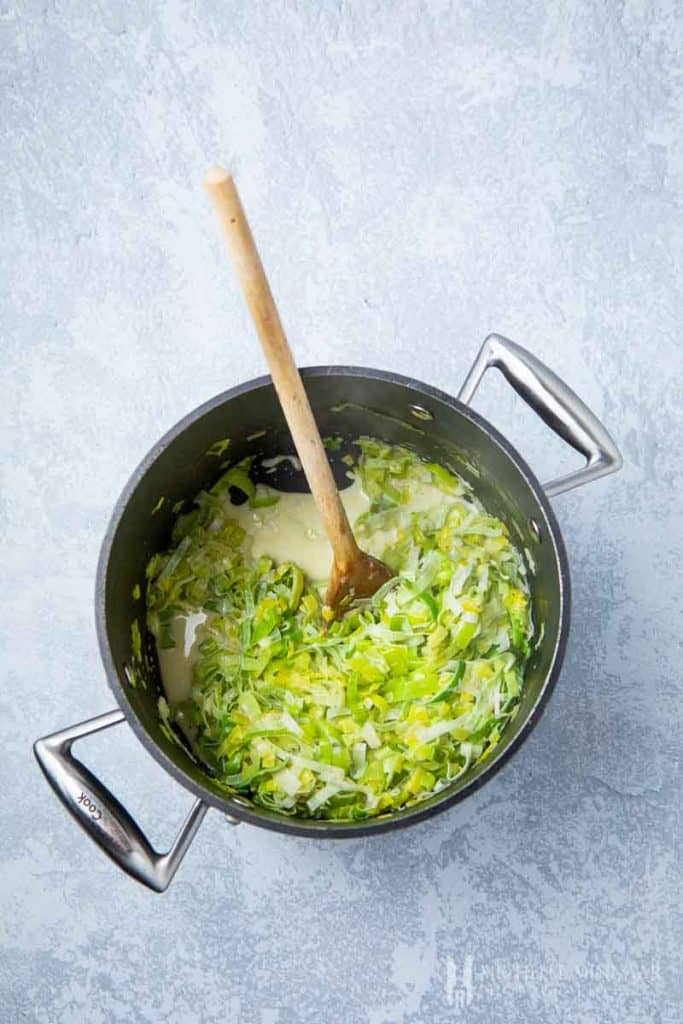 Freezing leeks
Have you ever wondered how to freeze leeks? If you want to keep your leaks for longer than 2 weeks, freezing them is a great idea. It's relatively simple and is done in a three part process.
First, wash them in water and cut them up, ready to be stored. Then you need to flash freeze them – this helps keep the moisture in the leeks. Finally, freeze them in an airtight container.
See the end of this article for a step by step guide on how to freeze leeks.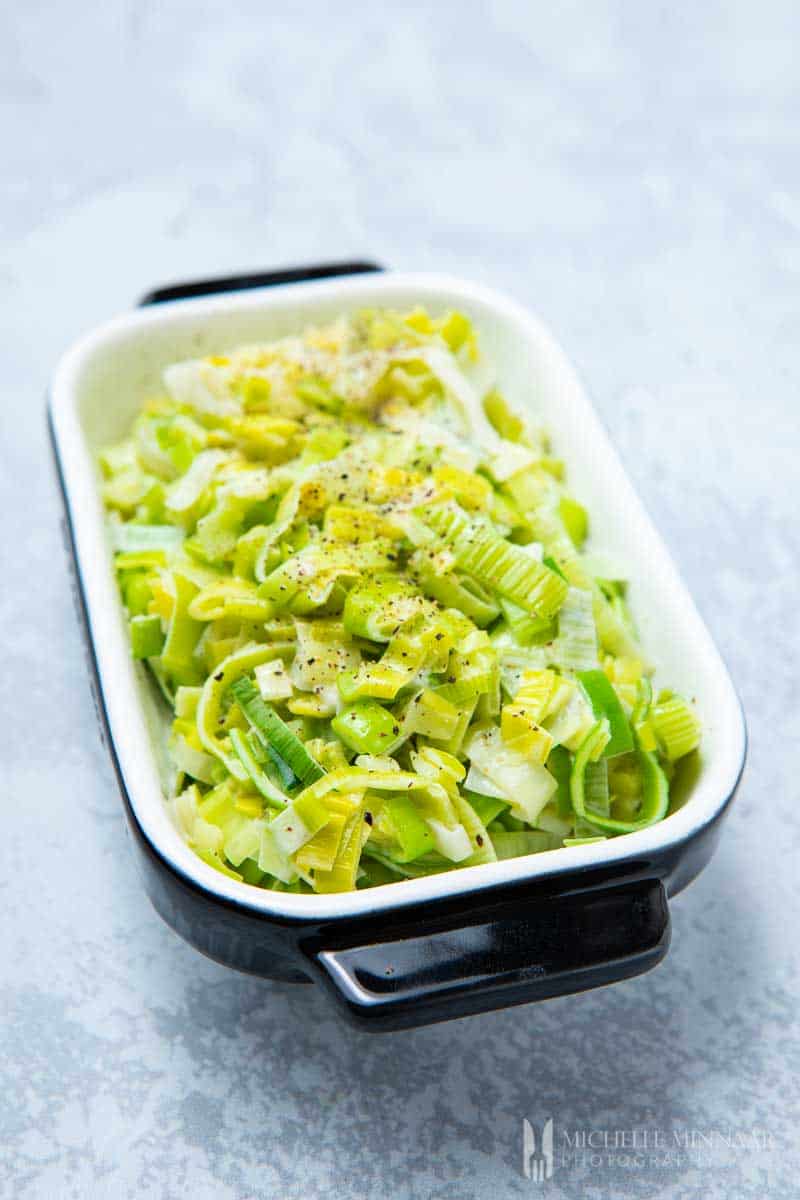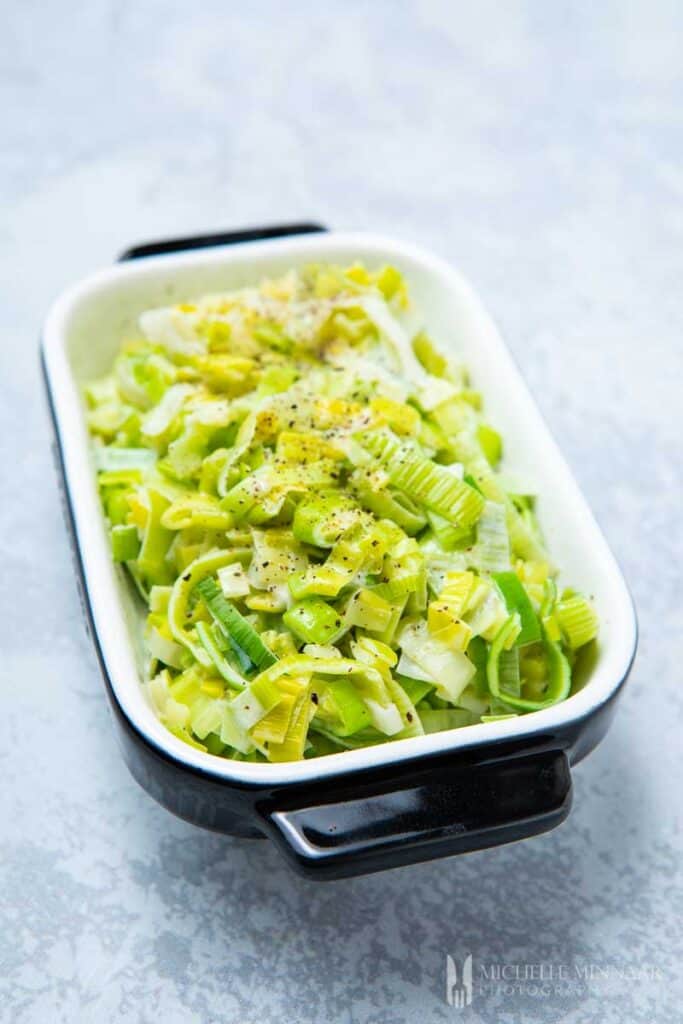 How to blanch leeks
Before you freeze your leeks, you may want to blanch them. Blanching leeks extends their life span, giving you fresh leeks for longer.
Bring a large pot of water to the boil.
Place your washed and cut up leeks in a blanching basket or colander and lower them into the boiling water.
Place the lid on the saucepan.
Boil the leeks for about 30 seconds (no longer than one minute).
Remove the leeks from the boiling water, drain them and quickly put them into a bowl of cold water. This stops them from cooking any further.
If you don't blanch them, they'll keep their freshness for about 2 months in the freezer. If you blanch them, they'll stay good for a whole year!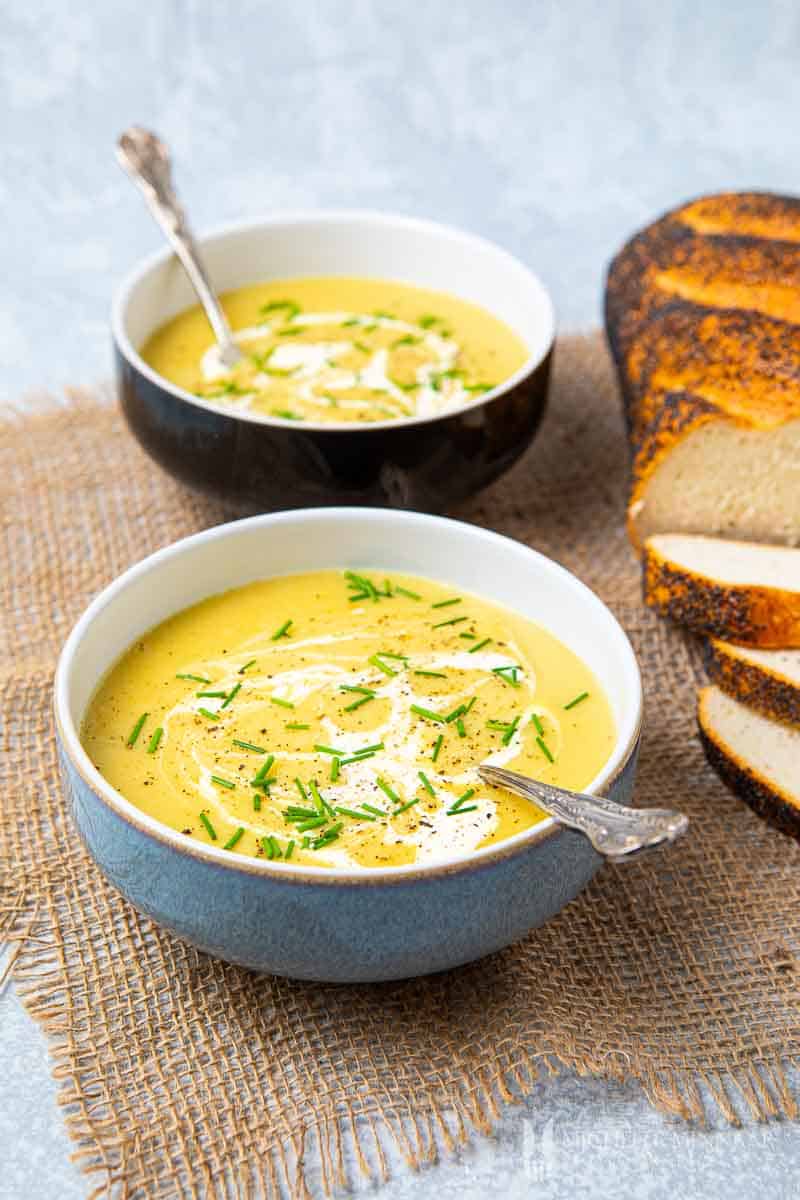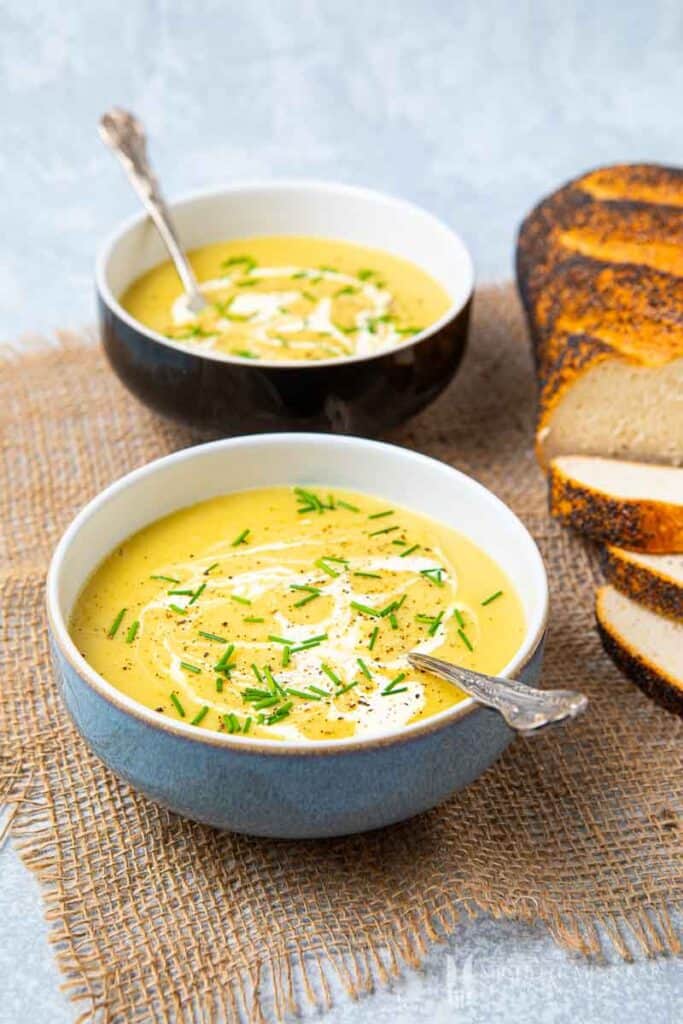 Delicious leek recipes
Can you freeze leeks?
Yes! Find out how to freeze leeks step-by-step below.
Can you Freeze Leeks?
Can you freeze leeks? The answer is yes! Click here to learn how to freeze leeks! You'll know exactly what tools to use and doing things step-by-step.
Materials
Parchment paper and a baking sheet
Zip lock bag or airtight container
Marker pen
Tools
Knife
Cutting board
Two bowls
Slotted spoon
Instructions
Cutting and Cleaning Leeks: Cut the dark green roots and stems at the base of each leek. Make sure you don't cut the pale green stem above the white bulb at the bottom of the leek.
Once you've cut them, give them a rinse with cold water to get rid of the bits of dirt and grit on the outside. Be thorough – leeks often trap dirt between their layers.
Cut each leek in half, lengthwise. Then cut them crosswise into smaller pieces.
Wash the leek pieces in a bowl of cold water, gently swirling them about. Once rinsed, use a slotted spoon to transfer them into a dry bowl.
Blanch your leeks (optional – see 'how to blanch leeks' section above).
How to Freeze Leeks: Get a baking sheet, lay some parchment paper on top and then spread your leeks across it. Spread them as much as possible and try to avoid piling them up – they'll take longer to flash freeze.
Place the baking sheet in the freezer for 20-30 minutes. After 20 minutes, check to see if they are frozen. If not, wait another 10-15 minutes. The leeks should be icy and rigid. If they're still soft, they'll need a bit longer.
Once flash frozen, put them in a zip lock bag or air tight container.
Label your container with the date of freezing and put them in the freezer.
Notes
Leeks become mushy when they aren't stored properly or are frozen for too long.
If you don't blanch your leeks before freezing, use them before 2 months. Otherwise they'll start to lose their flavour.
Are you a fan of leeks? Do you have a favourite leek recipe? Also, do you want to know whether other foods and ingredients can be frozen? Let me know in the comments below!