Macaroni salad is an instant classic that's been loved by generations of families across the United States. However, it's not the kind of food that tastes as good the second time around. This begs the question: can you freeze macaroni salad?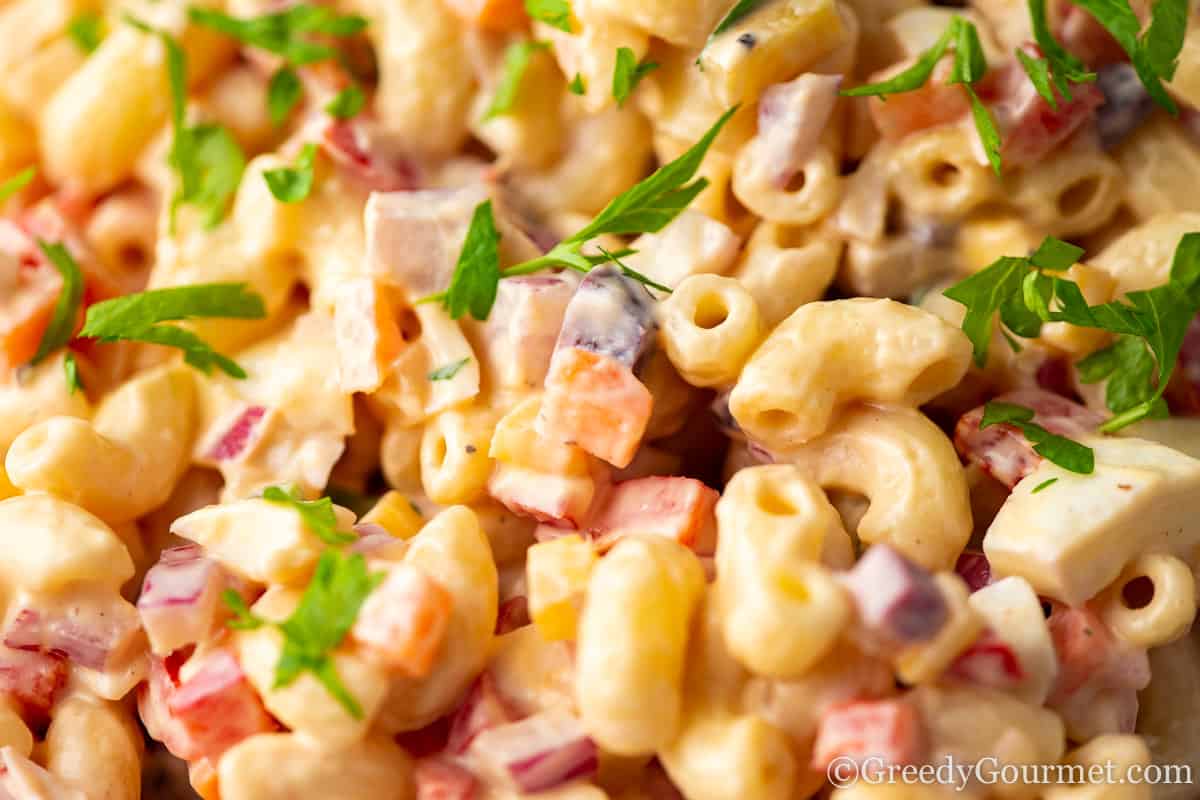 We have great news; you certainly can! This enables you to preserve that flavor you love without compromise. But you want to make sure you freeze your macaroni salad the right way. Read on to find out how.
What Is Macaroni Salad?
Macaroni salad is a type of pasta salad that typically contains elbow macaroni, mayonnaise, and a variety of other ingredients, such as vegetables, herbs, and spices. It's a popular dish in the United States and many other countries.
There are many different ways to make this yummy dish, but the most common is to cook the noodles until they are soft, then mix them with mayo and other desired ingredients. The salad can be served cold or at room temperature.
Macaroni salad is often served as a side dish or appetizer, but it can also be a meal in itself.
How Is Macaroni Salad Prepared?
This recipe is typically made by cooking macaroni noodles until they are soft, then mixing them with mayonnaise and other desired ingredients. The dish can be served cold or at room temperature.
Boil Water and Add Macaroni Pasta
The first step is to bring a pot of water to a boil. Then, add the noodles and cook them according to the package instructions. Once the noodles are cooked, drain them in a colander.
Mix Macaroni with Mayonnaise and Other Ingredients
Once the noodles are cooked and drained, add them to a large bowl. Then, add the mayo and any other desired ingredients, such as vegetables, herbs, and spices. Use a spoon or spatula to mix everything together until it is evenly combined.
Chill the Salad in the Fridge
If you want to serve the dish cold, place it in the fridge and let it chill for at least three hours. Otherwise, you can serve it immediately.
When Can You Eat Macaroni Salad?
Any time! It is often served as a side dish or appetizer, but it can also be a meal in itself. It is frequently served at picnics, potlucks, and other outdoor gatherings.
Can You Freeze It?
Yes, you can freeze macaroni salad! But you have to make sure that you freeze it properly. This classic dish can get soggy and unappetizing if it sits in the refrigerator for too long.
Therefore, the best way to preserve it for future use is by freezing it. Frozen macaroni salad allows you to make as much of it as you need at any given time. You can even freeze the dish in individual portions for quick and easy lunches. How convenient!
When freezing macaroni salad, you'll first want to make sure that it's properly stored. Ideally, you should refrigerate any leftovers for at least three hours before freezing. This will allow the flavors from the dish to fully develop and blend with each other.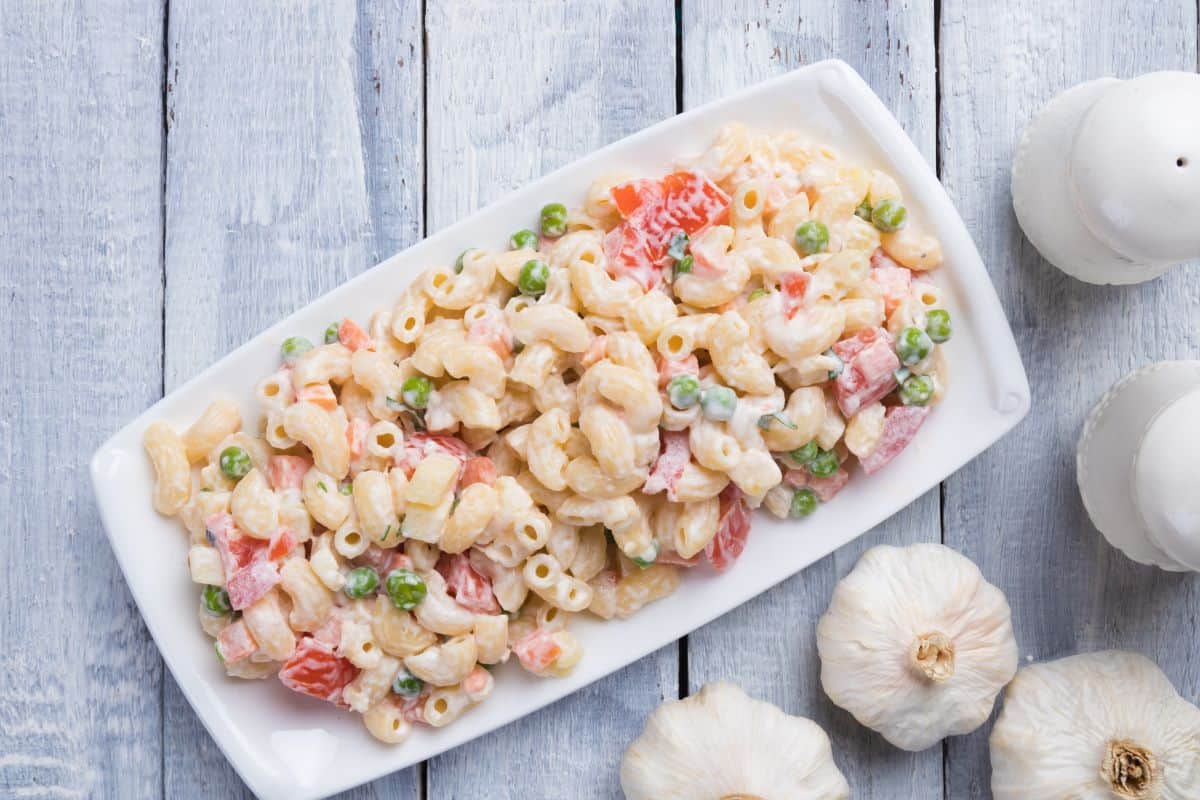 Storing Your Dish
You can store macaroni salad in a variety of ways. The best way is to put it in airtight containers or freezer bags with as little air as possible. This will help prevent freezer burn and keep the dish fresher for longer.
This is also a great way to freeze individual portions, depending on how much macaroni salad you made.
Unfortunately, there is one major drawback to freezing macaroni salad: when you freeze mayonnaise, it tends to develop ice crystals. The good news is that if you thaw macaroni salad ingredients properly, this becomes a non-issue.
When you defrost macaroni salad, you want to let your fridge to the work. Trying to do so in warm water tends to make the salad runny. So always place your salad in the refrigerator first.
Then, simply drain excess liquid before serving.
How Long Can You Freeze Macaroni Salad?
You can freeze macaroni salad for up to two weeks, or 14 days. Like other frozen food, you want to be mindful of ice crystals forming, as discussed above. Macaroni salads made with mayo are the dishes that tend to have this problem.
You could, of course, make macaroni salad without mayo, but you won't get the same classic flavor this dish is known for. Fortunately, you can overcome the ice crystal issue when you thaw frozen macaroni salad properly.
How Long Can You Keep It in the Fridge?
When you're ready to eat frozen macaroni salad and you've transferred it to your fridge, you can keep it in there for three to five days.
If you don't have time to freeze your leftover macaroni salad, you can store it in the refrigerator instead. The trick here is to store it in smaller storage containers.
This will allow the noodles to cool quicker and prevent the entire container from becoming soggy. If you don't have smaller containers, you can put your salad in a bowl with plastic wrap on top.
This will help to keep your salad fresh for a few days. You can also try dividing your dish into smaller portions and storing it in plastic bags for quick and easy lunch leftovers.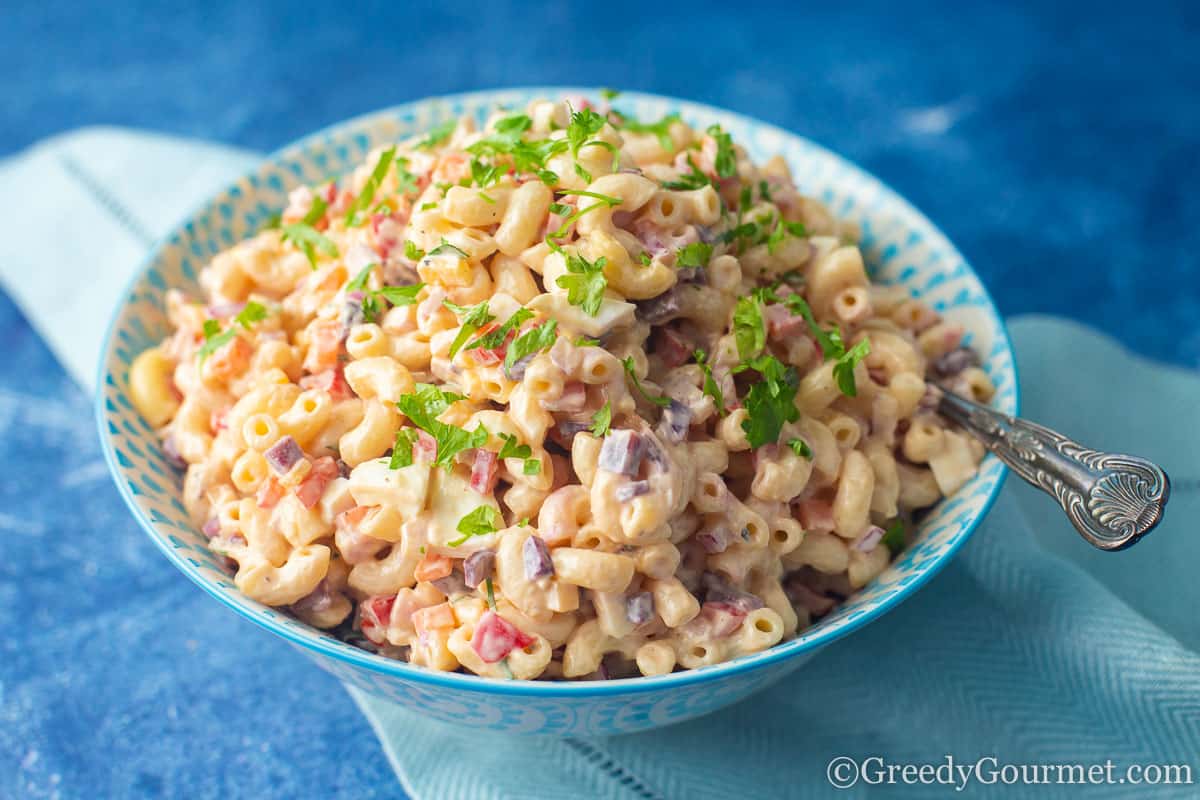 The Best Macaroni Salad Recipes
There are many variations of macaroni salad. Here are a few of the best recipes that you can make at home:
Classic Macaroni Salad
This classic recipe is the best way to start. It's made with mayo, mustard, and vegetables like celery, sweet pickles, and red peppers.
Tex-Mex Macaroni Salad
If you're looking to spice things up, try adding a few jalapenos and a dash of salsa to the dish. This will give it a Tex-Mex twist.
Greek Macaroni Salad
This is a great recipe to try if you're looking for something a bit more sophisticated. This recipe calls for crumbled feta and red onions.
Wrap Up
Macaroni salad is a summertime staple that can easily be frozen for future use. The most effective freezing process is to use an airtight container. To prevent air exposure, let all the air out before placing in your freezer.
Be sure to use a creamy mayonnaise-based dressing to make the best macaroni salad for your next family gathering. There are many different and unique ways to make this tasty dish. Try these out and pick your favorite!
Here are some other foods you can freeze