It's one of the quickest, easiest and most satisfying lunch dishes, but can you freeze pasta salad?
In this article we find out the definitive answer, along with some top hints and tips to make sure your pasta salad is as terrifically tasty as it can be.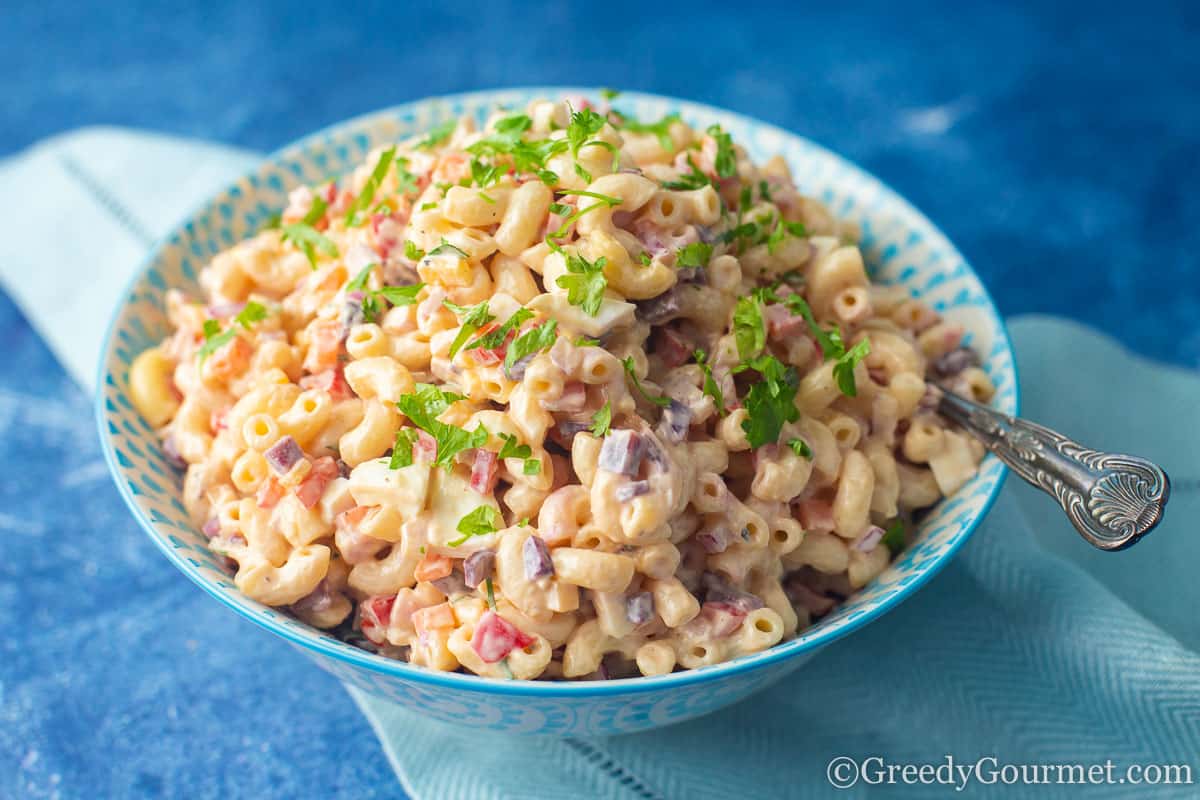 So, can you freeze pasta salad?
Yes, you can freeze pasta salad! However, there are a few things to keep in mind when freezing pasta salads that will determine the amount of taste and texture that is lost during the freezing process.
Follow the steps at the end of this article, together with the advice in each section, and you'll end up with a wonderful tasting pasta salad.
What is pasta salad?
Well, as you would probably have guessed, a pasta salad is a dish that consists of pasta and a mixture of other ingredients. This could include anything from lettuce, fresh vegetables, meats, fish, herbs, spices and either oily or creamy dressings.
Pasta salads can either be served cold – think of those that contain leafy greens like lettuce and rocket, for example – or hot, such as those that contain meat or vegetables.
Can you freeze pasta salad with a dressing?
Yes, you can freeze pasta salad with a dressing, although the quality of the pasta salad once it has been defrosted depends on the type of dressing.
Creamy salad dressings don't freeze very well. However, oil-based dressings are much better suited than creamy pasta salads to being frozen and defrosted.
Can I freeze pasta salad with mayonnaise?
I don't recommend that you freeze pasta salad with mayonnaise. You can do it, but the mayonnaise will change in texture and taste. It is best to freeze the pasta first, then add any dressings once it has been defrosted.
What pasta salad ingredients freeze well?
Some fresh ingredients fresh quite well. Cooked chicken, for example, is fine.
Also, fresh vegetables like broccoli, peas and carrots tend to freeze quite well.
What pasta salad ingredients don't freeze well?
When it comes to the kind of pasta salad ingredients to avoid freezing, think of dairy products. When you freeze dairy products, you will get a fat separation. This can cause a mushy, slushy texture and a bad taste.
So, avoid Greek yogurt, salad cream, salad dressing, cream cheese, parmesan cheese, cottage cheese and any other type of cheese, as well as mayonnaise and any other types of creamy dressing.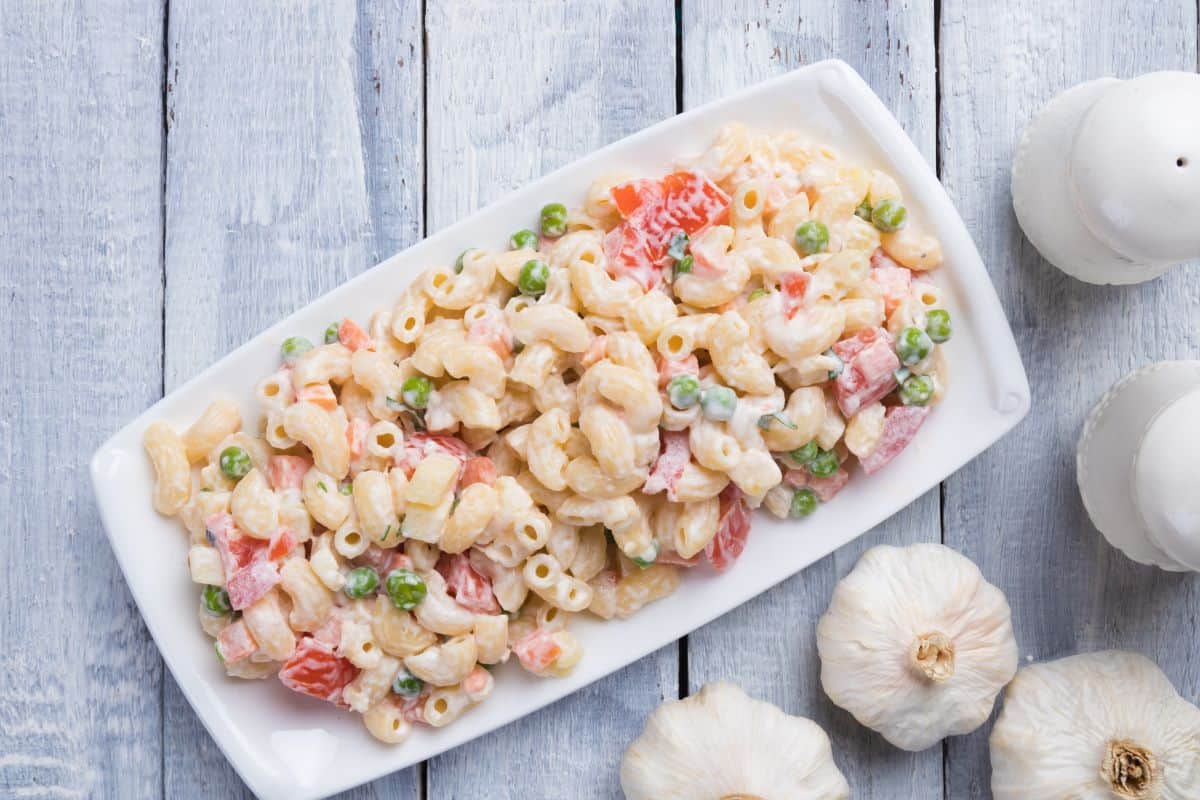 Can you freeze all types of pasta?
Yes! Regardless of the type of pasta, it will freeze just fine. So, whether you've made a penne salad, macaroni salad, fusilli salad, farfalle salad or whatever, you should be able to freeze it just fine.
How long can you keep leftover pasta salad in the fridge?
Leftover pasta salad lasts a fairly long time in the fridge – around 3 to 4 days. Which is a very good thing if, like me, you love to make a big batch of easy to make salads.
Let's face it, it's so easy to double or triple a recipe and make a huge batch, to be able to quickly call on later down the line, whether it's as a quick lunch, easy lunchbox filler, simple side dish or whatever.
However, four days can fly by, which is why switching your pasta salad to the freezer makes sense, particularly if you know you will be able to get a good use out of it in the future.
One thing to keep in mind – oil-based pasta salads last longer, both in the fridge and in the freezer, than pasta salads with creamy ingredients.
How long does frozen pasta salad last?
If frozen in the correct way (see below), you can freeze pasta salad for up to three months. However, the sooner you use it, the less the taste and texture will be affected. I would recommend defrosting and using your pasta salad within a month of freezing.
How do you defrost pasta salad leftovers?
Defrosting pasta salad is simple. Like most frozen food, all you need to do is remove the pasta salad container from the freezer and transfer it into the refrigerator. Then, leave it to defrost overnight.
Do you need to defrost pasta salad first before reheating?
Yes. If your pasta salad is the type that is best served warm, you'll most definitely need to allow the pasta salad to properly defrost before reheating it.
How do you reheat pasta salad?
If you have a pasta salad that is best eaten warm, there are a few ways to go about reheating it. Let's take a look at each step in more detail:
Steaming the pasta salad
This is an easy method that helps to preserve the taste and texture of the pasta. All you need to do is place the pasta salad in a steamer or a metallic bowl above a pot of boiling water. It will slowly heat the pasta, which should be fully warmed through within 10 minutes.
The steaming method allows your pasta to keep its taste and texture, while bringing some much needed moisture to the mix.
Microwaving the pasta salad
Microwaving your pasta salad is a quick and easy method. It is, however, not without its drawbacks. You might end up with a dried out dish lacking in flavor, so think carefully before deciding to reheat your pasta salad using the microwave oven method.
If you do decide to reheat your pasta salad in the microwave, add a splash of water and loosely cover it and place in the microwave on a medium to high heat. Heat it for 2-3 minutes, giving it a stir halfway through.
Baking it as a pasta bake
A great way to reheat your pasta salad is to reinvent it as a pasta bake. Mix it with other ingredients, including something with a little sauce to it (passata, for example) and place it in a baking tray. Then heat it through in the oven at a temperature of 180C/350F for 15 minutes or until fully heated through.
Top Tips for freezing pasta salad
Want to know the secrets to freezing pasta salad so that it retains flavor and texture. Here's my top tips:
If you're planning on freezing pasta salad, cook the pasta al dente. This is when it is slightly undercooked and still has a bit of 'bite' to it. When you freeze cooked pasta, it softens somewhat. So, freezing al dente pasta salad means that you account for that softening, and end up with a better texture to your pasta salad.
Avoid freezing pasta salad with salad dressing, sour cream or anything that might not withstand the freezing process very well.
Fresh ingredients with a high water content do not freeze well. That is why it is worth picking out certain ingredients from your pasta salad before freezing it. Otherwise, your pasta will end up being soggy and tasteless.
Freeze pasta salads in a ziploc freezer bag or airtight freezable container, for maximum freshness.
Great pasta salad and pasta salad dressing recipes
Pasta salads are great recipes when it comes to simple, tasty, filling meals. They are so versatile and, with so many fantastic pasta salad recipes out there, there's something for everyone.
With that in mind, here is a list of some of my very favorite pasta salads and some amazing dressings to use with them. Hopefully, they inspire you to make your own. Don't forget... scale up your salad, make a big batch and follow the freezing instructions!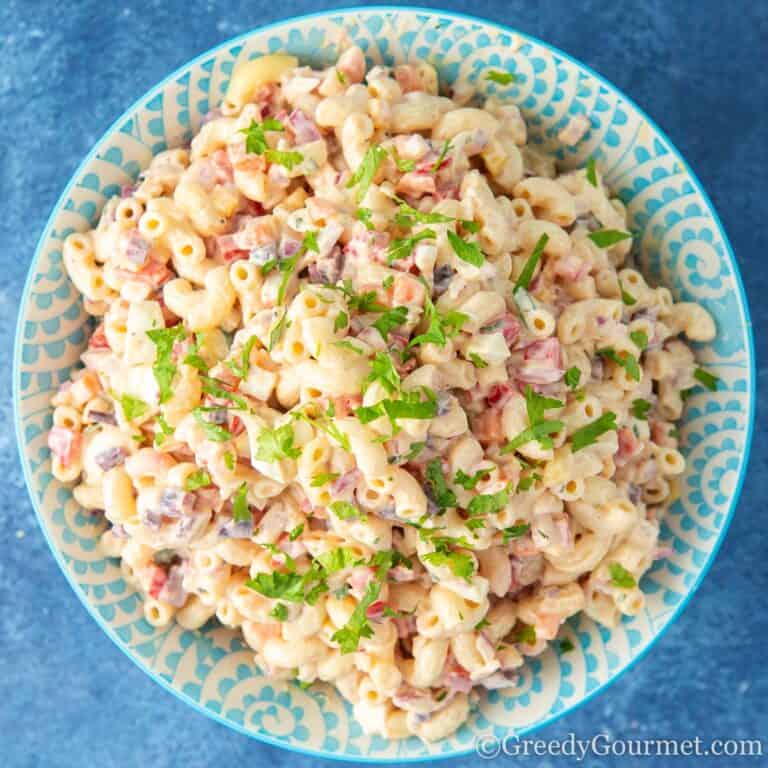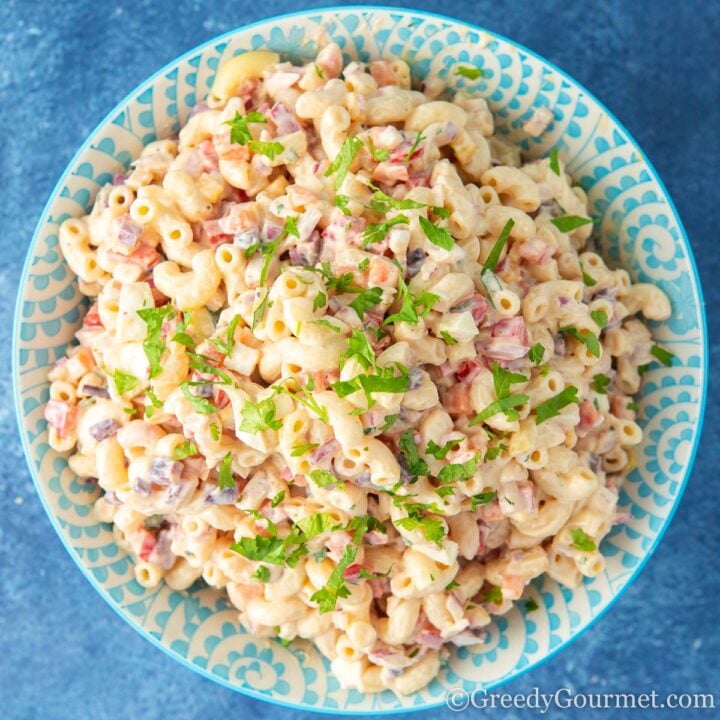 How To Freeze Pasta Salad
Yield:
frozen pasta salad
A quick and easy dish to make, but what if you've got leftovers? Read on to learn how you can freeze pasta salad!
Materials
Ziploc freezer bags
Marker pen
Instructions
If your pasta salad is warm, allow it to cool completely.
If possible, pick out the fresh ingredients from the pasta salad. The pasta will freeze a lot better without lettuce, herbs or fresh vegetables with a high water content (tomatoes and cucumbers, for example).
Place the cooked pasta in a freezer bag or airtight container. You can also freeze the pasta salad in several smaller containers. This way, you can defrost only as much as you need each time.
Label your container or ziploc bag with the date of freezing and the contents.
Don't forget that the best way to thaw your pasta salad is in the refrigerator overnight.