If you're like me and you like to buy delicious deli meats in bulk, you might have wondered 'can you freeze salami?'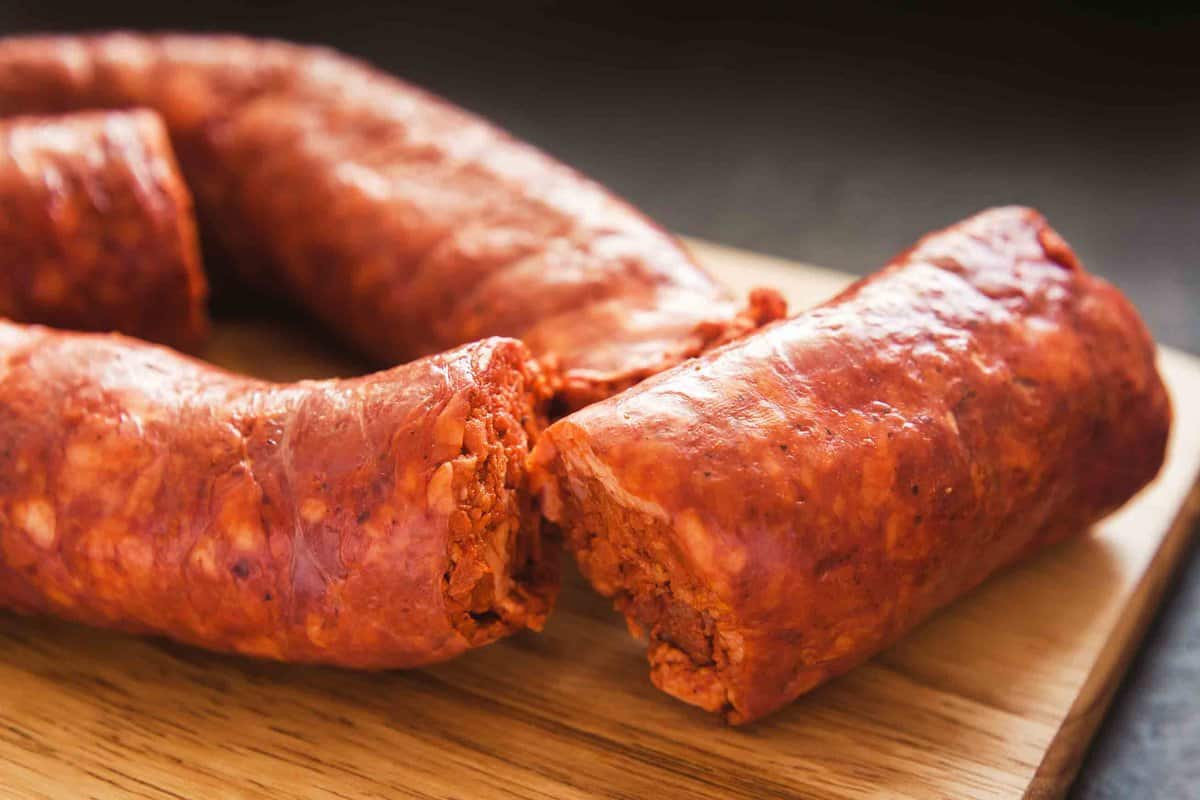 Leftover salami has so many uses – think awesome pizza topping or sublime sandwich filler – so it makes sense to want to keep a big batch of it around to add a bit of magic to your favorite foods. However, like most cured meats, salami doesn't last that long.
So, if you want to extend its shelf life and preserve its taste and texture, you've come to the right place!
So, Can You Freeze Salami?
The good news is that, yes, you can freeze salami!
However, like most processed deli meat, freezing salami should be done in a certain way. That's because if you freeze it, store it and thaw it without following the proper steps, that wonderful taste and texture of this delicious deli meat will be gone for good.
So, make sure you follow the advice in this article to freeze salami properly.
Can You Freeze Salami Slices?
Yes, you can freeze salami slices. However, when freezing salami slices, as opposed to a whole piece of salami, there are a few extra steps that you'll need to take. Make sure you follow these steps in the 'How to Freeze Salami Slices' section at the bottom of this article.
Does Salami Freeze Well?
Yes, salami holds up quite well to the freezing process. Like some other luncheon meat, like bologna, salami has a low water content. This makes it ideal for freezing – foods with high water content suffer the most damage from freezing.
These types of foods suffer as the water becomes crystalized when frozen. Then, when defrosted, it turns the texture of the meat into a stodgy, sludgy mess.
Luckily, this doesn't happen with salami. However, you will need to follow several key steps when freezing salami to make sure the taste and texture aren't affected.
What Exactly is Salami?
The term 'salami' refers to any kind of meat that has cured and encased. This broad term means that there are 100s of different types of salami, all prepared in different ways.
However, the Italians take salami seriously and see salami-making traditions as a way of life. So, even though you can get the cheaper, waxy kind of packaged salami in supermarkets, just know that the real stuff, the authentic kind of salami from Italy is on a whole different level.
Salami is made from pork meat that is minced together with a certain amount of high quality pork fat. Then, depending on the type, it is blended with ingredients including garlic, pepper and a variety of spices, before being dry-cured.
Where does Salami Come From?
Salami originated in Italy. In fact, it is thought that salami's origins go back as far as Roman times.
In Italy, salami is known as 'salame.' The word comes from the Latin word for salt – 'sale' or to salt 'salare'.
Although salami's origins are firmly rooted in Italy, many countries throughout Europe have salami-making traditions that go back several centuries.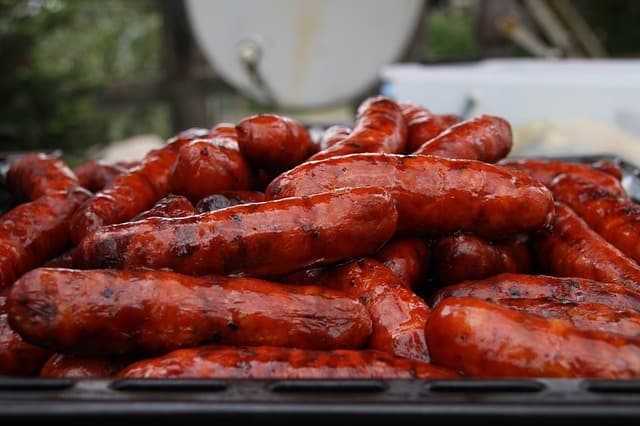 What are the Different Types of Salami?
There are so many different types of salami in Italy and throughout the world. Although you can get generic types of package salami in supermarkets and stores, authentic types of salami are in a class of their own.
Here are the most common types of salami:
Pepperoni Salami
An American version of Italian salami, pepperoni is drier than most authentic types of Italian salami and is made with more spices such as paprika and chili pepper. Often used as a pizza topping, pepperoni has a smokier, more intense flavor than other types of salami.
Cacciatore
Translated as 'hunter style' in salami, cacciatore is quite a small type of salami. It's made from ground pork and a mixture of spices including caraway, coriander, black pepper and dried red chili, and is thought to be one of the oldest types of salami.
Literally meaning "hunter style" in Italian, this sausage is smaller in size than other salame, which means it is portable enough to be consumed on-the-go. It is made with ground pork and a variety of herbs and spices for flavor.
Capocollo
A fatty, lightly spiced smoked salami, capocollo is made with meat that has been soaked in wine, then mixed with other ingredients including thyme, laurel and juniper berries. It's incredible tender and absolutely delicious!
Genoa salami
This salami from the northwest of Italy is traditionally made with a mix of pork and veal, along with garlic, pepper and red wine.
Neopolitan Salami
This type of salami from Naples is made with pork (sometimes veal too) and seasoned with salt, garlic, chili and wine.
How long can you keep salami in the refrigerator?
Unopened salami can be kept for quite a long time. That's because it's a cured meat, which means it has undergone a process to help extend its shelf life. You can keep unopened salami at room temperature for up to six weeks. In the refrigerator, it will last indefinitely.
Once opened, salami storage is a different story. When bacteria reaches the sausage, the shelf life is shortened considerably. So, store salami in the refrigerator once opened – it will last 5-7 days.
How do you Defrost Frozen Salami?
You should always thaw salami in the refrigerator overnight. This is the safest way to thaw deli meats and also helps to preserve the taste and texture of the salami.
While it is possible to defrost salami in the microwave, I wouldn't recommend it. You'll kill the delicious taste and wonderful texture of the salami meat.
Can you Refreeze Salami?
No. Leftover salami that has been frozen once should not be frozen again. Like most meats, it's only sensible to freeze and defrost it once.
That's why it's important that, when you freeze deli meat, you plan ahead. If you know you are going to want to defrost small portions at a time, freeze salami in individual portions. See the freezing guide below on how to do this.
How long can you keep salami in the freezer?
Frozen salami will last for around 2-3 months if properly stored in the freezer. Although you can safely store it up to six months, you will start to notice that the texture and taste have been affected if you store it longer than 3 months in the freezer.
How can you tell if salami is off?
There are a few telltale signs that salami meat has spoiled. These are:
APPEARANCE
The first thing you will notice is that salami meat will take on a slimy outer layer or will have a dull color.
SMELL
If the salami has started to take on a sour smell, it's time to throw it away.
TASTE
If appearance and smell aren't a give away, then taste certainly will be. If salami tastes sour or metallic, then it's best to play it safe and throw it away.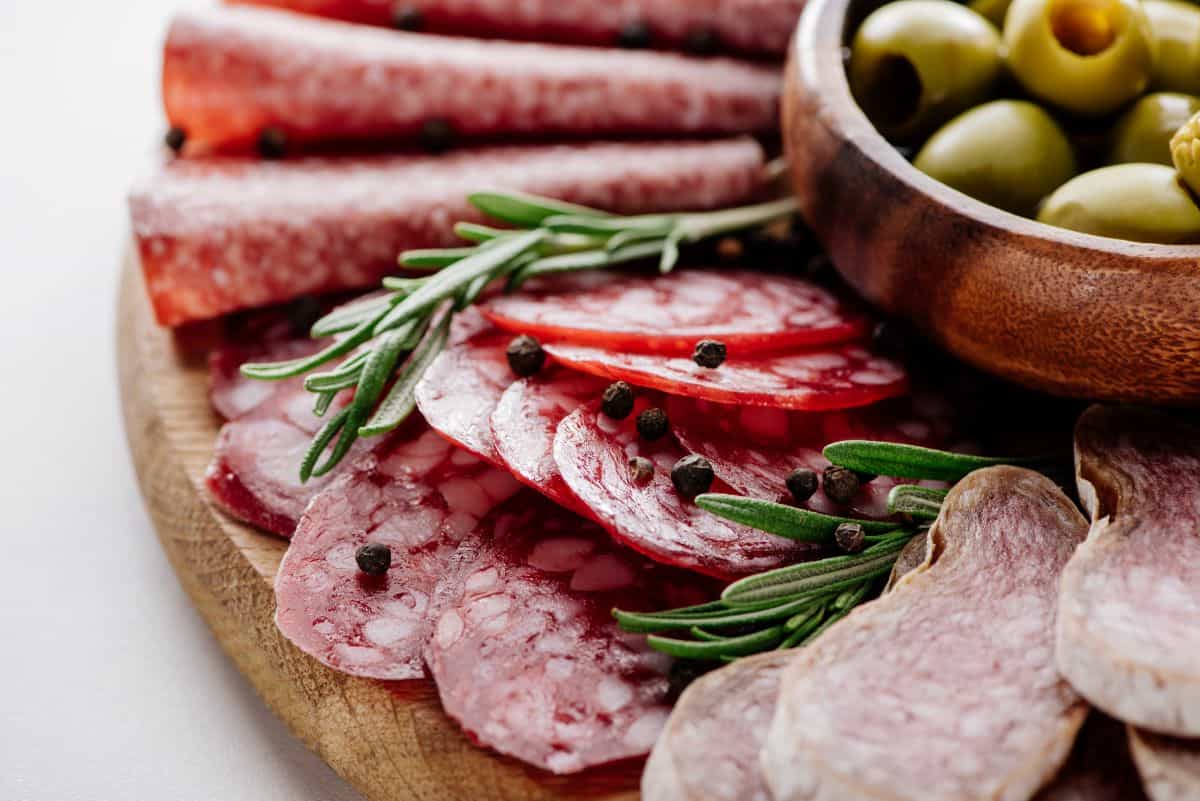 Best Tips To Freeze Salami
Let's recap some important points when it comes to freezing salami:
Always double wrap the salami. This extra layer of protection will help to prevent the meat from drying out and will also help to prevent freezer burn.
Keep sliced salami flat in its original packaging.
When storing salami in a freezer bag, be sure to squeeze any excess air out of the bag.
Wrap salami tight in plastic wrap. The tighter the better, as less air will be able to get in.
The sooner you freeze salami, the less the texture and taste will be affected. Freezing salami a day or so after you've opened it is better than after a week, for example.
When thawing salami, leave in the refrigerator overnight.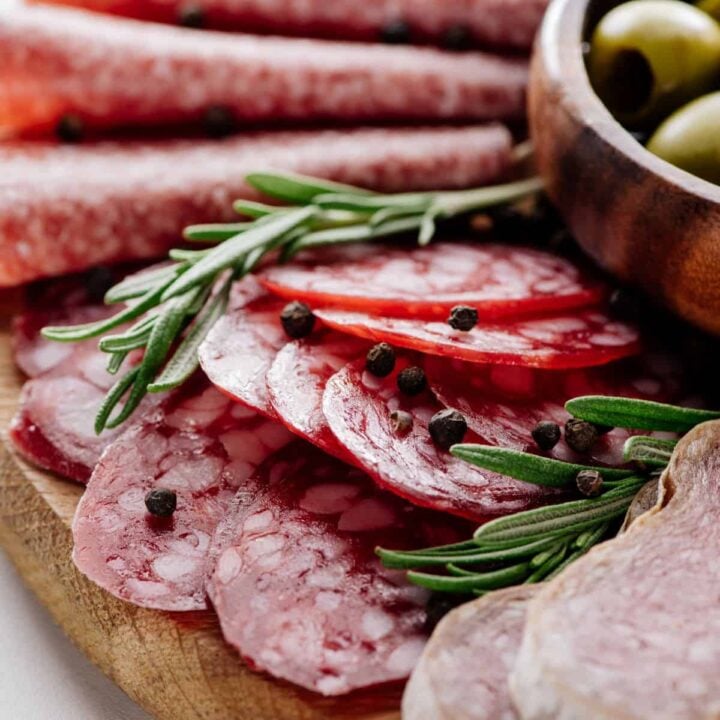 How To Freeze Salami
Do you have plenty of salami you don't know what to do with? Read on to learn how to freeze salami in a few easy steps!
Materials
Airtight freezer-safe container
Ziploc bag
Freezer labels
Plastic wrap
Instructions
HOW TO FREEZE WHOLE SALAMI
Wrap salami in a plastic bag or aluminum foil to reduce freezer burn. Place inside a ziploc bag or airtight container.
Label the container with the contents and the freezer storage date, then place it in the freezer.
HOW TO FREEZE SLICED SALAMI
Place butcher or wax paper between each individual slice of salami deli meat.
Stack each slice of salami and place them in a ziploc freezer bag or airtight container.
If using a ziploc freezer bag, squeeze as much of the the air out of the bag as much as possible.
Protect it against freezer burns by adding a second freezer bag over the salami meat.
Label the container with the contents and the freezer storage date, then place it in the freezer.
HOW TO FREEZE UNOPENED SHOP BOUGHT SALAMI SLICES
Wrap the original salami packet in aluminum foil, freezer paper or plastic wrap, then place in a ziploc bag or airtight container. This will help to prevent freezer burn.
Label the container with the contents and the freezer storage date, then place it in the freezer.