Love it, made too much and now wondering whether you can freeze cauliflower cheese? You've come to the right place!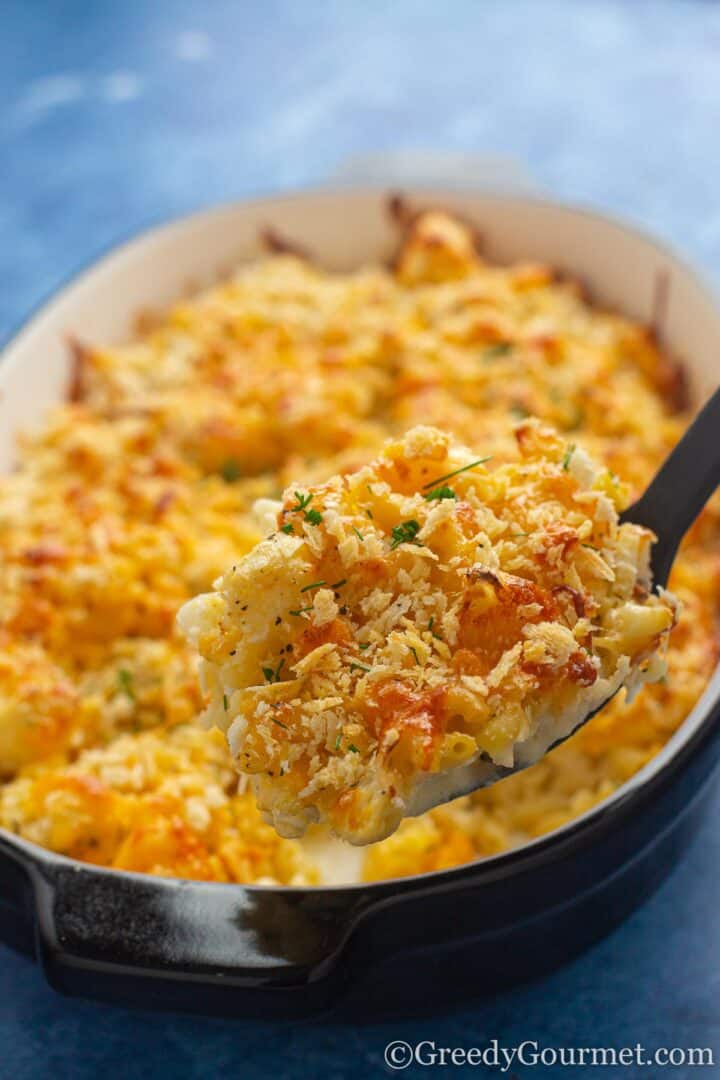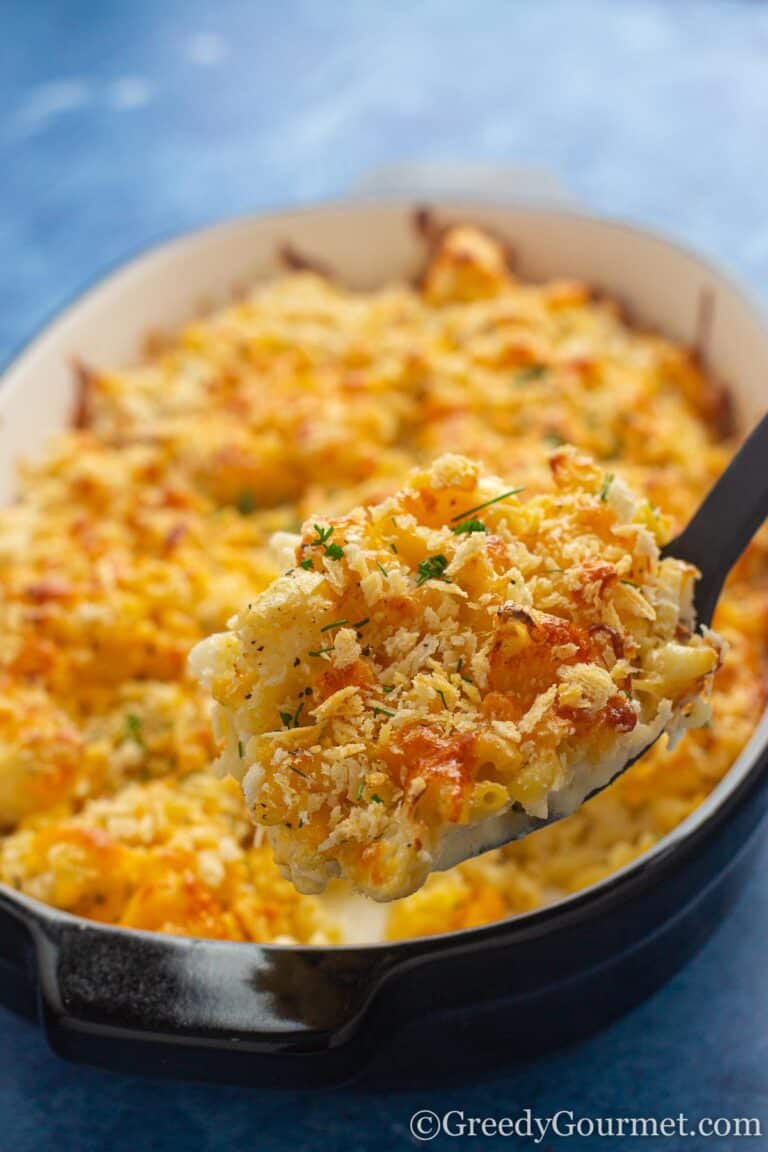 Nutrient profile
It is high in vitamin C, low in carbohydrate content, and it has an overall low-calorie content, thus it makes a healthy substitute for high carbohydrate foods like cereal grains. Cauliflower rice for example is a good substitute for white rice.
What is cheese
Cheese is a product made from coagulating milk, typically cow, buffalo, goat, or sheep milk, rich in calcium and protein.
What is Cauliflower cheese?
Cauliflower cheese is a native British dish that consists of cauliflower and a creamy cheese sauce. 
Cauliflower (Brassica oleracea) is a white and green vegetable that belongs to the same family as broccoli and cabbage.
How is cauliflower cheese prepared?
Boil the cauliflower
Typically the cauliflower is chopped, boiled for about 5 minutes, then drained and transferred to a large casserole dish. 
Prepare the milk cheese sauce
The milk cheese sauce is prepared (by melting the cheese into milk), poured into the casserole dish containing the cauliflower florets, topped with cheese, and baked for a few minutes in the oven.
A mature aged cheese is usually preferred for use in the cauliflower cheese dish and mature cheddar cheese is the most popularly used.
Flavor ingredients

Mustard and nutmeg are commonly additional ingredients usually added to enhance  flavor to the dish. 
Texture ingredients
Breadcrumbs could sometimes be combined with the grated cheese as topping for the cauliflower cheese before baking. It adds firmness to the texture of the surface of the cauliflower cheese.  
When can you eat cauliflower cheese?
This dish can be eaten as a side dish or for lunch or dinner as the main meal. It can also be served with pasta during meals. 
It is a great meal for vegetarians, who will use vegan cheddar cheese instead, and soya milk to prepare their milk cheese instead.
Can you freeze it?
You can preserve leftover cauliflower cheese by storing the refrigerator for use for up to two days. However, if it is intended to be stored for more than this time, it should be kept in the freezer. 
How long can you freeze cauliflower cheese?
Freezing cauliflower cheese increases its shelf life, as such it can last in the freezer for months or up to one year. However, freezing cauliflower cheese will compromise the texture of the cauliflower, as well as the richness and thickness of the cauliflower cheese sauce. 
Dairy is noted to separate when frozen and thawed, ruining your dish's sauce.  As such it is advised to simply refrigerate the cauliflower cheese. 
However, if you choose to freeze cauliflower cheese, there are a few tips that can enable you to get the best result.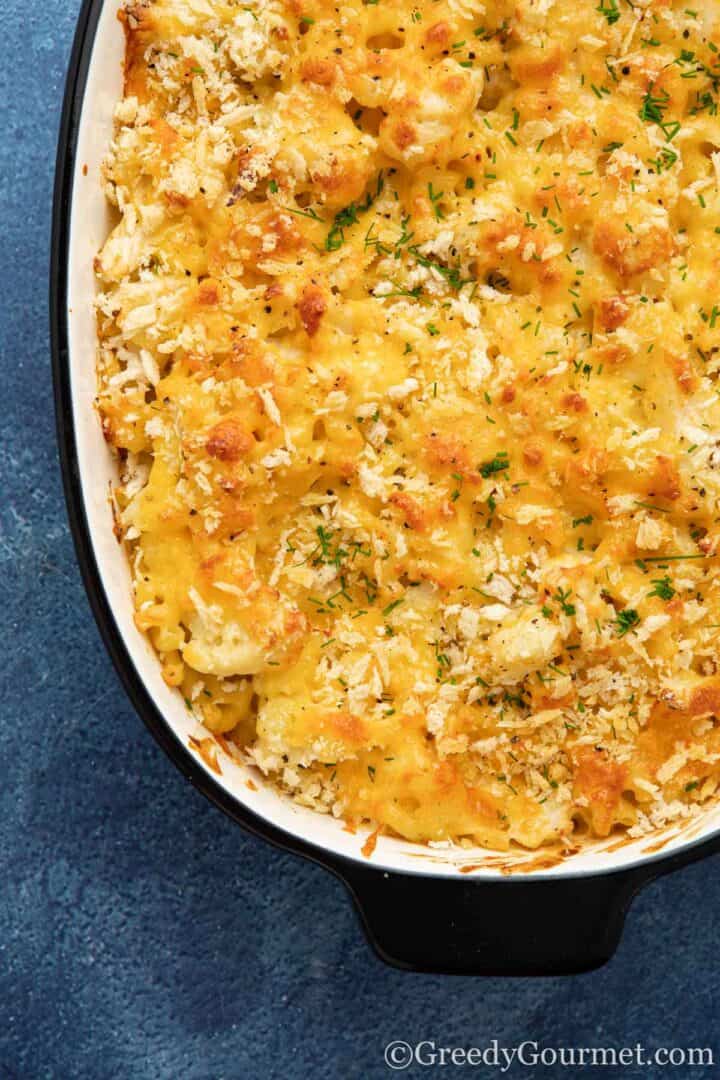 Tips on freezing cauliflower cheese
1. Freeze quickly
If you intend to freeze your cauliflower cheese, do it quickly as soon as the dish has cooled down. This is because smaller ice crystals are formed when you freeze faster which do not cause much damage to the cell walls of the food. Thus the overall food quality is preserved.
Advantage over slow freezing
On the other hand, slow freezing cauliflower cheese leads to the formation of large ice crystals that stretch and destroy the food cell walls. As a result, when the food is thawed, more dripping and water or liquid is lost.
So, your cauliflower cheese will lose more water, making the dish watery. The cauliflower itself will become mushy and lose its firm structure.
Therefore, it is advised to freeze cauliflower cheese within two hours of preparation.
2. Blanch the cauliflower
Do not over cook the cauliflower before baking. It is a soft vegetable, which if overcooked, will be a mushier and watery dish after freezing and defrosting.
Blanching the cauliflower is the best method of preparing them, especially when you need to freeze them afterwards.
What is blanching?
Blanching involves placing the vegetables in boiling water or steam for a maximum of five minutes, and immediately transferring them to cool in iced water. 
Advantage
Blanching is a must for vegetables to be frozen as it immediately stops the action of enzymes that degrade their color, flavor, and structure. 
3. Drain out excess water
After boiling the cauliflower, make sure you strain the excess water out properly. Too much water in the dish causes more ice crystals to be formed during freezing and consequently a more mushy and watery cauliflower cheese after freezing and thawing.
You can also reduce water from the cauliflower by using a paper towel to dampen it after straining.
4. Sauté the cauliflower
Though boiling or blanching the cauliflower is the most popular way of cooking cauliflower cheese, some people prefer to fry or sauté their cauliflower.
The Sauté process involves either a brief microwave steaming of the cauliflower before frying in a pan or directly frying the pan with your chopped cauliflower.
Benefits of Sautéing
Some people prefer this method because it dries up the water and reduces the amount of possible ice crystals formed during freezing, and consequently less water to deal with when reheating cauliflower cheese. in the dish when thawed.
Sautéing also imparts flavour on the cauliflower, consequently enhancing the overall taste of the cauliflower cheese dish.
5. Freeze in the same casserole dish
Freeze your cauliflower cheese in the same casserole dish you used to bake it. This makes it easy to reheat when it is time to eat it again.
6. Freeze at below 0oF
The United States Department of Agriculture (USDA) recommends that all foods be frozen at temperatures of 0oF or lower. This is because the nutrient content (especially the vitamin content), color, flavor and texture are maintained.
Also, enzyme activity is halted at such low temperatures. Moreover, bacteria growth is stopped or greatly halted, food spoilage is prevented. Therefore, foods can be frozen for over a very long period.
7. Cover the casserole dish
Do not freeze in open freezer air. Ensure you use an aluminium foil to top your casserole dish if it does not have a lid. You can double top with a baking sheet, to act as a second layer of protection if the aluminium foil breaks during the time of freezing.
Topping the dish can also be done with a plastic wrap that is airtight. Topping ensures that excess moisture from the air in the freezer and water does not get into the dish and further affect its texture.
8. Avoid leaving the freezer door open
It is important to constantly keep the freezer door shut, or not leave it open for too long. Constant opening and closing of the freezer door every now and then causes warm air to get in and mix with cold air creating room for moisture to be formed.
9. Oven-bake immediately
When you need to eat your cauliflower cheese, it is best to not allow it to thaw, as thawing will cause water to leak out of the cells and make the dish waterier.
Preheat your oven till about 350oC, then reheat cauliflower cheese by transferring your cauliflower casserole dish directly from the freezer to the preheated oven.
Baking should be done for upto thirty minutes, until the middle is bubbly hot, like you did when you first prepared the dish. Oven heating dries up the water, giving your cauliflower dish a firmer texture.
10. Defrost cauliflower cheese in the refrigerator
If you do not bake the cauliflower cheese after freezing, you can thaw by keeping it in the refrigerator overnight. In the morning, you can then transfer to a microwave safe dish and microwave as desired. However microwaving may give you a more moisture rich dish than baking. For best results choosing oven baking is ideal.
11. Do not freeze for very long
Cauliflower cheese can stay for many months in the freezer. But like many other frozen foods, the quality slowly depreciates under a frozen state. So for optimum quality retention, try to freeze your cauliflower for not more than three to four months.
12. Do not refreeze after cauliflower cheese has been reheated
Do not freeze cauliflower cheese again after it thaws and has been reheated. Repeated defrosting and freezing leads to serious quality damages of your food.
Excess loss of water, nutrients like proteins, color changes especially on the surface and texture changes will happen making your cauliflower cheese less palatable.
Your cauliflower is a very delicate vegetable that does not withstand very well too much fluctuations in temperature. Moreover your dairy can begin to curdle and separate out, making the dish not so appealing to the eyes.
So plan to eat your dish completely once defrosted, or wrap up in a plastic bag any leftovers and store in the fridge. Ensure to eat it all up within two to three days.
13. Plan to freeze your cauliflower cheese
For best results for freezing, you can plan ahead of time to freeze your cauliflower cheese. This way you prepare your ingredients accordinging. Rapidly steam your chopped cauliflower, wrap and freeze immediately for about an hour in maybe some baking sheets.
Then once frozen, transfer into an airtight bag and keep in the freezer. This freezes the cauliflower quicker, allowing for just smaller ice crystals to form, which do not damage the cell membranes of the food particles, when defrost.
Also prepare the milk cheese sauce separately and freeze. When it is time to make your cauliflower cheese dish, you can thaw both cauliflower and sauce in the fridge first overnight.
Since the sauce was frozen separately, you can now heat it up, and mix thoroughly for a smooth blend of all its ingredients. Place the thawed cauliflower chops from the fridge directly to your casserole dish, and pour the heated sauce on it.
Top up with more grated cheese before reheating cauliflower cheese in the oven. Baking for about 30 minutes is ideal.