Known for its fresh, peppery taste, Arugula is delicious in everything from salad greens to pasta. Finding an arugula substitute when you can't find any or want to use a different green is fairly easy with all the options in your grocery store or farmer's market.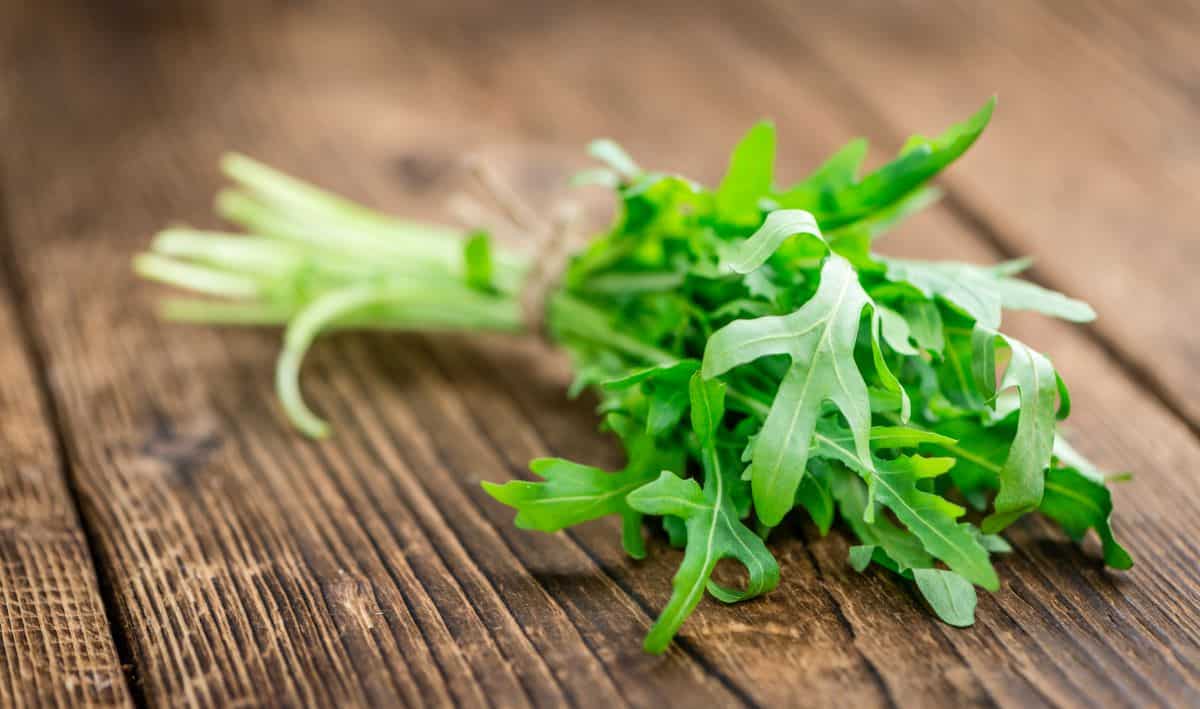 Arugula adds a slightly bitter flavor when eaten raw in a mixed salad or as a fresh component to top a pizza once it comes out of the oven. While many people love the earthy flavor and peppery taste profile of arugula, for some, it may be too much, so substitutes for arugula with a much milder flavor may be necessary. Read on to learn about the best substitutes for arugula.
What is Arugula?
Arugula, also known as rocket, roquette, or eruca, is part of the Brassicaceae family. Along with other greens such as cabbage, cauliflower, and Brussels sprouts, arugula is a healthy and delicious salad green. Arugula's unique flavor and bitter taste stand out amongst other mild and herbaceous greens.
Arugula is a leafy vegetable often used in Italian cuisine to balance heavier flavors and textures. It is great for mixed greens, arugula salad, pesto, soups, sandwiches, and grain bowls. The slightly bitter taste of arugula and its signature peppery flavor is more pronounced when eaten raw, as are the antioxidant and mineral properties of the leafy green.
Similar to baby spinach, baby arugula is harvested earlier than regular arugula, giving it a milder taste while still having the same flavor that is distinct to arugula. You can easily replace arugula with baby arugula in any recipe that you would use it, and it may be ideal for people who don't prefer the flavor profile of arugula.
How to Choose the Best Substitutes for Arugula
It's easy to find an arugula substitute since many great options can be used similarly to the leafy green. For dishes like salads, picking a leafy vegetable that is similar in dark green color will ensure that the appearance and texture are the same.
Most greens have a milder flavor than arugula, except for a few that we will discuss, but they still make a great substitute to replace arugula, depending on the dish.
When searching for an arugula substitute, it is important for you to consider what flavor profile you are looking for and whether or not having the same peppery flavor of arugula will be missed in your dish.
If you are making a raw dish like fresh Vietnamese spring rolls, the tangy flavor will really stand out as opposed to cooked dishes like frittatas, where the arugula greens offer mostly some color and a little nutritional value.
What Green is Closest to Arugula?
The easiest and most accessible versatile green you can use as a substitute for arugula is baby spinach. Baby spinach is similar in color and texture to arugula and contains loads of nutrients and vitamins, like arugula. Baby spinach has a milder taste than arugula, with some slight bitterness, and the leafy green works well in raw and cooked recipes that may call for arugula.
10 Arugula Substitutes
Below is a list of the 10 best substitutes for arugula that I've compiled so that you can find the best fit for your culinary needs. Although many of these substitutes for arugula are different in taste and appearance, they are suitable to replace when you're looking for leafy greens to enjoy with or as part of your meal.
Whether you're out of arugula or simply looking for a substitute, here is a list of appropriate stand-ins for the flavorful green.