It's rich, creamy and tastes like a dream! Coconut cream is a magical ingredient that can work wonders in so many different dishes. From stir-fries and curries to cakes and sauces, a little bit of coconut cream goes a long way.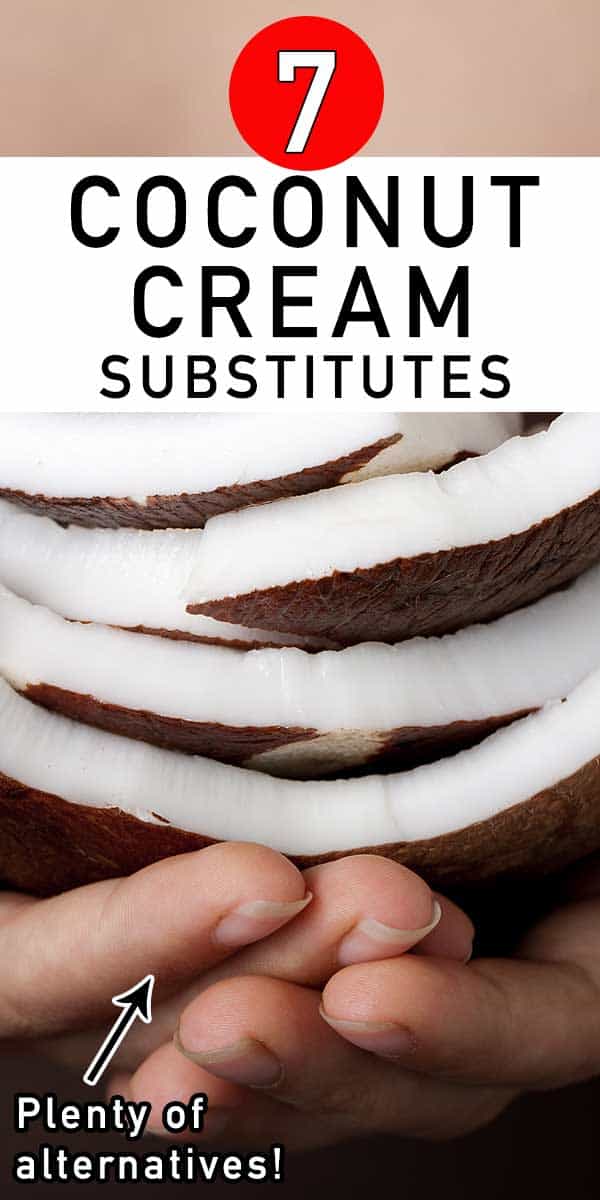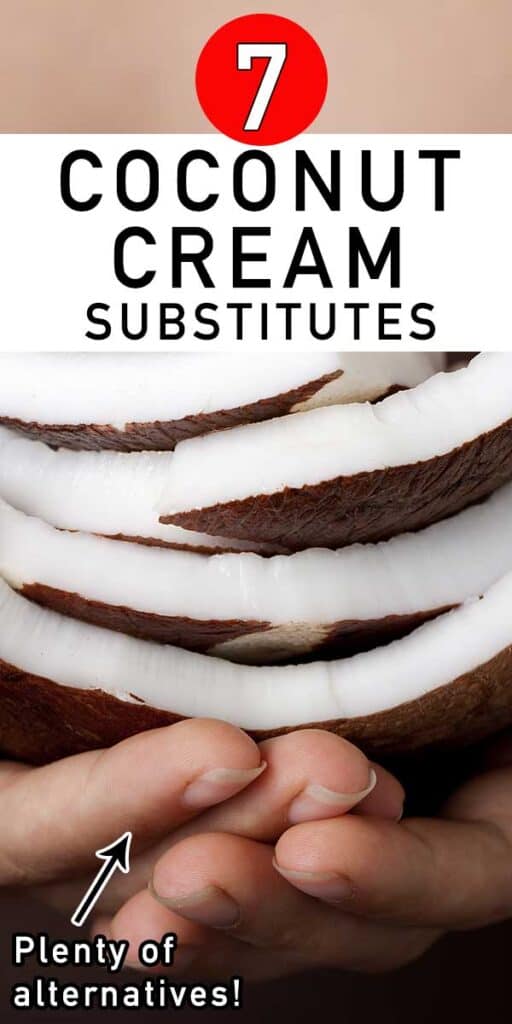 But what if you reach for that magic can in your kitchen cupboard, only to find you're all out?
Well, there are plenty of good quality coconut cream substitutes around. You just need to know where to look.
Looking for a coconut cream substitute?
You've come to the right place. Check out the list below.
Best coconut cream substitutes
Looking for a coconut cream substitute? This list has 7 alternatives you can use if you've run out of coconut cream or simply don't like the stuff.
Full-flavored, sweet and silky smooth, this coconut syrup is a great substitute for coconut cream for certain situations. While it can't replicate the thick creaminess of coconut cream, it has the same sweet coconut flavor.
Flavored teas, smoothies, cocktails or speciality coffees (think coconut lattes on a cold winter morning) will taste amazing with a dash or two of this syrup. You can add a little extra milk (cow's, rice, almond or soy) if you like, to bring a little extra creaminess.
It can also be a substitute for coconut cream in certain baking recipes, especially if you substitute heavy cream alongside it.
Coconut milk is similar in taste to it creamy cousin (it's a lot less sweet than cream of coconut). When using coconut milk as a substitute, you'll need to bear in mind that it has a lot thinner consistency.
Add about half as much coconut milk to curries and sauces, making up the specific taste with coconut oil, coconut extract or desiccated coconut.
Like coconut cream and coconut milk, Greek yogurt is a great way to thicken a curry recipe. While some thickeners take away from the complex blend of flavours in a curry, Greek yogurt, like coconut cream, adds flavour.
If the recipe specifically calls for a coconuty flavour, add an equal amount of Greek yogurt (1 cup to 1 cup) with a tablespoon or two (adjust to taste) of desiccated coconut or coconut oil, or a dash of coconut extract.
Finding a healthy, tasty low price Greek yogurt can be tricky. Why not make your own? It's incredibly simple and you'll never buy a pot of yogurt again!
If you're looking for a coconut cream substitution, heavy cream is a good alternative. It has a similar consistency, so add to sauces or curry recipes that call for a coconuty taste.
Again, you'll lose out on that all important coconut cream flavor, so be sure to add something to bring it back into play. Desiccated coconut works wonders as a natural flavor to add to sauces. You could blend with coconut milk for a perfect taste and texture.
Coconut Manna
Different to the creamed stuff (see below), this superfood product tastes amazing and makes a good alternative, particularly in curries. It's also great for cookies and other baked recipes.
It definitely needs to be cooked in, so skip this one when it comes to an alternative for drinks and desserts (coconut milk or cream of coconut are better for this). Read more here.
Many people confuse cream of coconut with coconut cream, but there is a difference.Cream of coconut
contains added sugar, thickeners and preservatives and is a sweetened version of coconut cream. Typically used in desserts and decadent drinks (did someone say piña colada?), cream of coconut can be a decent alternative in sweet recipes. It's probably best to use one of the others on this list for savoury recipes, but for a sweet drink, cream of coconut is ideal.
Milk can make a decent substitute, but you'll definitely need milk with a high fat content, like full fat or whole milk. Coconut cream has a certain richness that you'll need to be able to replicate.
As milk is a lot less creamy, use about a third as much. Add coconut oil, desiccated coconut or coconut extract for recipes calling for a coconuty taste.
Ok, now things are getting confusing right? Yes, there is something called creamed coconut and no it isn't the same as cream of coconut of creamed coconut.
In fact, creamed coconut is sometimes referred to a coconut butter. Creamed coconut comes in a solid block and is a great way to add flavor and texture to curries and sauces. It's also great in baking. Heat two tablespoons with a splash of water to make a creamy paste, then add to the recipe for a great alternative.
What's your go to replacement for coconut cream? Let me know in the comments below.