Comte cheese is an underrated cheese. Despite being so tasty, it's not always widely available, making it necessary to find a comté cheese substitute every now and again.
These are my favourite cheeses to use in its place.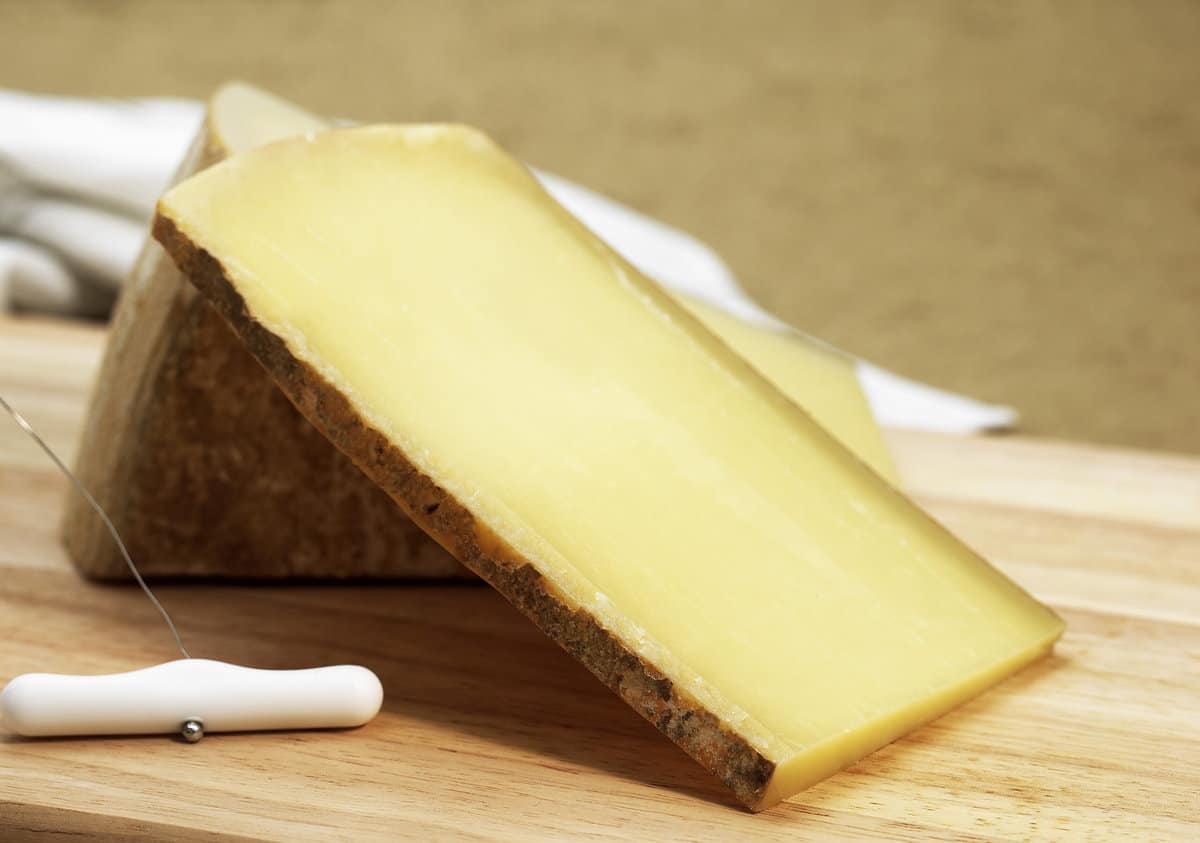 What is Comte Cheese?
Comte is a French cheese made from unpasteurized cow's milk. It has a semi hard texture with a flavour that changes as it ages. It turns from milky and fresh to nutty and smoky with sweet undertones, and has a variety of delicious uses.
Comte cheese is also made with animal rennet, and therefore vegetarians cannot eat it. It has a mild flavour, making it easy to find substitutes.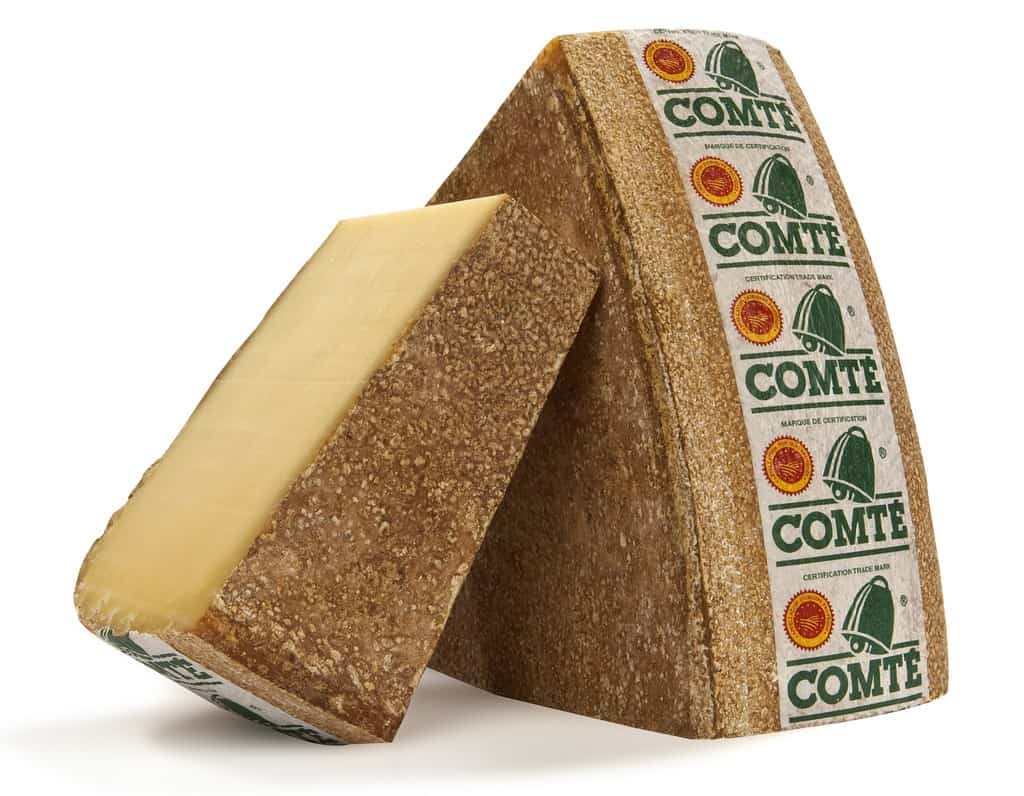 Popular Comte Uses
Comte cheese is very versatile and can be used in a variety of recipes. It tastes great in casseroles, fondues, and in soufflés (it can be easily be used in this twice baked shuffle recipe). It's also great on sandwiches and cheese boards.
I love it in baked recipes, but it's also great on its own.
10 Comte Cheese Substitutes
Are you looking for a Comte Cheese Substitute? In this comprehensive list you'll learn 10 ideas for an alternative.
Swiss cheese is a great substitute for comte. There are a variety of types, as Swiss cheese just means a cheese made in Switzerland. 
Because most Swiss cheeses are made from cow milk and have mild flavours with soft to medium hard textures, if you don't know much about cheese and just see that it's Swiss, it's probably a safe substitute for French comte.
The trick to substituting cheeses is knowing what you're going to use them for. Determine the recipe before deciding which cheese to use. 
If you are just putting together a cheese board or making a sandwich and need a comte substitute, any type from Switzerland will be suitable. However, if you are making something like a hot dish or a soup, Swiss cheese may not be the best substitute. 
We'll discuss some more specific Swiss cheese options, but know that if you just find a generic Swiss cheese, it'll likely work as a substitute for comte.
When you envision Swiss cheese, you are likely thinking of emmental cheese. Emmental cheese is that classic Swiss cheese with small holes. It's buttery with a creamy texture and tastes amazing on sandwiches, or just on its own. 
Because it's easy to melt, emmental cheese is often used in fondue. Emmental cheese has a medium hard texture, comes from cow's milk, and is pale in colour. It's got a mild flavor, making emmental cheese a good comte cheese substitute, again depending on the recipe.
Gruyère cheese is another cheese that originates in Switzerland. It does not have holes like emmental cheese and its flavour changes as it ages, making each gruyère a little bit different than the next. 
When it's young, Swiss gruyere cheese has a nutty flavor, but it becomes more earthy as it ages. Gruyère's texture changes as it ages, too. It moves from creamy when it's young to almost grainy when it's older. 
Gruyère cheese has a very distinct flavor, and because of this it is great in baking. It tastes delicious in quiche, and is great with savoury dishes, too. Gruyère cheese is also wonderful for melting, and therefore is often found in fondues. 
Gruyere cheese is the classic cheese used in a Croque Monsieur, a fancy grilled cheese sandwich, as well as french onion soup and a Croque Madame. 
You'll find gruyere cheese to be one of the most wonderful comte cheese substitutes.
Raclette is another Alpine cheese that has a variety of uses. It has wonderful melting properties and is often melted right on its wheel. It has been scraped off onto whatever food it's going to be eaten with like veggies and pasta. 
Historically, raclette cheese was eaten around a campfire to melt and be scraped onto bread. Today you'll see raclette scraped onto dishes and restaurants using a big knife and put directly onto patrons' food.
Raclette can be eaten without being melted, though, and it's actually really wonderful to use on just a cheese plate. When it's not melted, it is firm and creamy. And it has a pretty similar taste to gruyere -  salty, sweet, and nutty.
Cheddar cheese is one of the most popular cheeses in the world, partially because of its taste and partially because it does not have a region that monopolises its production. It's produced all over the world, although it did originate in England. 
Cheddar cheese is made from cow's milk and has a wide range of tastes thanks to its wide range of production methods, colours, and ageing processes. 
Some cheddars have a hard texture, while others have a softer texture. Sometimes it has a mild taste and in others it takes on a sharper taste. 
Cheddar is a good substitute for comte because it has so many uses. It can be grated to use in macaroni and cheese. It can be sprinkled in salad or cut up and put on a cheeseboard. Sometimes it's eaten on pizza with mozzarella and other times it's just cut up for a sandwich.
There are endless ways to use cheddar, making it an excellent comte cheese substitute. 
Parmesan cheese has a very distinct flavor. It is also made from the milk of cows and is aged for at least twelve months before it is sold and eaten. 
Parmesan is an Italian cheese that comes on a wheel and has several uses. It is often grated onto pasta and vegetables, and it is sometimes used to create a crust or crackers. 
Its rind is very flavorful and is often stuck whole into soups and stews to give them more flavour. It does work as a substitute for comte, but only in certain recipes. 
Parmesans that aren't quite as pungent work well on a cheese platter and even have their place on pizzas. 
Jarlsberg is a Norwegian cheese that is very similar to emmental cheese. It has eyes that appeared during its production process and is aged for around a year. 
It's a great substitute for comte cheese because of its sweet yet nutty flavor and versatility. It can be cut up for a cheeseboard or put on a sandwich, and it can also be melted for fondue or used in a recipe that requires a medley of cheeses. 
Fontina originates in Italy, but it's been produced worldwide. When it comes from the Aosta valley, it has a distinctive red wax rind and a mild yet savoury flavour. Depending on where else it's made in the world, it sometimes has eyes and a softer texture. 
Aged fontina is a hard cheese and has good melting properties that work well in pastas and soups. When it's young, it's a wonderful fondue cheese. 
Fontina can be substituted for comte cheese in a variety of recipes because of their similar flavors and textures.
Gouda can also work in place of comte. A dutch cheese, gouda is creamy and delicious. It's a firm cheese that is amazing on sandwiches, as well as with crackers. It's one of my favorite substitutes, and will likely become one of yours, too.
Appenzeller cheese can also be used in place of comte cheese. Another cow's milk cheese from Switzerland, appenzeller is hard and unpasteurized, and its age is noted by its label. 
Its Classic wheels that come in silver labels are aged three to four months and taste mildly spicy. 
Its Surchoix wheels that come in a gold label are aged four to six months and are spicier. 
Its Extra wheels, which come in a black label, are aged six months or longer and are the spiciest of the three. 
Appenzeller is great in place of comte on sandwiches, salads, and when snacking.