A wonderfully fresh and fragrant ingredient, fenugreek leaves – otherwise known as 'methi' – have a unique character and flavor.
Which, of course, makes them hard to substitute. Hard, but not impossible!
There'll be times when you discover a great recipe that calls for fenugreek leaves, only to find that you can't track it down. So, what's the best fenugreek leaves substitute? Let's take a look.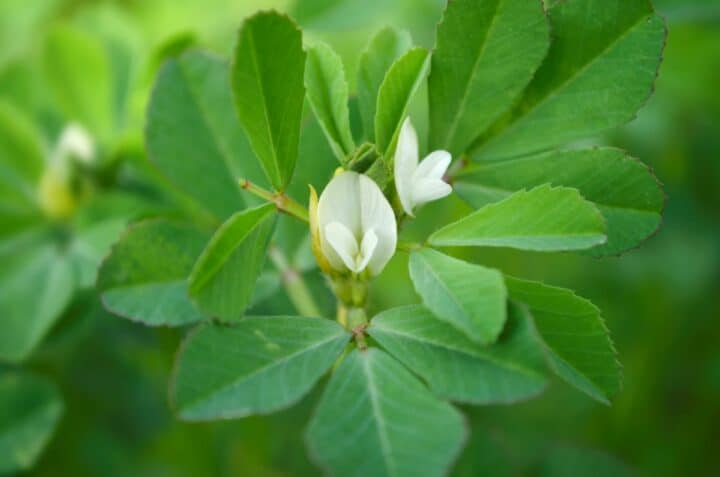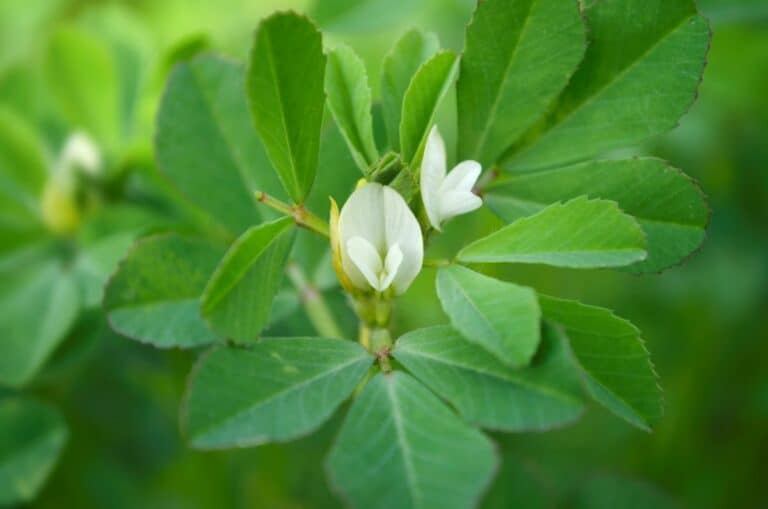 What are fenugreek leaves?
Fenugreek leaves are the leaves of the fenugreek plant, or methi plant as it's often referred to in India. It's an extremely popular ingredient in Indian cuisine and is often used in spice mixes, such as garam masala, panch puran and dry rubs for meat.
Fenugreek leaves are also typically used as a finishing ingredient in curries, sauces and soups, where they bring a fresh peppery fragrance and taste.
What do fenugreek leaves taste like?
Fenugreek leaves have a very distinctive flavor that's hard to pin down. One way to describe it is like a cross between celery and maple syrup, with a sweet earthiness, a peppery flavor and a nuttiness all rolled into one.
The leaves of the fenugreek plant are a little milder in taste than fenugreek seeds, which have stronger, bitter taste.
Where does fenugreek come from?
With its native roots firmly in Asia and North Africa, fenugreek is one of the oldest known plants to be used for medicinal and culinary purposes. 
Its uses go all the way back to Ancient Egypt, where it was often used as an incense ingredient, to stir the senses of the living and bid farewell to the dearly departed.
It was also used in Ancient Rome, where it was believed to help women in childbirth, as well as Ancient China and India, where it was thought to help lactation.
Nowadays, fenugreek is a hugely popular ingredient all over the world.
10 Fenugreek Leaves Substitutes
Are you looking for Fenugreek Leaves Substitute? In this comprehensive list you'll learn 10 ideas for an alternative.
Okay, so kasuri methi is not just a great substitute for fenugreek leaves – it is fenugreek leaves.
In actual fact, this is the dried version. Hugely popular in India, where it's used in everything from curries and chutney to sauces and pickles, kasuri methi is a lot more potent than fresh fenugreek, in terms of both taste and aroma. 
It's about three times stronger, so only use a third of the amount of kasuri methi as the amount of fresh fenugreek called for in the recipe.
A favorite ingredient in Chinese cuisine, mustard greens make for a great substitute for fenugreek leaves. They have a certain earthy peppery taste, which helps to replicate the flavor, while the green leaves match the appearance of fenugreek leaves. 
You can buy them ready-dried from good Asian food supermarkets. While they might be the closest match, in terms of taste and texture, they are a bit tricky to get hold of.
Swap dried mustard greens for fenugreek leaf at a like for like ratio.
Lots of people throw away the top part of the celery stalk, without realizing that this is where a lot of the flavor lies! Celery leaves are a fantastic ingredient, especially when cooked in with curries and stews.
They bring a similar earthy bitterness to the leaves of fenugreek. Best of all, they are readily available – you should be able to get celery with the leaves left on at most supermarkets or grocery stores.
Swap celery leaves with fenugreek leaves at a 1:1 ratio. For an even closer match, combine with the next item on this list!
You're probably thinking…"What?! Maple syrup?!"
Yes, that's right. Fenugreek, both the leaves and the seeds, share a chemical compound with maple syrup called sotolone. It's what gives them that subtle sweetness, with notes of caramel and a nutty/woody flavor.
So, if texture or color isn't an issue, you can swap ½ teaspoon of maple syrup in for a handful of fenugreek leaves. Better still, as I mentioned, combined it with celery leaves to really replicate that fenugreek flavor. 
Try ⅓ teaspoon of maple syrup and slightly less celery leaves than the amount of fenugreek leaves called for in the recipe.
Photo Credit: recipes.fandom.com
If you manage to track this wonderful ingredient, buy it! It's delicious in stir-fries and makes a great substitute for fenugreek leaves.
Sometimes known as leaf celery, Chinese celery has curved, thin stalks with a strong earthy flavor. Substitute at a 1:1 ratio.
Photo Credit: en.wikipedia.org
While it won't bring the same subtle sweet, slightly bitter flavor and wonderful aroma of fenugreek, spinach could step in for the leaves of fenugreek, in those recipes where a green earthiness is required. 
It would work especially well in curries, soups and stews – anything where the green color is important and an earthy vegetable is needed. Swap twice as much spinach as the amount of fenugreek called for in the recipe.
Photo Credit: en.wikipedia.org
Another earthy, peppery green that would work as a fenugreek substitute – at a pinch, mind – is kale. Much like spinach, it won't bring the same flavor as the leaves of fenugreek, so if you're looking for a good flavor match, look elsewhere.
Still, kale certainly replicates the earthy, pepperiness of fenugreek leaves. So, while you won't get that certain bittersweet nuttiness, you will get part of the flavor profile – you can add ½ teaspoon of maple syrup into the mix to get closer to the taste.
Substitute kale for fenugreek at a like for like ratio.
Photo Credit: en.wikipedia.org
Collard greens do a good job at replicating the earthiness and bitterness of fenugreek leaves. However, for that slightly sweet flavor, you'll need ½ teaspoon of maple syrup. 
Substitute collard greens for fenugreek leaves at a like for like ratio.
While it's not as good as the other alternatives on this list, if you're looking to replicate the slightly sweet nuttiness of fenugreek leaves alfalfa sprouts are a decent option.
WIth a slightly similar herb-like taste as celery leaves, alfalfa sprouts work well in salads, stir-fries and curries. Swap with fenugreek at a 1:1 ratio.
You can, of course, use fenugreek seeds to replicate the flavor of fenugreek leaves. Fenugreek seeds are stronger in taste than the leaf variety, so use with caution. It's a good idea to toast the seeds for a minute, then grind them with a mortar and pestle. This will take away some of the bitterness.
Use 1 teaspoon of fenugreek leaves for every 2 teaspoons of fenugreek leaves.
More substitute guides
Do you often find yourself short of an important ingredient or two? If so, check out more of my substitute guides:
Fenugreek substitute
Celery seed substitutes
Horseradish substitutes
Miso substitutes
Star anise substitutes