Mozzarella is a delicious cheese with a sweet and creamy flavor. Popular in many cold dishes as well as melted into some of your favorites, mozzarella is a versatile cheese that you'll want to keep in your refrigerator all the time.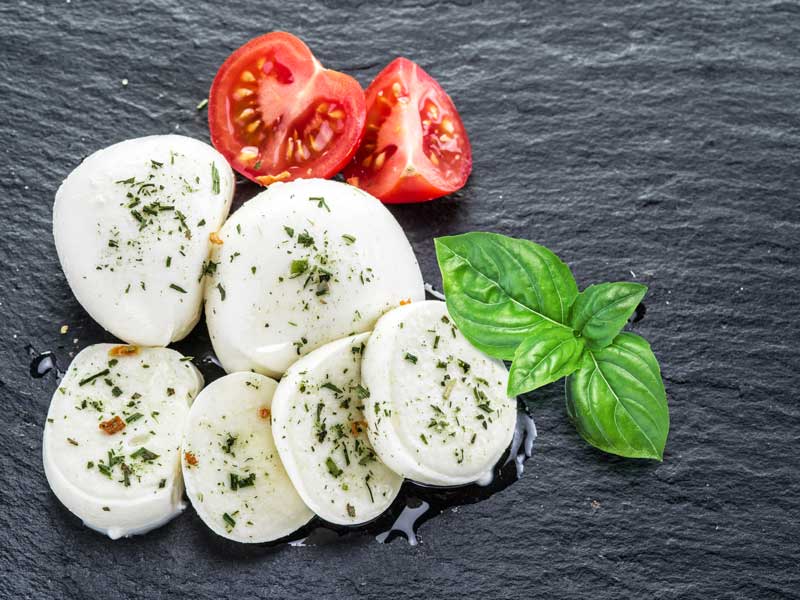 If you're looking for a mozzarella substitute, you've come to the right place. Let's learn more about the best mozzarella cheese substitutes.
What is Mozzarella Cheese?
Mozzarella cheese is a southern Italian cheese made by the pasta filata method. Mozzarella is created by stretching the formed curds, giving it elasticity and a semi soft texture.
Mozzarella cheese can be made from cow's milk, buffalo's milk, sheep's milk, or even goat's milk. Traditionally in Italy, mozzarella cheese was made from buffalo milk, known as bufala mozzarella.
What is the Difference Between Fresh Mozzarella and Mozzarella?
Mozzarella cheese is available in two main varieties, fresh and low-moisture mozzarella. Fresh mozzarella is slightly salty and has a creamy texture, and is best when eaten within seven days of being made, as it does not contain any preservatives and will spoil quickly.
Fresh mozzarella sometimes comes in a brine, made of water and salt, which lends flavor the mozzarella and keeps it fresh. There is around 50% moisture in the mozzarella, making it very watery when it is melted.
Low-moisture mozzarella is made when fresh mozzarella is soured and then carefully dried. This results in a hard, salty block of mozzarella cheese that can be grated easily.
The shelf life of low-moisture mozzarella is longer than fresh since it has less water. Low-moisture mozzarella is idea for melting into and browning on top of your favorite recipes.
Where Does Mozzarella Cheese Come From?
Mozzarella cheese originated in southern Italy, outside of Naples, from buffalo milk. Because of the lack of refrigeration at the time, the bufala mozzarella did not travel far outside of the region.
Mozzarella has since been produced all over the world, but is more commonly made with cow's milk. Mozzarella di Bufala Compana AOC is the Protected Designation of Origin, or law protecting the production of the cheese based on specific techniques and guidelines in the European Union.
This AOC protects the mozzarella cheese that comes from four regions in Italy; Campania, Latium, Puglia and Molise.
What Are the Best Non-Dairy Mozzarella Substitutes?
If you are a vegan looking for a mozzarella substitute, you have a couple of options. The mild flavor of mozzarella is simple to replicate with a vegan cheese with a nut base, as well as tofu.
Vegan mozzarella is easy to find in most grocery stores that have a vegan foods section. You can also make your own vegan version of mozzarella by combining soaked raw cashews, lemon juice, apple cider vinegar, water and tapioca starch. These ingredients are cooked over medium heat until they come together in a similar consistency to mozzarella.
Alternatively, tofu can be used as a nut-free mozzarella substitute. Whether by itself, or in a recipe for mozzarella cheese, tofu works as a stand in.
Depending on the mozzarella recipe that you are making, tofu will give you a satisfying creamy texture in dishes that are cold. Tofu will not melt like real mozzarella, so it is not recommended to use it in cooked dishes.
What Italian Cheeses Are Similar to Mozzarella?
The most similar Italian cheese to mozzarella is Bel Paese. A semi soft cheese made from cow's milk, it has a mild and buttery sweet flavor. More difficult to find outside of Italy, this Italian cheese is often used as a mozzarella cheese substitute when available.
Bel Paese has a great meltability and is used in lasagna as well as a pizza topping. Although it is has a mild flavor, there is sometimes a slight tang and great body to this cheese, depending on its age. Like Bel Paese, fontina cheese is also a semi soft Italian cheese with a similar texture .
Another Italian cheese, Burrata, comes in close second as a mozzarella substitute since it is extremely similar in taste as well as texture. Simply described as a mozzarella shell formed around a mixture of cream and delicate cheese curds, burrata is best enjoyed cold over greens with a drizzle of olive oil and balsamic glaze.
What Are the Best Substitutes for Mozzarella in a Salad?
There are several cheeses that work better as mozzarella alternatives in cold recipes like salads. Feta cheese, Cotija cheese, paneer cheese, and halloumi cheese are all good substitutes for mozzarella that will not melt.
Feta cheese can be eaten fresh, like mozzarella, and doesn't require any cooking to bring out the salty and tangy flavor of the cheese. Paneer and halloumi are better seared quickly in a pan before added to a cold salad to bring out the flavors of the cheese.
Cotija cheese is a Mexican cheese that can be easily crumbled and enjoyed in a salad. Similar in flavor to parmesan cheese, Cotija will give the dish more flavor than mozzarella.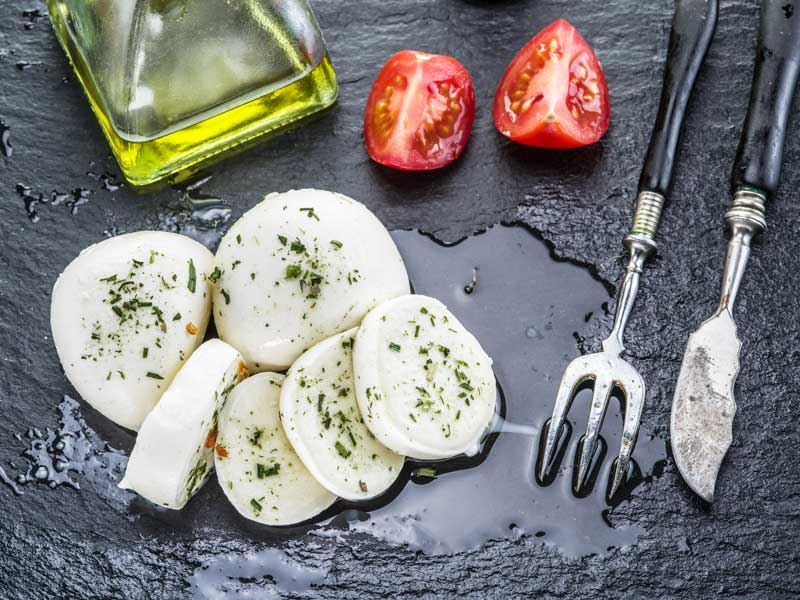 Popular Uses For Mozzarella
Some popular dishes with mozzarella include:
My Favorite Mozzarella Recipes
Cheesy Tomato Orzo - Mozzarella adds a gooey melted-cheese finish to this delicious and rich orzo dish with tomatoes, bacon and spinach.
Mozzarella Skewers - This lovely summertime canape combines salty Parma ham, sweet mango, and creamy mozzarella for a one bite delight packed with unique flavor.
The Best 8 Mozzarella Substitutes
It is easy to find a substitute for mozzarella cheese if you consider the dish you are making before selecting an alternative. Some cheeses will be better suited for cooked dishes, while others are better for cold salads.
There are several good options for cheeses that melt as well as mozzarella, while you will want to select a cheese with good flavor and texture for uncooked dishes.
Other Cheese Substitute Lists: