Are you cooking a stew and you found out that you are missing paprika? There's absolutely no need to panic as there are many paprika substitutes. Paprika has that distinct sweet peppery flavour that creates those delicious stews where you ask for doubles. It also adds a certain vibrancy to a meal due to its colouring effect. Depending on the type of paprika you purchase, the colour intensity can vary. All in all, paprika is a very common flavour enhancer used in kitchens all around the world. I am sure you've got your own recipe where you add it in as well. So, in which recipe do you use paprika the most?
Paprika substitutes
Paprika is made from peppers which are usually mild. More specifically, paprika is a ground spice made from a sweeter red bell pepper, tomato or sweet peppers. That's where it gets its subtle sweetness and colour from. Sometimes, however, it is not so uncommon to come across a hot paprika powder. So, you have to be careful what type of paprika substitutes you want to experiment with because there are many that can match the different types of paprika.

Paprika origin
Generally speaking, paprika has always had a known association with Hungarian cuisine. In fact, every household in Hungary has some form of paprika powder, not even counting on the fact that paprika substitutes will be necessary. Although, not a lot of people actually know paprika's true origin which lies in Mexico. During the spice trade, it was brought to Spain in the 16th century where it continued to make its way to the Balkans through the Ottoman Empire. Paprika only became popular in Hungary around the 19th century. It was only then when Hungarian breeders started to cultivate the pepper and produce their versions of paprika powder. To learn more about paprika origins, click here.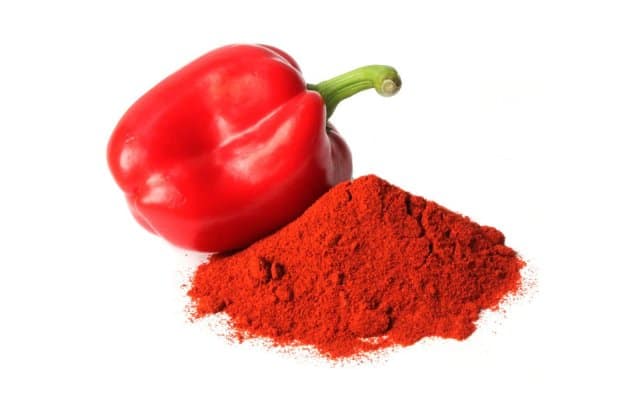 Today, this ground spice can be easily sourced in any market or store. However, the best paprika is a homemade one. You can also attempt to source this fresh version of paprika at your local farmer's market because making fresh paprika powder from scratch is actually no science at all! All you need is to follow a few simple steps and have a bit of patience.
Types of paprika
As mentioned above, there are different types of paprika powder. These include a mild version, a hot version, and a smoked version. The mild version is generally made from sweeter peppers with no seeds included in the production process. The seeds of the pepper are where the spiciness comes from. That's why hot paprika powder generally involves using all seeds and sometimes even the stalk. The smoked version is the most complex when it comes to delivering rich flavours. In my opinion, it's the most delicious. Make sure you get your hands on this version and try some. You won't regret it. To learn more about paprika, click here.
Serving
You can use paprika powder in stews, soups, sauces, salads. In addition, it is also very common to sprinkle some paprika powder on top of eggs sunny side up or even some roasted vegetables. Also, if you are a meat lover, you'll know that paprika is an integral part of many spice rubs. I like to use more paprika for seasoning, rather than seasoning my food with salt. It's much healthier!
Best paprika substitutes
There are many amazing paprika substitutes that will do the trick! Who knows! You might get lucky with having one of these spices in your kitchen cupboard. So, before you throw in the towel on cooking a paprika recipe, just take a quick look whether or not you have one of these spices at home.
Ancho powder
Ancho powder is from pablano chilli peppers. It is a smokey and rich type of pepper that releases intense flavours when it comes to the powdered version. It is a very common powder in Mexican cuisine and well as in traditional Latin American cuisine. Comparatively to paprika, it has a much darker colour. It is a fabulous substitute for traditional paprika powder or smoke paprika powder.
Chipotle powder
This is one of my favourite paprika substitutes. I love chipotle powder because it is also an integral part of Mexican cuisine. For example, you can easily add chipotle powder to a delicious Mexican salsa recipe or sprinkle a bit on top of fresh refried beans.
Chipotle in itself is a Mexican pepper and is basically a smoked-dried jalapeno. Beware, chipotle has a slight kick to it. So, make sure you taste a bit before you add it in.
Cayenne pepper powder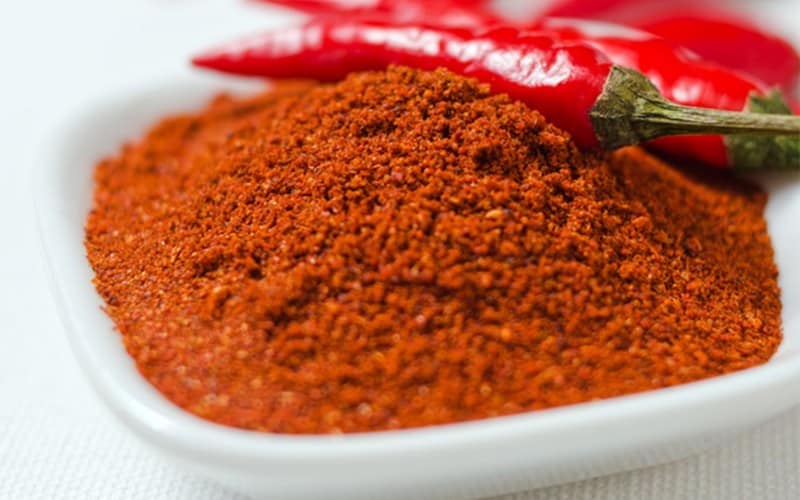 I think we all know this type of chilli powder. Let me just highlight the fact that if you have a chilli intolerance, this is probably not one of the best paprika substitutes for you. Cayenne chilli powder is not as strong of a colouring agent as paprika, but it will give your food the right punch of flavour. You can also use it in a yoghurt dip recipe.
Chilli powder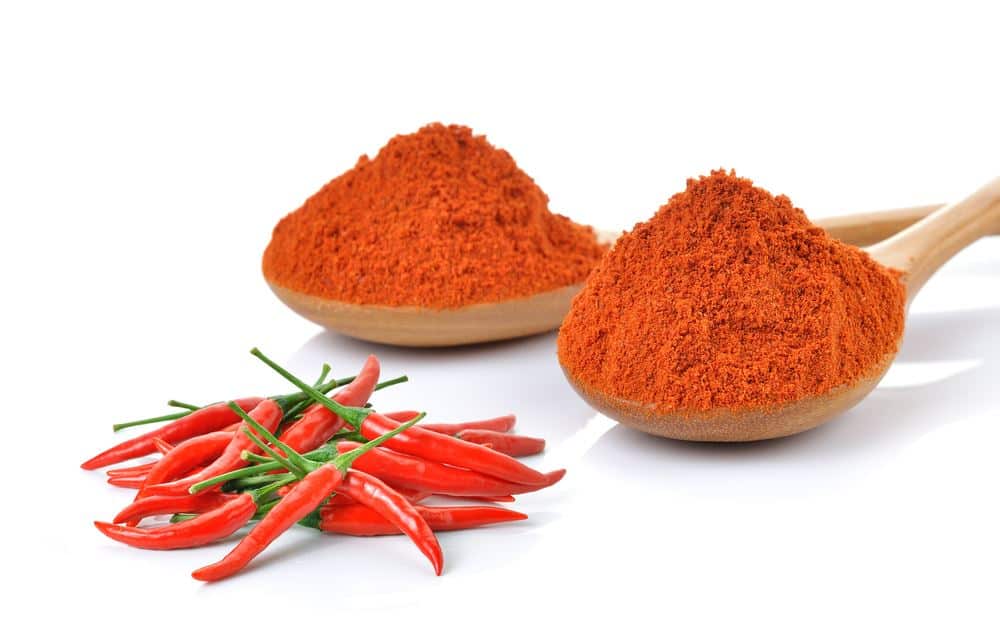 The same can be said for chilli pepper. Although, chilli pepper is much hotter than cayenne pepper and hot paprika. Use only little amounts if you are thinking of substituting it. Also, if you add too much, you might kill the dish by making it too spicy. Careful with this substitute!
Habanero powder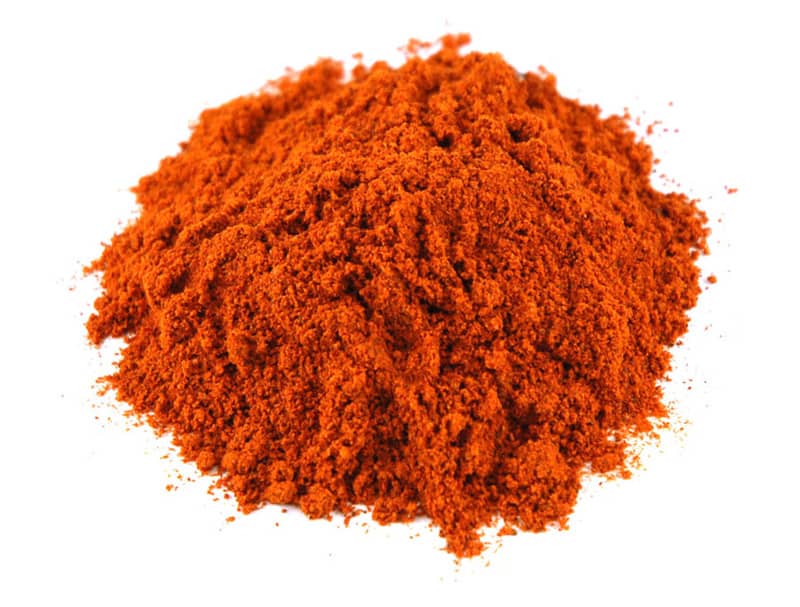 Habanero is another type of hot pepper.  The term 'habanero' in Spanish mean 'Havana'. Naturally, can presume that this is another hot pepper. In its ground version, it is much milder as if you would eat it fresh. Try it in my vegan jambalaya.
Jalapeno powder
Although it has a different colour, it is still a worthy paprika substitute. Jalapeno powder is generally green and has a subtle tanginess about it. I would use it as a substitute only for spice rubs and for salads. It doesn't have that same sweetness you usually find with paprika.
Allepo pepper
Allepo pepper is a common spice in the Middle East, especially in Turkey. Usually, you use it for spice rubs, or you sprinkle it over salads and hummus (chickpea paste). It is much milder than other paprika substitutes, so you can add more generous amounts.
Pimenton de la vera
I've saved the best paprika substitute for last. Pimenton de la vera is a ground pepper spice from the Spanish region of Extremadura. It comes in different flavours: mild, smoked and hot. Visually, you will achieve the same result as with paprika. If you've got this one at home, you'll be fine 100%. Why don't you try to substitute it in a paprika marinade recipe?
So, what do you use as a paprika substitute? Leave a comment below!