Fans of Japanese cuisine will know that lots of traditional Japanese recipes call for a rich, delicious sauce called tamari.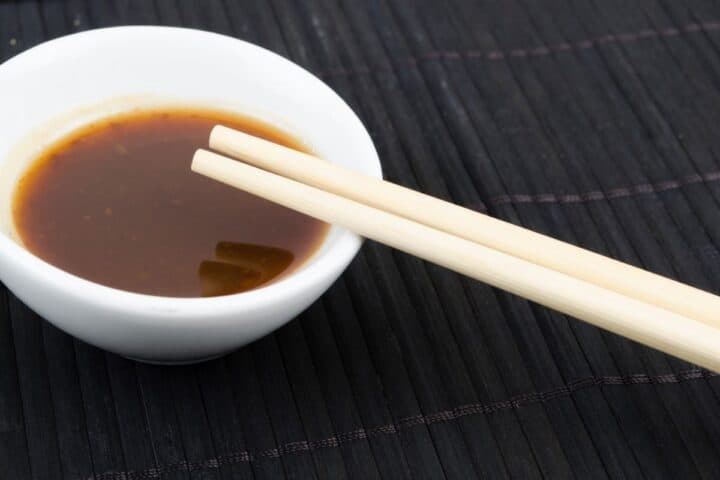 If you can't find this fantastic ingredient, don't worry. There's a tamari substitute for every occasion. Some you'll find in just about every supermarket and grocery store. Others are a lot harder to come by, but taste incredible.
Let's take a look at the very best tamari substitutes.
What is tamari?
This delicious sauce is very similar to soy sauce, but with less of a salty taste. It's a very versatile ingredient that adds a big kick of umami flavor, typically to meat, fish, rice or noodle-based dishes.
Its lip-smacking flavor is similar to that of soy sauce, albeit with less salt. It also has a slightly thicker consistency than soy sauce.
Tamari is a vegan, gluten-free condiment, which can make it hard to replace.
Where is tamari from?
Tamari is a staple of Japanese cuisine, where its use dates all the way back to the 7th century AD. 
It is thought to have been brought to Japan from China, although today tamari is pretty much exclusively used in Japanese cooking, while soy sauce is favored throughout the rest of Asia.
How is tamari made?
Tamari is actually a by-product of the miso-making process. The liquid that drains from miso paste is pressed to create tamari.
Tamari only contains water, soy beans and salt, which gives it a rich, balanced taste.
How is tamari different from soy sauce?
Soy sauce is made by combining soybeans with wheat, normally at a 1:1 ratio. Tamari, on the other hand, is almost always 100% wheat free.
This makes it less sweet and salty than soy sauce, with a stronger, smoother umami flavor. It also means it's suitable for those on a gluten-free diet.
As it's a lot simpler and more balanced than soy sauce, it works better as a dipping sauce, as its flavor doesn't overwhelm other foods.
10 Tamari Substitutes
Are you looking for a tamari substitute? In this comprehensive list you'll learn 10 ideas for an alternative.
As they're made from very similar ingredients and it's available at pretty much any supermarket or grocery store, soy sauce is a great substitute for tamari. The taste does differ – it's slightly saltier, sweeter and a little less balanced – but it's probably the easiest to find alternative and it's also very affordable.
As wheat is a key ingredient of soy sauce, it isn't suitable for gluten-free cooking. Substitute soy sauce for tamari at a 1:1 ratio.
Another terrific Japanese condiment, traditional teriyaki is a combination of soy sauce and mirin. Most of the non-traditional, commercially available teriyaki sauces have the addition of ginger and sugar, giving them a sweet tangy taste.
Teriyaki is often used as a marinade for fish and meat, and is also very popular as a flavoring for tofu and vegetables. Like tamari and soy sauce, it brings a rich umami taste.
Substitute at a 1:1 ratio, although try to reduce the amount of sweetness in the dish to accommodate the taste of teriyaki.
While technically a type of soy sauce, shoyu is very different to your standard run-of-the-mill supermarket soy sauce. It's a premium Japanese-made gold-standard sauce, that will make your taste buds tingle like never before.
The finer shoyu sauces are fermented in 100 year old barrels for at least a year, giving them a rich, balanced taste that's less salty than 'standard' Western made soy sauce.
While it's harder to locate than soy sauce, you should be able to find shoyu in all good Asian supermarkets and, of course, online. Keep some in your cupboard, for those special occasions.
Substitute for tamari at a 1:1 ratio. Not suitable for those looking for a gluten-free alternative.
The best gluten-free tamari substitute. As tamari is actually made from a miso by-product, it stands to reason that miso would be a good swap. Of course, one is a sauce and the other is a paste, so it's not a straightforward swap, but taste-wise, these two both bring a rich, savory, earthy flavor that's unique to fermented soybeans.
Along with fermented soybeans, white miso is a mixture of salt, rice, yeast and kōji cultures. While some types of miso contain a mixture of barley and other grains, white miso is normally rice-based, making it an ideal gluten-free, umami-rich ingredient.
Add 1 teaspoon of miso paste for every ½ teaspoon of tamari to stews, casseroles, soups and sauces.
Relatively unknown outside of Japan, Umeboshi paste brings a deep, rich umami flavor and works well in soups, sauces and other savory dishes. It's made by pickling and brining Japanese plums, to create a salty, sour paste.
Of course, it's not the easiest ingredient to find, but it's definitely worth getting hold of a jar and keeping it in your cupboard. If you're lacking tamari and need something special, umeboshi will bring the flavor and then some.
Just be aware of the tangy sour notes that umeboshi will add to your dish. With some recipes – think sweet and sour noodle or rice dishes – it'll work perfectly; with others, not so much. Substitute 1 teaspoon of umeboshi paste for 1 teaspoon of tamari.
Another good gluten-free tamari substitute (that's also soy-free), fish sauce is a great option for fish and seafood dishes. The intense umami taste in fish sauce comes from the addition of anchovies. Most fish sauce is slightly sweet, so be sure to account for that when using it as a tamari substitute.
Swap fish sauce for tamari at a 1:1 ratio.
If you're looking for a meat or fish rub substitute for tamari, hoisin sauce works very well. Like tamari, it has an intense flavor (both are made using fermented soybeans) and most hoisin sauces are gluten-free and vegan.
As well as an ideal marinade, hoisin sauce works great with stir-fries, dips and barbecue sauces. It's a lot thicker and a little less salty than tamari, so take that into account when using it as a substitute and tweak your recipe accordingly.
Swap hoisin sauce in for tamari at a 1:1 ratio. Then add a splash of water and a pinch of salt to get the right consistency and taste.
Another good gluten-free tamari substitute, just a touch of anchovy paste brings a big unami taste that can easily elevate a dish.
Anchovy paste is cheap, easily available and works with just about any savory dish, whether it's fish-based or not. Buy a tube and keep it in your cupboard – it'll be a little life saver, trust me!
Add a teaspoon of anchovy paste for every teaspoon of tamari to sauces, stews and soups. Be sure to add a little extra liquid to get the right consistency.
Another anchovy-based ingredient that packs a whole lot of flavor, Worcestershire sauce is a staple sauce in many British households. It's one of those versatile ingredients that you can add to just about anything, which makes it an essential item to have in your kitchen cupboard.
Worcestershire sauce is made from a blend of distilled white vinegar, molasses, sugar, water, salt, onions, garlic, cloves, tamarind extract, chili pepper extract and anchovies. With a taste that straddles salty, sweet, unami, acidity and spice it works well in a wide variety of dishes, particularly stews, sauces, soups and casseroles.
In terms of taste, it's not the perfect stand in for tamari, but it's not the worst either. The main thing is, it brings umami and it's the same consistency, more or less. Swap at a 1:1 ratio.
A great vegan and gluten-free tamari substitute, coconut aminos taste like a type of soy sauce – big umami flavors with a little less salt than your standard soy. Much like tamari, they are made using fermented ingredients – a blend of the fermented sap of coconut palm and sea salt. 
A favorite flavor-enhancer for vegans and health-conscious foodies, coconut aminos are great with meat, fish or vegetable dishes, including soups, stews, casseroles and stir-fries. Coconut aminos have a similar consistency to tamari, so use at a like-like ratio.
More substitute guides
Do you often find yourself caught short when trying out a new recipe? Check out Greedy Gourmet for my regular guides on the subtle art of substituting ingredients. Here are just a few of my most recent guides:
9 miso substitutes
Beef broth substitute
Cinnamon substitute
5 horseradish substitutes
9 celery seed substitutes