Looking for clever tarragon substitutes? Admittedly, when I was younger I wasn't really aware that a herb such as tarragon existed. Today, I use it regularly in savoury dishes that involve white meat or fish, stews and broths. Of course, there are many more ways you can enjoy this versatile herb. What is your favourite recipe that involves tarragon?
what is tarragon
If you need to ask yourself this question – then you are missing out on some delicious tarragon recipes! Simply said, tarragon is a herb and a spice (when ground). You can use it for cooking, medical and decorative purposes. You might also know tarragon as 'estragon'. So, tarragon substitutes are identical to estragon substitutes – keep that in mind!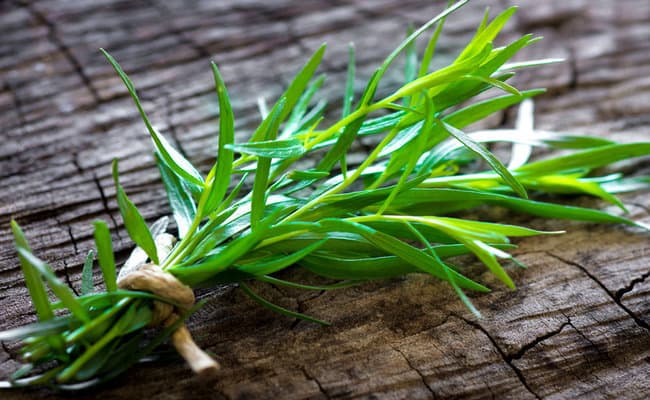 It is cultivated mainly in Eurasia and North America, and it belongs to the sunflower family. There are three different varieties of tarragon: Russian tarragon, French tarragon, and Spanish/ Mexican tarragon.
what does tarragon look like
Think of a softer and greener rosemary branch! Comparatively, tarragon also has a long stem with long narrow leaves. However, they are flatter than the ones we know from rosemary. Also, the colour is much lighter, almost looking like the colour of seaweed. The leaves are smooth and glossy, making them a perfect addition to a salad, fresh or roasted vegetables!
licorice flavor
Although tarragon is a well known herb, surprisingly not a lot of people recognize its flavour. It is a very fragrant herb, holding specific aromas which makes it perfect for making sauces and stews. The aroma itself is very reminiscent to the aroma of anise. That's why tarragon substitutes must be as equally aromatic. When it comes to the flavour profile of tarragon, the flavour is slightly bittersweet with a peppery licorice element.
fresh tarragon
Naturally, with the three different varieties of tarragon, they vary in strength and flavour when it comes to eating fresh tarragon.
French tarragon is a very popular variety, and has a very strong flavour. Unlike Russian tarragon, it is not grown from seed, because the flowers are sterile. This type of tarragon is perfect for cooking stews, soups and sauces. For example, the French use tarragon as a flavour enhancer in their Béarnaise sauce.
Russian tarragon is milder than French tarragon and is as equally popular when to comes to cooking. Don't get me wrong, it is also strongly aromatic like the French tarragon, however it produces more leaves in early spring. These are mild and make a perfect combination with salad. The young stems of the Russian tarragon can also be cooked as an asparagus substitute. The only problem with Russian tarragon is that it doesn't last very long.
Lastly, Spanish/Mexican tarragon, winter tarragon or Texas tarragon is much like French tarragon. Equally, it is strong in flavour and it lasts very long. Otherwise, fresh tarragon is perfectly suitable for salads (only Russian variety), egg, fish and chicken dishes.
fresh tarragon substitutes
Similarly to tarragon, chervil also has a special place amongst French haute cuisine. Sometimes referred to as French parsley, it is most likely one of the best tarragon substitutes for fresh tarragon. 
It carries a similar liquorice flavour and it goes very well with white meat, fish and egg dishes! It even goes very well in this courgette tortilla recipe.
I think we've all eaten fresh basil leaves as some point or another. Being one of the more fragrant fresh herbs, basil works very well in salads, on top of fresh vegetables and even in traditional tomato based sauces. In it an integral part of many cuisines, especially when it comes to the Italian kitchen! For example, this pesto baked salmon works well either with basil or tarragon.
Fennel fronds are the dill-like leaves on top of the bulbous base of the fennel. The green fronds on top of the fennel have a mild anise flavour that is also slightly sweet.
They are also perfect for decorating a dish and making it look restaurant-worthy! Try using the fronds instead of tarragon in this salmon soup.
The anise flavour from the fennel fronds is much stronger than dill. They do look similar, but they are not the same! The aroma of dill is also remiscent of aniseed.
When eaten fresh, it has a sweet fragrance, but much milder than that of the fennel fronds. It pairs exceptionally well with seafood, eggs and some vegetables like in this new potato salad.
If you don't fancy the sharp licorice flavour of the tarragon, then one of the best milder tarragon substitutes is parsley. It is still peppery and sharp in taste and won't have that distinct flavour of anise.
Plus, you can use it with anything! For example, you can use tarragon or parsley in this baked cod main course. Both will work!
dried tarragon substitutes
Bulk dried tarragon is of course less bitter and sharp than the leaves of fresh tarragon. It is sweeter and has the same anise aroma.
It is an excellent choice for enhancing sauces yet not overpowering them. Here are the best dried tarragon substitutes:
Anise seed or aniseed is one of the best dried tarragon substitutes. Typical flavours include those of licorice, star anise and fennel. Sometimes, you can use anise seeds when you bake bread. Try to throw some on  this cheesy garlic bread!
Don't confuse fennel seeds with those of anise. They taste and look the same, however the fennel seeds are much smaller.
You'll find that they taste very similar to black licorice. In Italy, they are an integral part of making sausages. Perhaps, there are fennel seeds in this sausage traybake recipe?
As oregano is as fragrant as tarragon, you can easily substitute it. The best type of recipes for substituting ground tarragon with ground oregano are those classic Italian chicken recipes that are tomato-based. Tarragon works very well with poultry too!
Just like ground oregano, ground basil is just as aromatic. Although with these two spices, you won't get those anise flavours that you'd normally get with ground tarragon. You will however get a sharp peppery flavour. Plus, it's super versatile and you'll be able to use it for countless recipes. For example, you could use it for this traditional Sicilian starter.
Dried rosemary makes an excellent tarragon substitute because it carries the same subtle bitter flavour. Fresh rosemary would be too bitter. You can use either dried tarragon or dried rosemary in these roast potatoes.
Majoram is very similar to oregano, however it is more delicate and carries a sweeter flavour. Compared to tarragon, it is not as  peppery.