A tartiflette recipe is genuinely perfect for the cloudy and rainy April in the UK. It is a hearty and sophisticated dish that requires some preparation, the most tedious task being cleaning the potatoes.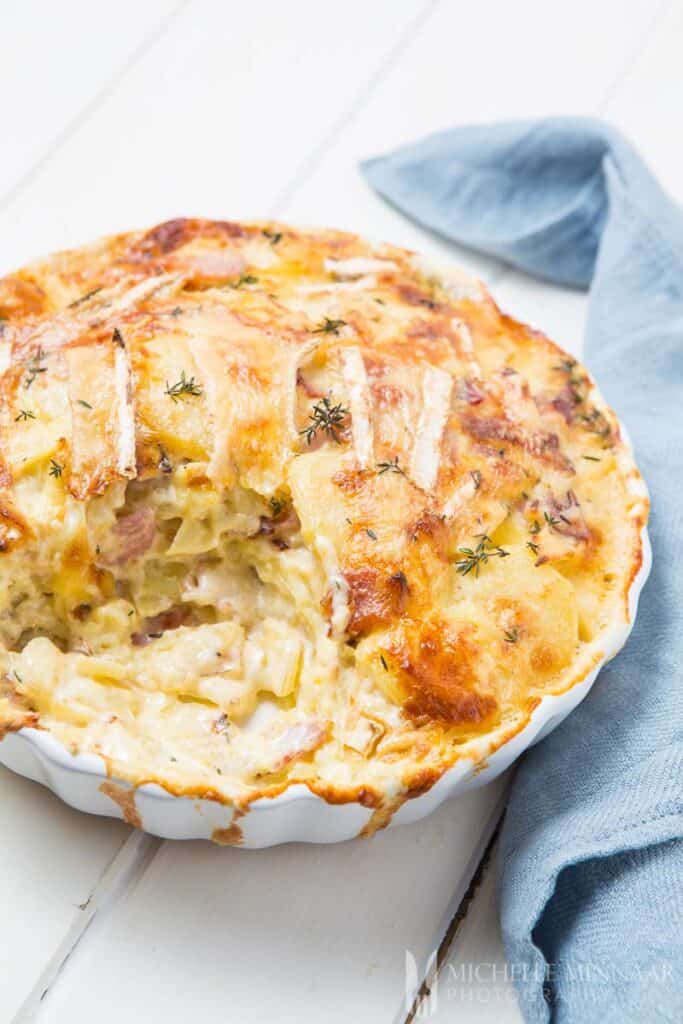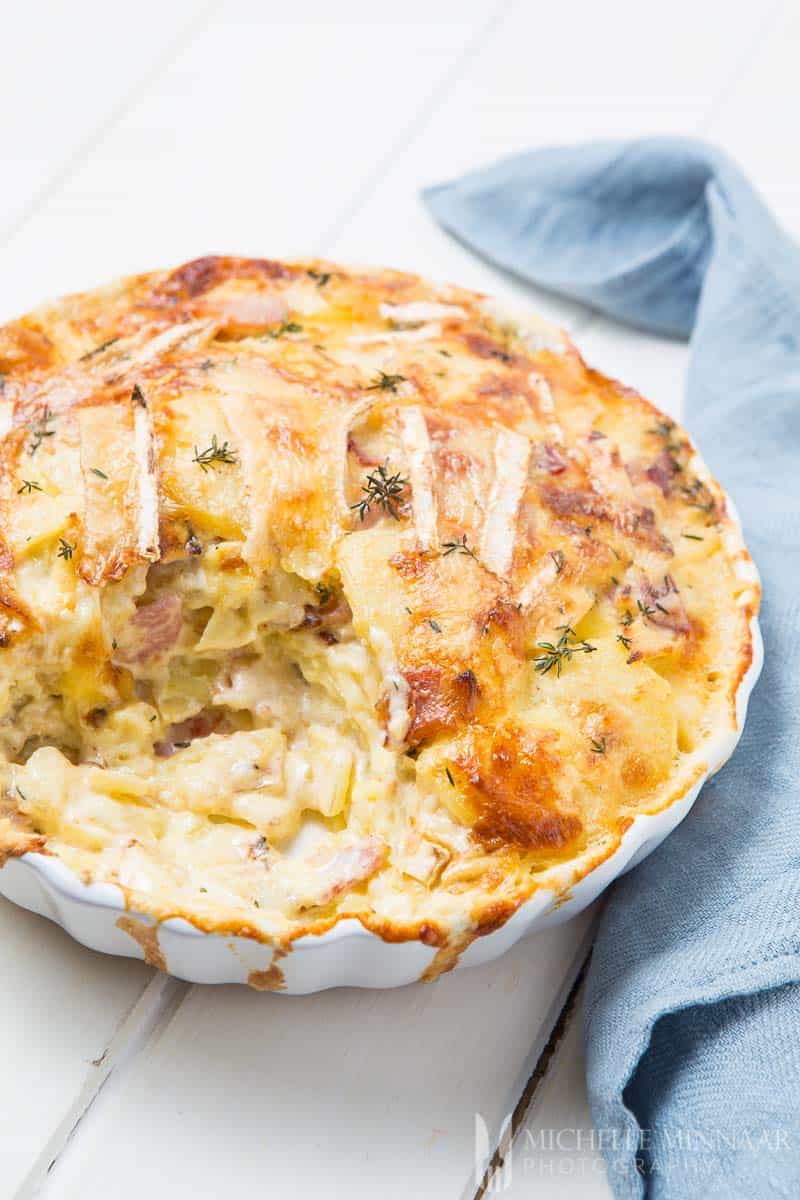 As the tartiflette comes out of the oven, it is visually stunning! With the golden layer on top, it makes you want to sink the knife into the tartiflette and cut yourself a slice.
Furthermore, it's great for serving multiple guests or for preparing food in advance, as you can store the tartiflette in the fridge for a couple of days. No problem!
Making happy memories
This is an old recipe of mine that I've finally updated with new photos. Nine years have passed and memories have been made along the way.
As a food blogger there is the added pressure of "performing" when guests come over, expecting a gourmet meal because after all, this is my profession. Thus far, this tartiflette has kept me out of trouble.
While living with much criticism, this was the one time my now ex-husband actually kept his mouth shut and went back for seconds.
I remember when I served this to a fellow single mother who was honestly so grateful that she didn't have to cook for once and enjoyed the novelty of just sitting down to eat. She fell off the dieting bandwagon going for seconds.
Most people have seconds with this dish, so make as big a quantity as you can. Leftovers reheat well in the oven. One extreme example is when I asked an ex-boyfriend (I'm detecting a running theme here) on how big his two friends' appetites are, trying to gauge the size of the tartiflette I had to make.
He was of no help and in the end I ended up making 12 servings for myself and three men. Other than a small quantity leftover that didn't fit into the baking dish, they hoovered up the tartiflette like nobody's business. Afterwards they taught me poker and I kicked their asses at it. Sweet.
These days I never make it for myself, trying to keep down all the weight I lost, and knowing I'll pig out and overeat when given the opportunity. So this tartiflette recipe is strictly reserved for visitors so that we can sin together.
On this occasion I made it for two friends as a thank you who helped me build my new smoker, which I can't wait to try out. And so the memories keep being made...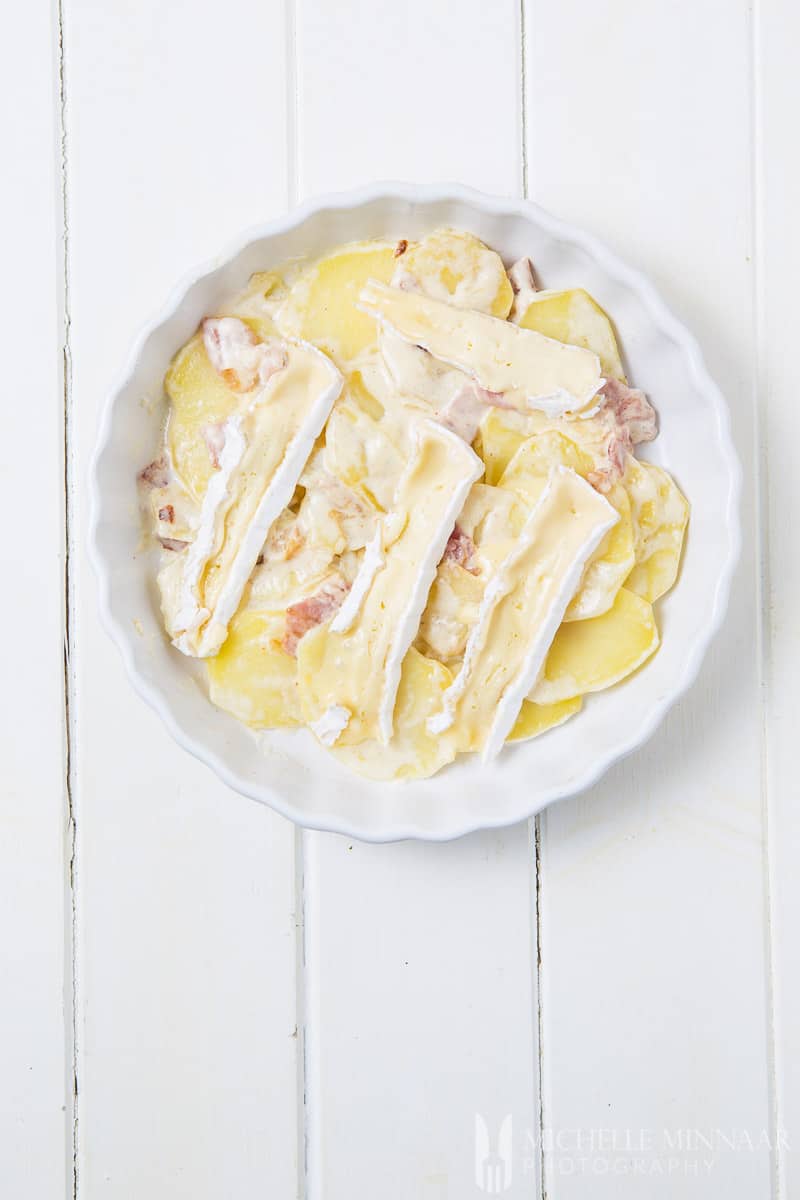 What is it?
What the heck is a tartiflette? Obviously, this is a French dish. However, it doesn't really translate properly into English. Just to make it clear, it is not a tart! The recipe doesn't call for any dough.
One can say, it's an oven-baked savoury and cream-filled dish. I guess you can compare it to a gratin. In fact, I've made a sweet potato gratin recently.
It truly resembles a tartiflette. The main difference, however, is the addition of the lovely French cheese and pork, but I'll get to that later.
The tartiflette originally comes from the French region of Savoy. Funnily enough, this region is known for the Tom de Savoie cheese, but it's not the one this recipe calls for.
Nevertheless, in this region, the locals use the Arpitan language which is ultimately a Franco-Provençal language. Hence, tartiflette was derived from the local Arpitan word called 'tartifla.'
The first time the tartiflette made an appearance was in a cookbook published in 1705. That's an old dish coming from the French Alps. This probably explains its hearty nature, as it will definitely warm you up from the inside. I hope you enjoy this lovely and memorable French dish.
It's all about the cheese
Do you like French cheeses? I absolutely adore French cheese! In fact, I would say that Brie ranks as one of my preferred cheeses. Brie is a soft and mild cheese, creamy in texture.
What I love about Brie, is that it's not too aromatic nor intense. No, it's not one of those truly horrible smelly cheeses, although I recommend buying a cheese container. Brie can make its presence known in your fridge, so make sure you seal this bad boy.
The most common type of Brie you can buy is the Brie de Meaux. It comes from a French little town called Meaux. It's made from cow's milk and is less intense than other cheeses. Absolutely perfect for this recipe!
A normal Brie from the supermarket will also do the trick. Lastly, it won't overpower the rest of the ingredients. The other types of cheeses you can consider for this recipe are:
Camembert: a very rich and intense cheese. Very similar to Brie in terms of texture. If you don't like that intense cheese flavour, don't go for Camembert.
Brillat-Savarin: very soft and fatty cheese. My personal favourite. It's comparable to a super creamy Brie. I mean super creamy! Low in intensity, high in calorie count.
Reblochon: a cheese made in the Savoy region, same as the tartiflette. Very creamy and intense.
Roquefort: intense blue cheese.
Here's a little tip from me to you. Whatever cheese you decide to use, even though I recommend Brie for the tartiflette, don't use all of it!
Leave a little bit of the cheese on the side when you prepare your tartiflette. You can serve it as a starter with grapes and some wine, if you are making the tartiflette for guests.
Again, a little bit of cheese, grapes and perhaps a fig marmalade, coupled with some white wine sends the perfect welcome message.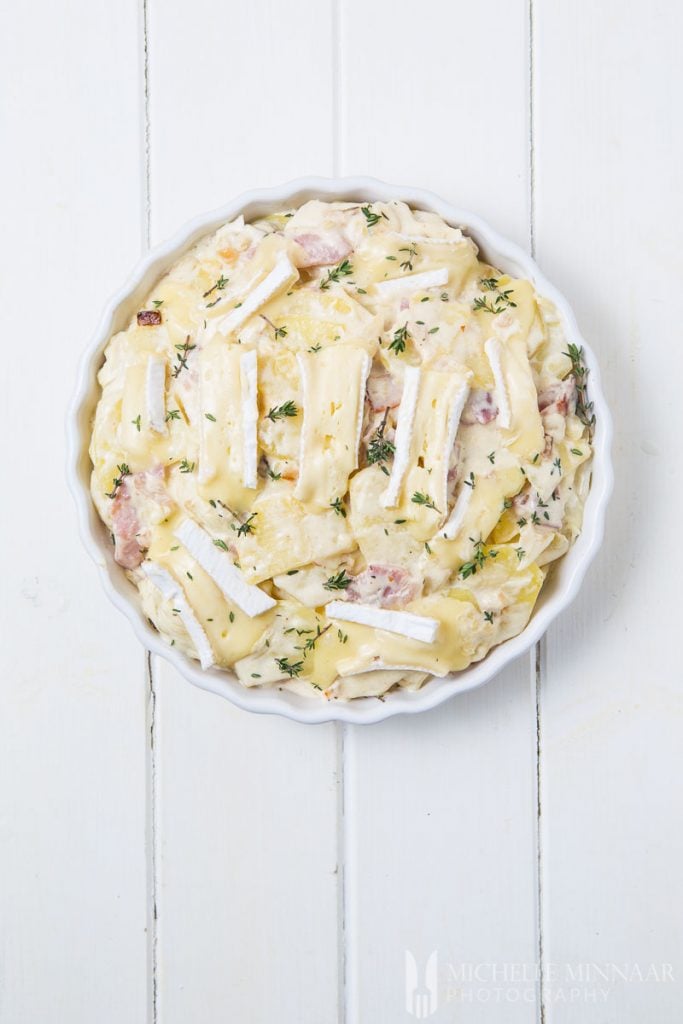 Vegetarian
The tartiflette is vegetarian- friendly if you omit the bacon. However, because the recipe includes a lot of dairy products, it's not suitable for vegans.
It calls for double cream, milk and cheese. If you want to make this dish healthier and less focused on dairy, use soy milk instead of the normal milk.
The potatoes are the perfect base for the tartiflette. First, they will absorb the delicious cream and will be moist. Second, you can use sweet potatoes as a healthy substitute.
The sweet potatoes are excellent for people who suffer from a diabetes condition. Limit the cream, go light on the cheese and heavy on the sweet potatoes, and you've cooked yourself a healthier dish.
Are potatoes still too heavy for you? Try using more vegetable alternatives such as cauliflower. The creamy cauliflower recipe will suit you, if you prefer veggies. You can also try creamed spinach if you have an iron and vitamin deficiency.
Flavour enhancers
Don't be afraid to go gaga with the garlic. The garlic will cook itself in the creamy mixture, leaving a subtle hint of garlic flavour.
Who doesn't love garlic in cream? You can also freshen up the tartiflette with adding some herbs. I've used thyme, but feel free to use rosemary or bear garlic.
Bear garlic is also known as damsons, buckrams or wild garlic. First, their leaves have a garlic taste. Second, you can easily find them in supermarkets. Third, they are in season! Get them at their best at your local farmer's market!
Carnivore alternatives
The original French recipe calls for bacon bits. They add a bit of smokiness to the tartiflette. Furthermore, they make the dish saltier. Locals in the Savoy region serve the tartiflette as side with grilled ham.
These little adjustments are very favoured by male company. If you really love meat, add an entire pan fried steak and serve with a side of salad.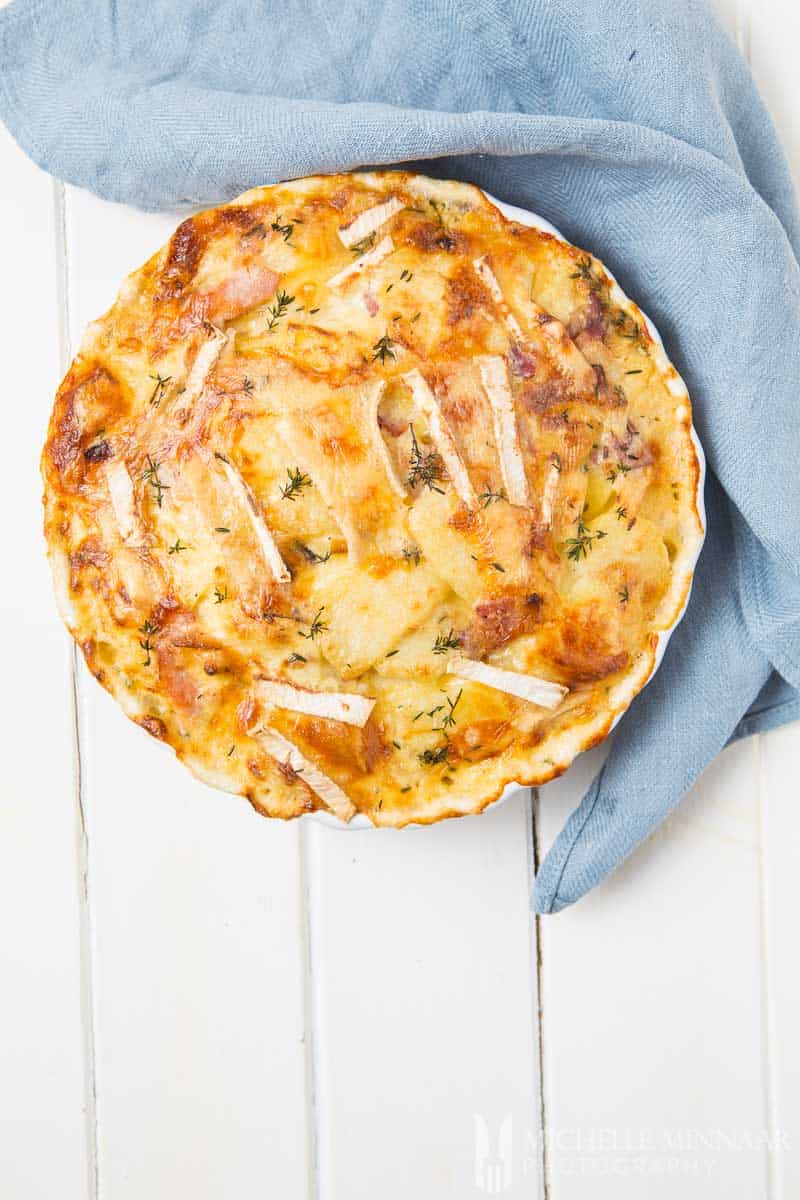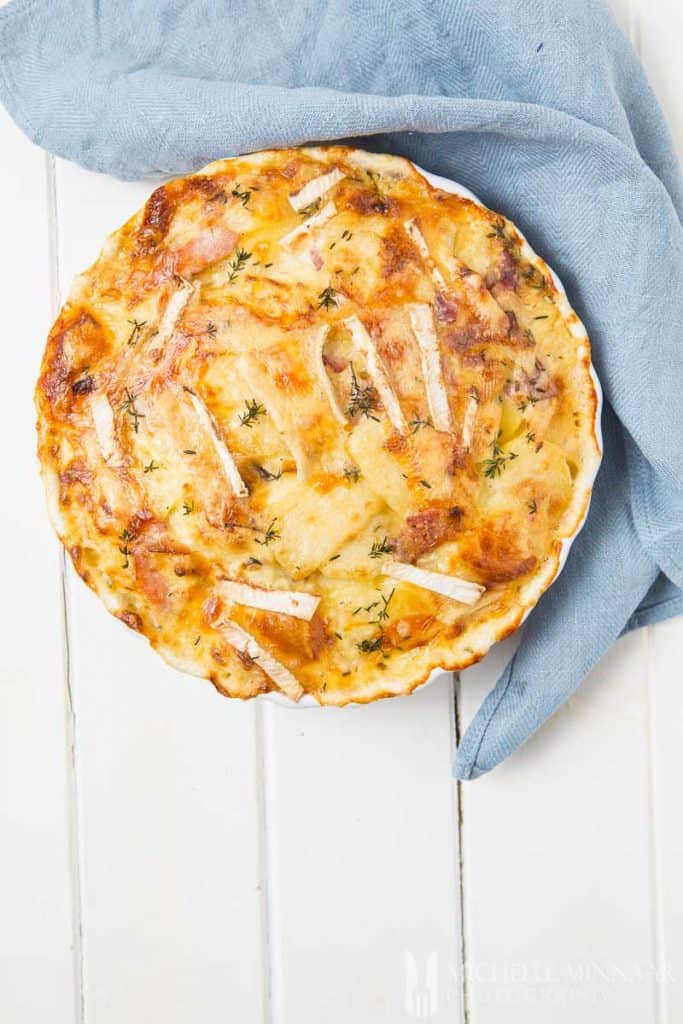 Wine combination
As a good wine pairing for the tartiflette, I would suggest a flavourful, not too dry wine. It could be a German Riesling, or a Gewürztraminer from Alsace, both slightly on the sweet side, with an almost perfumed fruitiness, that will blend well with the flavours of the lovely golden tartiflette.
If however, you prefer a chardonnay, then go for a rich one, from the south of France or even an overseas one.
In terms of storage, you can cover the tartiflette in cling foil and store for a couple of days. A week at maximum, depending on how cold your fridge is. You can also freeze it easily in a container. This way, you'll have a ready meal on a cold and rainy day.
For more inspiration, visit:
Print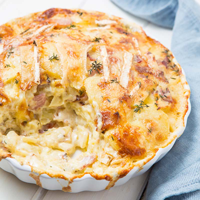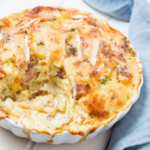 Creamy Potato, Bacon & Brie Tartiflette
---
Author:

Michelle Minnaar

Total Time:

1 hours 15 minutes

Yield:

6

1

x

Diet:

Gluten Free
Description
Tartiflette comprises layers of potato crammed with bacon and cheese that are drenched in garlic and cream and baked to perfection. A perfect comfort food for winter!
---
10

ml

(2 tsp) vegetable oil

300

g

(10 oz) bacon, chopped

1

large onion, thinly sliced

5

ml

(1 tsp) fresh thyme leaves

284

ml

(1/2 pint) double (heavy) cream

300

ml

(1/2 pint) milk

1

clove garlic, crushed

1

kg

(2 lbs) waxy potatoes, peeled and thinly sliced

250

g

mature ripe Brie, cut into thin slices
---
Instructions
Preheat the oven to 180°C/fan 160°C/350°F/gas mark 4, and lightly grease a 1.5-litre ovenproof dish. Heat the oil in a frying pan and fry the bacon and onion over a medium heat for 4-5 minutes until beginning to brown.
Chop the thyme leaves, reserving a few to garnish. Place the thyme, cream, milk and garlic in a large pan. Bring to a simmer, add the potatoes, then cover and cook for 5 minutes. Stir in the bacon and onions and season with freshly ground black pepper. Place half the potato mixture in the base of the prepared dish, then top with half the sliced cheese. Repeat, finishing with a layer of cheese.
Bake in the oven for 40-45 minutes, until the potatoes are tender when pierced with a knife, and the top is golden. Garnish with the remaining thyme and serve immediately.
Notes
Serve a salad on the side.
A crisp, white wine cuts through the richness of the dish – a classic combination.
This dish can be assembled, ready to cook, several hours in advance or the day before. Cool, then cover with clingfilm and leave in the fridge until required. Remove the clingfilm and allow 10-15 minutes extra time in the oven if cooking straight from the fridge.
You can divide the ingredients equally between 6 individual dishes if you prefer.
Brie cheese has got a rind but is perfectly safe to eat. Simply slice the cheese and use in the recipe. 
Prep Time:

15 minutes

Cook Time:

60 minutes

Category:

Main

Method:

Bake

Cuisine:

French
Nutrition
Serving Size:

1 big heap

Calories:

484

Sugar:

1.05 g

Sodium:

759 mg

Fat:

30.45 g

Saturated Fat:

17.08 g

Carbohydrates:

25.27 g

Fiber:

2.17 g

Protein:

25.48 g

Cholesterol:

115 mg
Keywords: tartiflette recipe, French tartiflette, potato tartiflette, easy tartiflette recipe, what to serve with tartiflette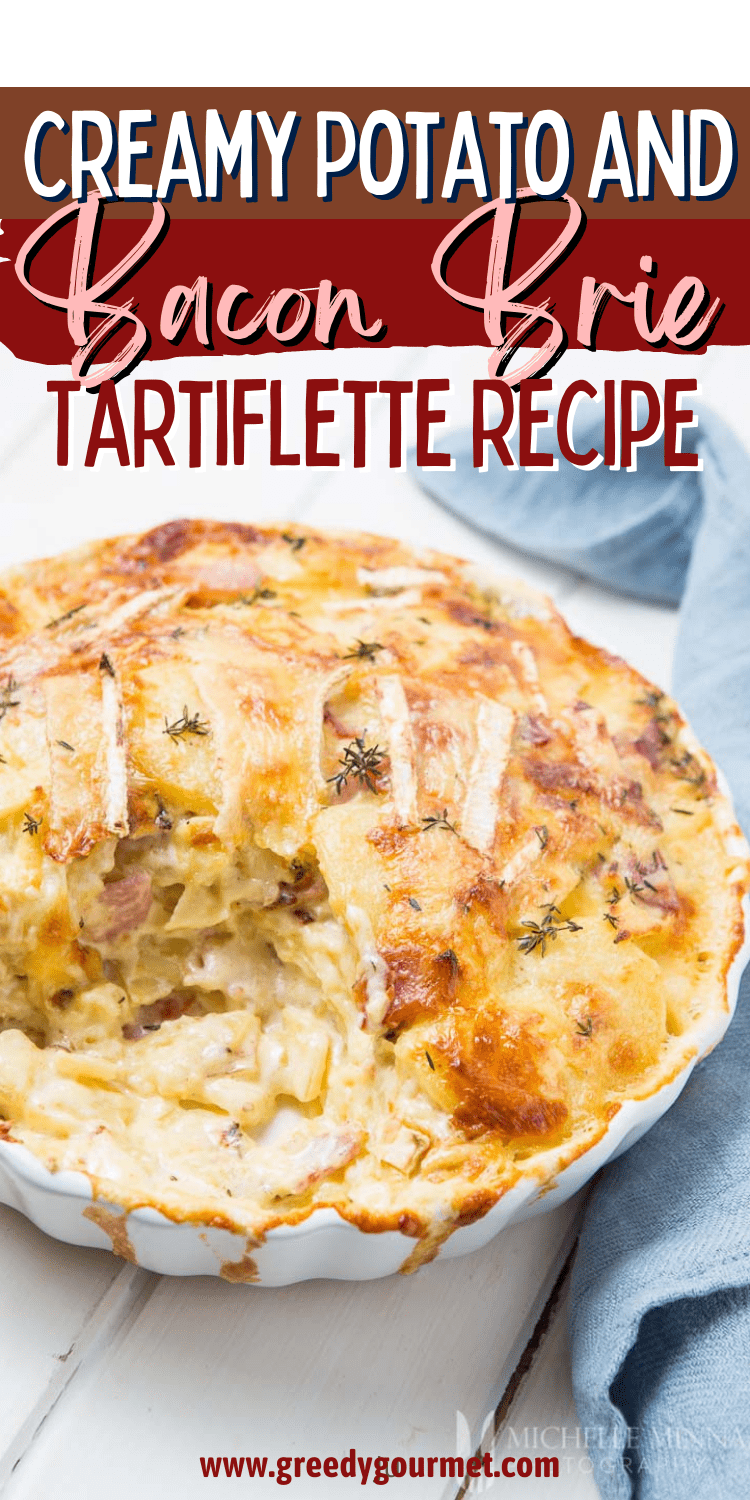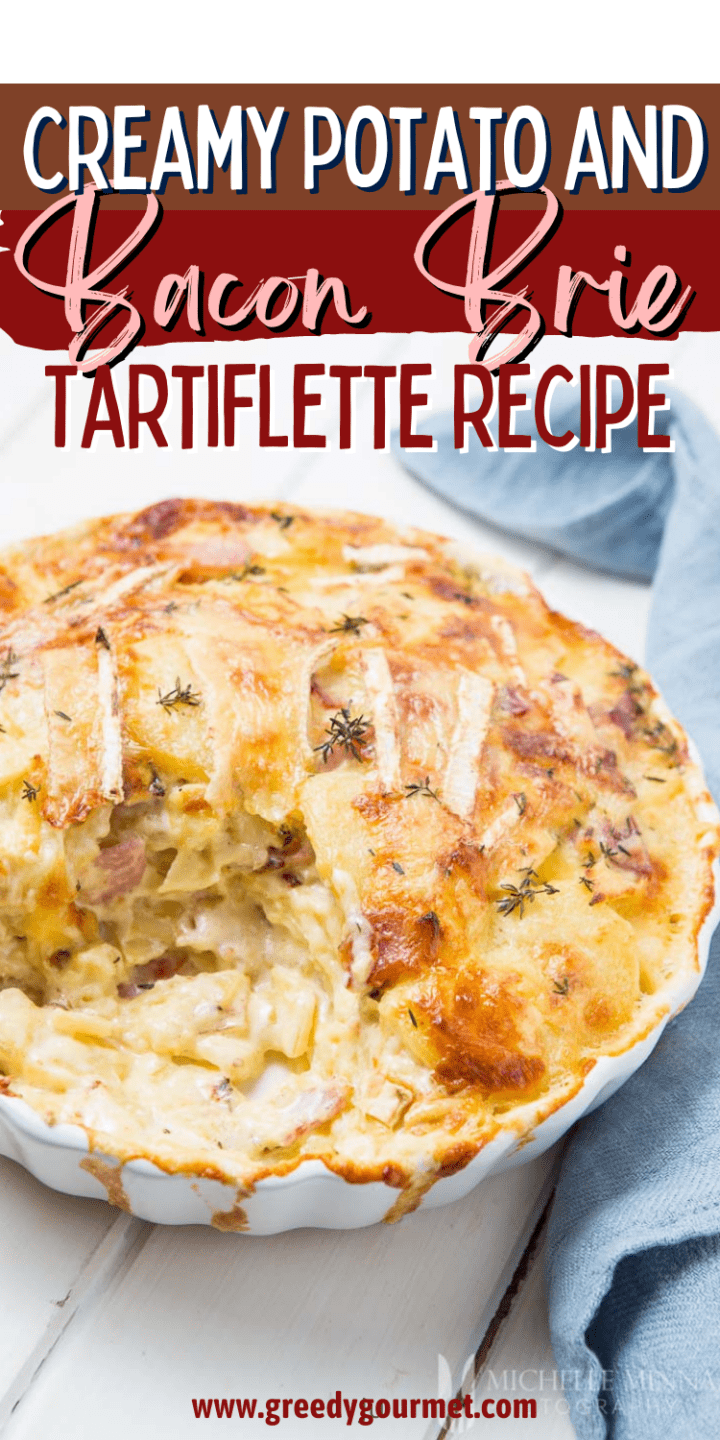 save the recipe to your pinterest board