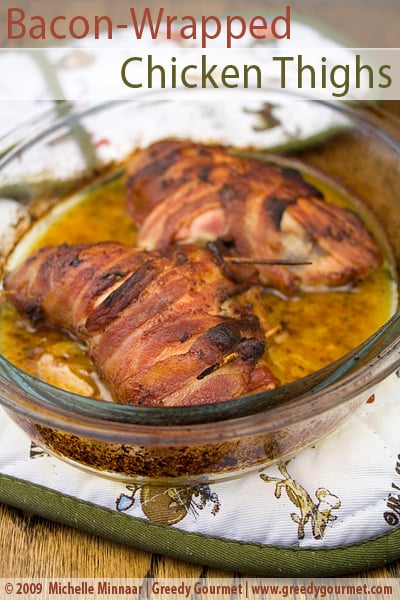 The person who coined the term Blue Monday forgot about Wednesdays. Now I'll do the job properly and call it Worst Wednesday. It's a typical gray, windy and wet day here in the UK but still I braved the cold because Gabriel had to go to playgroup this morning.
On a monthly basis I take photos of the children and today was one of those days. You would think that if a camera breaks it would have been the kiddies' doing who run around like maniacs in the village hall. Just when I started shooting the dial on my camera mysteriously "broke". Perplexed but annoyed I fetched my backup camera. The shooting went okay until I put the camera down to comfort Gabriel when I heard a bang and saw that my camera with its huge expensive lens fell over. Shit. The lens seemed to be working and I quickly put it away to let it "heal" (just let me rationalise, okay?). Finally, we went home.
Two minutes away from home I realised I forgot my camera bag at the playgroup. Shit. Quickly I made a U-turn with the buggy and walked back in the drizzling rain. Meanwhile Gabriel is getting wet because I couldn't find the buggy's rain cover. Thankfully, I held on quite firmly to the handles because at one stage I slipped pretty badly and almost fell straight on my arse into mud. Could the day get any better than this?
My bag was where I left it, unlike in South Africa where it would have been gone in under 30 seconds. At last we arrived home, cold, wet, miserable and very, very "gatvol" (Afrikaans for fed up, but it sounds so much better). I think I'm going to steer clear of the computer for a while before it explodes…
Print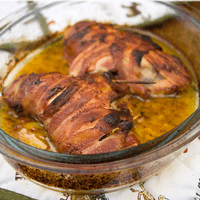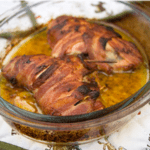 Spicy Bacon-Wrapped Chicken Thighs
---
Author:

Michelle Minnaar

Prep Time:

60 minutes

Cook Time:

10 minutes

Total Time:

1 hours 10 minutes

Yield:

4

1

x
16

rashers of streaky bacon

8

chicken thighs, skin removed
finely grated rind and juice of 1 orange
finely grated rind and juice of 1 lemon

5

garlic cloves, crushed

15

ml (1 tbsp) garlic cloves, crushed

15

ml (1 tbsp) chilli powder

15

ml (1 tbsp) paprika

5

ml (1 tsp) ground cumin

2.5

ml (½ tsp) dried oregano

15

ml (1 tbsp) olive oil
---
Instructions
For the marinade, combine the citrus rind and juice, garlic, chilli powder, paprika, cumin, oregano and olive oil in a bowl.
Wrap 2 rashers of bacon around each chicken thigh. Secure with wooden cocktail sticks. Arrange the wrapped chicken thighs in a baking dish.
Pour the marinade over the chicken, cover and let marinate 1 hour at room temperature or several hours in the refrigerator.
Preheat the oven to 190°C/fan 170°C/375°F/gas mark 5.
Put the baking dish in the oven and bake until the chicken is cooked through and the bacon is crisp, about 40 minutes for small thighs and 1 hour for large thighs. Skim the excess fat from the sauce before serving.
Notes
Rice is a good accompaniment because there is plenty of sauce.
Nutrition
Serving Size:

1 serving

Calories:

537

Sugar:

3.6 g

Sodium:

234 mg

Fat:

29.2 g

Carbohydrates:

9 g

Fiber:

2.7 g

Protein:

53.3 g

Cholesterol:

140 mg