This is not one of those children's soups with edible alphabet pasta inside, if you know what I mean! Traditionally speaking, an ABC soup is a Malaysian recipe that is often referred to as the ultimate-comfort vegetable broth. You can enjoy this soup anytime and anywhere, while tossing in leftover ingredients and vegetables. In Asia, it's a very popular vegetable soup, and almost every household has their own version of it. The general rule with an ABC soup is you can add any of your favourite ingredients, without comprising the three core ingredients. Keep reading to find out which three core ingredients make up an ABC soup!
This vegetable ABC soup is a Malaysian-style vegetable broth, full of nourishing ingredients. What's best, you can easily make this recipe vegetarian-friendly by omitting the chicken drumsticks! If you've got a slow cooker at home, this recipe is definitely for you! Lastly, I highly recommend making this soup at home for a family dinner with your children, so that they can get their daily vitamin intake.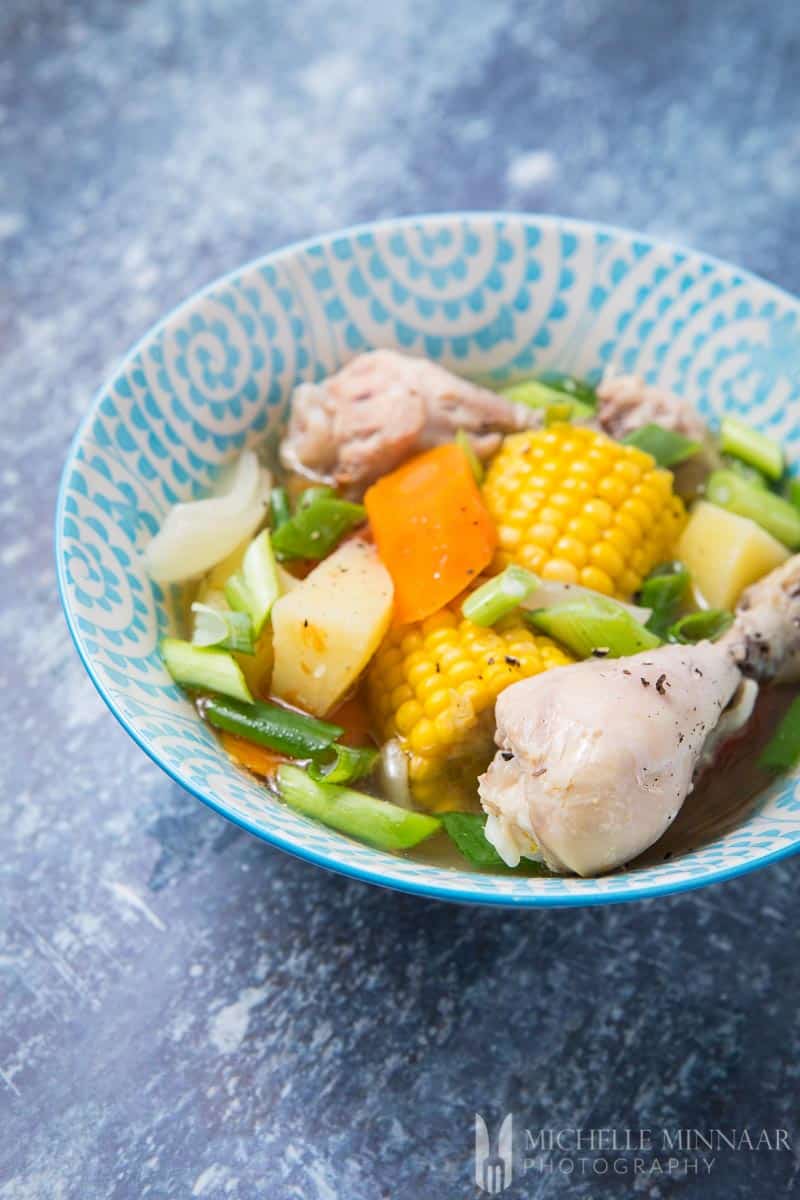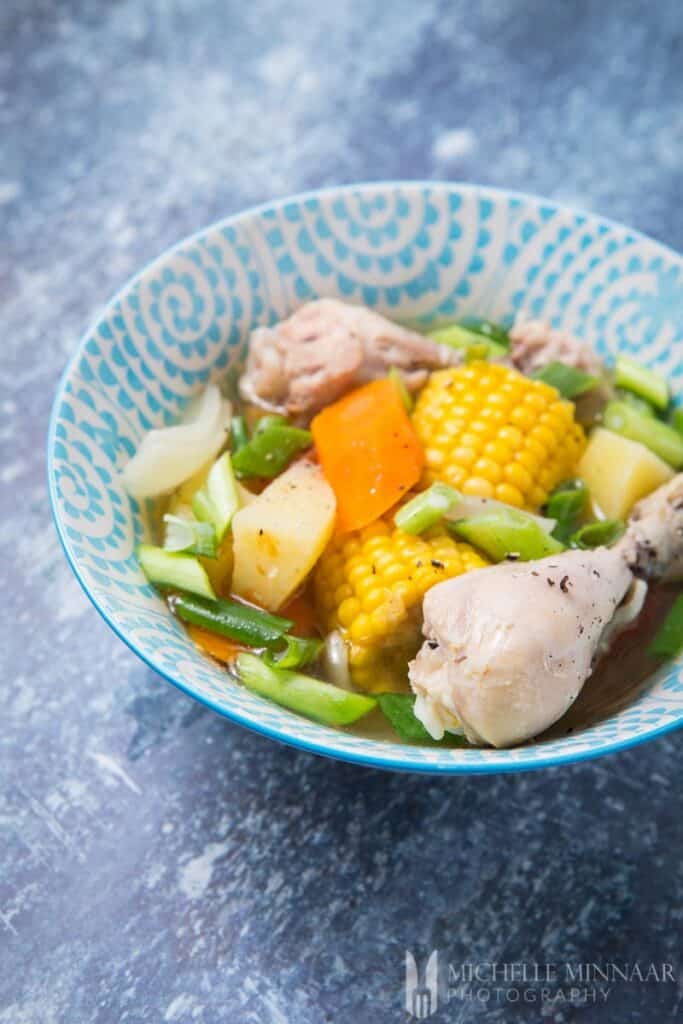 ABC soup – traditional Malaysian recipe with chicken
In case you're still wondering why it's called ABC soup, here is a very simple and logical explanation. The soup, being super healthy and nourishing, is predominantly thought of as being 'vitamin rich'. That said, A stands for Vitamin A. B stands for Vitamin B and as you can probably guess, C stands for Vitamin C.
The three core ingredients of ABC soup that correspond to the above-mentioned vitamins are carrots, potatoes and tomatoes. See below which ingredient is responsible for each specific vitamin:
Vitamin A – from carrots. Helps with vision, reproduction as well as the immune system.
Vitamin B – from potatoes. Reduces your risk of stroke, increases cell metabolism and your energy levels.
Vitamin C – from tomatoes. Helps with the repair of all body tissues and much more.
Generally speaking, various versions of this soup are found all over Asia. Every country puts its own spin on it. However, it is argued that traditionally speaking, the origin of this ABC soup lies in Malaysia. Whereas, in China, many people argue that the origin of ABC soup is Chinese. In fact, this soup is not so dissimilar from a Chinese chicken and sweetcorn soup. Altogether, no one really knows the exact origin of ABC soup recipes, but if you travel throughout Asia, you are bound to find it on the menu.
ABC soup – slow cooker
For best results, I recommend using a slow cooker for cooking this ABC soup. The slow cooker will create a hearty vegetable soup full of flavours. Plus, the slow cooker will cook the vegetables to perfection and will release maximum flavour. In addition, the chicken drumsticks will be super-tender and juicy. I often use the slow cooker to make soups, as it breaks down hard root vegetables. Take a look at my slow cooker sweet potato soup that cooks in no time and delivers maximum flavour.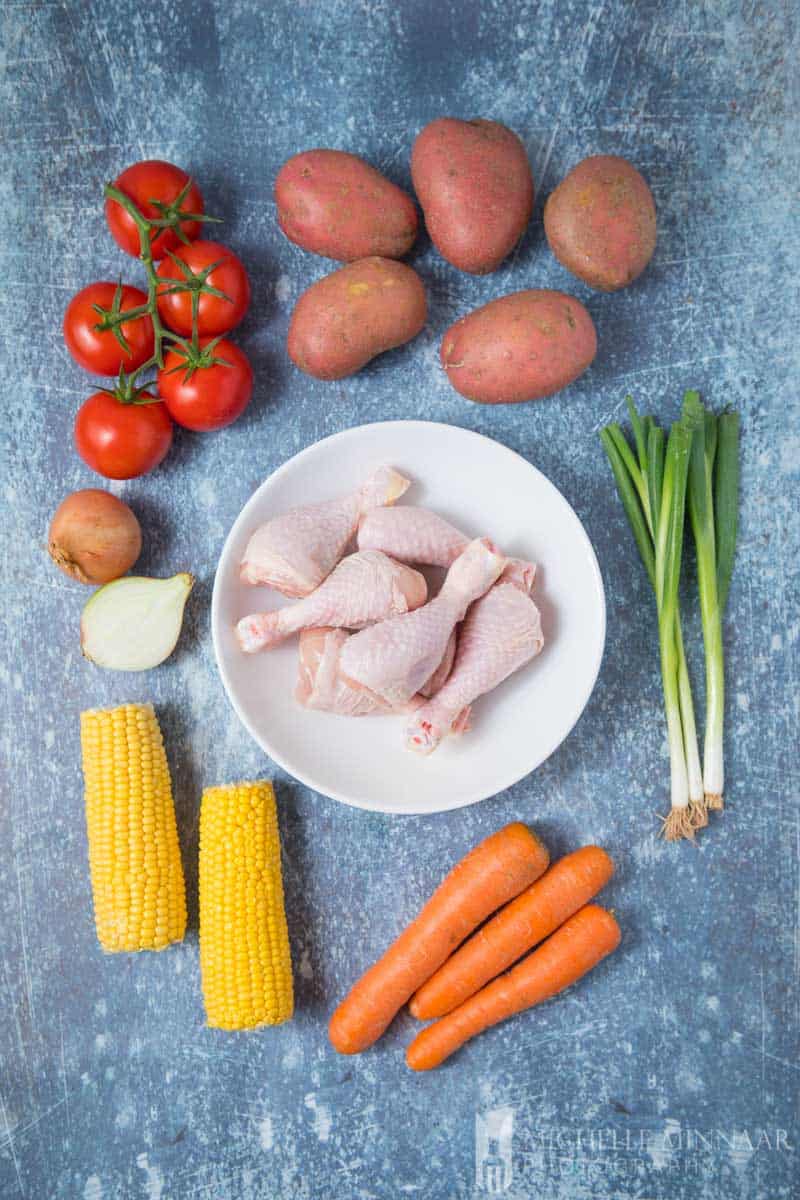 ABC soup – vegetarian recipe
My version of the ABC soup calls for using chicken drumsticks. However, if you are vegan or vegetarian (which is great!), you can easily make this soup to suit. Just leave out the meat element and let the vegetables shine for themselves! Furthermore, do not add any chicken stock or vegetable stock – my recipe doesn't call for it. Plus, the stock cubes are not the greatest for your health!
how to make a traditional ABC soup
There are many versions of ABC soup. Just check out some of these ideas below.
ABC soup with chicken
First, let's start with chicken. My recipe calls for chicken drumsticks. For extra flavour, you can first smoke the chicken cut of your choice, which will add much more depth to the soup. Otherwise, you can learn how to smoke an entire chicken, and use leftover smoked chicken in this recipe.
You can also consider these cuts:
ABC soup with pork
In China, it's very common to use pork cuts in an ABC soup recipe. The most popular cuts of pork include pork ribs, which fall apart when the soup is done. If you wish to make a really meaty version of this soup, you can add the chicken as well as the pork.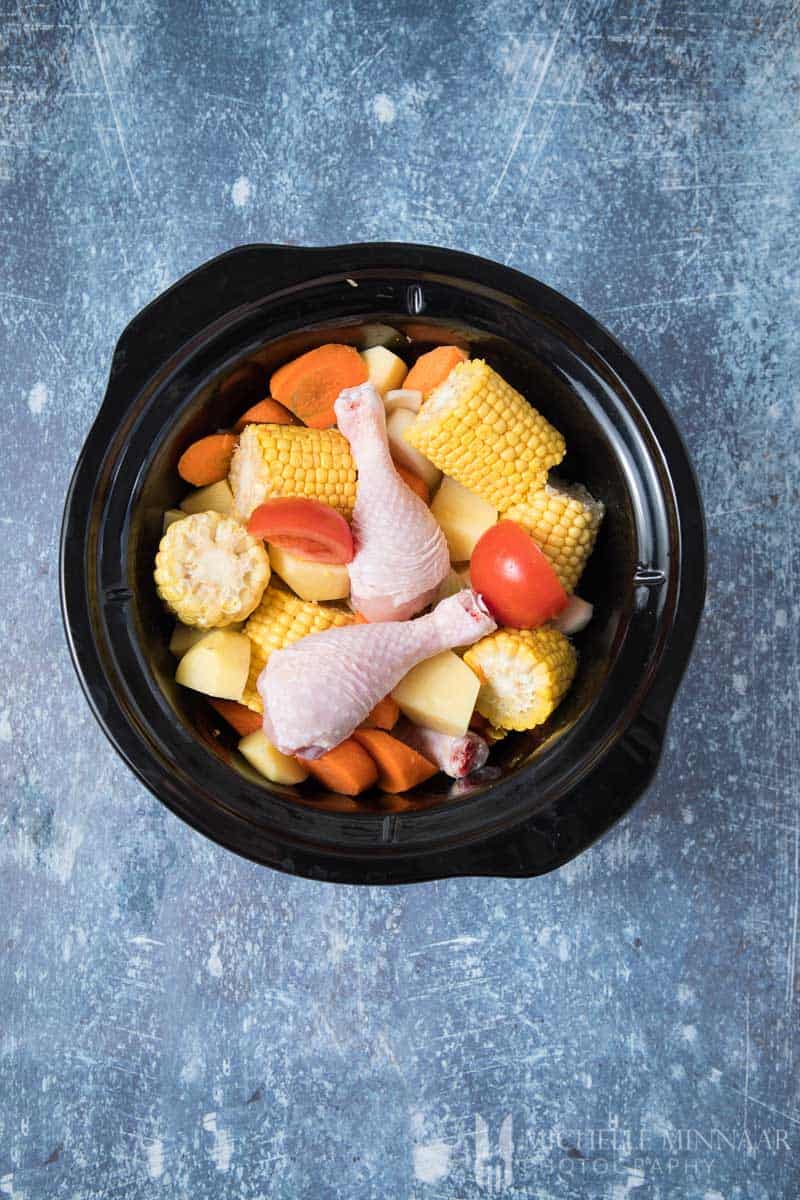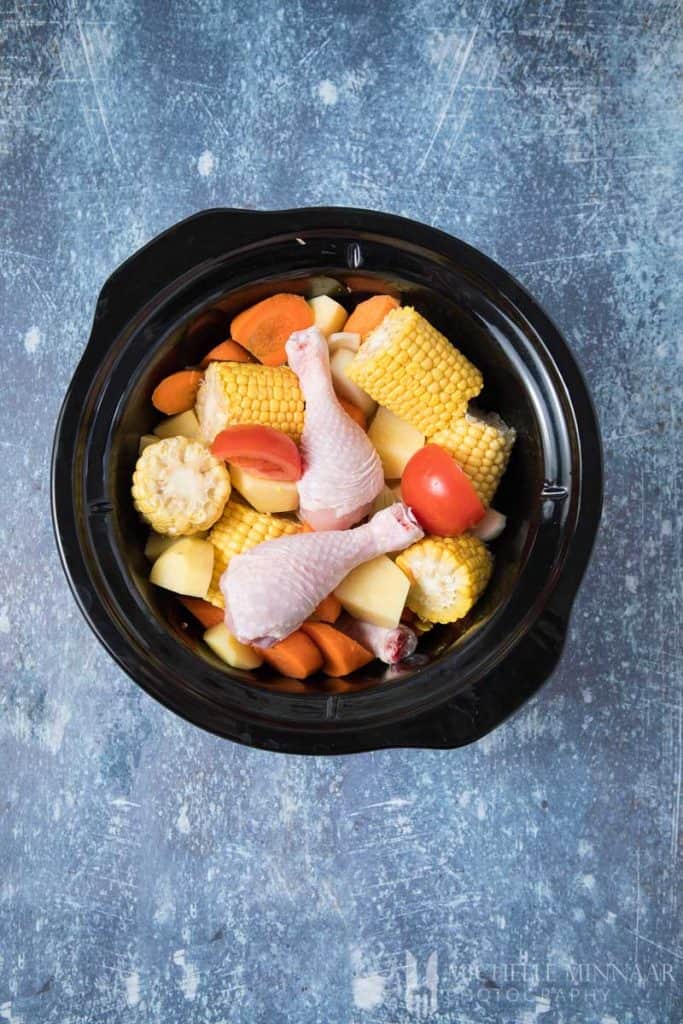 ABC soup – Mexican version
Careful! This is a completely different recipe. A Mexican ABC soup is in fact a Mexican Alphabet soup, which is also called 'sopa de letras'. Basically, it involves a tomato-base and the alphabet pasta. Totally different from the Asian ABC soup, so don't confuse the two.
how to make a vegetable soup more filling
To make this ABC soup more filling, add some cooked rice and stir!
Otherwise, you can go heavy on the potatoes. However, if you decide to do so, the potatoes might change the consistency of your soup and turn it into a stew. Remember, the starches will start to work! So, just be careful, because there is a fine line in terms of how many potatoes you can actually add. If you do decide to go for potatoes, I recommend using the ones that are more waxy (common in salads). At least these ones won't fall apart in your soup, as they contain less starch.
best toppings for Malaysian ABC soup
One of the best toppings for this ABC soup is fresh spring onions. However, you can also opt for bean sprouts, fresh coriander and drizzle a bit of lemon juice on top, as seen in many Vietnamese soup recipes.
For a bit of heat, cut up some fresh red chilli peppers and toss them into the soup. It'll warm you right up on a cold and rainy day, or if you've got a case of the sniffles.
Other herbs you can consider as a finishing touch for this soup include fresh parsley, fresh chives or fresh mint. So many things to choose from! Which topping do you generally prefer on your soup?
Print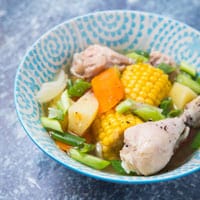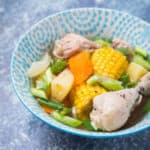 ABC Soup
---
Author:

Michelle Minnaar

Prep Time:

15 minutes

Cook Time:

120 minutes

Total Time:

2 hours 15 minutes

Yield:

6

1

x
Description
An ABC soup recipe is Asian and very common in Malaysian and Chinese cuisines. ABC soup stands for vitamins A, B & C from carrots, potatoes and tomatoes.
---
Scale
Ingredients
750g

(1½lbs) chicken drumsticks

3

carrots, peeled and chopped

6

potatoes (about

1

kg/2lbs), peeled and chopped into chunks

2

tomatoes, washed and quartered

2

onions, peeled and chopped

2

sweet corn cobs, washed and cut in thirds

10

ml (2 tsp) ground black pepper

1.5

ℓ (6 cups) water

6

spring onions, peeled and sliced
---
Instructions
Place all the ingredients, except the spring onions, in a large pot and bring it to a slow simmer.

Cook for 2 hours.

Season to taste and serve immediately topped with spring onions.
---
Notes
This recipe is ideal for a slow cooker. You can cook it on the low setting for 6-8 hours or 3-4 hours on high.

There are many variations to this dish. Tweak it to your taste, e.g. add more onions for sweetness, or some celery or beetroot to change the flavour.
Category:

Main Course

Cuisine:

Malaysian
Nutrition
Serving Size:

1

Calories:

405

Sugar:

7.2g

Sodium:

140mg

Fat:

7.6g

Saturated Fat:

2g

Carbohydrates:

44.4g

Fiber:

7.8g

Protein:

39.5g

Cholesterol:

110mg
save the recipe to your pinterest board