Who needs pounds if you can enjoy decadent desserts with mere pennies? This almond milk pudding recipe is one of my easiest dessert recipes. So, make sure you give this one a go and see just how easy it is to make for yourself.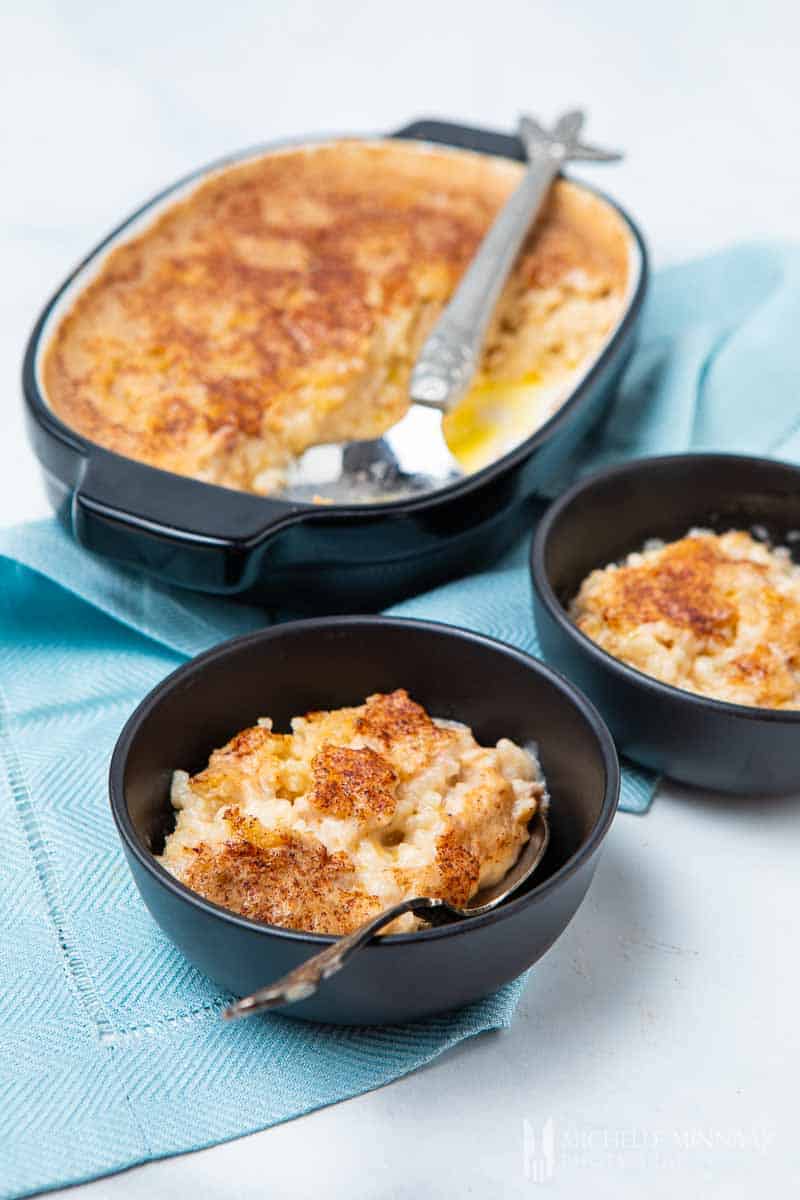 On top of that, it's one of my most inexpensive recipes. All you need are a few everyday ingredients and you're good to go. Who knew that almond milk rice pudding can be so delicious and yet so easy to create? Now get this, just when you think that this almond milk rice pudding couldn't get any better, you discover this rice pudding recipe is also vegan.
That's right, it's completely suitable for vegan diets. It is completely permitted to eat, not to mention extremely nutritious, for vegans and vegetarians alike. All the while, those who follow a non-vegan diet won't even taste the difference.
You can serve this almond milk rice pudding recipe immediately when it's hot. Equally, you can indulge in this rice pudding dessert when it's completely cold. It tastes delicious either way. In addition, you can enjoy a bowl of this rice pudding for breakfast or as a dessert after your meal. It's completely up to you. Just to let you know, if I had it my way, I could eat this all day, every day.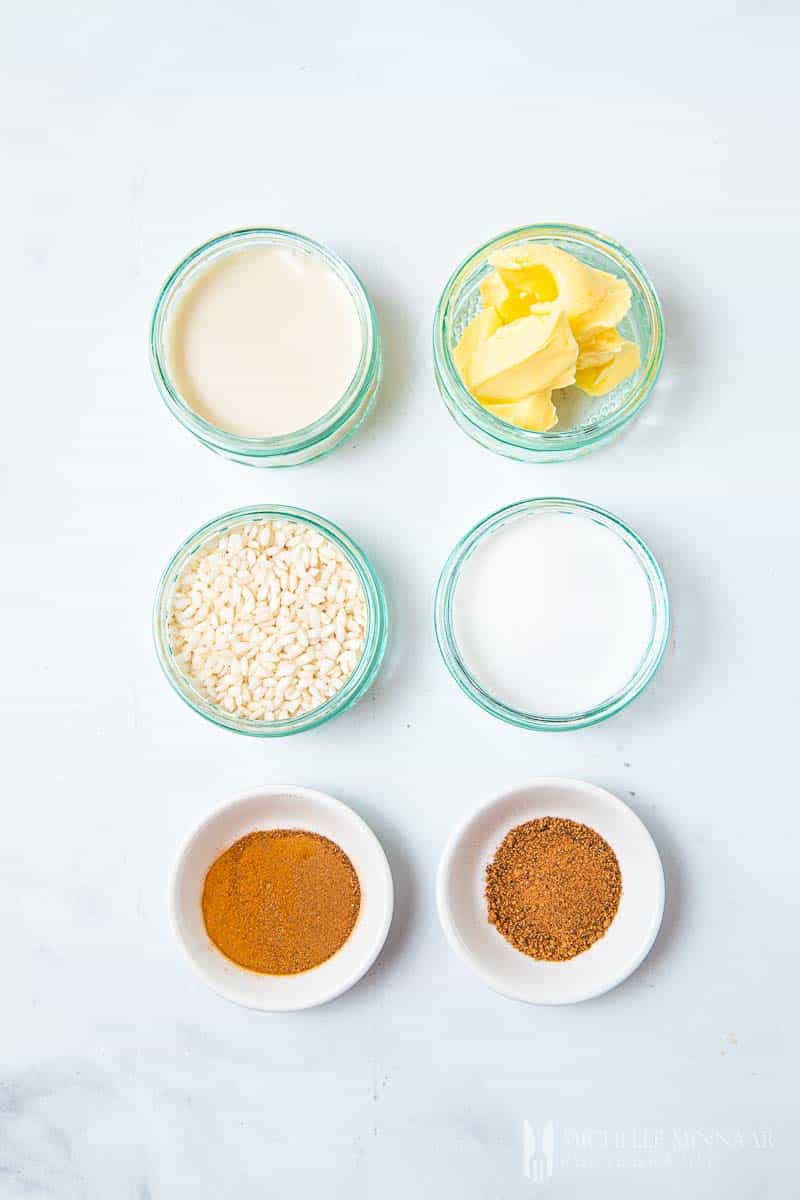 top products for almond milk rice pudding
Here is a list of things you'll need for an almond milk rice pudding recipe. Don't worry, this recipe doesn't require significant investments for your kitchen pantry.
On the other hand, if you do source premium products, such as premium vanilla, you can make this almond milk rice pudding a standout recipe. So, take a look over the top things you'll need and decide for yourself whether or not you've got these in your kitchen.
So, apart from all the spices, these are the essentials you'll need to have in your kitchen.
cooked rice pudding with almond milk
I love using almond milk in this pudding recipe. Actually, this almond milk rice pudding is one of my favourite versions because of the subtle nuttiness of the milk.
Almond milk is a plant-based milk, which is heavily favoured in vegetarian and vegan diets. Additionally, the latter is an excellent nutritious substitute to regular milk as it usually contains lots of vitamins. For example, you can easily find high amounts of calcium, Vitamin D as well as Vitamin E.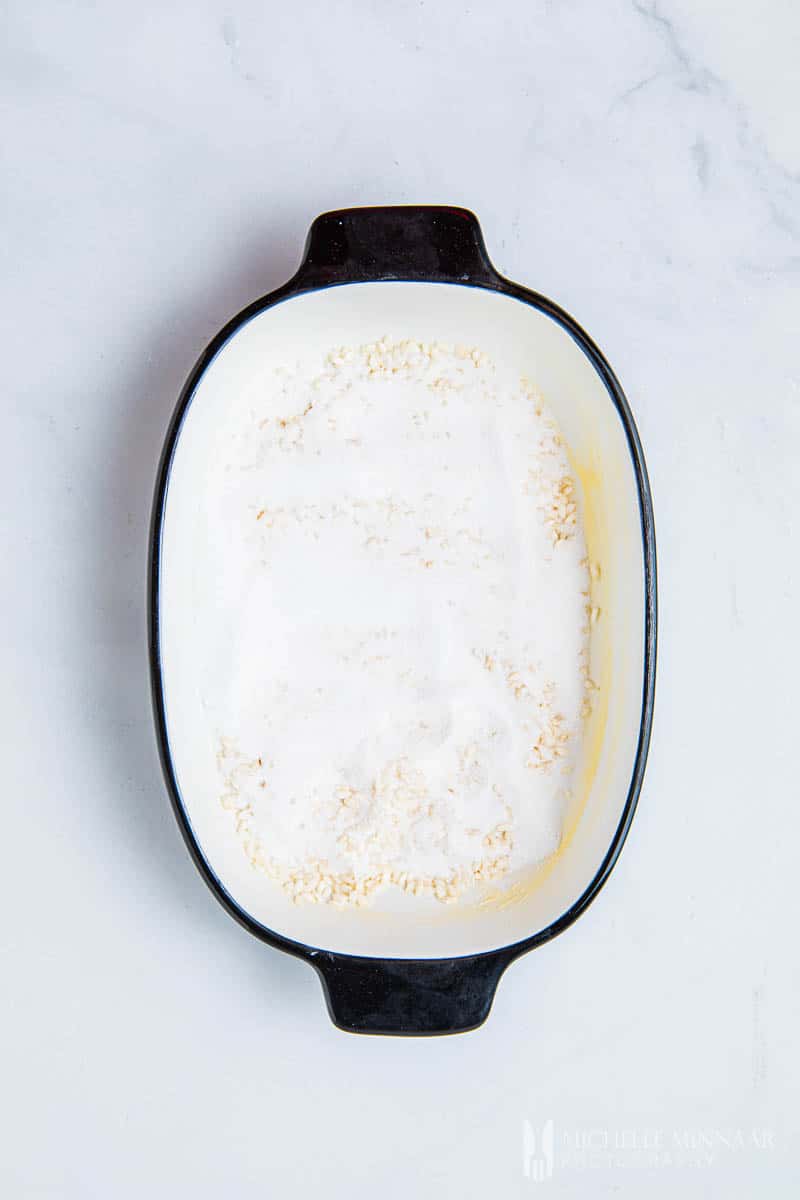 Moreover, some almond milk brands are also low as regards calories.
For that reason, I find myself drinking as well as cooking with almond milk a lot more. Especially since I'm really on a journey towards becoming a vegan. If you learn other fabulous almond milk recipes, like this almond milk rice pudding, check out this easy almond milk protein shake. It is a fantastic shake recipe which gives you just the right amount of energy whenever you need it. Plus it tastes delicious. Similarly, you can also give this almond milk porridge a go, which is another easy breakfast recipe.
Or, if you just love almonds, try this crunchy nutty almond brittle.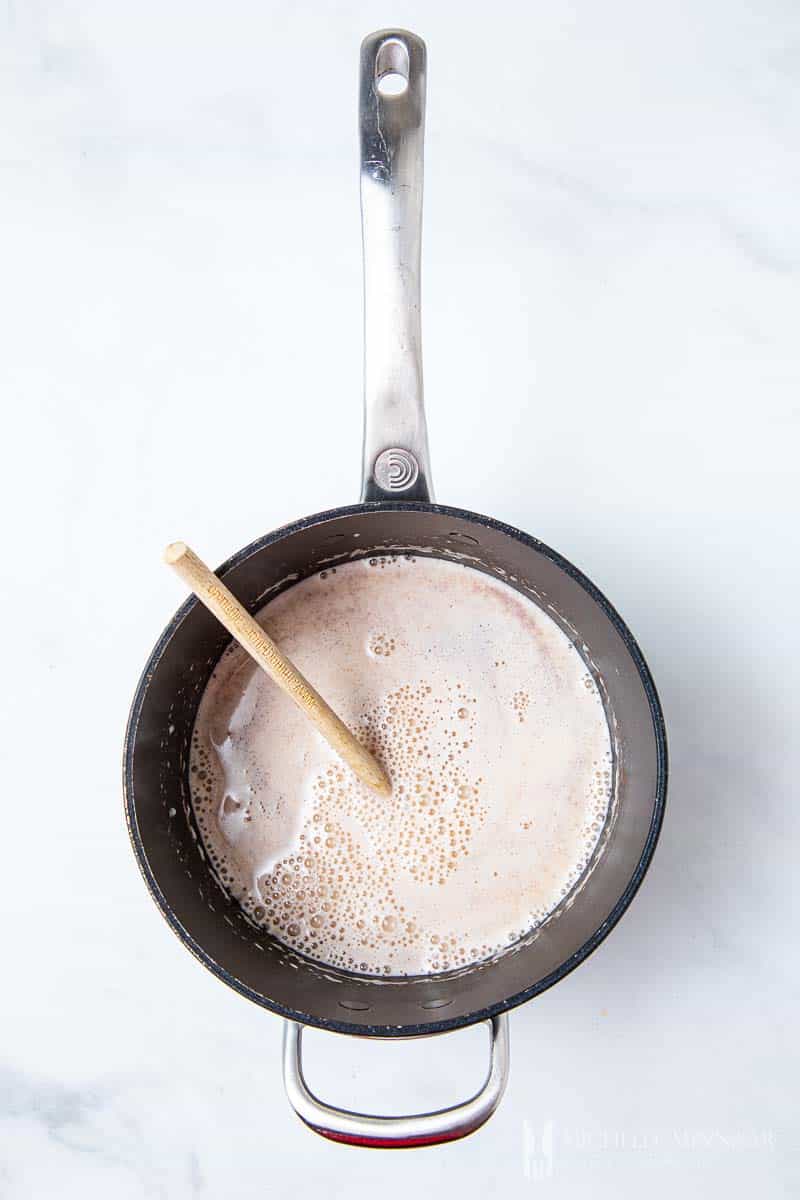 Best rice for rice pudding
As mentioned above, you won't be able to complete this almond milk rice pudding recipe with ordinary rice. You'll need to source a special type of rice used for desserts. So, go for the rice labelled 'pudding rice', you'll find it works best.
If you aren't able to find this type of rice, a good substitute is Arborio rice, the one with which basic risotto is made. The rice contains a lot of starch. Furthermore, when you cook it slowly, it has a lovely creamy texture.
Lastly, if you happen to have a Scandinavian shop nearby, you can also ask for the rice which is used for making risalamande. Risalamande is a Danish almond rice pudding recipe which is actually really similar to this almond milk rice pudding. The only difference is that it doesn't contain much cinnamon, and it is often served with a sour cherry coulis.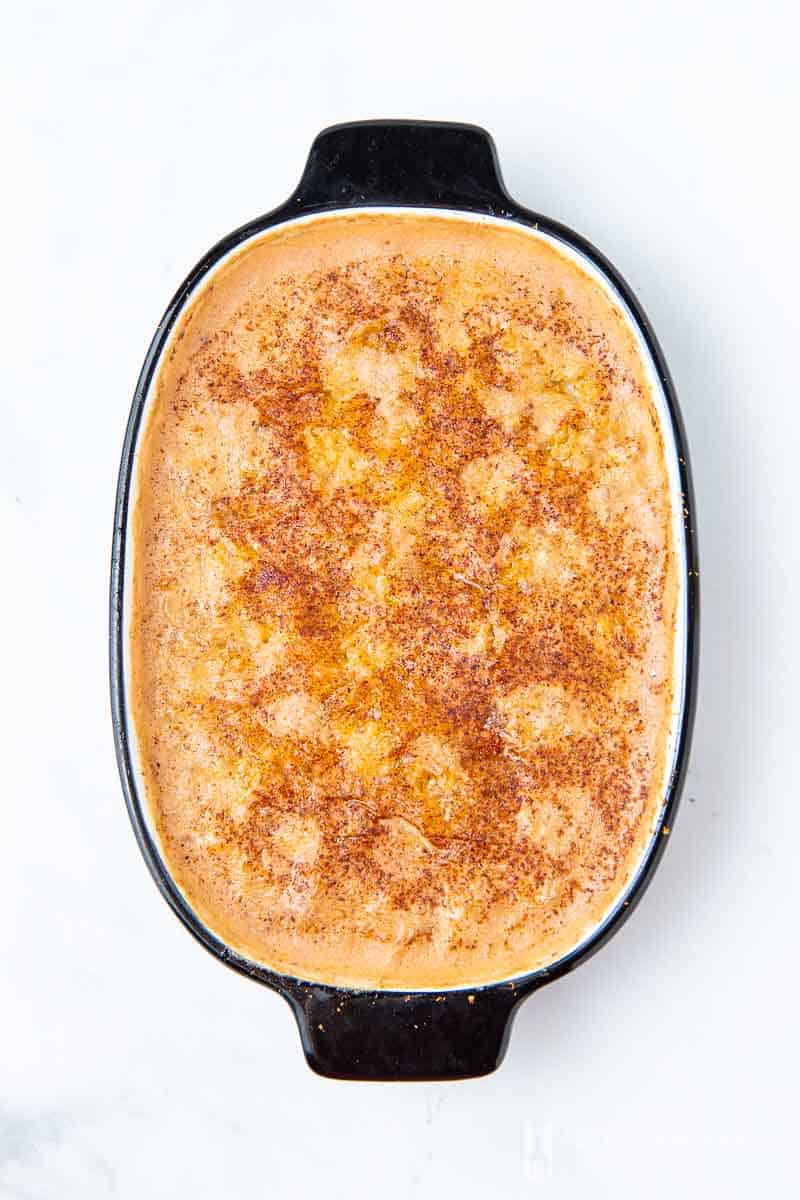 best substitutes for milk
If you're like me, by not being that keen on cow's milk, here are some fantastic milk alternatives you can consider: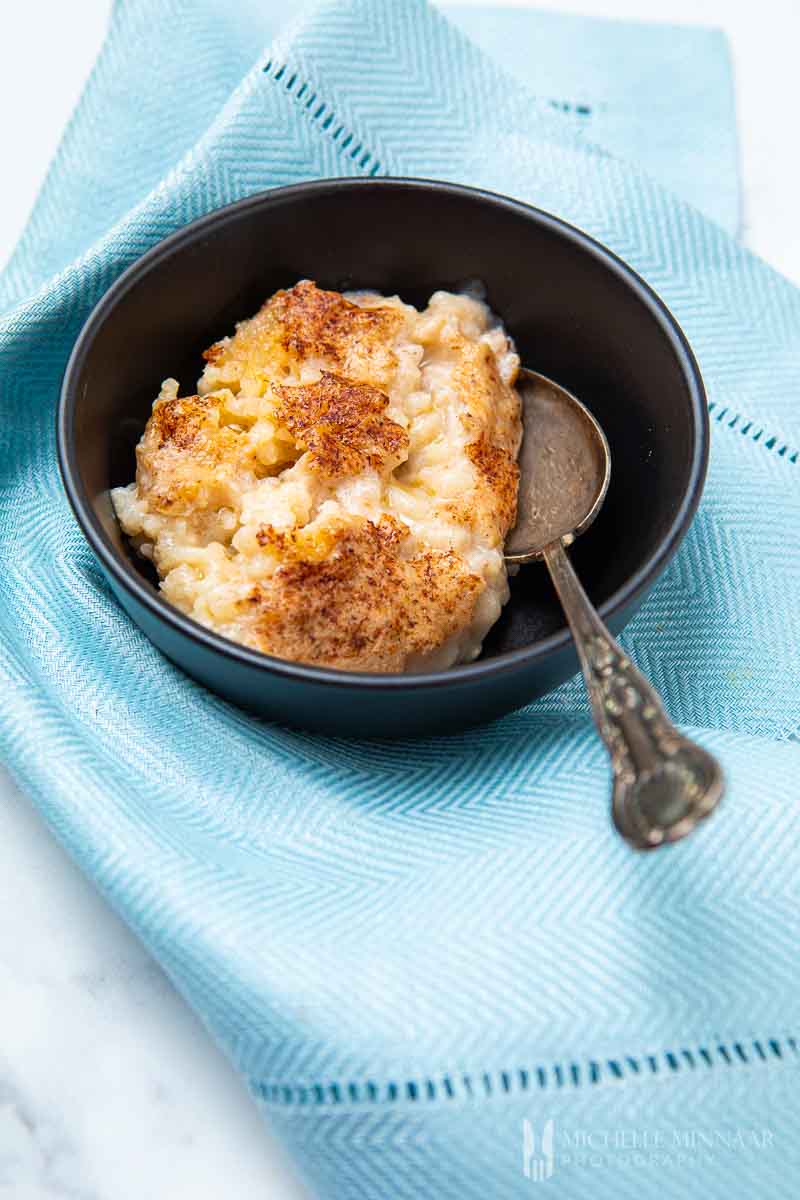 almond milk rice pudding calories
Typically, many almond milk brands are low on calories, so there is absolutely no need for you to worry about calories. Another trick to lowering the calorie count is to source sugar-free vanilla extract. Otherwise, just go heavy on the spices and you'll be fine.
How would you serve your almond milk rice pudding recipe? Let me know in the comments section below.
Print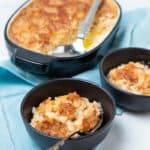 Almond Milk Rice Pudding
---
Description
Who said vegans can't enjoy rice pudding? In this Almond Milk Rice Pudding, the almond milk can easily be substituted with other nut milks.
---
60

g

(4 tbsp) vegan butter

115

g

(4 oz) pudding rice

55

g

(2 oz) caster sugar

850

ml

(1 1/2 pints) almond milk

2.5

ml

(1/2 tsp) vanilla extract

2.5

ml

(1/2 tsp) ground nutmeg

2.5

ml

(1/2 tsp) ground cinnamon
---
Instructions
Preheat the oven to 150°C (fan 130°C/300°F/gas 2).
Grease a 1.2 litre (2-pint) baking dish with 15g (1 tbsp) of melted butter, place the rice in the dish and sprinkle with sugar.
Heat the milk in a saucepan until almost boiling – don't allow the milk to burn – and then pour it over the rice. Add the vanilla extract and mix everything together well.
Cut the remaining butter into small chunks and scatter over the top together with some freshly grated nutmeg and cinnamon – enough to give it a good dusting.
Place the dish in the oven and bake for 1½ – 2 hours until the pudding has gone golden on top.
Serve warm or cold. Enjoy!
Notes
If eating the rice pudding warm, you can add a splash of milk to it to cool it down, plus it's extra lubrication.
Feel free to experiment with other plant-based milks.
Prep Time:

15 minutes

Cook Time:

2 hours

Category:

Dessert

Method:

Bake

Cuisine:

English
Keywords: almond milk rice pudding, baked pudding recipe, vegan rice pudding with almond milk, british dessert recipe