Big bold flavors all cooked together in one pot, this braised lamb shanks recipe is an easy to make, hard to forget comfort food classic!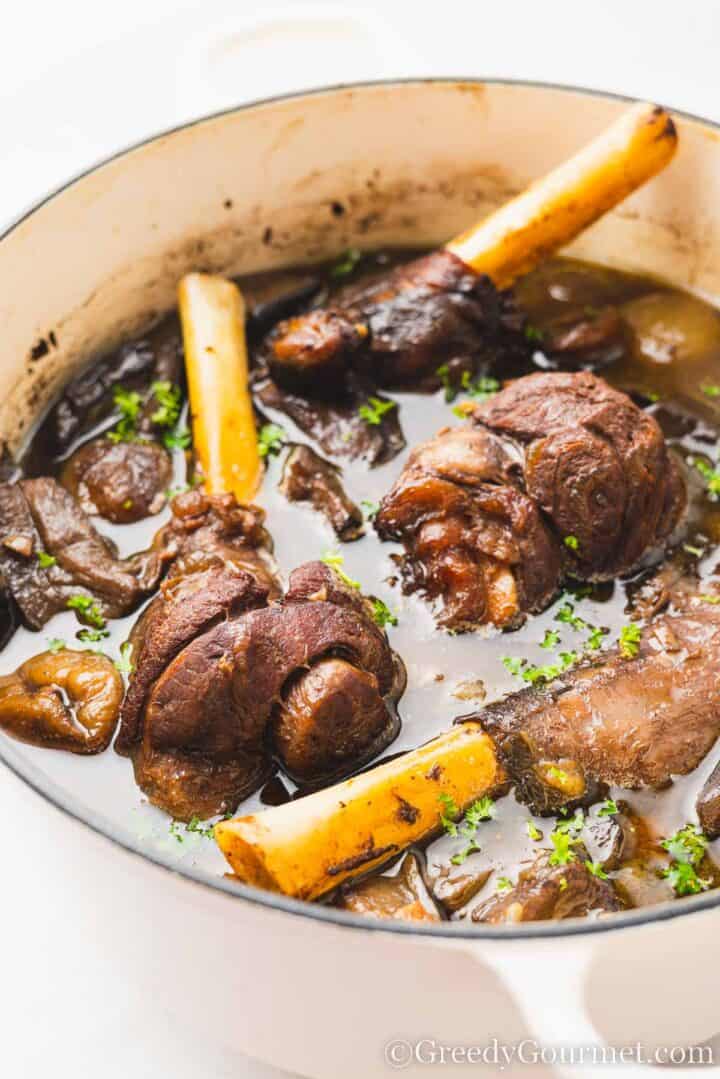 If you're looking to take Sunday lunch to a whole new level, this recipe is for you!
The tenderness of the lamb is incredible. The subtle sweetness of the figs brings a flavor you won't believe. Meanwhile, the red wine infused sauce delivers a depth of flavor that is truly out of this world.
Best of all, it's an absolutely cinch, from start to finish!
Why you'll love this lamb shank recipe
It's all cooked in one big casserole pot – simple to make, easy to clean up afterwards
There are so many incredible flavours that come together in spectacular fashion
Slow cooked lamb shanks taste buttery, rich, tender and delicious
Leftovers are easy to store and taste even better the next day!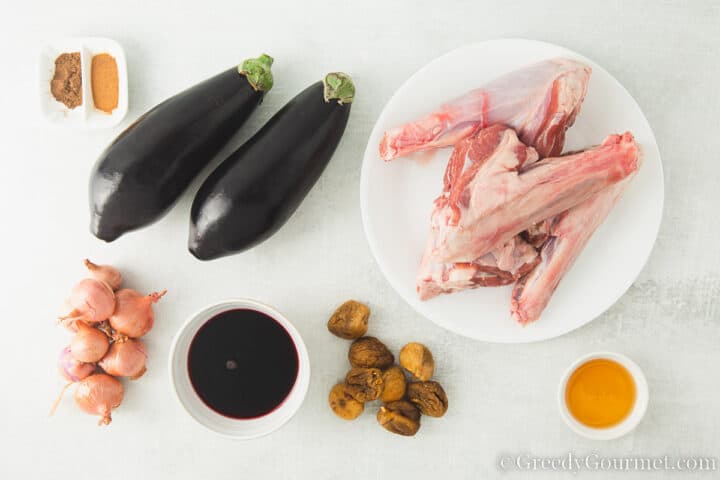 Equipment needed to make this recipe
There is a key item you'll need before you make this recipe:
Oven-proof casserole dish – go for a high quality cast iron casserole dish or Dutch oven. Something that can withstand a high heat on the hob, as well as in the oven. For me, it doesn't get much better than a La Creuset casserole dish. It will last a lifetime and you'll get excellent results every time.
How to make this braised lamb shanks recipe
Brown the lamb shanks on all sides. Set aside.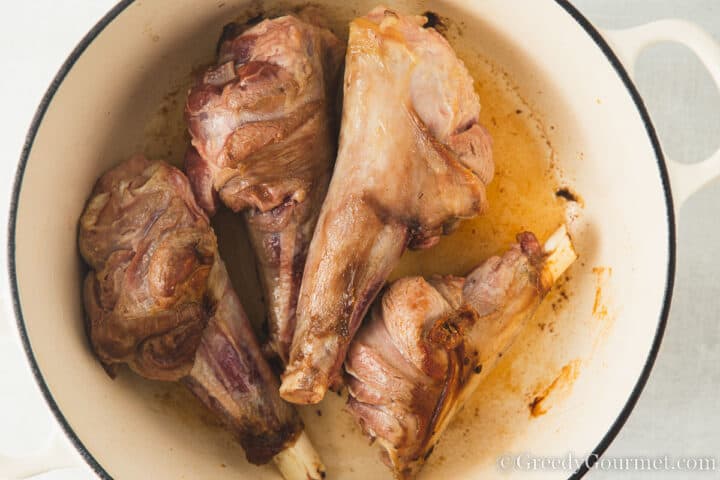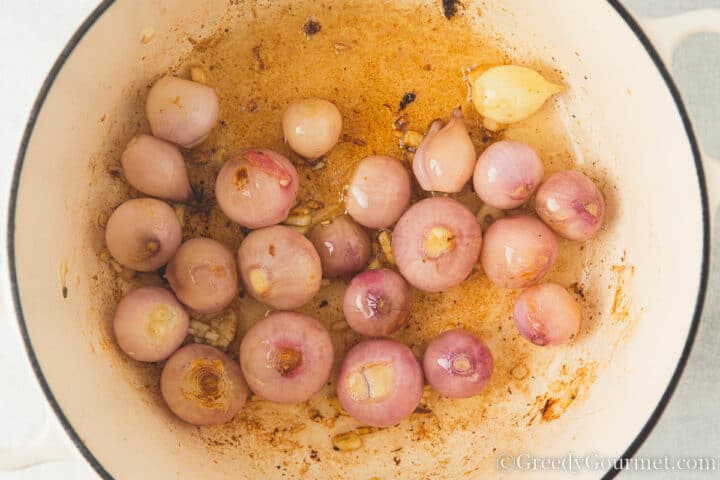 Fry the baby onions until softened and golden.
Add the garlic and aubergine chunks. Cook until slightly softened.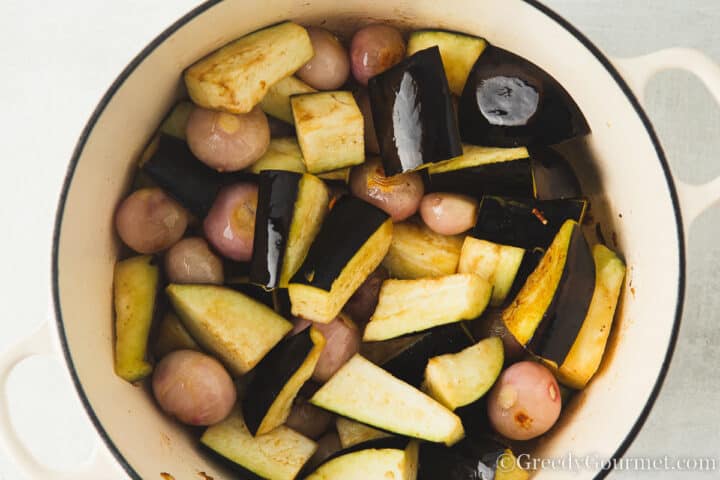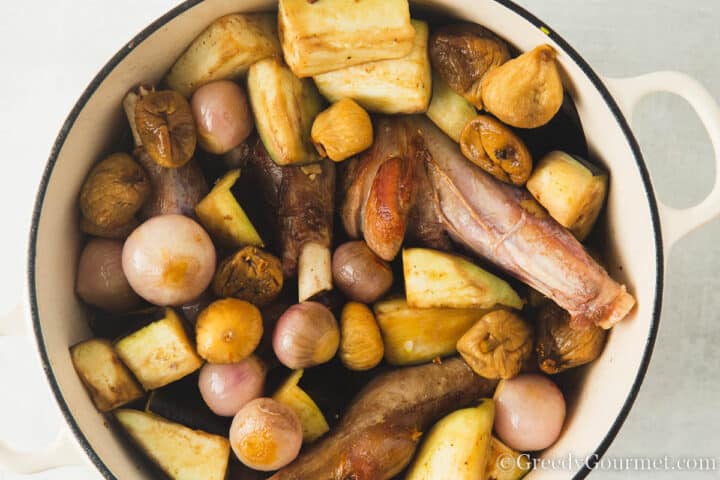 Add the figs, red wine, nutmeg, cinnamon and honey.
Top with stock until the contents are covered. Bring to a simmer.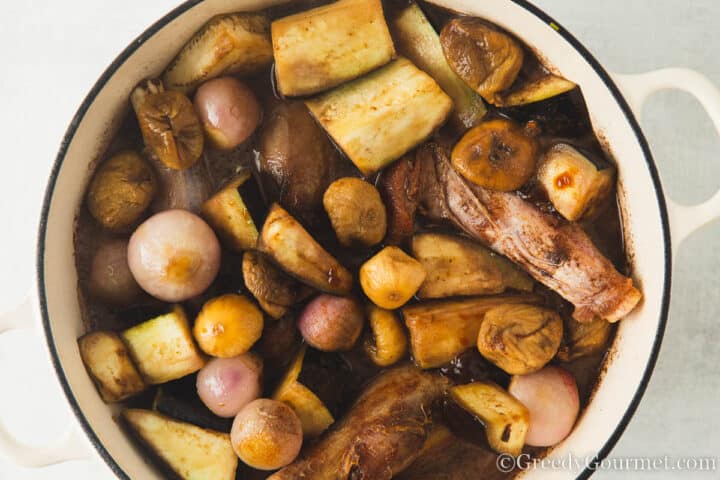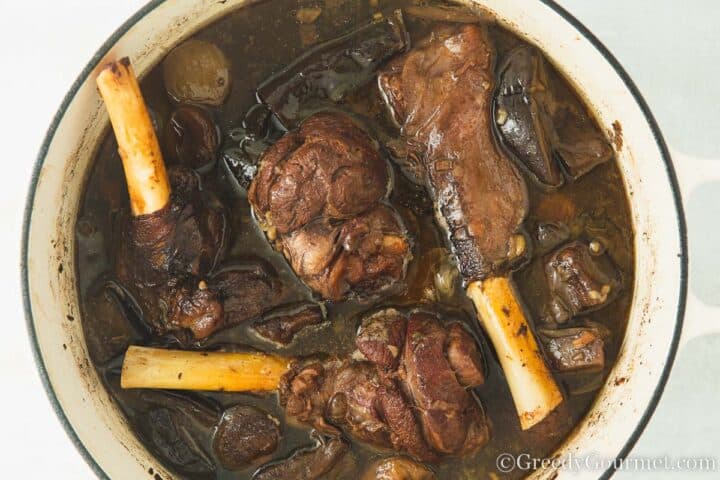 Cook for 2 hours or until the meat is tender. Sprinkle with feta cheese and chopped parsley. Serve on a bed of couscous. Enjoy!
Top Tip
Give the lamb shanks plenty of room when browning them. If you crowd the pan when cooking lamb shanks on a high heat, you won't get the desired flavor that comes from browning meat.
What to serve with your braised lamb shanks recipe
Sides
Mashed potatoes
What better to serve with a hearty slow cooked lamb stew than a side of delicious creamy mashed potatoes? Try my extra special roasted garlic mashed potatoes or, if you prefer something extra decadent and creamy, make my French-style Mousseline potatoes.
Rice
Simple steamed rice makes for an excellent side dish with braised lamb shanks. Add a twist with my sweet potato rice recipe. Or, go for a creamier, more flavorful rice – my simple risotto, for example.
Couscous
Another grain that goes great with lamb shanks, couscous is really easy to make. Add your favorite vegetables for wonderfully hearty Sunday lunch.
Polenta
A delicious creamy side dish that is originally from Italy, polenta is an excellent alternative to the likes of mash potatoes, rice and couscous.
Wine pairing
Rich lamb stew recipes pair very well with dry red wines with a good amount of acidity. This kind of wine helps to balance out the richness of the meat, as well as the subtle spices in the dish.
I recommend an Italian Chianti, which should be widely available in most supermarkets. Other fantastic red wines are Burlesque, which has plummy tones and hints of black pepper, and Petit Saó, which has floral, honey notes as well as fig undertones.
Other great wines to pair with lamb shanks include Merlot, Cabernet Sauvignon and Malbec.
Popular substitutions for this recipe
Variations to this recipe
Omit the wine
I highly recommend using wine with this braised lamb shanks recipe – a red wine sauce adds a wonderful richness and depth of flavour. However, if you've rather leave the wine out, no problem! Just replace with stock (lamb or vegetable stock will do) or simply add extra water.
Make it thicker
If you prefer your sauce thicker, you can make a cornstarch slurry by taking 125ml (½ cup) of the cooking liquid and stirring 14g (2 tbsp) cornstarch into it. Place the pot over a low heat and stir while drizzling the slurry back into the sauce. It should thicken after a few minutes.
Leave out the spice
If you prefer your braised lamb stew without spice, simply leave out the nutmeg and cinnamon.
Add a secret flavour-maker
This lamb shank stew has got some incredible flavor. However, you can make it even richer by adding a secret ingredient or two.
When you return lamb shanks to the pot, add a dash of Worcestershire Sauce . If you kind find this classic British sauce, use a suitable alternative – I've got a list of best Worcestershire Sauce substitutes.
Another way to bring a little magic to any lamb stew is to add a single anchovy into the pot after you've fried the onions. It might sound bizarre, but trust me. It just works!
Make it tomatoey
Add a tablespoon of tomato paste when you return the lamb shanks to the pot.
Make more or less
One of the beauties of this dish is that you can adapt the amount. Use two or three shanks instead of four, add extra shanks if you wish, or bulk out the stew with vegetables of your choice.
Top Tips
After brasing the lamb shanks, you might find that the lamb shanks will leave a crispiness on the bottom of the saucepan. This is flavor heaven... don't waste it!
Scrape down the sides with a strong spatula – deglaze the pan with a little water or balsamic vinegar if you have to. Then use this incredible cooking liquid to add flavor as you fry the onions.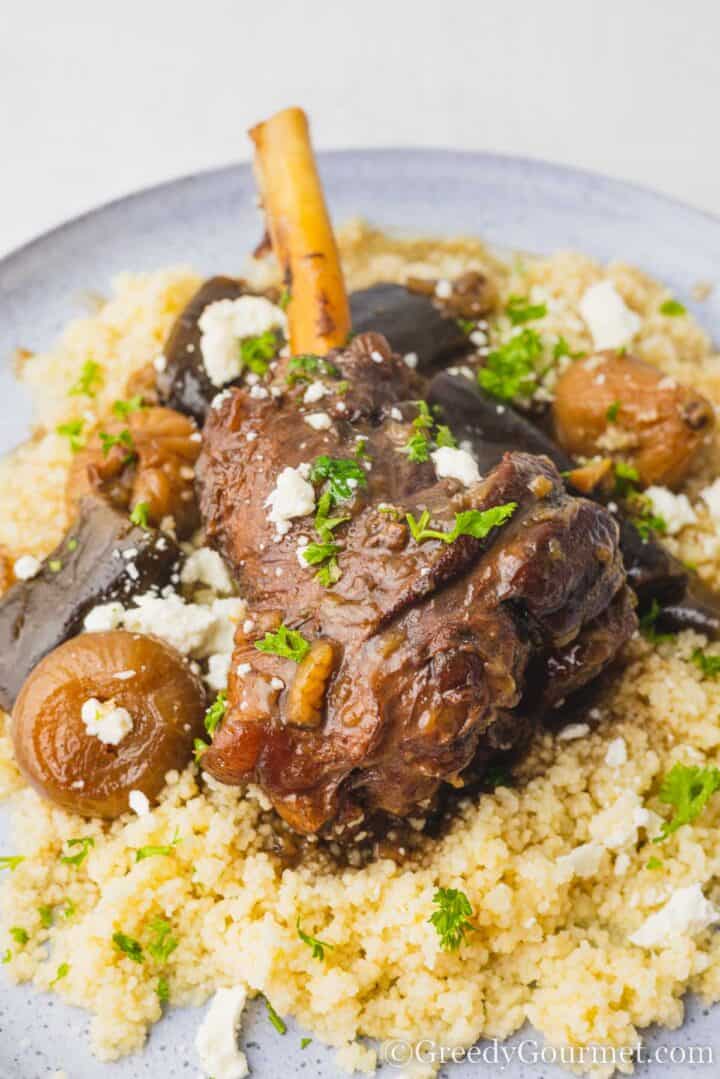 What are lamb shanks?
Shanks come from the bottom section of the upper leg bone and are one of the best cuts of meat when it comes to slow cooking.
When cooked low and slow, lamb shanks are sensational. The meat literally falls off the bone, while the gelatinous sinews of the shank help to create an incredible rich sauce.
What's the best way to cook lamb shanks?
Slow cooking lamb shanks in liquid delivers fantastic results. However, cooking them fast and hot on a high heat helps to develop and lock in that incredible flavor that comes from the Maillard reaction.
So, the answer? Combine the best of both worlds.
Braising lamb means to brown it first on a high heat, before returning it to the pot and slow cooking it, along with other ingredients. This way, you lock in the flavor, before cooking it delicately over a period of time, ensuring it stays moist and tender.
How do you thicken sauce in a casserole?
If you find your sauce is too thin, you can thicken it with a cornstarch slurry. Spoon out 125ml (½ cup) of the cooking liquid into a small bowl and stir in 14g (2 tbsp) of cornstarch until a paste is formed.
Place the pot over a low heat and stir in the cornstarch paste. After a few minutes, you should have a perfectly silky sauce.
What meat goes with figs?
Naturally sweet figs add a new dimension to gamey meats like quail, dark meat such as duck and salty, cured meats such as prosciutto and rich lamb cutlets.
How do you store leftovers?
Allow the braised lamb shanks to cool completely. Then transfer them to a suitable airtight container and put the container in the fridge.
Leftovers should last 3-4 days. In fact, on the second day, this dish will probably taste even better!
How do you freeze braised lamb shanks?
If you want to keep your lamb shanks leftovers for longer than four days, freezing is the way to go. You will lose some taste and texture though, so only freeze this recipe as a last resort.
Allow the dish to fully cool, before placing the leftovers in a freezer-safe airtight container. Freeze for up to 3 months. When defrosting, place the container in the fridge overnight.
How do you reheat braised lamb shanks?
The best way to reheat braised lamb shanks is in the same pot your cooked it in. Reheat on a medium heat while stirring occasionally until piping hot.
Can you make lamb shanks ahead of time?
Yes you can. Make it a day in advance, storing it in the fridge until you're ready to serve it. Then, heat by following the instructions above.
More luscious lamb recipes
Lamb is such an underrated meat! Get creative and cook up some of the following sensational lamb recipes:
Print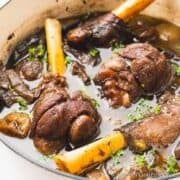 Braised Lamb Shanks with Figs and Eggplant Recipe
---
Author:

Michelle Minnaar

Total Time:

2 hours 45 minutes

Yield:

4

portions

1

x

Diet:

Gluten Free
Description
These Braised Lamb Shanks with Figs and Eggplant recipe is taking your lamb shanks to the next level. Cooked with a tasty blend of seasonings.
---
30

ml

(2 tbsp) olive oil

4

lamb shanks

450

g

(1lb) baby onions, peeled

4

garlic cloves, crushed

2

eggplants, cut into big chunks

250

ml

(1 cup) red wine

225

g

(1/2lb) dried figs

3

g

(1 tsp) ground cinnamon

1

g

(1/2 tsp) ground nutmeg

21

g

(3 tbsp) honey

750

ml

(3 cups) beef or chicken stock
salt and pepper, to taste
parsley, for garnishing

100

g

(1 cup) feta cheese, crumbled [optional]
---
Instructions
Heat the oil in a large cast iron casserole dish. Brown the lamb shanks on all sides, then set aside. 
Gently fry the onions for 5 minutes until softened but not browned. 
Add the garlic and eggplants. Fry for another 5 minutes until the vegetables have softened a bit. 
Add the shanks back in, give it a stir, then pour in the red wine and let it sizzle away for 5 minutes. 
Stir in the figs, cinnamon, nutmeg and honey. 
Pour in enough stock to cover the contents. You may need more or less, depending on the pot you're using. 
Let the contents reach a simmering point, then cover with a lid and cook for 1½-2 hours, or until the meat is fully cooked and tender. 
Season to taste, then serve on a pile of couscous and garnish with parsley and crumbled feta cheese. Enjoy!
Notes
This recipe is freezable.
If you prefer your sauce thicker, you can make a cornstarch slurry by taking 125ml (½ cup) of the cooking liquid and stirring 14g (2 tbsp) cornstarch into it. Place the pot over a low heat and stir while drizzling the slurry back into the sauce. It should thicken after a few minutes.
Prep Time:

15 minutes

Cook Time:

2 hours 30 minutes

Category:

Main Course

Method:

Braising

Cuisine:

Turkish
Keywords: braised lamb shanks recipe, lamb shank recipe, greek braised lamb shanks, turkish lamb shank recipe, best lamb shank recipe, lamb shanks dutch oven, braised lamb shanks red wine, lamb shank dinner, slow braised lamb shank, lamb with figs, lamb with eggplant, lamb with aubergine