Celebrate this year's peanut butter and jelly day with this incredible peanut butter and jelly ice cream recipe. This recipe is perfect for those who love peanut butter.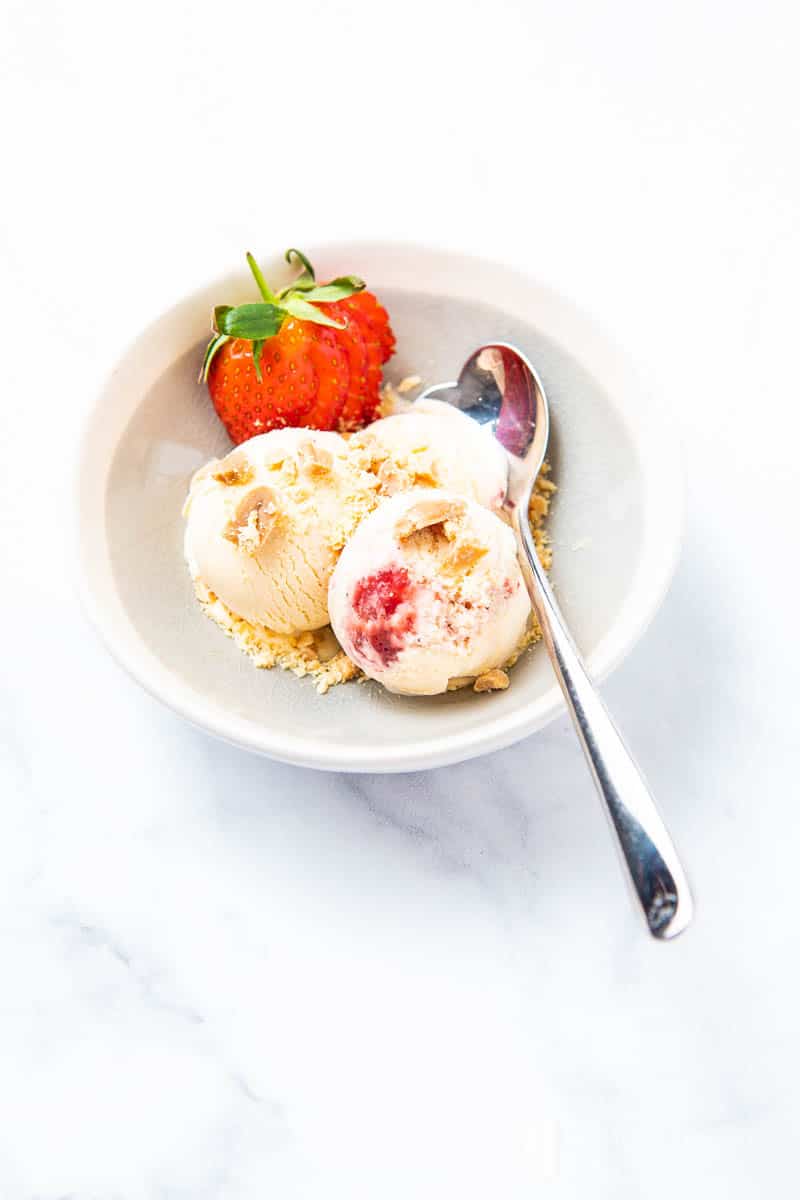 It's an unexpected twist on the classic peanut butter and jelly sandwich that's ever so popular in the UK as well as in the USA.
What's best, is that this peanut butter and jelly ice cream recipe can easily be used in a trifle recipe if you want to combine ingredients. Just add some sponge, jelly and add the peanut butter and jelly ice cream.
You can also top it off with extra sugar or whipped cream. It's a great way to enjoy this delicious dessert, besides the seasons are changing. So, celebrate the sunshine with a silky-smooth ice cream!

Peanut butter and jelly ice cream with SKIPPY®
April 2nd is the national peanut butter and jelly day! So, I hope that you have a jar of peanut butter in your kitchen cabinet to celebrate the cause.
What better way to celebrate than making something out of the ordinary? Instead of making the traditional peanut butter and jelly sandwich, I've decided to make this peanut butter and jelly ice cream!
This silky and nutty ice cream is completely irresistible. Plus, mastering this ice cream recipe is completely doable and requires only a few steps.
However, what you really need is a jar of excellent peanut butter. This recipe calls for America's original SKIPPY® Peanut Butter.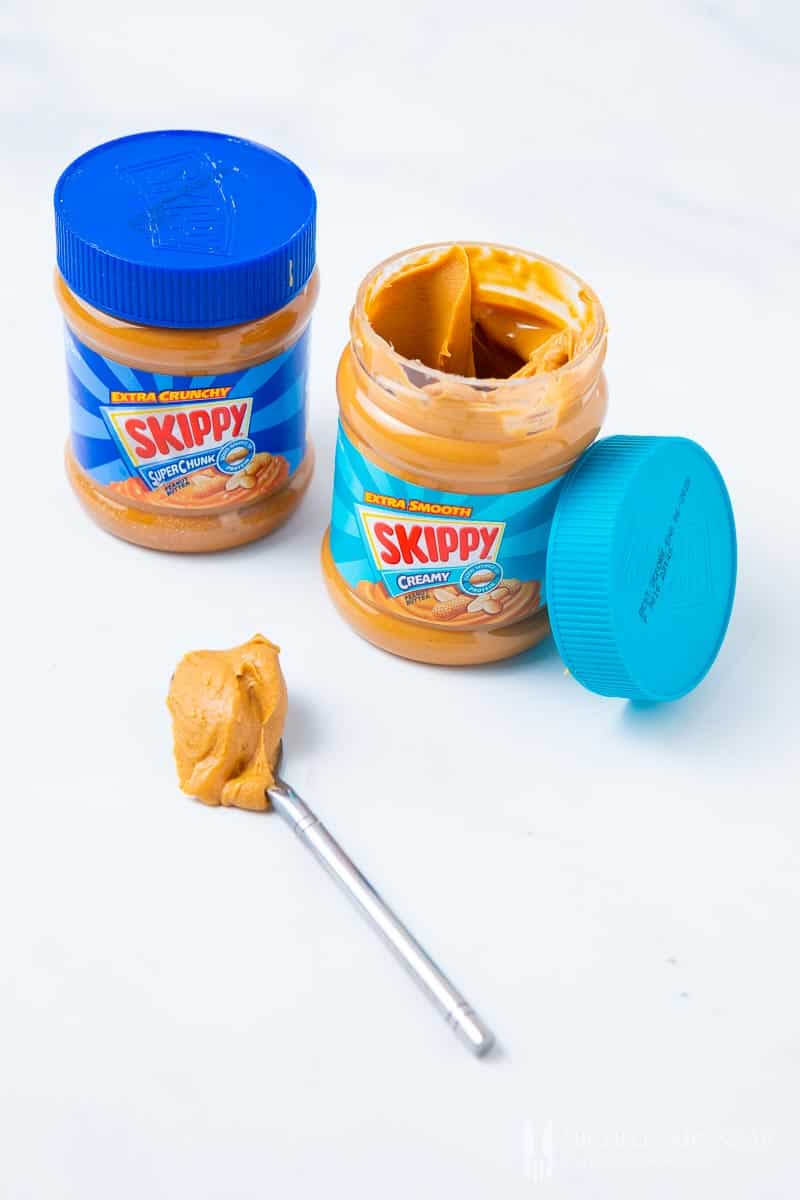 SKIPPY® Peanut Butter was the original peanut butter made to accompany jelly, as well as jam. It has over 80 years of authentic American heritage.
SKIPPY® Peanut Butter is made with high-quality American peanuts which are sweeter and just melt in your mouth. This version has a very creamy, silky and smooth texture.
By the way, SKIPPY® Peanut Butter is also an excellent source of protein, which is also a very important part of our diets! Just imagine, that with only two tablespoons, you'll already have 15% of the recommended daily intake.
Not to worry, it's lower in sugar in comparison to other peanut butter spreads.
SKIPPY® Peanut Butter (RRP £2.40 per 340g jar) is available in Smooth and Extra Crunchy varieties. So, you can select between a fine creamy texture or a bit of crunch – whichever you prefer.
You can find this peanut butter in major supermarkets including Sainsbury's, Morrisons, Costco, International section of Tesco and Ocado.
who makes peanut butter and jelly ice cream?
Hmm, tough question! However, if you are looking at this ice cream recipe, you definitely will be able to. This easy peanut butter and jelly ice cream has about eight servings, which comes to approximately one litre (1.75 pints).
Think of it like two tubs of ice cream from the supermarket. The only difference is, that you won't over-pay! We all know just how expensive some brands of peanut butter ice cream can be.
Next, would you believe me if I told you that you can make this peanut butter and jelly ice cream in just under two hours? Yes!
Really, under two hours and then of course it depends how cold and fast your freezer is. Trust me, you will enjoy making this peanut butter and ice cream recipe.
It's not that complicated at all. Just stick to the recipe and you'll be more than fine. By the way, if you have leftover peanut butter, then do try my delicious peanut butter coconut balls recipe. It's divine!

best peanut butter ice cream
Generally speaking, if you've made homemade ice cream before, you'll probably have a couple of tricks up your sleeve. So, here are just a few tips so that you can make the best peanut butter and jelly ice cream ever:
Use sweeteners which are solid in texture. Liquid sweeteners might ruin the consistency.
Make your ice cream with creamy ingredients like egg yolks or avocados.
Fill the ice cream churner/maker only 2/3 full. This way, it will churn better and you'll avoid a soupy consistency.
Try to use a higher ratio of cream than milk if your recipe calls for it.
When you churn the ice cream, make sure you've placed it in a colder part of the kitchen. (Not under any kitchen lights).
Do you have any other tips you'd like to share for making your own ice cream from scratch? Of course, since the peanut butter is smooth, your consistency will be too! For a bit of crunch, you can add cookies like I did here!
You can also decide to make a no-churn peanut butter ice cream, like this amazing no-churn peanut butter oreo ice cream. Otherwise, you can also make Ferrero rocher ice cream or hokey pokey ice cream.
salted peanut butter ice cream
For a more complex version of this peanut butter and jelly ice cream, add hints of coarse salt. Of course, you can add fine salt too. The salt factor will balance out the sweetness of the jelly or the jam, whichever you select to add.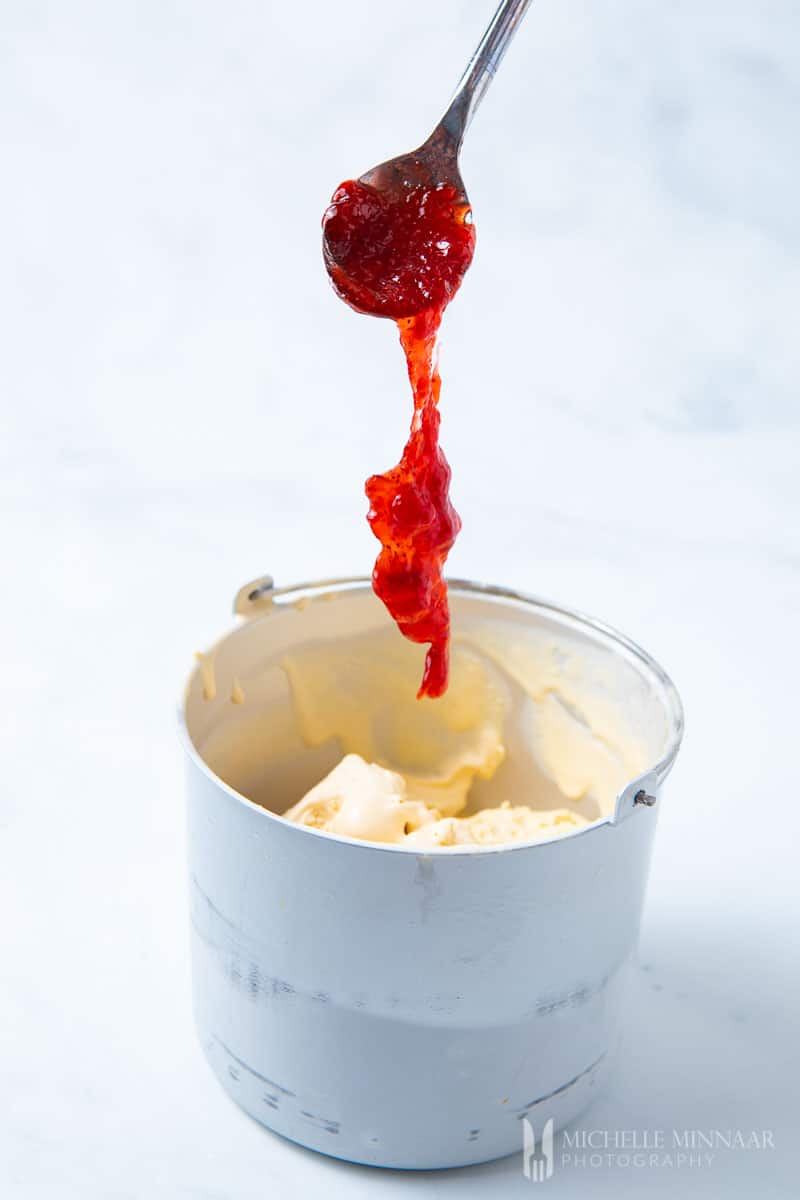 Now, as for the jelly part, you can also opt for jam. Traditionally speaking, in the USA, it's very common to pair grape jelly with peanut butter.
Especially in the famous peanut butter sandwich. However, any berry jam is interchangeable within this recipe. My top picks are:
grape jam
strawberry jam (excellent choice)
gooseberry jam
blackberry jam
mulberry jam
In fact, as I said before, you can use any type of jam. However, a berry-based jam is the best for this ice cream recipe.
peanut butter and jelly ice cream sandwich
Now, if you've made a large batch of this peanut butter and jelly ice cream, you can make this even more interesting and make an ice cream sandwich.
Why not? Shove the ice cream in between two sponges or ice cream biscuits. The choice is completely yours. The biscuit will soften and every bite will be amazing.
Otherwise, you can also go for using a scoop of ice cream in a trifle. I love this spin actually. Add whipped cream, pair with strawberries and go for it. This recipe leaves much room to experiment, don't you think so?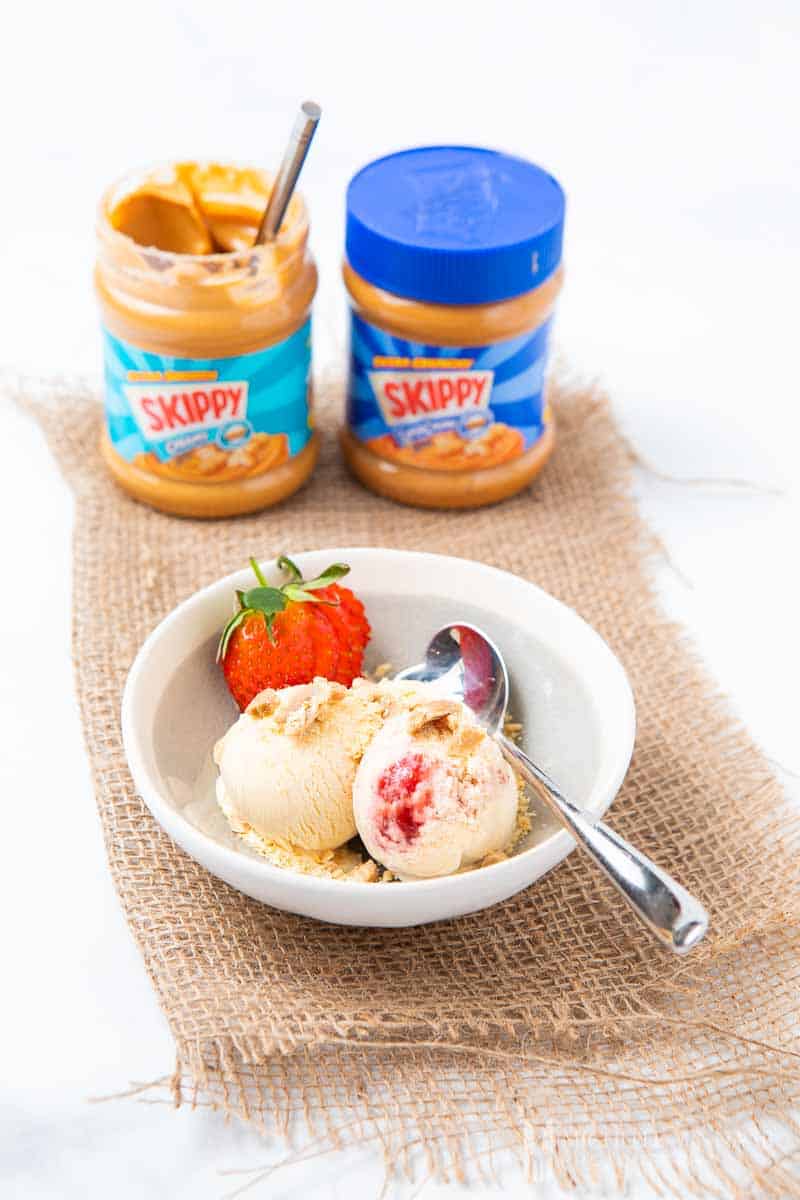 how to use peanut butter in a dessert
You can also use peanut butter to make these luscious peanut butter, pecan and caramel brownies. So sinful but incredible!
Otherwise, you can also try these simple white and dark chocolate peanut butter chunks. Irresistible!
Do you have your own peanut butter recipe that you want to share or will you stick to this peanut butter and jelly ice cream?
What is your favourite way to enjoy SKIPPY peanut butter?
Print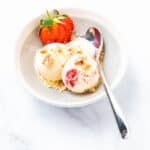 Peanut Butter and Jelly Ice Cream
---
Description
Don't miss out on this incredible silky peanut butter and jelly ice cream recipe. This American ice cream recipe is incredibly moreish and easy to make.
---
500

ml (2 cups) double cream

250

ml (1 cup) whole milk

125

ml (1/2 cup) + 15ml (

1 tbsp

) granulated sugar

6

large egg yolks

60

ml (4 tbsp) Skippy creamy peanut butter

200g

(7fl oz) strawberry conserve
---
Instructions
Combine the cream, milk and 15ml (1 tbsp) sugar in a saucepan. Bring to the boil then remove from the heat.
In a large bowl, whisk together the 125ml (1/2 cup) sugar and egg yolks.
Temper hot milk into the sugar yolk mixture, by slowly adding hot milk about 60ml (1/4 cup) at a time, whisking to distribute heat. Once all the milk has been added, transfer mixture back into the saucepan.
Place the saucepan over medium-low heat. Stir until mixture reaches nappé consistency, or 80°C (180°F) on a kitchen thermometer. Let mixture sit at this temperature for 5 minutes to pasteurise the eggs.
Stir in the peanut butter until it's dissolved. Let the mixture sit for 5-10 minutes and allow to cool down.
Freeze the peanut butter custard in an ice cream maker according to your unit's instructions.
Once the volume has increased by half and reached a soft serve consistency, transfer mixture into an airtight container.
Fold in the strawberry conserve to create a marbling effect, place the it in the freezer for at least 3 hours or overnight.
Notes
You can use jam or jelly if you prefer. With the conserve you get chunks of strawberry in the ice cream, which is lush!
Don't stir the conserve too much, otherwise it blends in completely with the peanut butter ice cream.
Prep Time:

10 minutes

Cook Time:

90 minutes

Category:

Dessert

Method:

Freeze

Cuisine:

American
Nutrition
Serving Size:

1

Calories:

422

Sugar:

27.2g

Sodium:

80mg

Fat:

31.9g

Saturated Fat:

17.2g

Carbohydrates:

30.1g

Fiber:

0.7g

Protein:

6.2g

Cholesterol:

247mg
Keywords: peanut butter ice cream, peanut butter and jelly recipe, American ice cream recipe
save the recipe to your pinterest board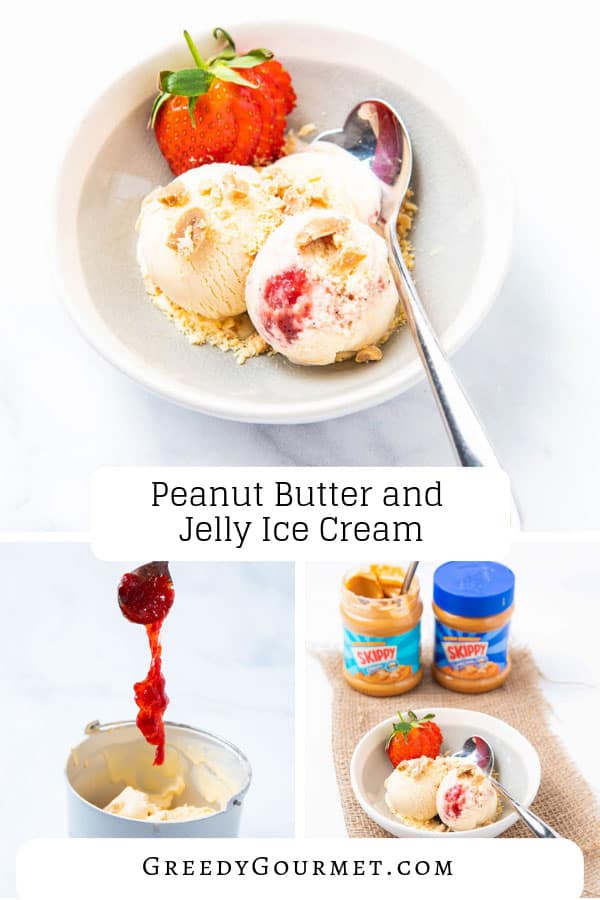 P.S. This is a sponsored post.