Preparing vegan spaghetti bolognese has never been easier! All you need are the right ingredients and substitutes, so make sure you have everything ready before cooking. Instead of using meat such as minced beef, you use pulses. In this case I use adzuki beans but lentils can be used as well. You won't even notice the difference between a traditional bolognese recipe and this vegan spaghetti bolognese. Enjoy!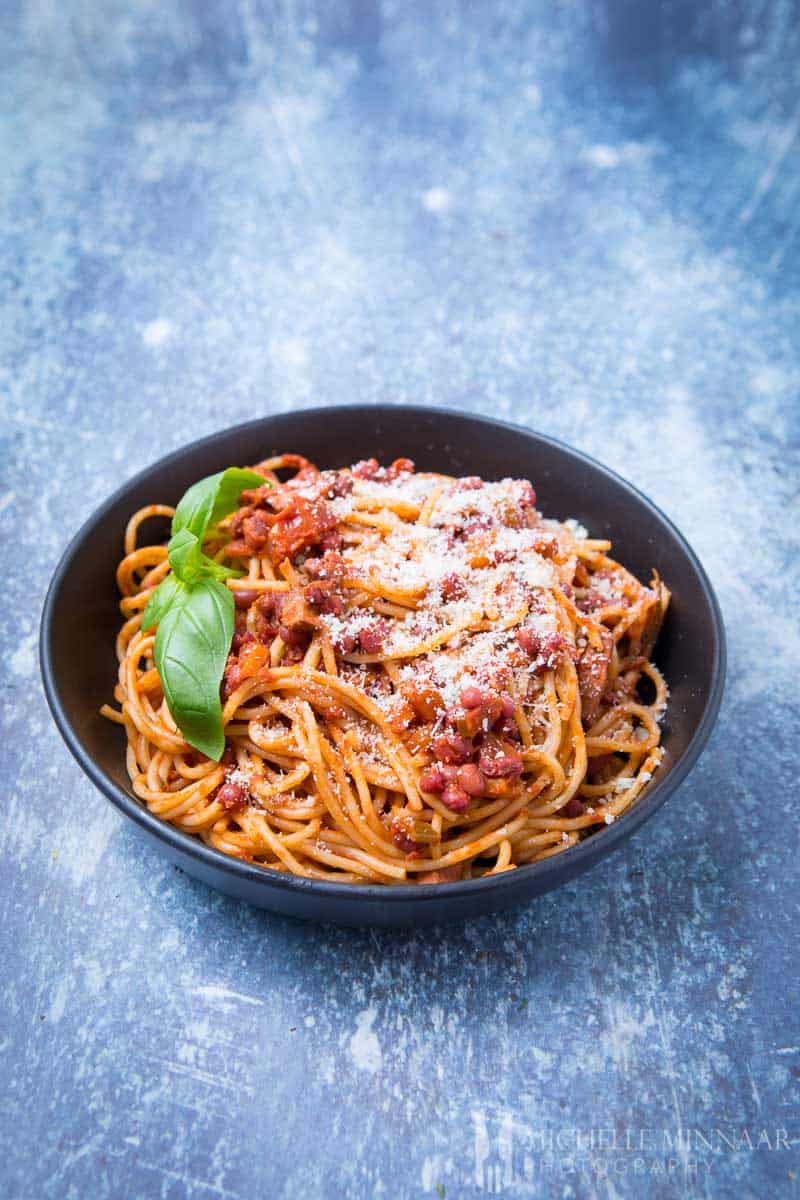 vegan spaghetti bolognese
Although you might be thinking you're looking at photos of traditional spaghetti bolognese made with meat, it is not. The secret to making spaghetti bolognese vegan is to use adzuki beans. They are one of the best type of pulses that can be substituted for the coarse texture of beef mince.
adzuki beans history
Adzuki beans are Japanese beans which are also known as 'azuki' or 'aduki'. In India, they are known as 'chori'. Here in England, they are also called red mung beans. Remember my mung bean salad recipe? You'll see that those mung beans are green, indicating there are other varieties.
In terms of flavour, they are sweeter than the green ones. Also, the aroma of the adzuki beans might resemble that of a sweeter chestnut flavour.
They are grown in East Asia, and more specifically the Himalayas. They also vary in colour depending on where they are cultivated. The adzuki beans can be red, white, grey and black. These beans have been around for more than 5,000 years, dating back to 3,000 B.C.! This was the time of Bronze and Iron Age. The actual domestication of adzuki beans is unknown, however historians suggest that it is thanks to the Chinese, Japanese and Koreans that they are available today. As a result, the adzuki beans have grown much larger in size and varied in colour.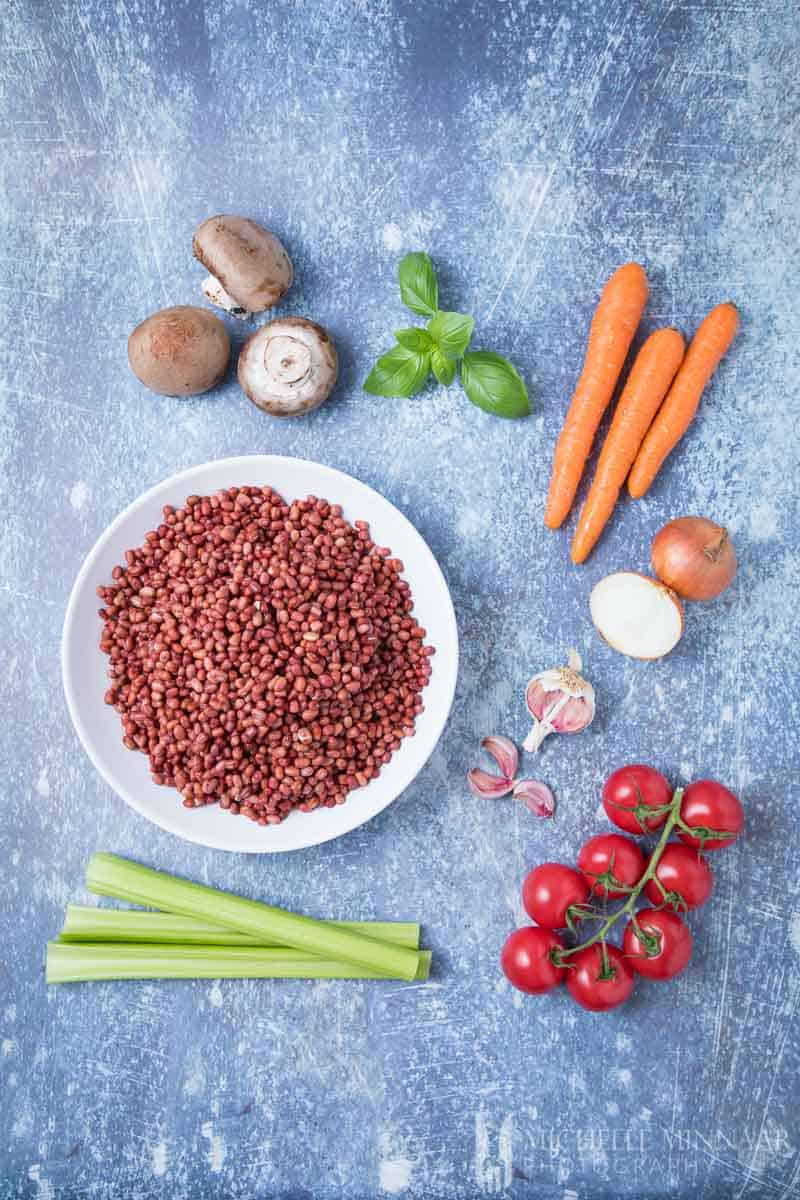 adzuki beans today
Today, adzuki beans today are mainly cultivated in China, Japan, South Korea and Taiwan. However, the bean is also grown for commercial purposes in the US, India and South America. The adzuki bean is most popular in Japan, where it is the most important legume, after the soy bean! In Japan, they consume roughly 140,000 tons per year! The Japanese serve adzuki beans with rice and in a creamy drink, where traditionally you keep a couple of whole beans. In 2009, Pepsi released a version with adzuki flavours for their Japanese consumers.
You can also find adzuki beans in stews, beans pastes and much more. The most interesting fact about this bean is that it comes from a very strong plant, which can withstand droughts and still taste delicious!
adzuki bean substitutes
If you can't source the adzuki beans, you can substitute them with red beans or kidney beans. Kidney beans might be slightly larger for this vegan spaghetti Bolognese, but they'll still do the trick. They are also slightly creamier, so you can expect that some of them might break and therefore thicken up the tomato sauce. So, you can consider the kidney beans as a thickening agent.
As a result, the best substitute would be the classic red bean in terms of texture and size. Plus, they are more accessible in super markets.
the sauce
I know that it is not so uncommon to use red wine for a delicious bolognese sauce. In fact, in Italy it is highly uncommon not to use a bottle of red wine while you cook. However, as this is a vegan spaghetti bolognese, you have to be careful because not all wines are vegan compliant. For example, did you know that some white wines use eggs in the production process? So, in this vegan recipe you can opt to add red wine making the flavour of the sauce more complex, however, do be careful and make sure that the wine is truly vegan!
My recommendation is to purchase the wine from a vegan specialist shop. Moreover, if you do decide to include the wine in the tomato sauce, give it enough time to simmer. First, you'll need to cook off the alcohol and second, you'll need a bit of time to fuse all the ingredients together. Otherwise, if the sauce doesn't get enough time, it will be bitter.
Another tip I have for you is to substitute onions with shallots. Shallots are more aromatic and you can use them to create the best sauces! Shallots are famous for blending all spices and ingredients together, making a harmonious and delicious sauce.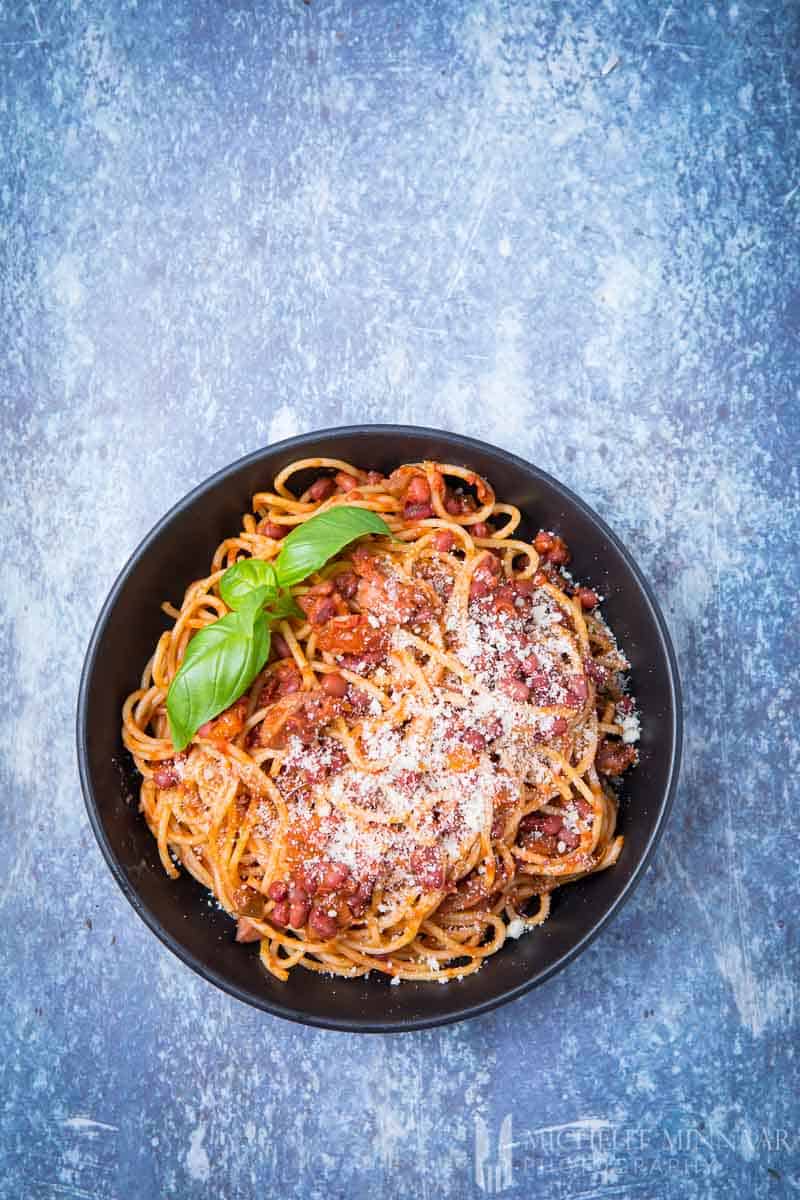 recipe
Have you got left over adzuki from your vegan spaghetti bolognese recipe? Why don't you use the leftovers for a salad or better yet, try making mung bean falafels? Instead of using green mung beans, just substitute them with these red mung beans. You can learn how to make these mung bean falafels here! You'll see it's a very quick and easy recipe.
vegan spaghetti
Vegan spaghetti is another ingredient where you need to take care. Most types of spaghetti pasta are vegan, but sometimes brands eggs in the manufacturing process. Therefore, you need to look out of eggless pasta or special packaging where the spaghetti has special vegan marking.
If you want to cut down on gluten, check out my gluten-free spaghetti Bolognese. There are also alternatives where you can have gluten-free and vegan pasta. All you need to do is to visit a special store where you can get your hands on such products.
There is an easier and even healthier way to have vegan spaghetti bolognese. Why don't you substitute the pasta with courgettes and make courgetti? Of course, you'll need a special spiralizer, however, the finished product should look like this. Not only will use consume less carbs, it also makes for easier digestion. It is also a great way to stay in shape and eat as much as you want guilt-free!
Print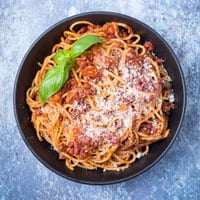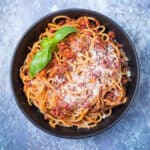 Vegan Spaghetti Bolognese
---
Description
Try this vegan spaghetti bolognese recipe. You won't believe that it is vegan! You'll need traditional bolognese ingredients. Substitute with adzuki beans.
---
450g

(1lb) adzuki beans

60

ml (4 tbsp) olive oil

2

onions, peeled and finely chopped

6

garlic cloves, peeled and crushed

6

celery sticks, washed and finely chopped

4

carrots, peeled and finely chopped

450g

(1lb) mushrooms

250

ml (1 cup) red wine

1

kg (2lbs) passata

1

ℓ (4 cups) vegetable stock

5

ml (1 tsp) salt

30

ml (2 tbsp) brown sugar [optional]

125

ml (1/2 cup) almond milk [optional]
---
Instructions
Soak the beans in plenty of water overnight. Drain and rinse the beans the next day before cooking.

Gently fry the onion and garlic in a large saucepan until softened.

Add the celery and carrots, then cook for another 10 minutes.

Turn up the heat, add the mushrooms and fry over a high heat for 5 minutes.

Add the wine and let the mixture sizzle for about 5 minutes.

Add the beans, then the passata, stock and salt.

Stir well and let the bolognese read a bubbling point. Lower the heat and let it slowly simmer.

Cook slowly for around 90 minutes or until the beans are cooked and the flavours have developed.

[Optional] Add the sugar to help with the acidity of the dish and splash of milk to take the edge off it.

Serve with pasta, vegan parmesan cheese and fresh basil.
Notes
Feel free to substitute the adzuki beans with your favourite type of pulse, such as lentils.

This recipe is for batch cooking bolognese because it's ideal for freezing. If you want to make less, just halve or quarter the quantities.
Prep Time:

30 minutes

Cook Time:

2 hours

Category:

Main Course

Cuisine:

Italian
Nutrition
Serving Size:

1 serving

Calories:

158

Sugar:

2 g

Sodium:

121 mg

Fat:

4.7 g

Saturated Fat:

1.9 g

Carbohydrates:

21.6 g

Fiber:

4.5 g

Protein:

6.2 g
save the recipe to your pinterest board