Chunky Chocolate Cheerios is one of the most delicious, if not the greatest, chocolate dessert of all time. Really.
Rudolph the Red-Nosed Reindeer knocked on Santa's front door.
Santa: "Who's there?"
Rudolph: "It's me, Rudolph."
Santa: "What do you want, Rudolph?"
Freezing in the cold Rudolph replies: "Ch-ch-ch…"
Santa: "You want WHAT?"
Rudolph: "Chunky Chocolate Cheerios!"
And that, ladies and gentlemen, is why I don't normally tell any jokes because they tend to be terribly lame!
It all started rather innocently on a day that I had this whacky idea to add some Cheerios to the White & Dark Chocolate Peanut Butter Chunks recipe of mine. Two year old Gabriel loved "helping" me at the time as the photographic evidence suggests.
I posted the recipe along with this by now familiar photo and that was that.
Not quite.
Always a bit stumped when it comes to gifts I wondered whether gifting these delightful nibbles would work. Can you guess what happened?
People went bonkers for it!
Chunky Chocolate Cheerios sold out week after week when I ran a stall at the local farm shop. Family raved about it and after these few years it's become my go-to Christmas gift to all those I know. Heck, I even give out slabs to say thank you, on birthdays and other special occasions too.
Meanwhile, little did I know what a hit it would on the internet – this post has been pinned on Pinterest boards over 3000 times! Even though this recipe has been plagiarised ad infinitum, I'm flattered.
So it only made sense for me to redo this recipe with step-by-step photos. I'll give you some handy tips as we go along.
Can I substitute Cheerios with another cereal?
I honestly am not familiar with cereal but there are three advantages to using Cheerios:
Adds crunch.
Doesn't go soggy.
Bulks out the chocolate.
If you can find another cereal that can do that, go ahead!
What type of chocolate should I use?
People tend to bang on about using quality ingredients in recipes and in this case I'll be shouting the loudest. If you're going to buy some low-priced chocolate produced in Timbuktu at the pound shop it's going to taste cheap and nasty. Say the latter with a heavy nasal American accent – naaaaahsteeee. Buy the best you can afford. Depending on availability I like to use Continental Plain Chocolate from Waitrose and Lindt.
Storage
At the very least keep the chocolate in a cool, dark place. It's best kept in the fridge until you fancy a nibble. In the freezer it lasts extra long. (I put a few lollies in the bathroom as treats for potty training. After a few days, and a few hot baths, the lollipops' sheen has gone and the texture all crumbly. Bleh.) So….keep it cool for best results!
Originally I melted the chocolate on the hob in a double boiler and it took ages. Since I started making big quantities I've looked for alternatives. Chocolate can be melted in the microwave. Just use the right type of bowls.
One thing I noticed it that plain chocolate takes longer to melt than its white counterpart.
Add the Cheerios to the melted plain chocolate.
Stir until all Cheerios are completely covered in chocolate.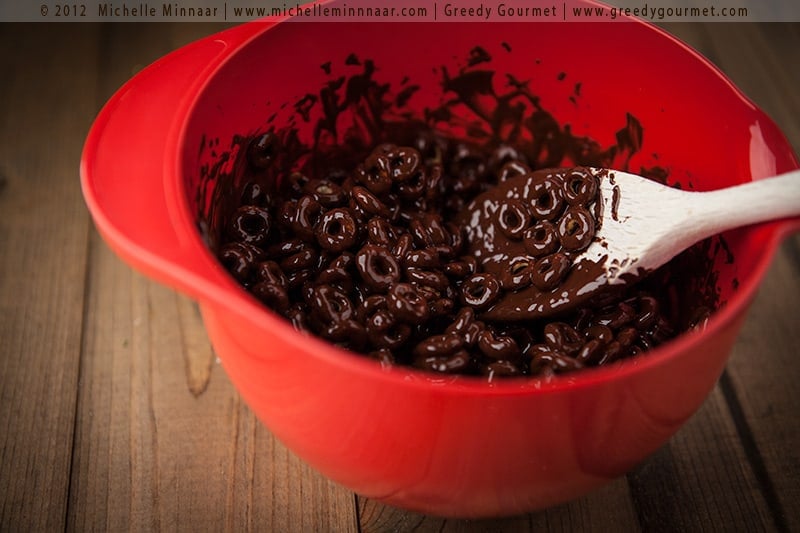 It's up to you how much Cheerios you put it. Use more or less, do whatever you please!
Chop the white chocolate and melt it in the microwave.
Everyone's microwave oven is different. Melt with caution. What I mean is that it's safer to use shorter times to cook the chocolate because you run a lower risk of overcooking chocolate. So use short stints and check on the chocolate's progress. After a while you'll know how long it will take. Of course, the more chocolate you use the longer it will all take to melt.
And now for the secret ingredient – peanut butter! I haven't experimented with other nut butters yet but I'm sure they'll work too.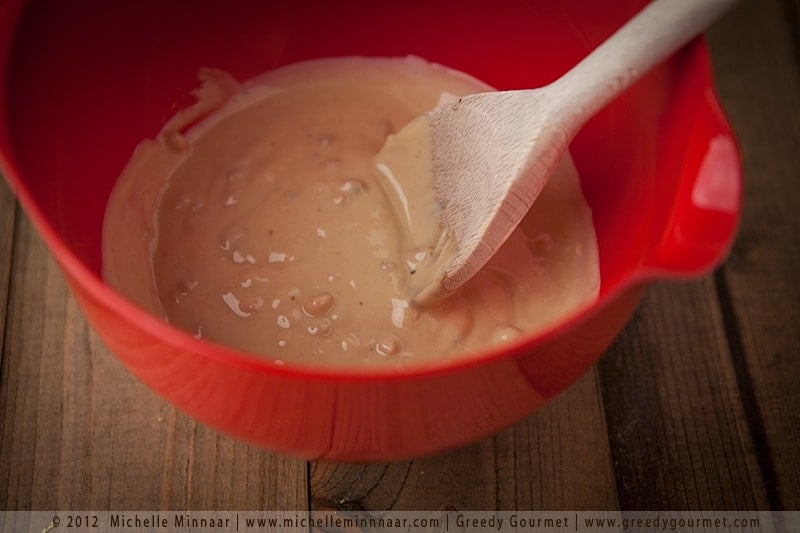 Stir the white chocolate and peanut butter until the mixture is smooth.
Let the fun and games begin. Kids will love being involved. One plonks white chocolate into the mould while the other one is in charge of the plain chocolate bowl. Watch them like a hawk though. They'll run away with the chocolate if they could!
Finished. There you have a very messy dessert that will now be heading to the fridge for a few hours to set.
As you can see you can use different sized silicone moulds to make slabs of chocolate.
The square one is my favourite shape. Wrapping it is easy and elegant. This is a great gift to give to a family.
Let's take the round slab out…
…and onto the chopping board.
Use a bread knife to slice through the thick chocolate. It could get messy…
Chop the chocolate into bite-sized pieces. Chunks of heaven if you ask me!
Inevitably there will be crumbs. Save them to sprinkle on top of ice cream.
For those of you who are allergic to peanut butter, you can omit the stuff – the recipe works without it too. Silicone muffin moulds make great portion sizes.
You can easily cheer up your gifts with some Merry Christmas ribbons and Red Polka Dot ribbons.
For your friends and other people such as work colleagues you can chop up a slab and place a few chunks in each presentation bag.
You can have a lot of fun with silicone moulds too. Check out the hearts and cute animals. Just buy some lollipop sticks and you're good to go.
Lastly, if you're using small moulds, omit the Cheerios. Pour the dark chocolate in first because it has a thinner consistency that will capture more detail than the white chocolate. After you've filled the moulds, give it a shake to get rid of air bubbles.
Right now there are six batches of the goodies in the freezer and two batches cooling in the fridge. I'm going to make some more. It definitely is Christmas!
Print
Chunky Chocolate Cheerios
---
Author:

Michelle Minnaar

Prep Time:

10 minutes

Cook Time:

5 minutes

Total Time:

15 minutes

Yield:

10

servings

1

x
Scale
Ingredients
butter to grease

200g

(

7 oz

) white chocolate

200g

(

7 oz

) plain chocolate

75g

(

2½ oz

) crunchy peanut butter

75g

(

2½ oz

/

2¼ cups

) Cheerios
---
Instructions
Line a shallow tin with greased baking parchment.
Melt the plain chocolate in a heat proof bowl set over a pan of simmering water, making sure the base of the bowl doesn't touch the water. Stir until smooth and remove the bowl from the pan.
Melt the white chocolate in the same way and remove from the heat. Add the peanut butter to the white chocolate and stir well until smooth.
Add 33g (1 cup) of Cheerios to the melted dark chocolate and stir thoroughly until all the hoops are covered with chocolate. Add the remaining Cheerios to the melted white chocolate and do the same.
Drop alternate spoonfuls of each chocolate mix into the prepared tin, then tap the tin to level the mixture. Chill for 2-3 hours until firm.
Turn out on to a board and break the chocolate into manageable chunks for people to nibble on. Store in the fridge for up to 1 month.
---
Category:

Dessert

Method:

Boil

Cuisine:

American
Nutrition
Calories:

270

Sugar:

Sugars

Sodium:

89 mg

Fat:

18.8 g

Carbohydrates:

22.9 g

Fiber:

Dietary Fiber

Protein:

5.6 g