Make your own gin and ginger beer cocktail and treat yourself to a delicious mixed beverage! Ultimately, one of these will cost you (without a shadow of a doubt) roughly 12 to 15 quid if you enjoy one of them in a restaurant.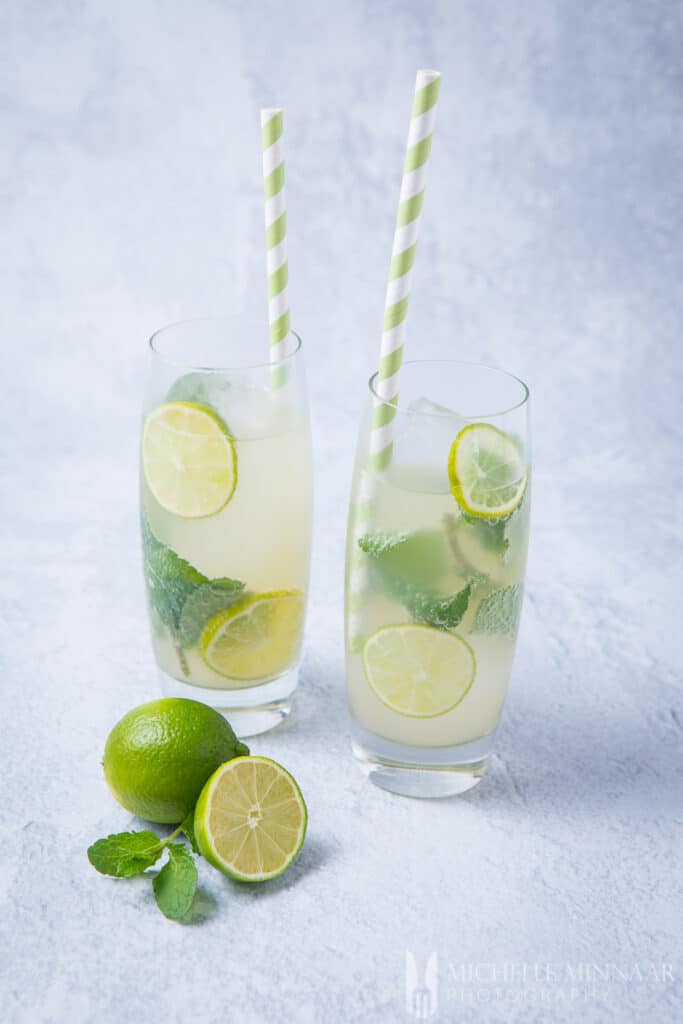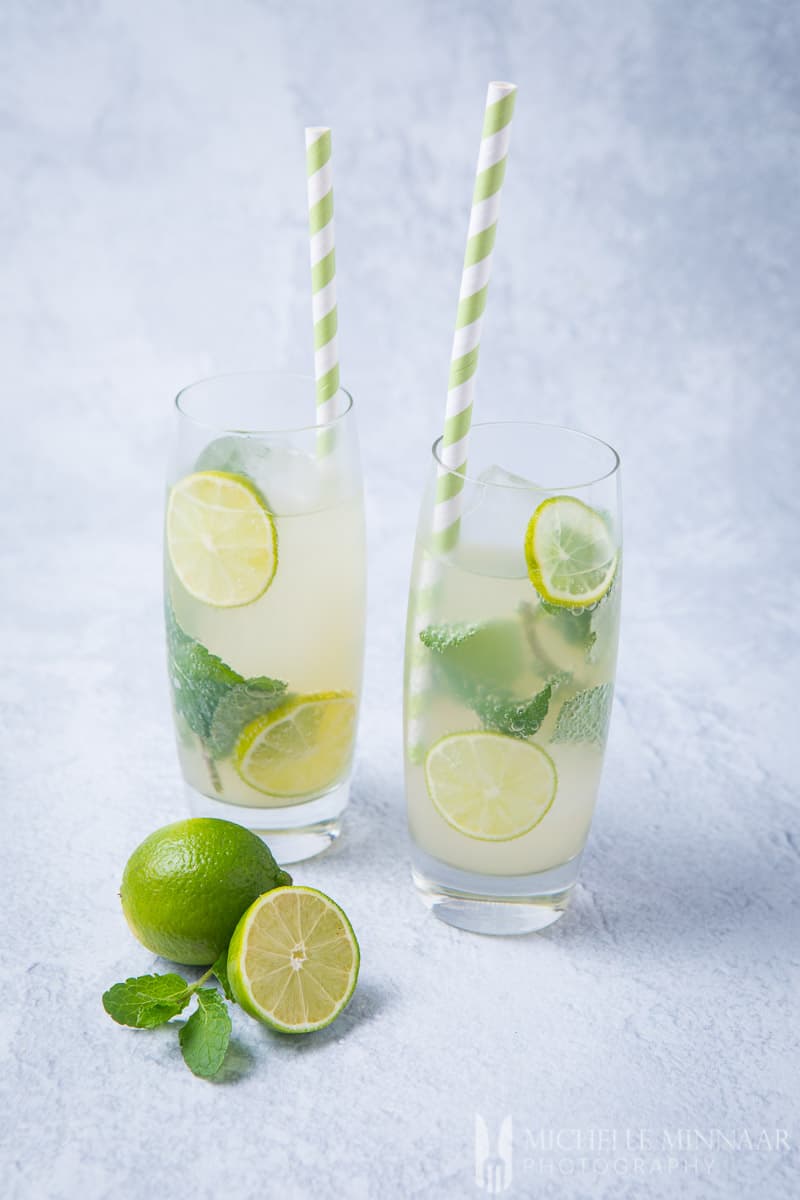 Spare yourself the extra expense and make the cocktail for a mere fraction of the price. Plus, it'll give you a good excuse to purchase a good bottle of gin which you can reuse for other delicious cocktails like the famous gin and tonic.
Allow yourself to put your feet up after work and sip away! Besides, making this gin and ginger beer cocktail recipe is really a piece of cake.
gin and ginger beer cocktail
Ultimately, this gin and ginger beer cocktail is a mixture of Gordon's gin, lemon juice, ginger beer and caster sugar. Naturally, it is beautifully decorated with lime slices and mint leaves for garnish.
At the risk of sounding like a complete skinflint, I'd like to moan and groan about cocktail prices in restaurants, bars and night clubs. Am I the only one who thinks they are hideously overpriced?!
The cheapest cocktail I've come across was £4, which was served in a teeny-weeny glass. More typically, though, they're liable to set you back a ludicrous £15 at an upmarket restaurant.
By making this gin and ginger beer cocktail, I am about to prove a point. You don't have to spend millions on overpriced cocktails in the city centre. Just make this simple gin and ginger beer cocktail recipe and you'll see what I'm talking about.
easy gin and ginger beer cocktail
Just as an example, I will tally up the cost of this drink.
30p a lemon. ½ a lemon = 15p
sugar = 5p
£1 for 1.5 litres of ginger beer. 250ml = 17p
70cl bottle of Gordon's for £13. 30ml = 56p
Total = 93p
So what exactly are we paying for when we order the same gin and ginger beer cocktail in a restaurant? The experience, the dishwasher, music and let's not forget the all-important bartender.
He'd better be Robert Pattinson-cute, and showing off his biceps in a tight shirt if we are to pay the restaurant some 300-1000% in profits. These establishments are notorious for committing daylight robbery in the alcohol drinks department. It's a wonder the public hasn't spoken up yet!
If I still haven't convinced you to prepare your own cocktail, at least order it without ice to get the most bang for your buck. For the converts, get creative with your cocktails and enjoy yourself at home, it's dangerous to drink and drive anyway.
gin and ginger beer or ale
Obviously, this recipe calls for the use of ginger beer. However, you can also use the not-so-distant cousin of ginger beer, which is ginger ale. In comparison to ginger beer, ginger ale is slightly less spicy.
Needless to say, that both the ginger beer and ginger ale are non-alcoholic beverages, so you can easily switch between the two.
I'd say that the main difference between ginger beer and ginger ale is that ginger beer is more robust because it undergoes fermentation during the (non-alcoholic) brewing process. Whereas, ginger ale is simply ginger-flavoured carbonated water.
So, for a more robust cocktail, make the gin and ginger beer version.
My favourite type of ginger beer to drink – either on its own or in this gin and ginger beer cocktail – is Old Jamaica Ginger Beer! It never disappoints.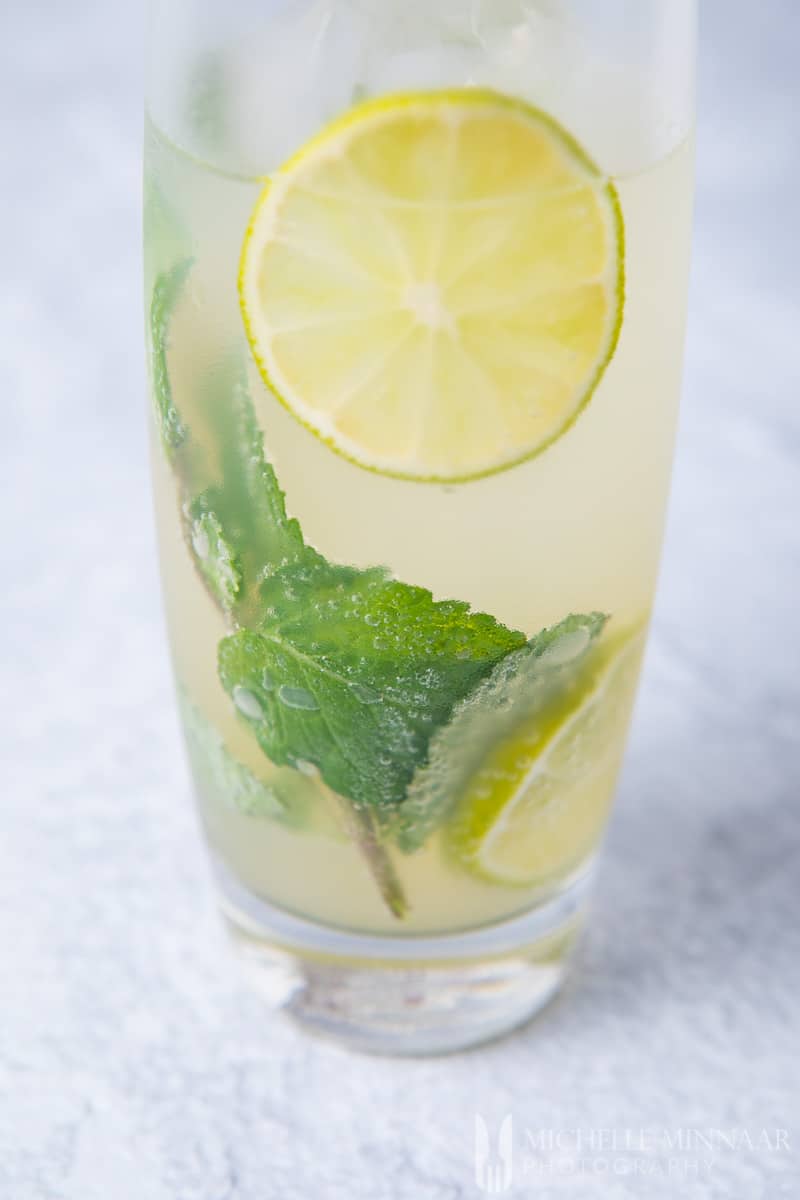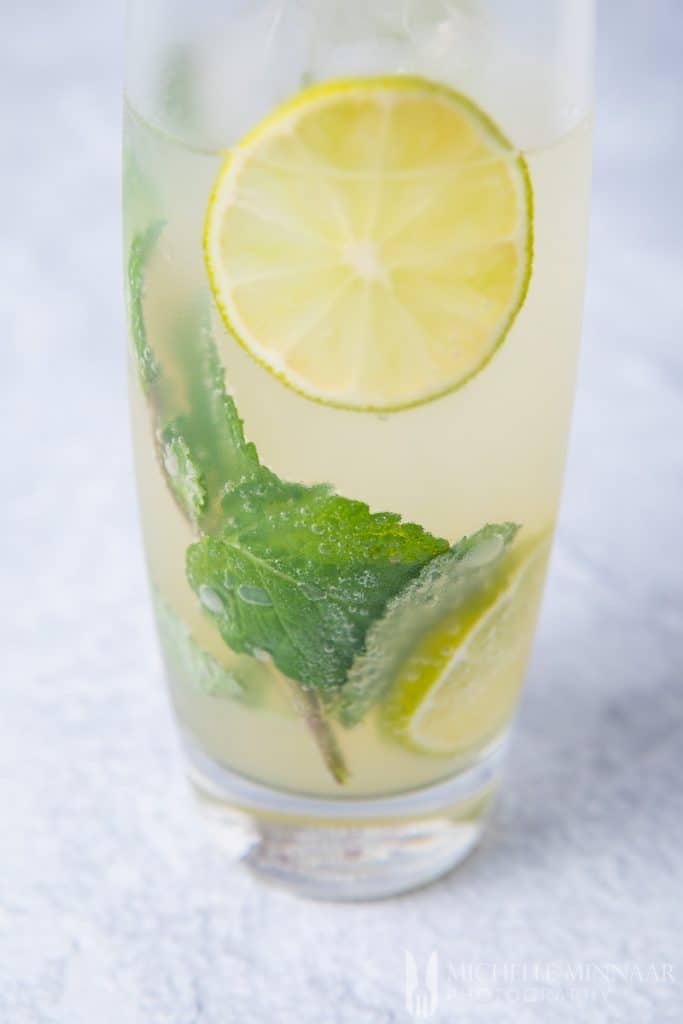 gin and fresh ginger cocktail
First of all, you can enhance the flavour of the cocktail by grating fresh ginger into it. The best method, of course, would be to juice raw ginger and pour the juice into the cocktail.
Careful though, as raw ginger has a very spicy and peppery flavour as well as taste. You'll need to watch out for the portion control as too much raw ginger juice might overpower your gin and ginger beer cocktail.
Next, you can also consider leaving out the ginger beer element and make ginger soda yourself. All you'll need to do is add carbonated water into the juice of raw ginger and you're all set.
My advice is, that if you follow this method, you might need to add a slightly higher amount of sugar. Otherwise, your gin and fresh ginger cocktail will be too sharp and bitter.
ginger beer cocktails
Other variations of gin and ginger beer cocktails you should try include adding a pinch of elderflower liqueur. The best option would be to add a spoonful of the famous liqueur Saint Germain. It's an excellent way to incorporate the subtle flavours of elderflower.
Otherwise, for a more fresh and cooling taste, you can also add fresh slices of cucumber, as is sometimes done in a gin and tonic. The cucumber will act as a refreshing element and will work well with the mint and lime juice.
cocktail with ice or no ice
If you wish to turn this gin and ginger beer cocktail into a long drink, then I recommend adding ice cubes or crushed ice as done in mojitos. If you leave out the ice, then make sure that your alcohol and the ginger beer is extra cold. Plus, your drink will be stronger.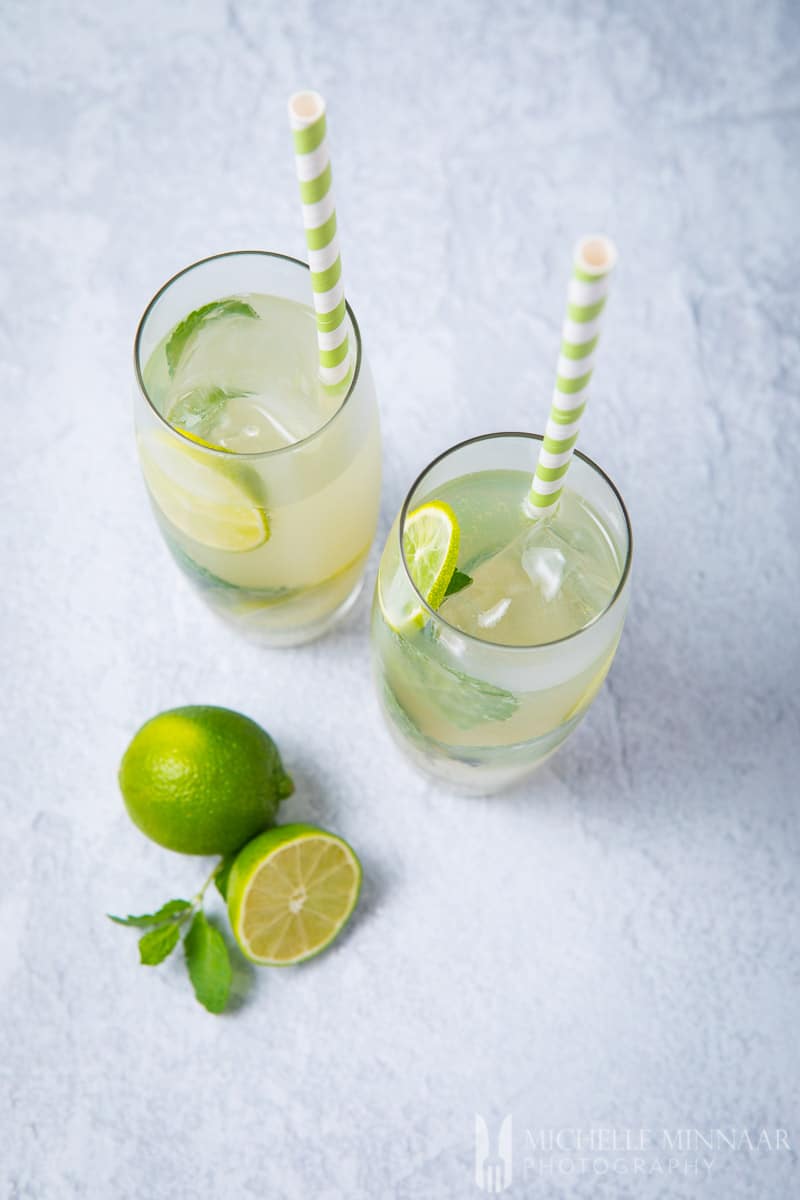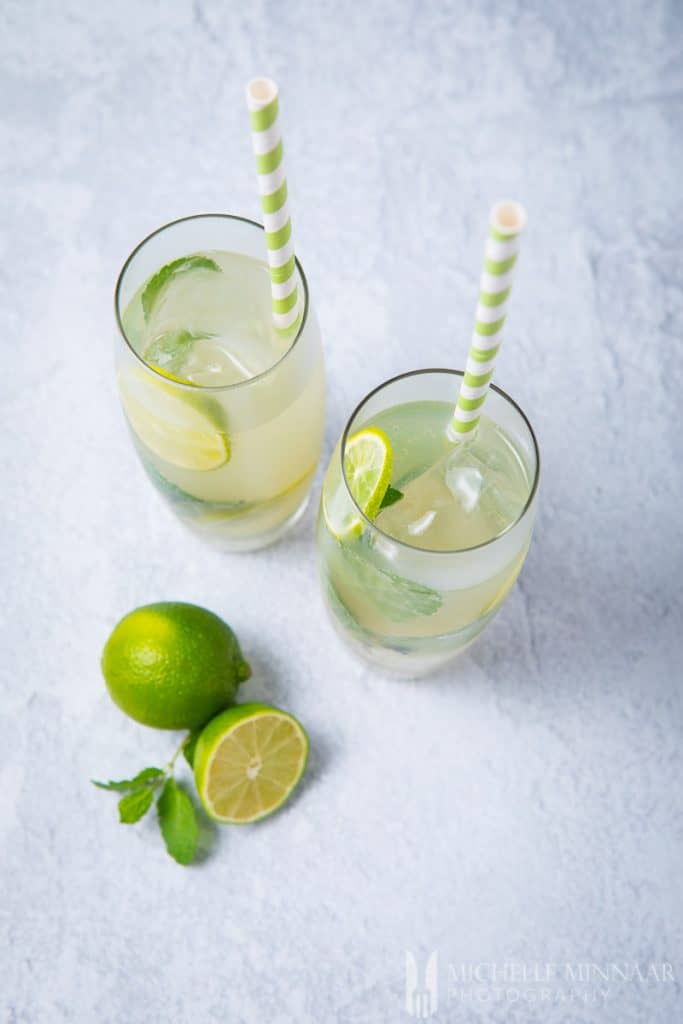 serving the gin and ginger beer cocktail
It doesn't matter what glass you choose to serve this cocktail in. If you will be serving ice, then you should opt for a longer glass that holds more volume. Otherwise, you can make this a short drink, too.
Decorate with slices of citrus fruits. Garnish with mint. You can also decorate with exotic fruits like pineapple or strawberries. In the end, you can also add a little straw umbrella to fit the occasion.
Just don't use a plastic straw due to the obvious problems with plastic. Use one of these plastic straw alternatives and stay environmentally friendly.
other cocktails that might interest you
Other festive drinks you might want to serve include the long beach iced tea, which is based on cranberry juice. Be aware, it's really strong.
Otherwise, go for a lighter beverage such as a buck's fizz (half champagne and half orange juice). The Incredible Hulk Drink is alluringly green and potent though!
Print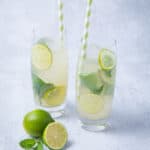 Ginger Beer & Gin Cocktail
---
Description
Make this gin and ginger beer cocktail recipe at home and save on the extra expense you would incur in a restaurant. Put your feet up & enjoy the cocktail.
---
2

parts gin
juice of

half a

lemon

5

ml

(1 tsp) caster sugar
ginger beer
ice cubes
orange slice to garnish
mint leaves to garnish
---
Instructions
Place the gin, lemon juice and sugar in a glass and stir. Add the ice cubes and top off with ginger beer. Stir gently and serve immediately.
Notes
If you are lucky enough to own a cocktail shaker then shake the gin, sugar and lemon juice with some of the ice, strain into the glass and top off with ginger beer. Stir gently and serve.
Just multiply the ingredients according to how many people you serve.
Prep Time:

5 minutes

Cook Time:

0 minutes

Category:

Drinks

Method:

Mix

Cuisine:

British
Nutrition
Serving Size:

1 serving

Calories:

302

Sugar:

26.15 g

Sodium:

55 mg

Fat:

12.75 g

Saturated Fat:

11.15 g

Carbohydrates:

31 g

Protein:

2.45 g
save the recipe to your pinterest board