Although you might think that serving smoked salmon pate is quite retro, in my opinion it is the perfect example of a time old classic. Why change up a time old smoked salmon pate recipe when it's perfectly balanced?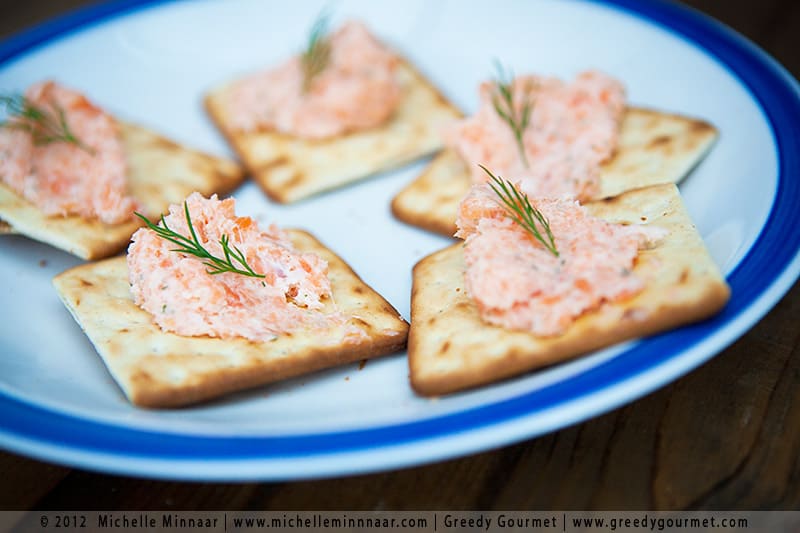 It consists of smoked salmon, double cream, lemon juice and traditional seasoning. You can also toss in other seafood for more flavour, such as prawns.
Or, you can also add different herbs and spices to make the salmon pate fit your taste preferences.
Learn how to make homemade smoked salmon pate from scratch. It's a lot cheaper, fresher, easier and tastier! What I love most about smoked salmon pate is the consistency.
Instead of enjoying whole slices of smoked salmon like with this celeriac remoulade, it's very enjoyable to have small bits of smoked salmon mixed into a light cream. This smoked salmon appetizer is bestto enjoy with a glass of full-bodied dry white wine.
make simple smoked salmon pate in 4 steps
Making homemade smoked salmon pate from scratch couldn't get any easier. All you need are slices of smoked salmon which you can easily purchase in stores.
Then you'll also need double cream, a single lemon and traditional spices like salt and pepper. Oh, and you'll also need a blender. Make sure to read the recipe carefully for getting the right proportions.
Any minor deviations from the smoked salmon pate recipe can alter your desired consistency. What you are looking for is a light and airy smoked salmon pate, slightly pinkish in colour.
There should be a fair amount of small salmon bits visible in the pate. Make sure you don't overmix the pate, otherwise you'll end up with an overly creamy pate with no texture.
I recommend keeping a bit of texture when it comes to making the perfect smoked salmon pate. As a finishing touch, cut raw pieces of smoked salmon into small cubes.
Once you complete this step, gently fold them into the smoked salmon pate for extra texture. It's the same when you add any other type of ingredient. This includes cubed prawns or avocadoes.
You are in control of the consistency, so feel free to experiment with what types of thickness appeals to you most.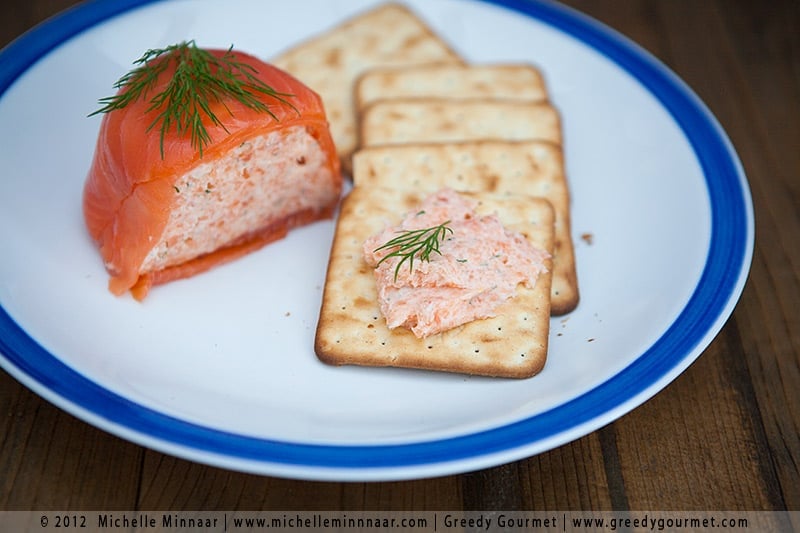 how to make smoked salmon pate recipe
There are plenty of variations of a smoked salmon pate recipe. The most popular variation is to substitute the double cream with cream cheese. If you opt for this alternative, your smoked salmon pate might be more acidic.
Therefore, I recommend a taste check prior to adding the lemon juice in. In addition, the lemon juice might cause your creamy mixture to curdle up.
Other double cream substitutes include:
single cream
creme fraiche - a good substitute.
mascarpone cheese - you might not get enough acidity. Add more lemon juice.
sour cream - I would use this only as a last resort.
With respect to flavour, there are very easy ways on how you can jazz up a traditional smoked salmon pate recipe. First, you can incorporate chives for a subtle tanginess. Or you can also add these flavour enhancers:
capers - these will add more saltiness. Be careful with the seasoning once you add these.
dill - a very fragrant herb. Add only a little bit so you don't over power the pate.
parsley - add in only as a last resort if you need some herbs.
horseradish - a fantastic addition to a smoked salmon pate, which is quite powerful. If you are making this recipe for a dinner party, I recommend making two versions. One with the horseradish and one without. This is because not everyone can handle the sharp flavours of horseradish. If you can't get hold of any horseradish, check out one of these horseradish substitutes!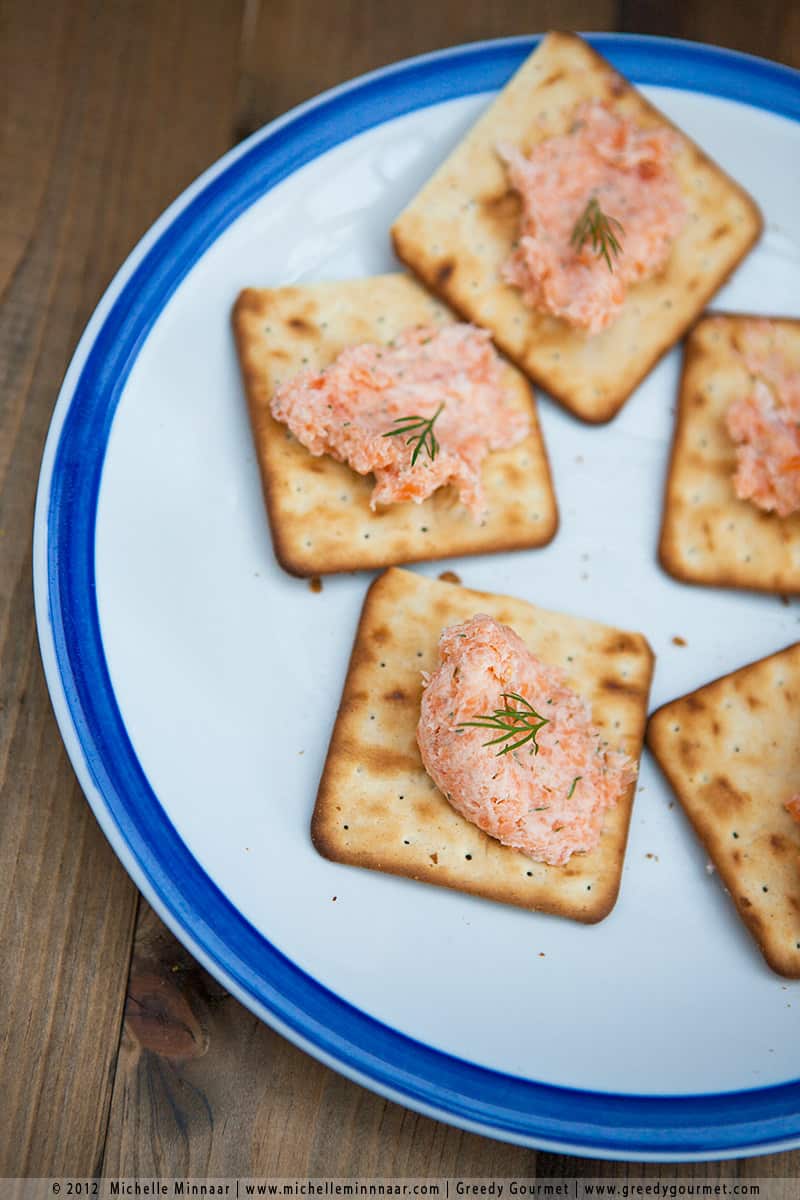 how to smoke salmon from scratch
Smoked salmon typically involves two types of smoking techniques. These two are hot smoking and cold smoking. Most smoked salmon that you buy in stores is cold smoked at 37 Celsius.
This involves using oak chips, creating a delicate texture and a subtle smoky flavour. Prior to smoking the salmon, it is first brined and the cured. A brine keeps ingredients moist.
To learn how to make a brine that you can use for other types of meat such as chicken, click here. Made possible by the application of salt, the brine will enable the salmon flesh to hold its moisture.
Did you know that smoked salmon was introduced to the UK by Jewish immigrants from Russia and Poland? As a result, the British have enjoyed smoked salmon ever since the early 19th century!
how to serve smoked salmon pate
Smoked salmon pate is quite a delicate recipe. There is something elegant about eating smoked salmon pate off a biscuit or a piece of bread, making it the perfect finger food.
As the pate is a form of a spread in itself, you can easily apply it on biscuits, toasted bread or gluten-free alternatives too! For a refined touch, you can also serve it "French terrine" style.
Surround a small glass with a piece of smoked salmon and stuff the inside with the smoked salmon pate. When you take the whole thing out, it will resemble an elegant smoked salmon terrine.
For a healthier option, you can serve the pate in lettuce wraps or endives. The bitter and crunchy factor from the endives will complement the sweetness of the pate.
You may also choose to serve the smoked salmon pate as a dip. Just julienne a couple of vegetables such as carrots, cucumber or celery sticks. Don't forget to decorate with chopped chives or a bit of dill.
smoked salmon pate with avocado slices
Everyone knows that smoked salmon and avocado are a fabulous combination. What better way to obtain a balanced creaminess by adding slices of avocado to the side of your pate.
Similarly as with a prawn cocktail, avocado works very well with this seafood recipe. If you love avocado as much as I do, then you can also opt for incorporating it into the pate mixture. If you can't get your hands on avocado, then check out these avocado substitutes.
Don't be surprised if your smoked salmon avocado pate then turns a bit green.
It's always a good idea to get all your ingredients ready first before you start cooking. Here are layers and layers of tempting smoked salmon.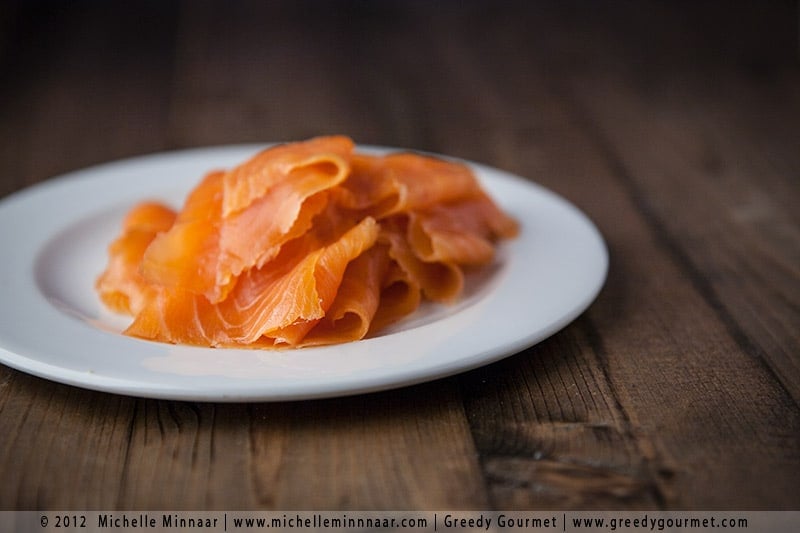 Grate some lemon peel...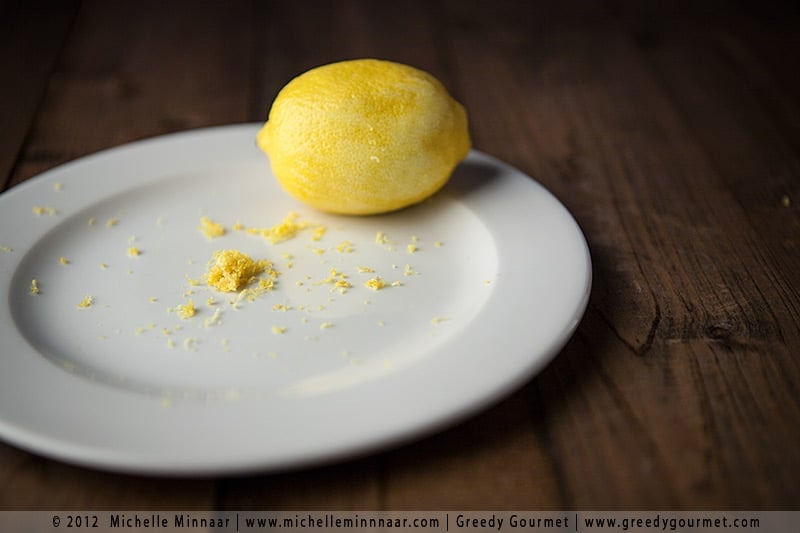 ...and squeeze out the lemon juice.
Let me show you how to be fancy. We will be making smoked salmon pâté parcels. It's easier than it looks. First line ramekins with clingfilm.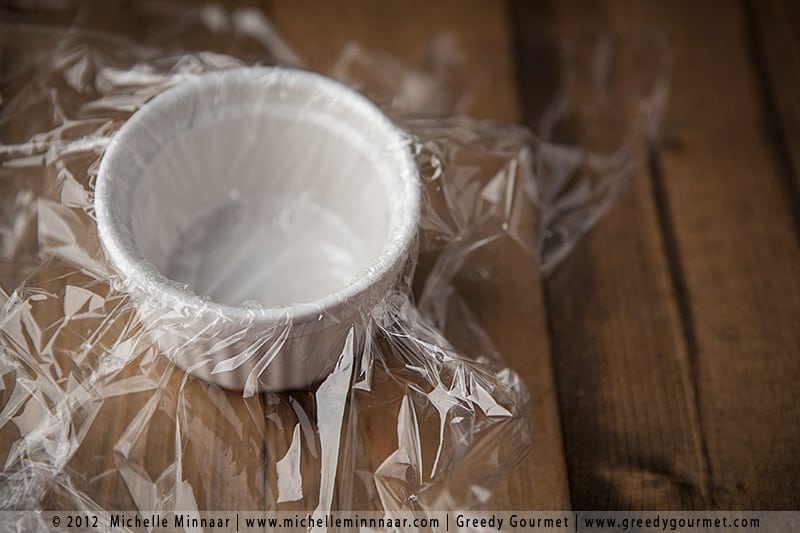 Carefully layer smoked salmon slices until the whole ramekin is covered. Please note: You'll need to buy extra smoked salmon for this. The ingredients listed in the recipe are only for the filling.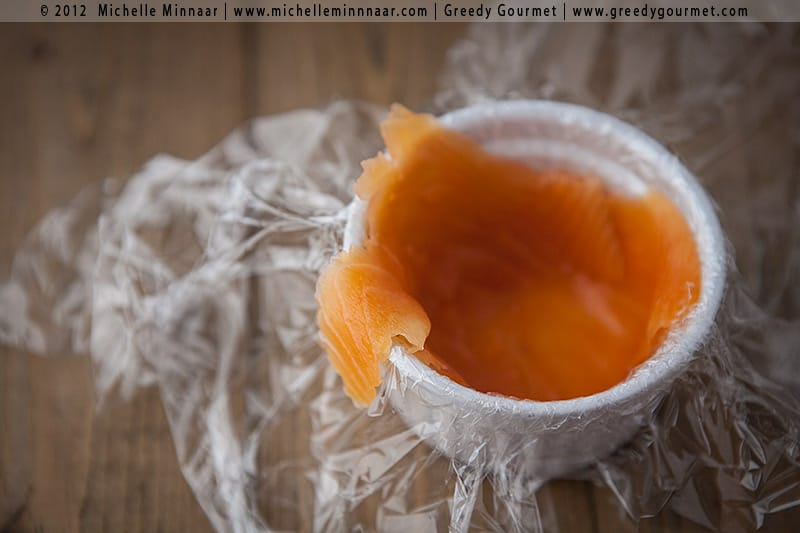 Now we're ready to make the pâté. Place the smoked salmon in the mini-food processor.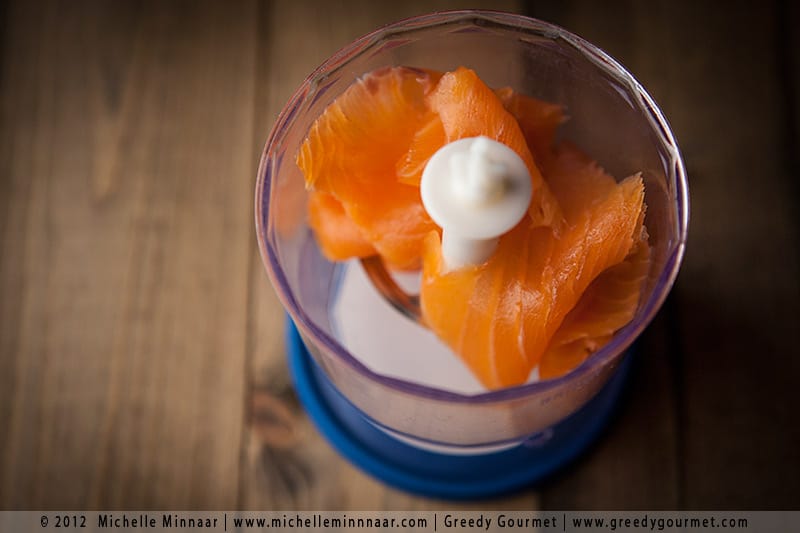 Add the cream...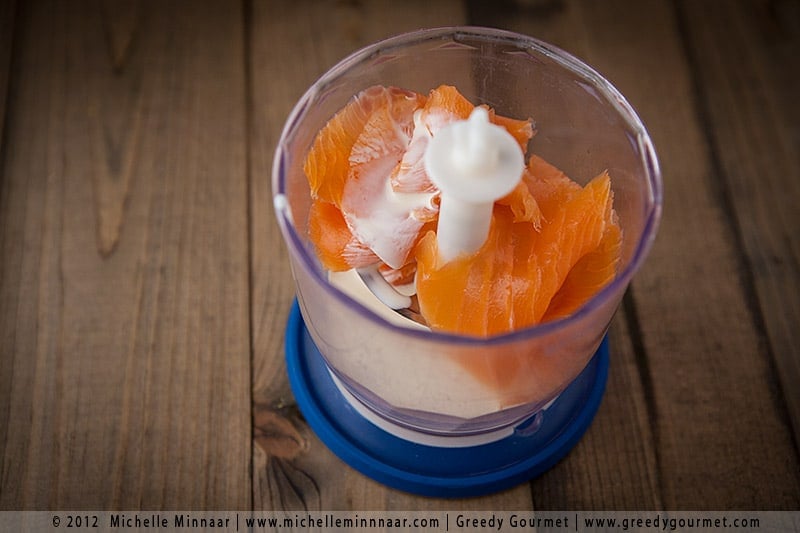 then the lemon juice and peel.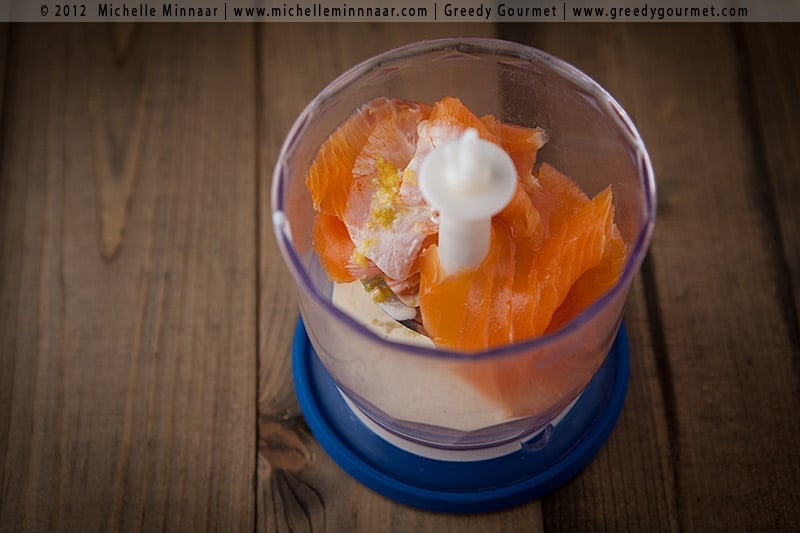 And lastly, freshly ground black pepper.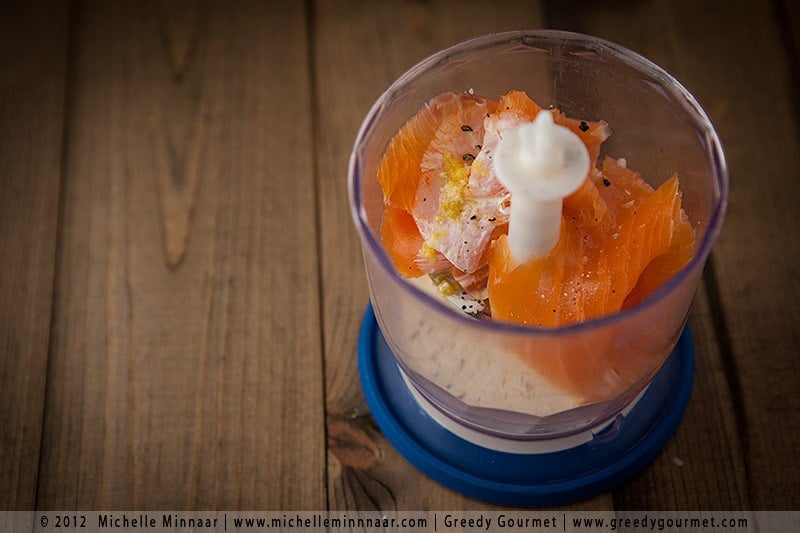 Give it a whizz....and voila!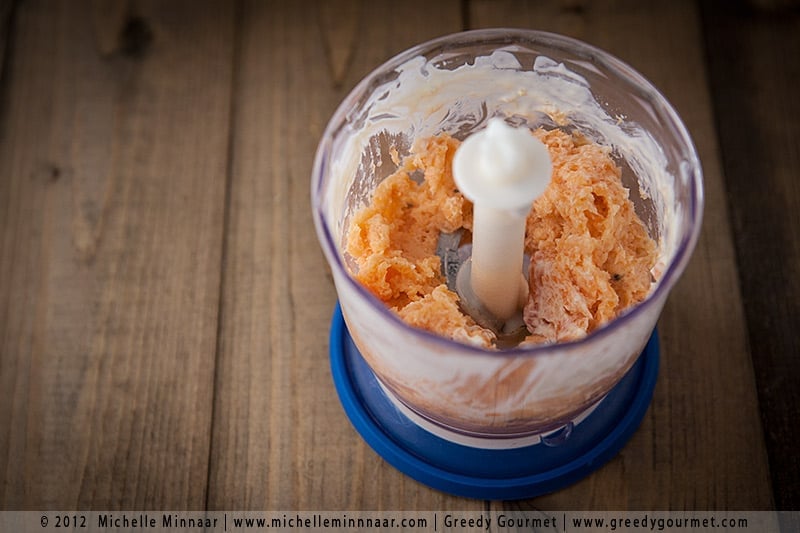 Feeling creative? Substitute 50% of the smoked salmon with cooked prawns.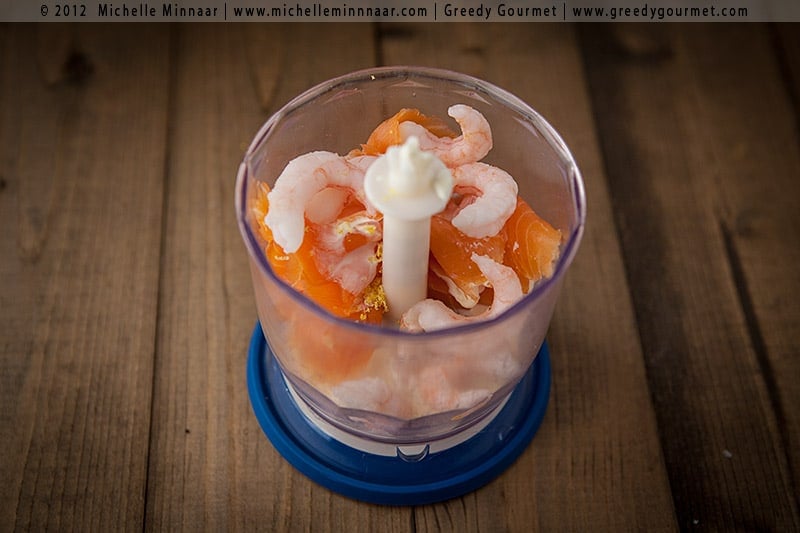 Don't forget the dill!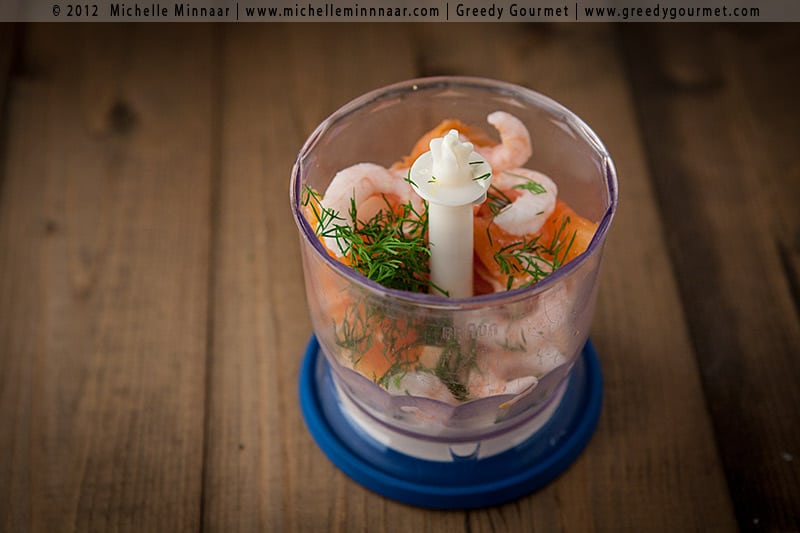 Blitz with the cream and lemon.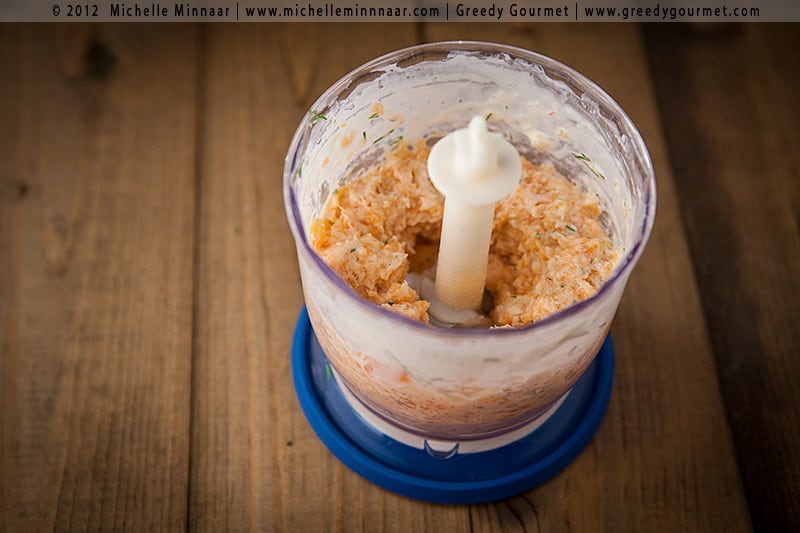 Now you can fill up the smoked salmon lined ramekin and cover it with even more smoked salmon.
Wrap tightly with clingfilm and place in the fridge for a while.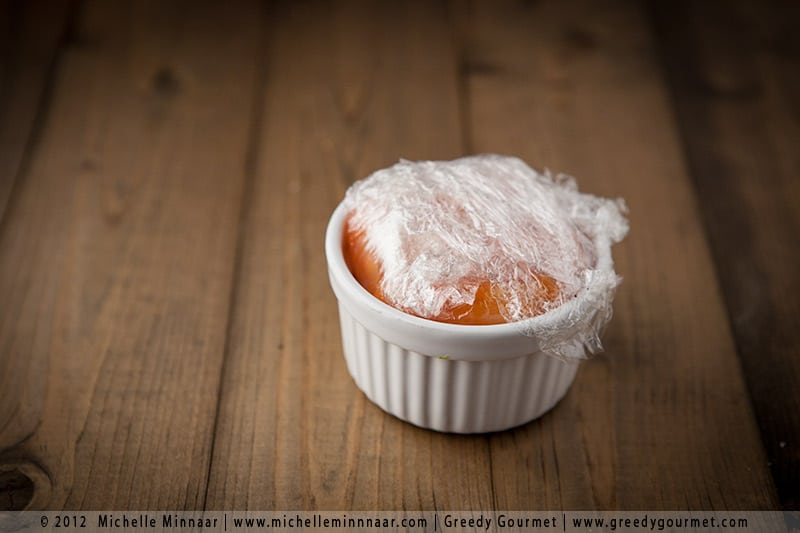 And there you have it! One fancy Dinner party starter!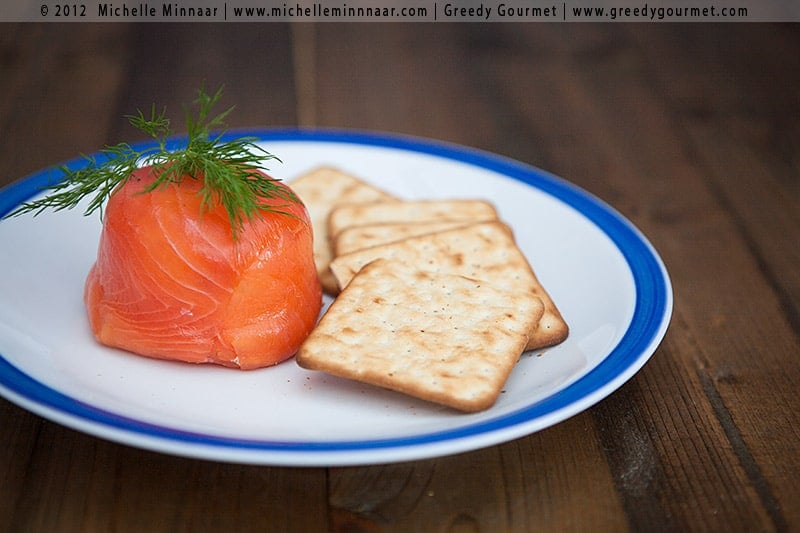 Of course, without all the faffing about with the ramekins it can just be lunch on a week day. Whatever the occasion, ENJOY!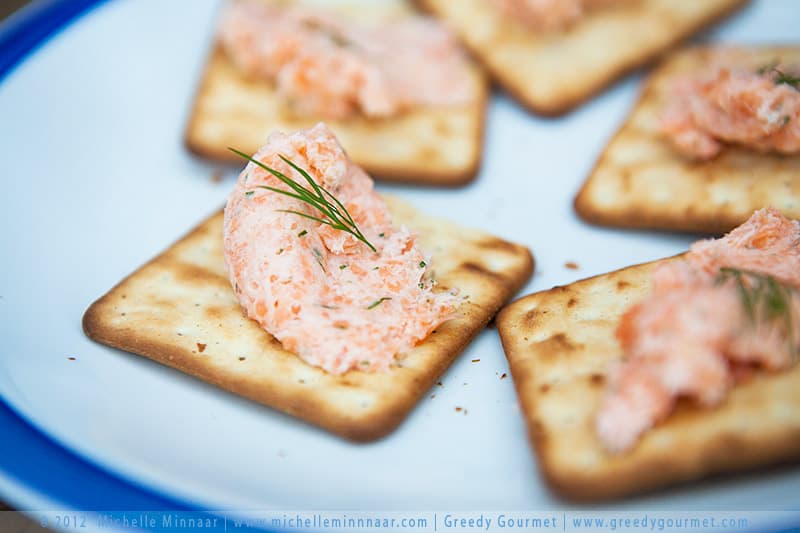 By the way, if you love pate recipes, you should check out this chicken liver pate.
Print
Smoked Salmon Pâté
---
400

g

(14 oz) thinly sliced smoked salmon, plus extra to line ramekins

150

ml

(5 fl oz) double (heavy/whipping) cream or cup crème fraîche
finely grated rind of 1 lemon

45

ml

(3 tbsp) fresh lemon juice
salt and ground black pepper
fresh dill sprigs, to garnish
---
Instructions
Line 4 small ramekins with clear film (plastic wrap), leaving plenty overhanging the sides. Use enough salmon to line the ramekins. Cut the fish into strips long enough to flop over the edges.
Place the remaining smoked salmon into a food processor and add the cream, lemon rind and lemon juice. Process the salmon in short bursts until it is just smooth. Don't over-process the pâté or it will thicken too much and the texture will be compromised. Taste and add more salt and ground black pepper. If the salmon is quite oily, it may be necessary to add a little more lemon juice.
Spoon the mixture into the prepared ramekins. Bring over the loose strips of salmon to cover the pâté completely. Cover and chill for at least 30 minutes, then turn out of the moulds, lift off and discard the clear film.
Garnish with dill sprigs.
Prep Time:

15 minutes

Cook Time:

0 minutes

Category:

Starter

Method:

Chill

Cuisine:

French
Nutrition
Calories:

140

Sodium:

392 mg

Fat:

10.7 g

Carbohydrates:

1 g

Protein:

9.5 g

Cholesterol:

12 mg
save the recipe to your pinterest board