Chocolate. Orange. Cupcake. Three little words to instantly make your mouth water.
Because, few things are as joyful, as purely indulgent and as utterly scrumptious as chocolate orange cupcakes. I'm drooling over my keyboard just writing this.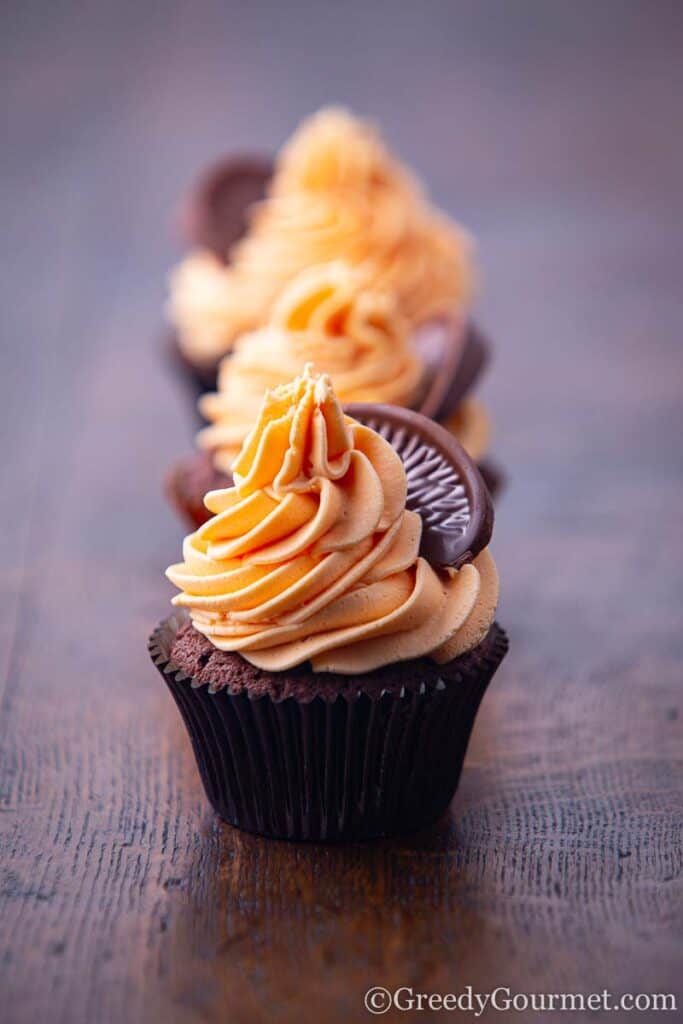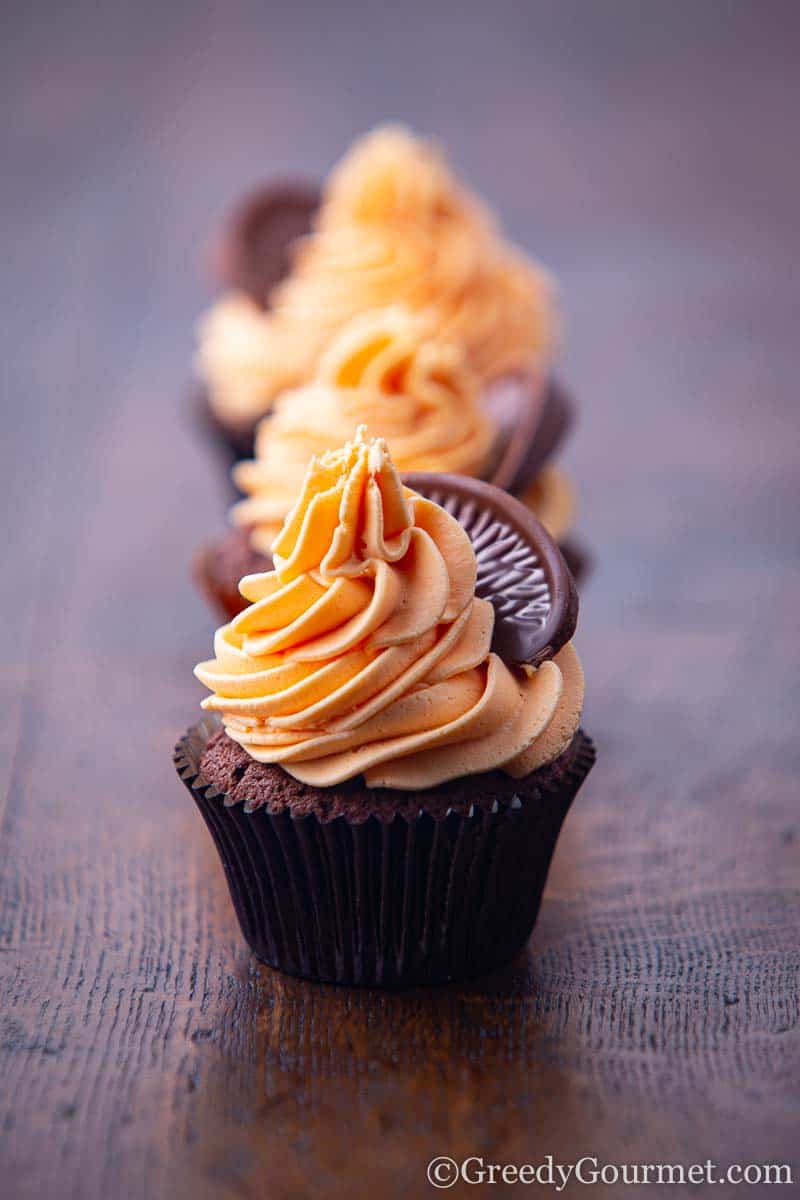 So, let's not waste any time. Let's dive in headfirst and find out how to make these ridiculously delicious chocolate orange cupcakes!
Products you need for this recipe
Here are some of the essential items you'll need at hand when you make this chocolate orange cupcakes recipe: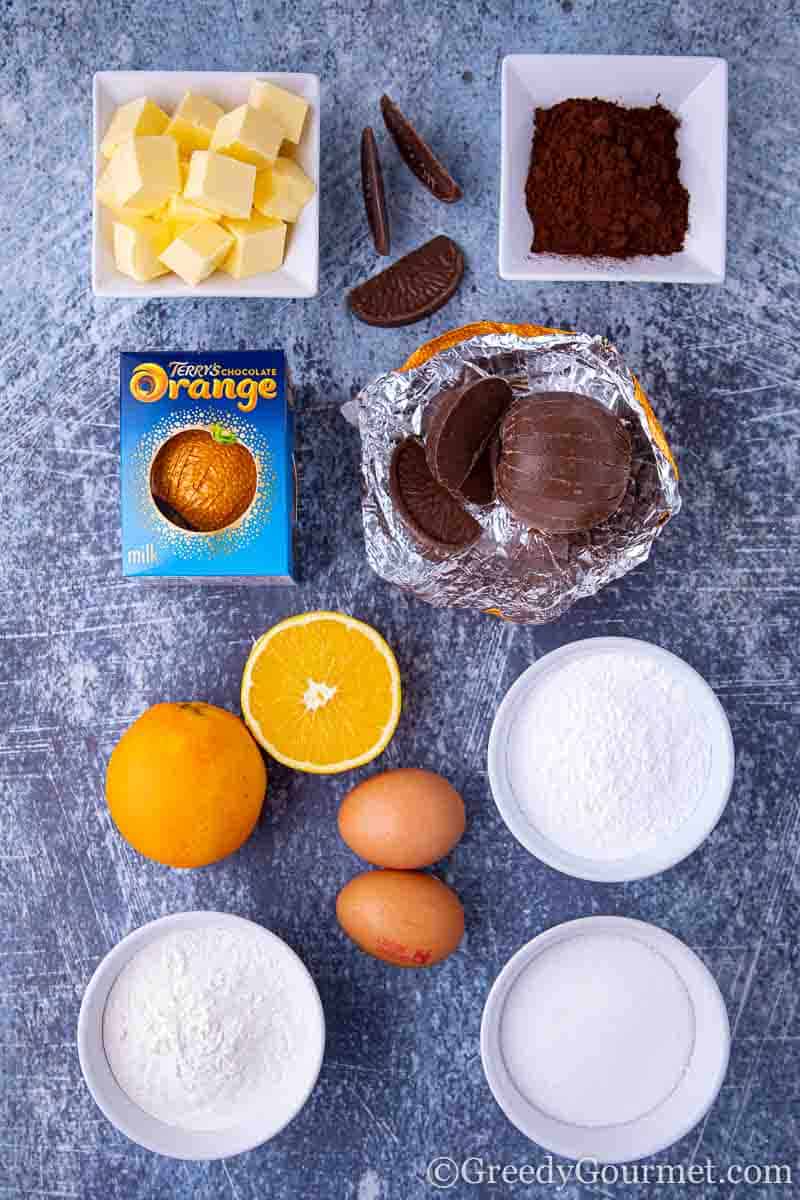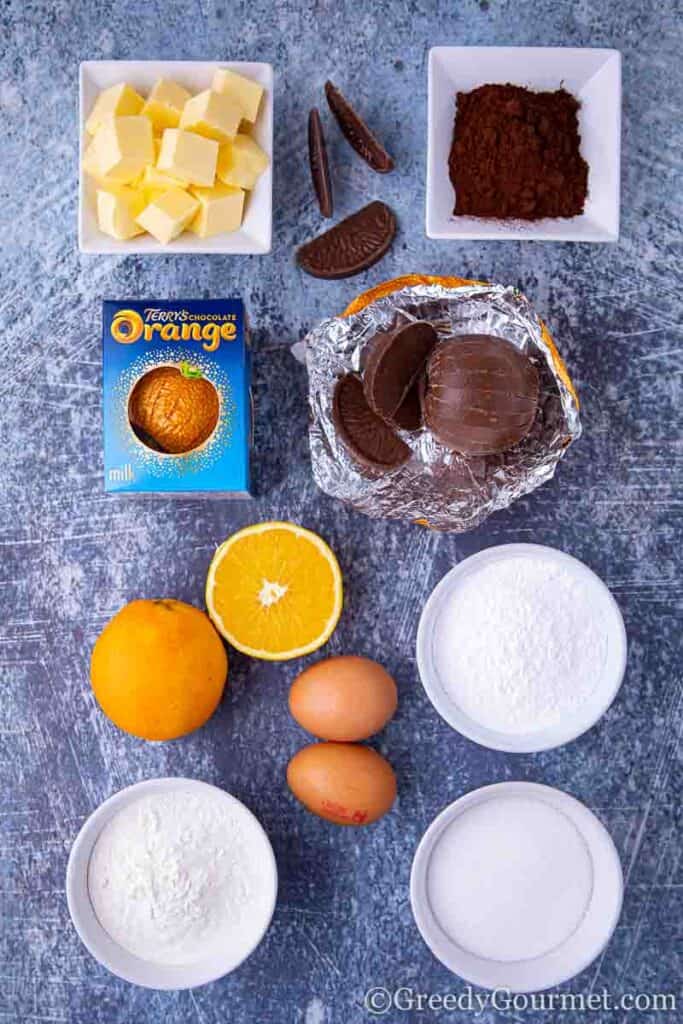 Chocolate orange cupcakes recipe
This one is a real people pleaser. Sure, there are some people who don't like the flavours of chocolate and orange together.
But they don't like puppies or ice cream either. I'm guessing you're not one of them, or you wouldn't be here!
Okay, so this recipe is very simple and you'll end up with cupcakes so delicious and moreish that will last hours – if you're lucky. You may need to hide them from the rest of the family. They're that good.
Bake them once and you'll have the hang of it. It's definitely one of those recipes that you'll try again and again.
Birthdays, Christmas. Weekends… whenever you feel like putting smiles on faces, this is the recipe!
The first thing I'll say is get to know your oven. This recipe calls for the chocolate orange cupcakes to be baked at 175°C, but every oven is different. That's why it's important to get a feel for how long different recipes take in your oven and adjust the times accordingly.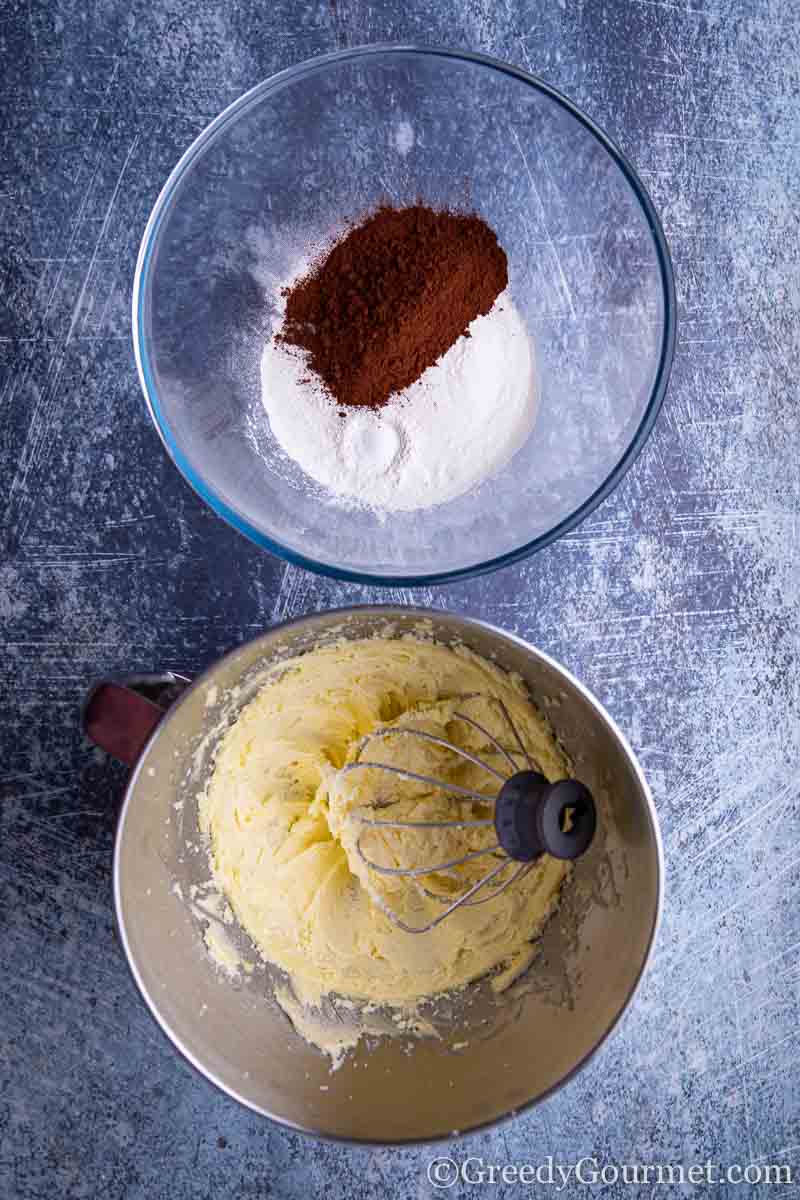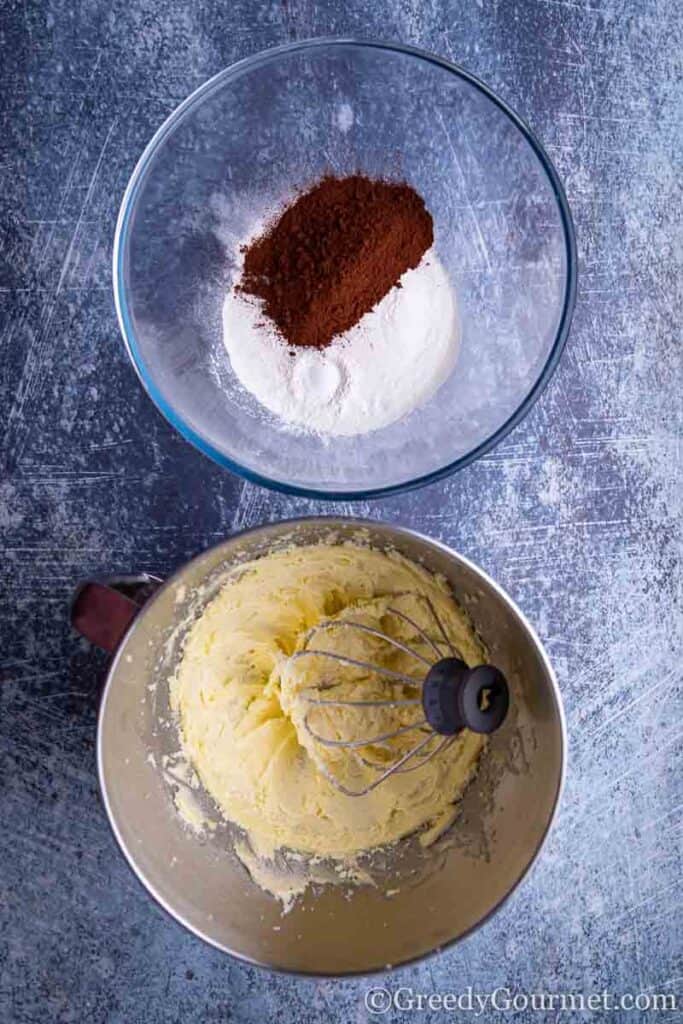 You'll start by creaming the butter with the sugar. You can use a food mixer to beat the butter – especially if you're doubling this recipe – but by hand is fine for smaller quantities.
Don't mix too fast or for too long – you want a controlled speed, so that you'll end up with light, fluffy cupcakes.
You'll then measure the flour and add baking powder. Next, an egg will be beaten into the creamed butter and sugar, along with a teaspoon of flour.
This is then repeated, one egg and one teaspoon of flour at a time. It's my little tip to make sure you end up with a lighter mix.
Now comes the exciting part. The chocolate orange! Chocolate chunks work best, so chop that chocolate and add to the mix, along with a couple of teaspoons of freshly squeezed orange juice.
Add orange zest for a final hit of orange flavour.
Get an ice cream scoop to scoop your delicious chocolate orange cake batter into the cases. The chocolate cupcakes should take between 15-20 minutes in the oven. Check after 15… if the cupcakes are springy on top, they're done.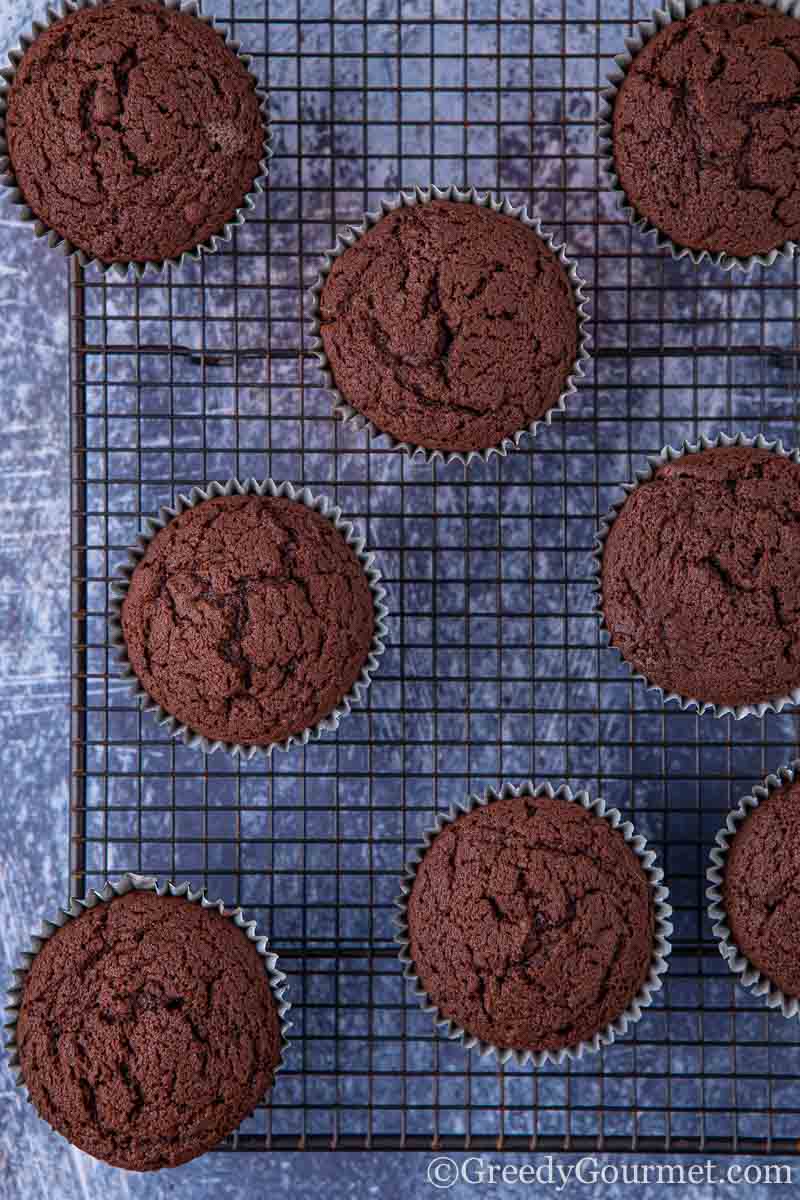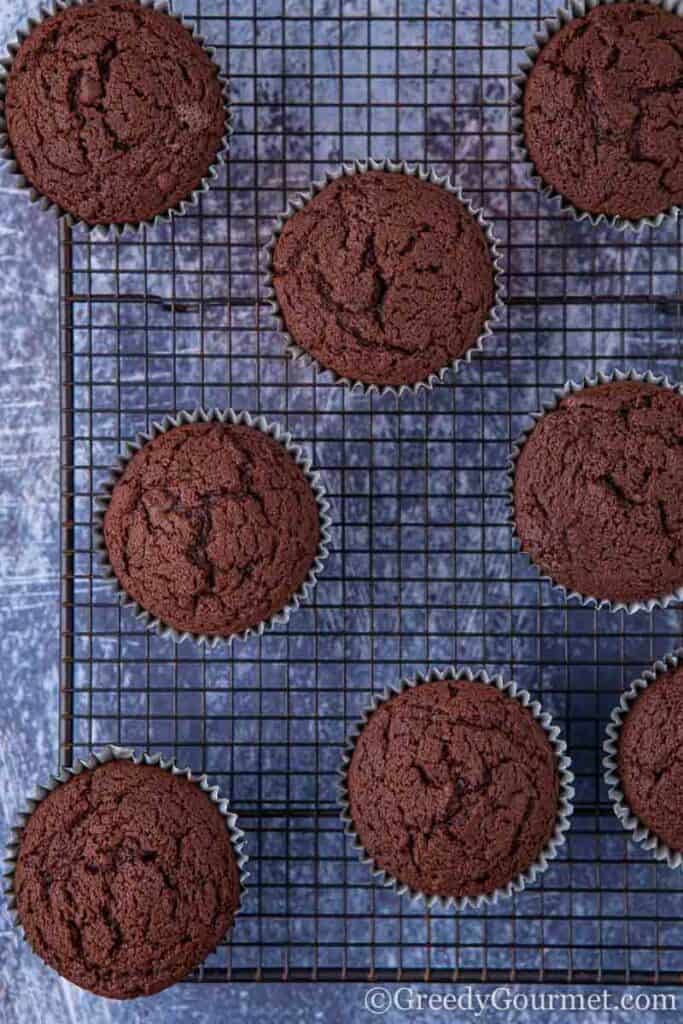 Next, the chocolate orange buttercream. You want soft butter (ping it in the microwave until soft) and add icing sugar. Mix together and, if you really want that extra orange taste, add some orange extract or orange essence. It'll add a lovely sweet tang to the chocolate orange buttercream.
Next, everyone's favourite part… the decoration! Swirl the chocolate orange buttercream with orange extract onto the top of each of the chocolate cupcakes.
Add a little segment of Terry's chocolate orange on the top, pop one in your mouth for a job well done, and marvel at these glorious little chocolate orange delights!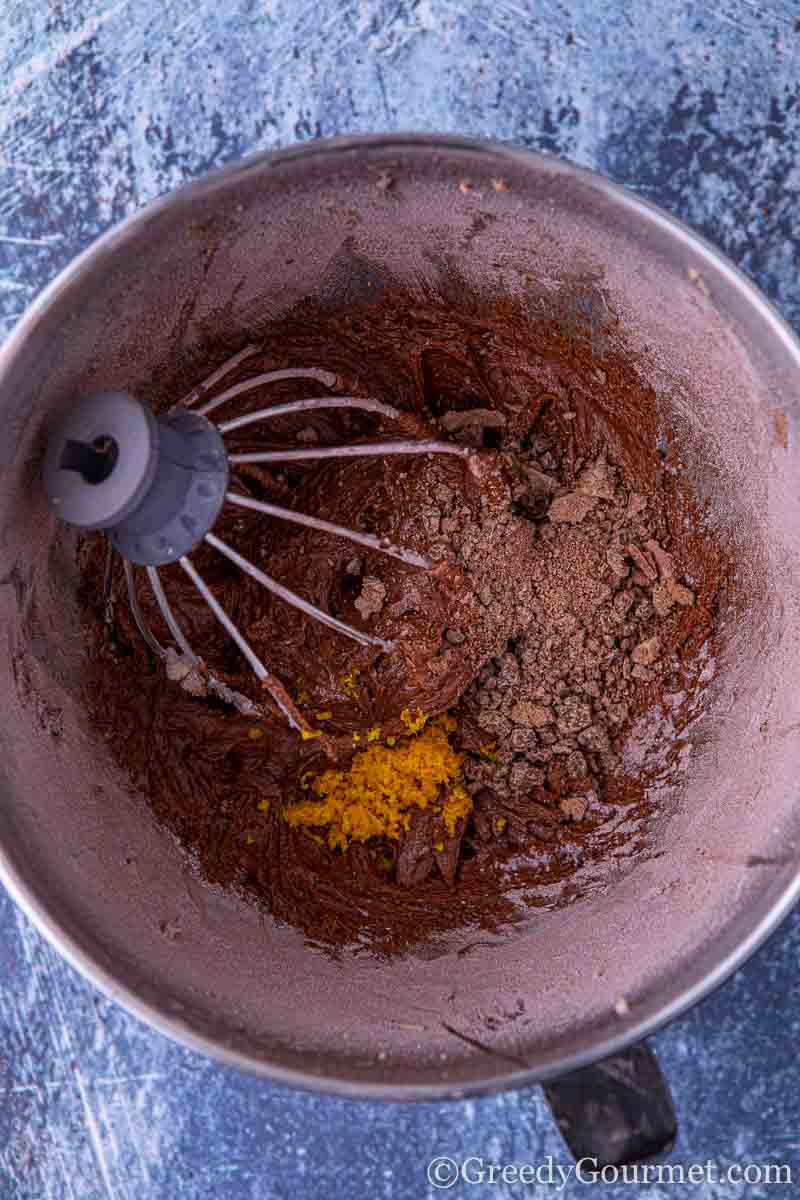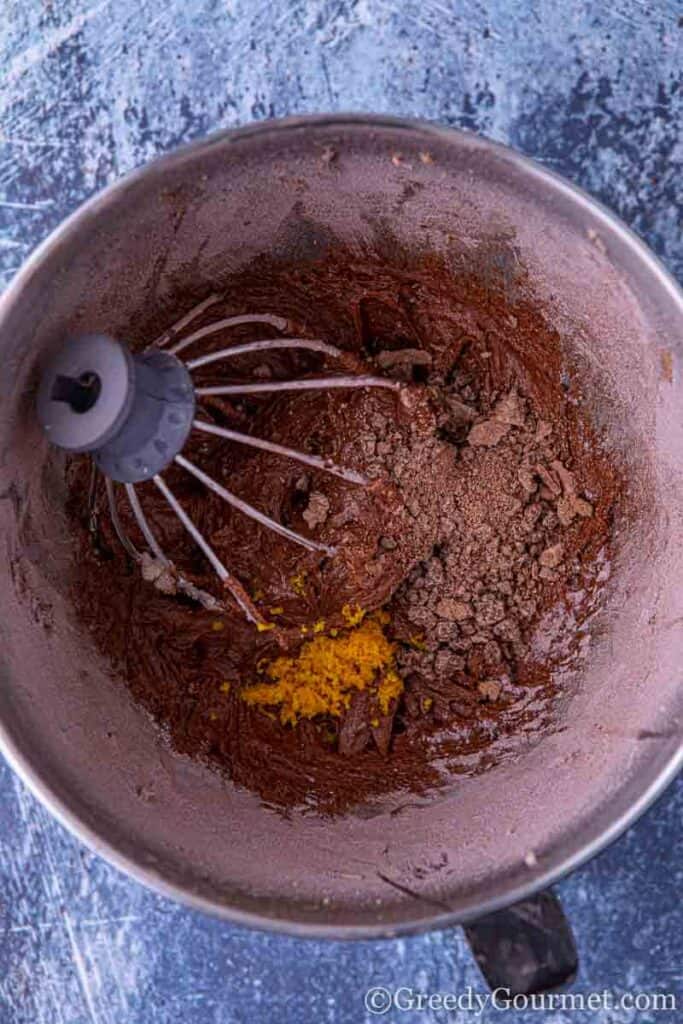 What's the difference between a cupcake and a fairy cake?
A fairy cake is typically old-fashioned English – a light Victorian sponge topped with a small amount of icing. They are quite sweet and relatively light – think old English tea parties.
Cupcakes, on the other hand, are all about full blown decadence. They don't hold back when it comes to flavour. Denser than their British cousins, cupcakes are normally topped with an elaborate decoration of icing.
They are also normally higher in sugar and are a lot bigger than fairy cakes.
Nowadays, the names are a lot more interchangeable than they used to be, so cupcakes and fairy cakes are mixed and matched.
How do you make chocolate orange cupcakes look professional?
It's all about the presentation. For this chocolate orange cupcakes recipe I have sprinkled grated chocolate on top of each orange chocolate cupcake.
I then added a wedge of Terry's chocolate orange, to give these chocolate orange cupcakes an extra professional look.
What makes a cupcake fluffy?
Fluffiness comes at the mixing stage. The air in your cake mixture is what's going to give your cupcakes that lovely, light fluffy texture.
That's why it's so important not to overmix your cake mixture. Mix at a low speed and stop mixing as soon as all the ingredients have been properly blended together.
Why are my cupcakes gummy?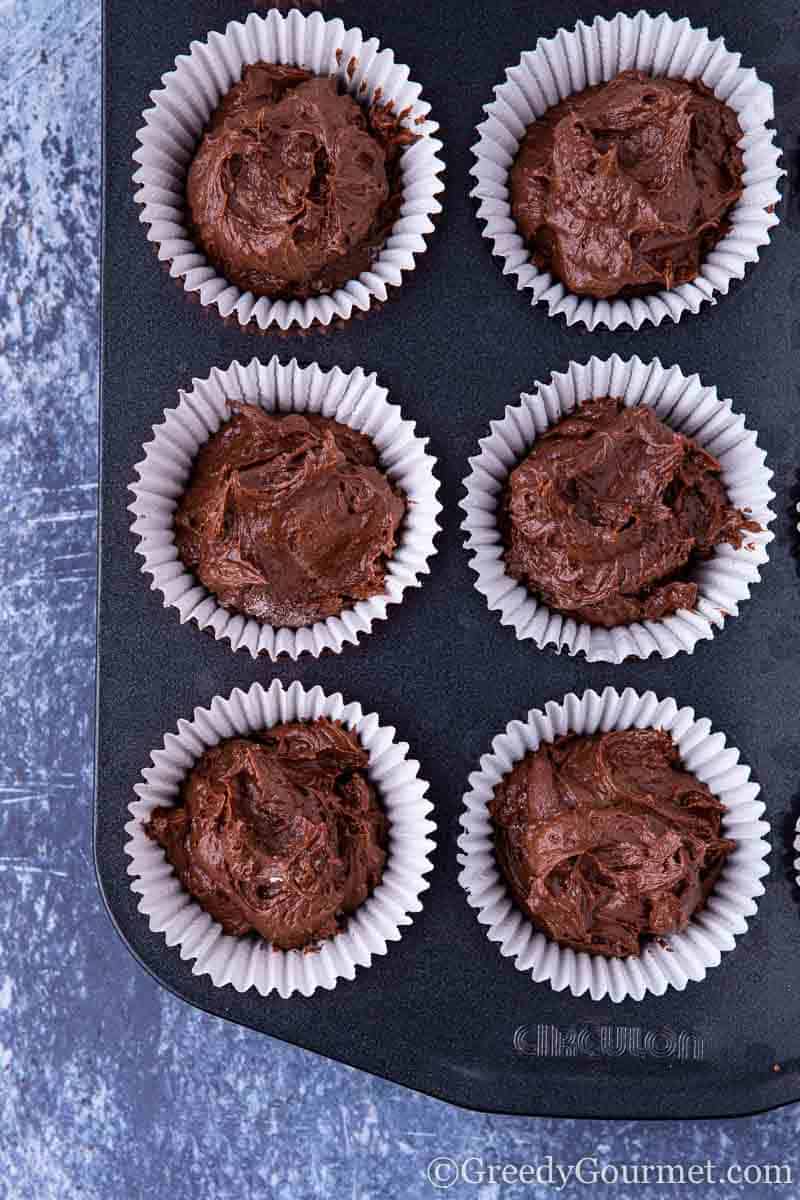 Make sure you leave your cupcakes on a wire cooling rack to cool for at least 10 minutes. If you don't do this, the moisture at the bottom of your chocolate orange cupcakes won't be able to escape. This will mean you'll be left with gummy cupcakes – nobody's idea of appetising.
Also, as I mentioned above, get the mixing right. Not too fast and definitely don't over mix.
Why are my cupcakes dry?
This is either due to too many dry ingredients or over baking. Follow the recipe measurements below (don't forget, you'll need a good set of baking scales) and you won't go wrong.
Follow the baking times and, again, you should be fine. If you do end up over-baking your cupcakes, you'll need to adjust the baking times for the next batch. All ovens are different, so be sure to check your cupcakes after 15 minutes. They'll be cooked when they are springy and return to shape when lightly pressed on top.
What can you use instead of orange extract?
If you can't get hold of orange extract, double the amount of orange zest called for in this recipe. You could also use a teaspoon of orange liqueur, for a boozy little twist.
What can you use instead of cupcake cases?
If you forget to buy cupcakes cases, or you can't get hold of them, there are a few alternatives:
You can use foil or baking paper to make your own cupcake cases. Just cut them into 4x4 inch squares, place each square over each cupcake compartment and mould it into place (use the bottom of a small glass to twist it into shape). 
Once your chocolate orange cupcakes are baked, they'll be really easy to take out of the cupcake tray.
You could also simply grease each cupcake compartment with butter.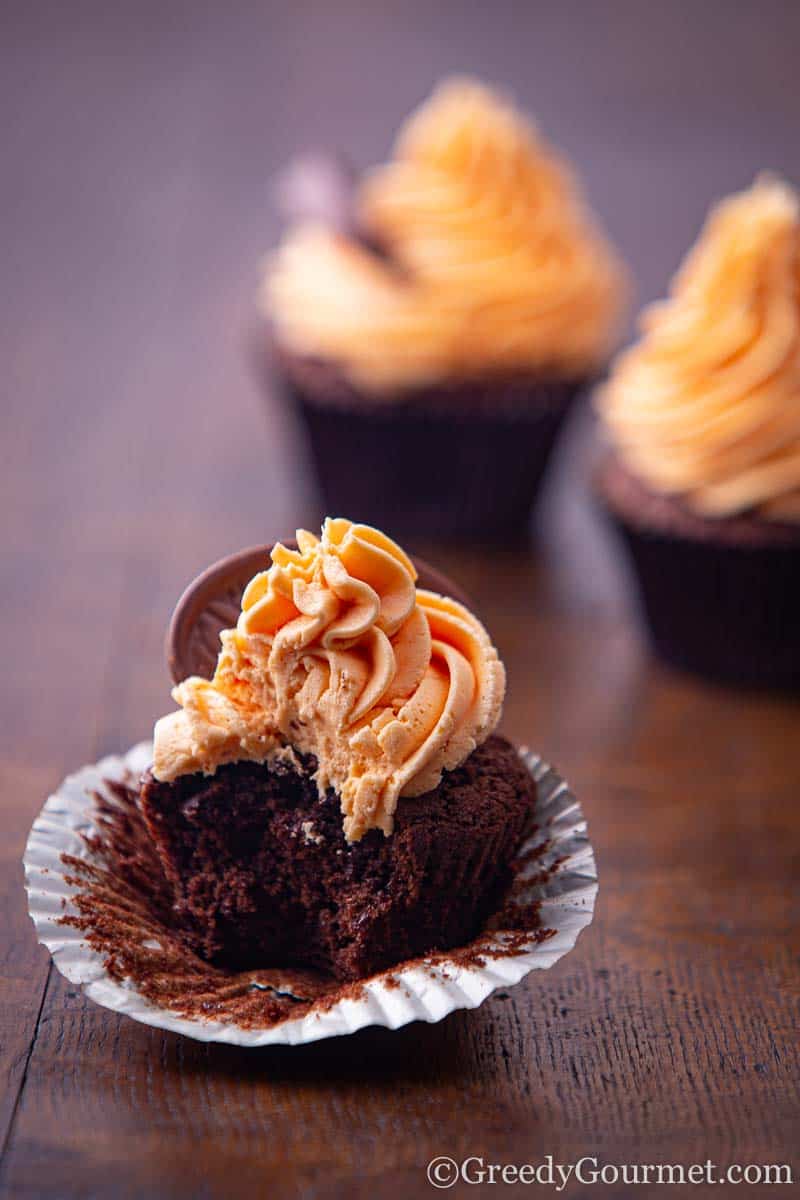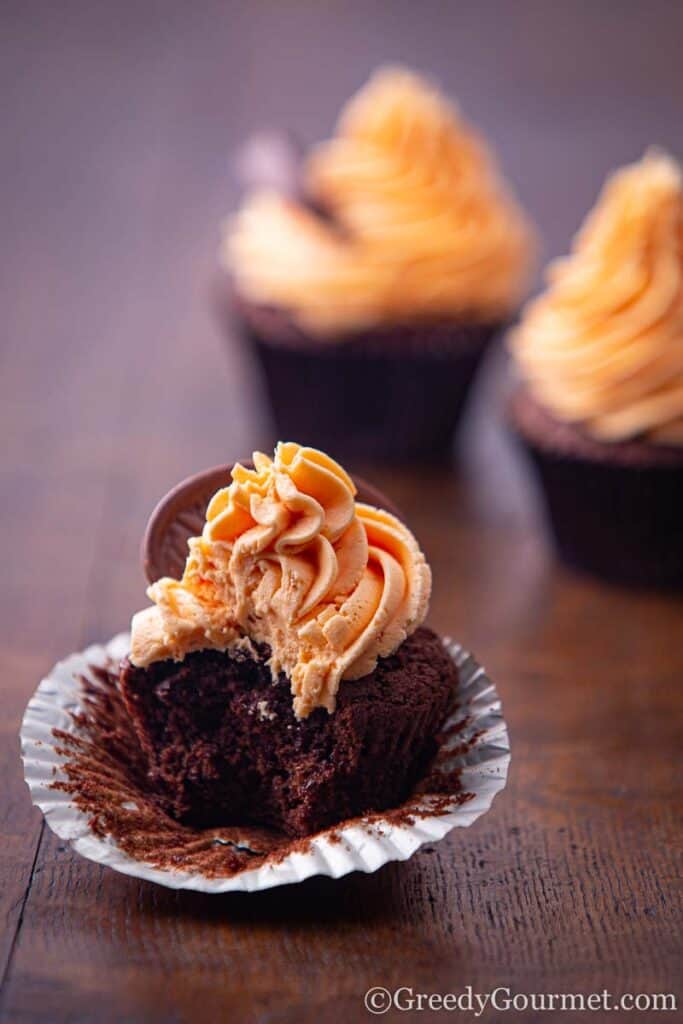 More amazing cupcake recipes
If you had fun baking up these bad boys, check out these other irresistible cupcake recipes:
Carrot cake cupcakes – soft, moist, fluffy and absolutely delicious, these are the best carrot cake cupcakes you'll ever try!
Pumpkin cupcakes – these little autumn beauties are a real treat. They are soft, fluffy and have a wonderful cinnamon flavour. They're also really easy to make
Oreo cupcakes – if you're an Oreo fan, you won't want to miss this recipe. Indulge a little and you won't be able to forget the taste of these incredible cupcakes
Chocolate fairy cakes with Amarula buttercream – fairy cakes, cupcakes… there's not much difference. All I know is that these little chocolate delights are bound to put a smile on your face
Drizzled lemon curd cupcakes – if you're a lemon dessert fan, this one is a must. Cupcakes don't get much better than this. Dangerously addictive… you can't just have one!
Creme Egg cupcakes – these aren't just for Easter. When something is this delicious, it deserves to be devoured all year round!
Chocolate cupcakes – simple, yet blissfully effective. The perfect tonic for chocoholics everywhere, this chocolate cupcakes recipe is a straightforward, no messing masterclass in how to make the perfect cupcake
Salted caramel cupcakes – if you like your cakes with a salted caramel taste, these little cupcakes are the ones for you. Blissfully simple and unbelievably tasty
Raspberry and white chocolate cupcakes – soft, fluffy and so deep in flavor they'll make your taste buds explode! As pretty as a picture and as tasty as they sound
Mother's Day cupcakes – treat your mum to these incredible little homemade cupcakes
Print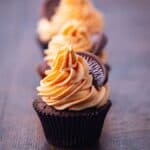 Chocolate Orange Cupcakes
---
Author:

Michelle Minnaar

Total Time:

50 minutes

Yield:

12

servings

1

x

Diet:

Vegetarian
Description
Chocolate Orange Cupcakes are perfect to bake in cold weather and serve over the Christmas period. This recipe uses Terry's Chocolate Orange chunks.
---
Cupcakes
130

g

(2/3 cup) caster sugar

130

g

(2/3 cup) butter

130

g

(1 cup) self raising flour

30

g

(1/4 cup) cocoa powder

2

large eggs

40

g

(1/3 cup) chocolate orange, chopped into small pieces

1

fresh orange, juice and zest
Orange Icing
---
Instructions
Cupcakes: Preheat the oven to

175°C / fan 155°C / 350°F / gas mark 3

(temperature varies on each oven so you may need to make your oven slightly hotter or cooler).
Place 12 cupcakes cases in a muffin tray. Set aside.
Measure out butter and sugar into the same bowl and cream together until well mixed and turned lighter in colour.
Measure out the flour into a separate bowl and add the cocoa powder. Gently stir together.
Add 1 egg to the creamed butter and sugar along with a tablespoon of the flour and mix well. Repeat this part of the process 1 egg at a time to give a lighter mix.
Stir in the remaining flour, chocolate orange and orange zest and 10ml (2 tsp) orange juice.
Scoop mixture into cases, about half full. An ice cream scoop is very handy for doing this.
Place the mixture in the oven for approximately 15 minutes. Check to see if the cupcakes are cooked. If not, bake for another 5 minutes, or until they are springy and return to shape when lightly pressed on top.
Orange Icing: Soften the butter. This works well in the microwave in 10 second bursts, checking each time to see if butter is softening.
Carefully add icing sugar to avoid clouds of icing dust.
Mix until fully incorporated and butter icing becomes whiter. You can do this by hand but a mixer makes it much easier – just keep the mixer on a slow speed.
Add the orange extract or some leftover orange juice to the mixture to give it an extra "zing".
[Optional] Add the food colouring. Use as much or little as you like to achieve the desired orange icing.
Using a large star nozzle, pipe swirls of butter icing onto the cakes.
Decorate with a chunk of chocolate orange or sprinkles of roughly cut chocolate orange.
Notes
Want to make chopping of the chocolate a breeze? Use a Zyliss Easy Pull Food Processor.
Prep Time:

30 minutes

Cook Time:

20 minutes

Category:

Cupcakes

Method:

Baking

Cuisine:

British
Keywords: chocolate orange cupcakes, chocolate orange dessert, Terrys chocolate orange recipe, chocolate cupcakes with orange buttercream
save the recipe to your pinterest board