Curd – it must be the unsexiest word in the food dictionary. Can you come up with any others?
Before I came to the UK I must admit I never came across lemon curd before. The name surely didn't do it any justice. The first thing I thought of was bean curd, in other words tofu, which is horrible on its own if you don't add condiments to it like soy sauce and honey. My second thought was that the word "curd" is awfully close to "curdle", which in most cases is bad news. So no, I wasn't keen to try it.
Only last year in an attempt to expand Gabriel's taste buds did Neil buy some lemon curd. With a lot of coaxing he got me to try some on a teaspoon – I have a phobia of mysterious contents in jars, containers and cans! It didn't taste half bad.
When I saw the ingredients list I realised there was nothing controversial. It was time. While cooking the curd I was a bit stressed because I knew if the heat was too high I would end up with super-sweet, oozy-oily scrambled eggs, so I took things slow. Gradually it thickened but I worried whether it was thick enough. There is no point sitting with a gloopy undercooked eggy mess! Here is a tip. I used a whisk and only when its "trail" showed clearly when stirring the contents did I remove the glass container from the heat.
For good measure I gave the old-timers next door some to try and they loved it. Hurrah! Success!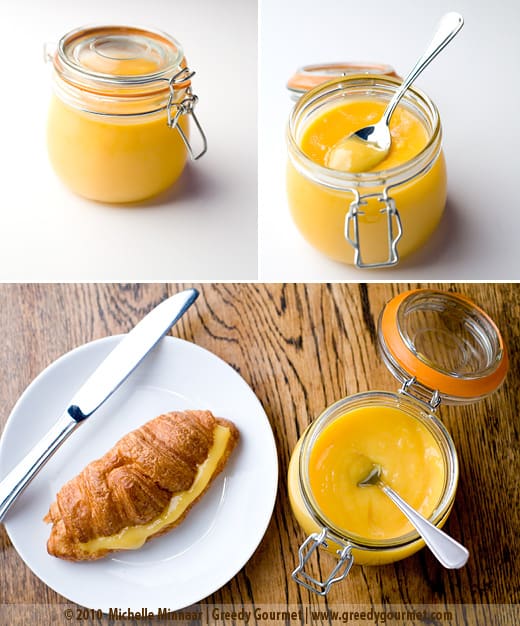 Print
Lemon Curd
---
Author:

Michelle Minnaar

Prep Time:

30 minutes

Cook Time:

10 minutes

Total Time:

40 minutes

Yield:

1

1

x
6

medium eggs

300g

(

10 oz

) sugar

150g

(

5 oz

) butter
juice and grated rind of 3 large, juicy lemons
---
Instructions
Lightly beat the eggs and place in an earthenware jug.
Add the sugar, butter, lemon juice and rind and stand the jug in a saucepan of simmering water over a low heat.
Cook, stirring regularly, until the curd thickens to about the consistency of custard (it will thicken as it cools).
Pour into jars and allow to cool thoroughly before adding lids.
Keep refrigerated and use within two weeks.
Notes
For those of you who prefer smooth lemon curd, omit the lemon rind or sieve the curd immediately after cooking.
Use unwaxed lemons if you can find them.
Nutrition
Serving Size:

100g

Calories:

334

Sugar:

48 g

Fat:

14.3 g

Saturated Fat:

9.5 g

Carbohydrates:

49.9 g

Protein:

2.1 g

Cholesterol:

145 mg