If you are a fan of Indian food you probably already know what saag aloo is. This brilliantly delicious vegan curry dish stands out from the rest with its green presentation.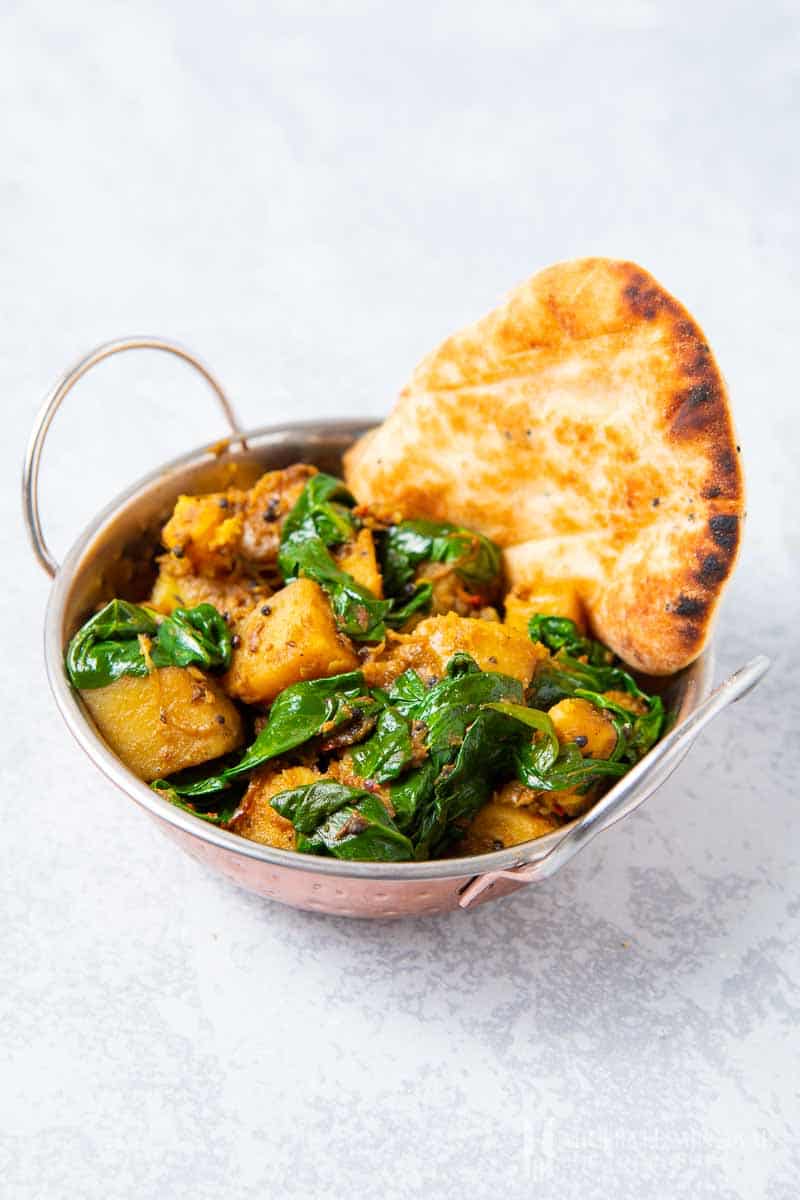 The secret is fresh spinach. Saag aloo is a great alternative to the well-known meat curries of Indian cuisine. It's a flavourful, slightly spicy dish. Moreover, it is completely vegan being based on potatoes and spinach.
If you think potatoes and spinach sounds boring, then you haven't yet had a good, spicy saag aloo.
Normally it takes a long time to cook a good Indian dish. However, in this case, not so. In fact, you can make this tasty dish in less than 45 minutes.
You can serve it as a vegan main course or lunch dish. On the other hand, you can also serve saag aloo as a side dish for other Indian food or part of an Indian feast.
It would be a particularly good side dish for an Indian roast leg of lamb.
Cook More Indian Food At Home
authentic saag aloo recipe
Saag aloo is just one of a bunch of saag dishes you might recognise from your local Indian restaurant. Other dishes include saag paneer, saag gosht and chana saag.
The thing they all have in common is the green element. In the case of saag aloo that green bit is fresh spinach. Most Indian restaurants in the UK are probably using spinach.
However, although the assumption is easy to make, saag does not mean spinach. In fact, saag simply means green leaves. This means that saag aloo and similar dishes were traditionally made with other green leaves as well.
This could be mustard leaves in the case of sarson de saag for example. It could also be kale, chopped broccoli or other greens.
For my saag aloo I am using fresh spinach. It is important to use fresh spinach and not frozen. I don't have a phobia for frozen ingredients however in this case the fresh spinach is a better option.
Frozen spinach would make the dish a bit too wet and soggy, and not give the dish its desired texture.
saag aloo spice mix
As with any good Indian curry, the right combination of spices is important when making saag aloo. To keep this dish authentic I have stuck to the traditional spice mix.
The recipe calls for classic Indian spices like garam masala, turmeric powder and cumin seeds. You will also need cloves, mustard seeds and of course, chilli.
A good saag aloo should be moderately spicy but not extremely hot. In many cases, it is served as a side dish to a spicy meat dish or curry.
Therefore, the saag aloo should balance out the dish, and in general be less spicy. Spiciness is always a matter of personal preference, so start with a bit less and slowly add more until you reach the level you like.
A good saag aloo does not only need the right mix of dried spices, you also need some fresh flavour givers. Fresh garlic and fresh ginger will help you get that unmistakeable Indian flavour.
baked saag aloo
Although the list of ingredients is long, it is actually very simple to cook this recipe. First of all, you need to pre-boil the potatoes.
This should be meaty potatoes so that they have some bite once on the plate and don't fall apart along the way. You can use normal, medium-to-large potatoes cut into smaller pieces, or you can use whole baby potatoes.
When in season, I quite like to use fresh baby potatoes. In my opinion, this adds just a little bit more freshness to the dish and, along with the fresh spinach, actually makes saag aloo quite summery.
While the boiled potatoes cool off, you roast the cumin and mustard seeds on a pan to help release the flavours. Add the chopped onion and fry until it softens.
Then add the rest of the ingredients as well as the potatoes and stir. Finally, you add the spinach leaves and cook for about five minutes or until the spinach is wilted.
That is all it takes to make your own saag aloo. Serve immediately and enjoy.
I highly recommend oven baking this recipe. There is nothing better than to take a sizzling dish out of the oven.
creamy saag aloo
If you feel the need for a more creamy alternative, then add coconut cream. The cream will retain the consistency of the dish. If you add coconut milk, the recipe might become slightly runny.
serve with naan
If you are planning to serve the saag aloo as a standalone dish, I recommend serving some naan bread on the side. If you are curious about trying to make your own naan bread you can check out my peshwari naan recipe here.
In addition you can also have a cucumber raita on the side. This way, you have an excellent vegetarian dinner, full of beautiful exotic flavours. If you want to keep it vegan you can leave out the raita.
serve as a side dish
Saag aloo is of course also an excellent side dish for Indian meat dishes. Think of the saag aloo as a sort of warm, spicy Indian potato salad. For example, you can serve it as a side for beef kofta curry.
These Indian meatballs in spicy sauce would pair perfectly with a freshly made saag aloo. You can even serve it as a cold side dish. If you do so, just be aware that the spinach might taste more bitter than when served warm.
Either way it is a great side dish for just about any Indian dish, or as part of a great Indian feast. Try it as an alternative to plain rice next time you cook a curry. For example along with a classic chicken korma.
Furthermore, it is a great way to spice up some of the more toned-down continental main courses. Try it with smoked chicken thighs for example and create your own fusion cuisine!
If you love all things potato...
Print
Saag Aloo
---
Description
Learn how to make saag aloo at home! This authentic sag aloo recipe is an Indian potato and spinach curry that pre-boils the potatoes and uses fresh spinach. Save your takeaway money and make this healthy version at home instead!
---
1

kg

(2lbs) potatoes, peeled and cut into 2.5cm (1in) cubes

30

ml

(2 tbsp) vegetable oil

10

ml

(2 tsp) cumin seeds

10

ml

(2 tsp) mustard seeds

1

large onion, sliced

4

garlic cloves, peeled and crushed

2.5

cm (1in) fresh ginger, grated

5

ml

(1 tsp) ground cumin

5

ml

(1 tsp) ground coriander

5

ml

(1 tsp) turmeric powder

5

ml

(1 tsp) garam masala

5

ml

(1 tsp) red chilli powder

450

g

(1lb) fresh spinach leaves, washed

1

green chilli, washed and finely chopped
salt to taste
---
Instructions
Boil the potatoes in a large pot of salted water for 10 minutes or until tender. Drain the potatoes and leave it steam dry.
Heat the oil in a large frying pan and fry the cumin and mustard seeds for 2 minutes or until their aromas are released.
Add the onion and continue frying on a medium heat with the spices until it softens and turns golden in colour.
Add the garlic and ginger and give it a stir.
Tip in the potatoes and turn up the heat.
Add the ground cumin, coriander, turmeric, garam masala and chilli powder and stir well.
Add the spinach and green chilli and stir again.
Ensure the spinach is wilted, which would take about 5 minutes, and season to taste.
Serve the sag aloo as a side dish as part of an Indian meal.
Notes
You can use baby potatoes instead of large potatoes.
For best results, use a starchy variety of potato, such as Maris Piper or Russet. This will enable the potatoes to keep their shape, while being fried.
Prep Time:

20 mins

Cook Time:

25 mins

Category:

Side Dish

Method:

Pan Fry

Cuisine:

Indian
Keywords: saag aloo, sag aloo recipe, how to make saag aloo, vegan saag aloo, authentic saag aloo recipe
More Indian Recipes
save the recipe to your pinterest board