Ever had the opportunity to munch on grilled calamari fresh from the sea during your coastal vacation? There's nothing quite like enjoying fresh seafood while you relax. Something about grilled calamari screams summer holiday by the sea to me. Sure enough, every time I prepare grilled calamari at home in the UK, I reminisce about sunshine. Preparing calamari from scratch is no difficult task. In fact, I don't understand why people don't go for preparing and gutting the calamari themselves? It's really a piece of cake and the satisfaction of preparing your own seafood is totally worth it. You'll see, a grilled calamari recipe using the fresh stuff yields much better results than the frozen version. Once you go fresh, you'll never go for frozen calamari ever!
Just follow this easy step-by-step tutorial and you'll become the calamari master. Not only will you make the most amazing grilled calamari recipe you've ever had, but you will also gain confidence in cooking other seafood dishes from scratch.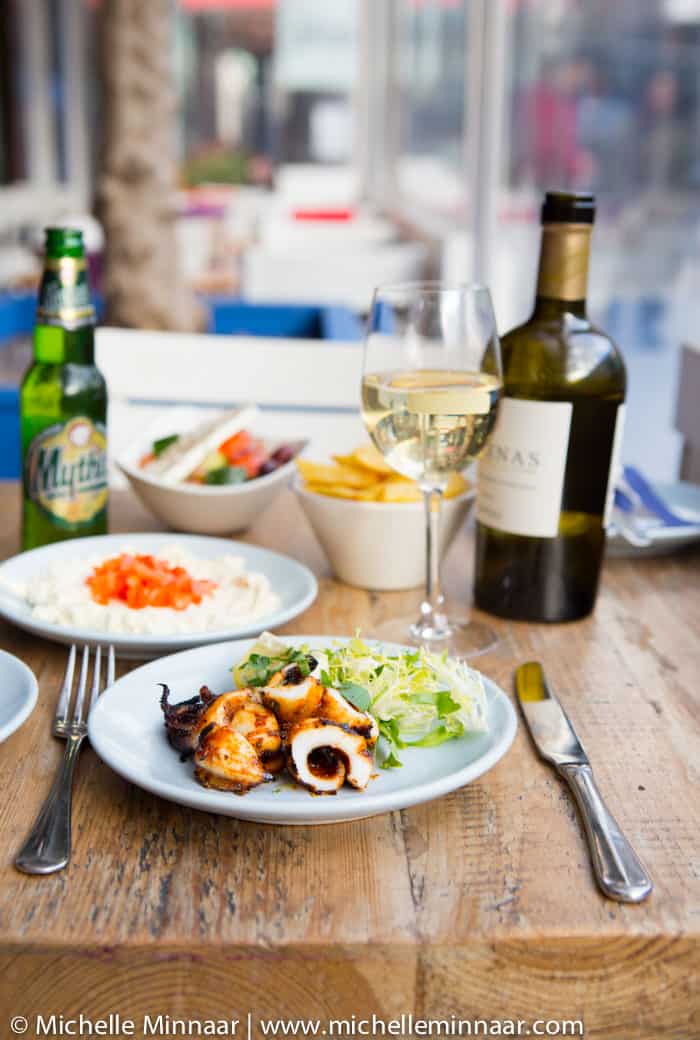 grilled calamari
Is this the first time you've ever heard of calamari and you've got no clue what it is? Well, I am confident that you've most likely had grilled calamari in one way or another. Calamari is actually the culinary name of squid. However, in some countries, calamari also refers to octopus. Nonetheless in Europe, especially with the Mediterranean cuisine, calamari is known as squid. Most of the time, you'll find grilled or deep-fried calamari rings served as a starter with a dip or as a main course. In Asia, calamari is served deep fried with salt and pepper in the form of a starter or as street food.
In Australia and New Zealand, fried calamari is often served with chips. As you can see, grilled or fried calamari is well known throughout many cuisines. However, in my opinion, there is nothing quite like having fresh calamari off the grill.
Usually, people refrain from purchasing or even cooking a calamari or squid recipe simply due to the price factor. Not all seafood is expensive. Sardines are a witness to this statement. Just see how inexpensive sardines actually are and make my sardine salad. However, the price of other seafood is duly justified due to the scarcity of fish caused by overfishing. Also, you can't farm squid in the way you farm other meats. So, even though purchasing fresh squid might be on the more pricey side, it certainly is worth the quality and nutrients!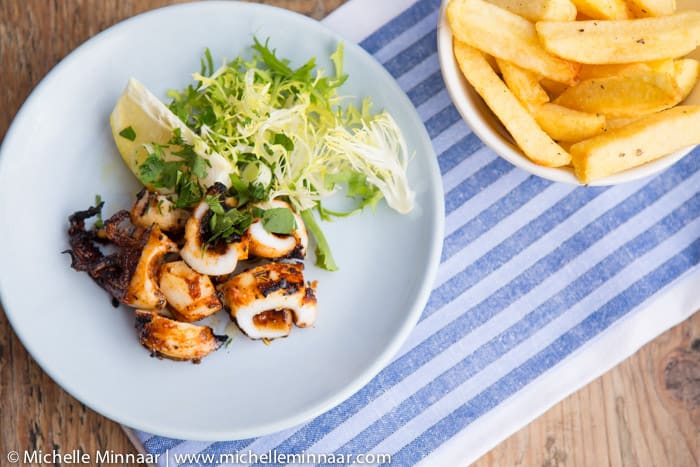 grilled calamari restaurant
So don't let the price factor scare you off from trying this grilled calamari recipe. Be bold and cook something healthy, nutritious as well as delicious for your family. Don't expect to find this type of recipe in most UK restaurants. First of all, you'll vastly overpay for something you can do yourself! Plus, most of the time, they disrespect this wonderful ingredient by deep-frying the heck out it. By grilling the calamari yourself, you'll respect this amazing ingredient much more. However, if you feel like getting treated, then definitely go to The Real Greek. They are just about one of the few places in the UK who know how to cook calamari. Alan May, the head chef, gave the insights on how to prepare and treat calamari.
where and how to buy calamari
The general warning, as with any type of seafood, is: buy cheap and suffer the consequences. Heed my warning! So, what you need to do is to go to your local fishmonger or go to a fish market. There are three sizes available:
small: you know those teeny weeny tentacle-y ones
medium: around 30 cm in length and its flesh varies between 5 – 10 mm in thickness. Go for this one! It's by far the best option for this grilled calamari recipe.
large: has very thick flesh and needs more tenderising. The end result can be quite rubbery.
Next, once you've found the medium-sized calamari, look for a 80:20 body to tentacle ratio. If it's possible, also try and run your finger along the flesh. You should be looking for silky smooth flesh, nothing else. Lastly, test the calamari with your nose. If the calamari smells of ammonia, you know it's bad. Your grilled calamari would be a disaster.
Purchase frozen calamari only as a last resort, and then I highly recommend deep-frying them.
how to prepare calamari
First of all, for completing this recipe, you'll only need a knife and a barbecue. Nothing more! So here is the ultimate guide for preparing calamari: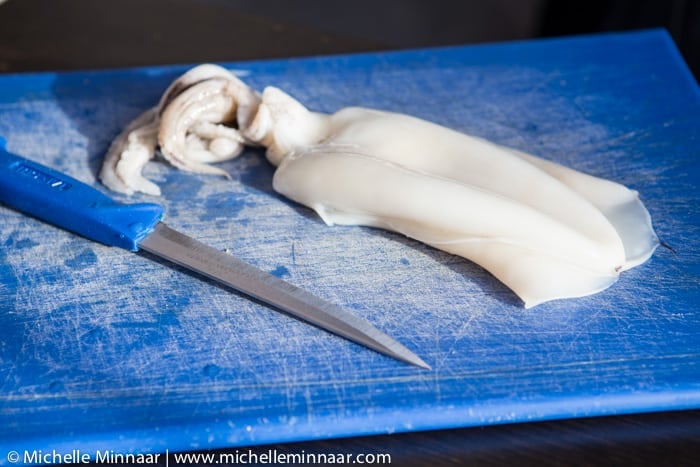 Here we have the real deal. Gently tuck the head from its body.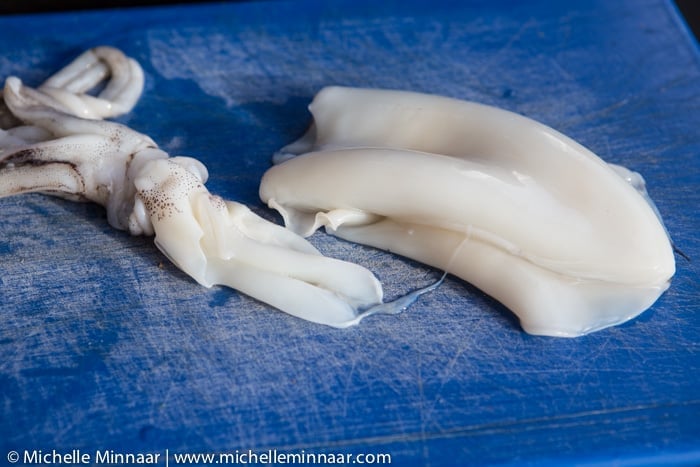 Calamari has tough, cartilage-like bits in its body that needs cutting out and throwing away. Here we will show you how to get the most meat possible from the animal. An anatomy lesson, if you will.
Cut off the tentacles for marinating.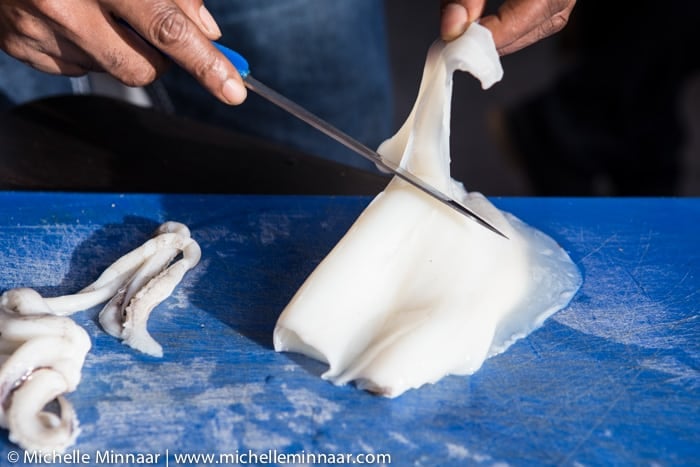 Next, cut the "wings" off with a fish knife.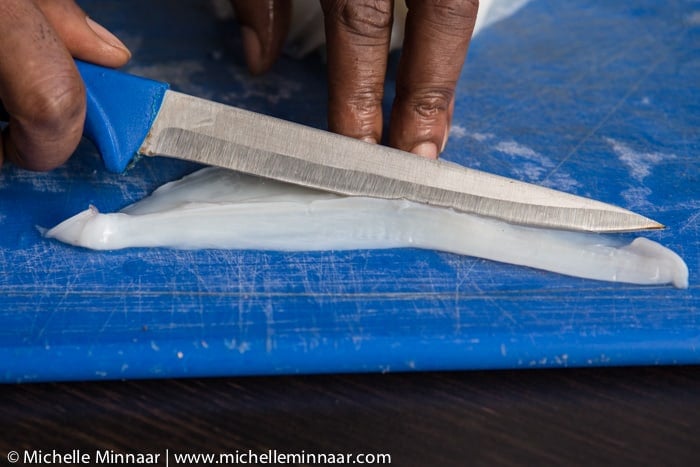 Remove the hard bit that runs along the wing and discard.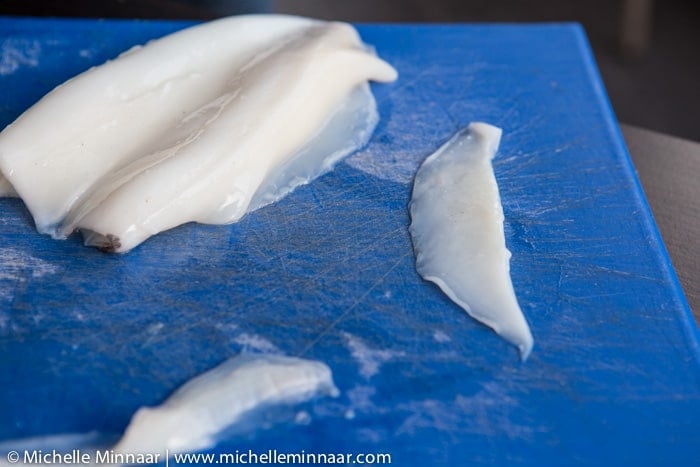 The wings can be saved for marinating too.
Make an incision down the body and flatten on the chopping board in one even layer.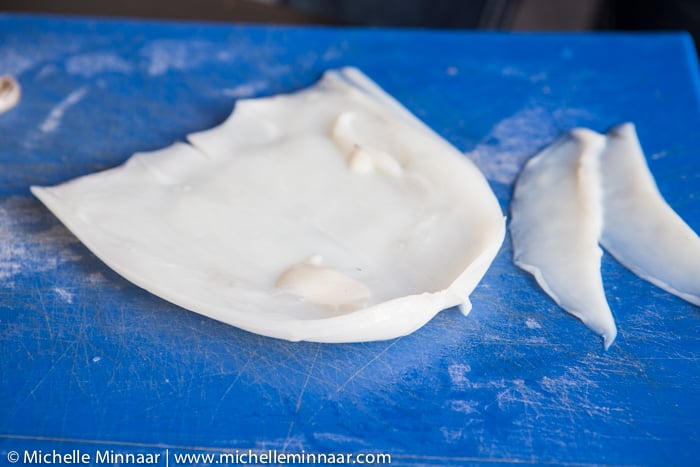 Here we see the digestive system of calamari. This will need removing.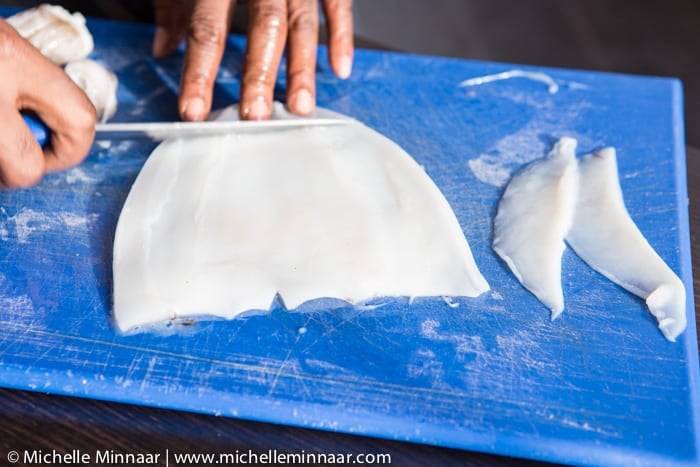 Scrape everything off.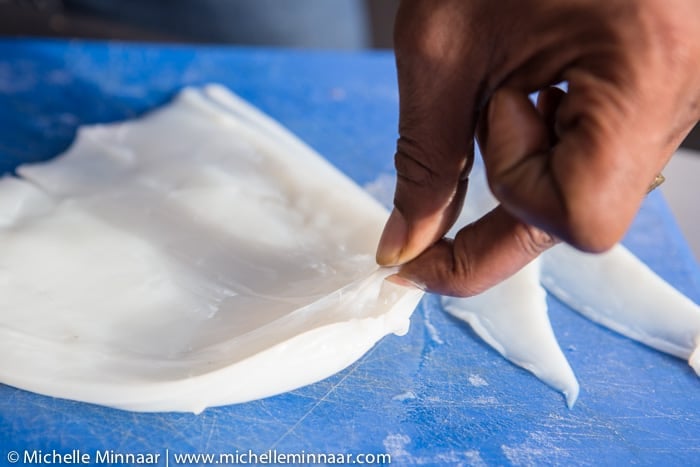 Much like meat, calamari has a membrane that need removing too.
Lastly, make crisscross cuts over the body that will ensure it not to warp during the cooking process and helps marinade to penetrate the flesh for extra flavour.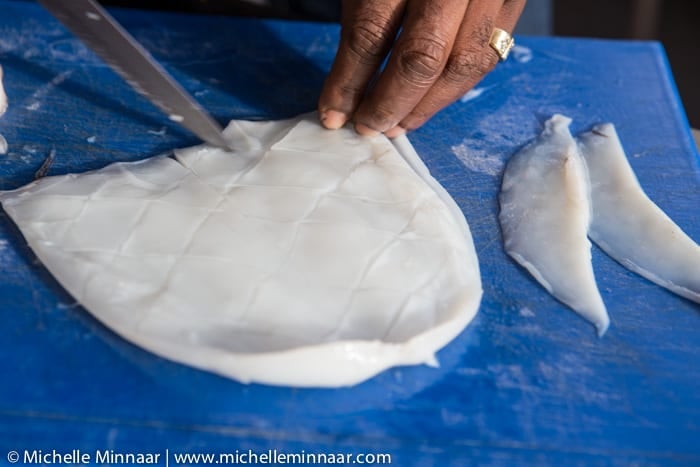 Cut it into smaller pieces.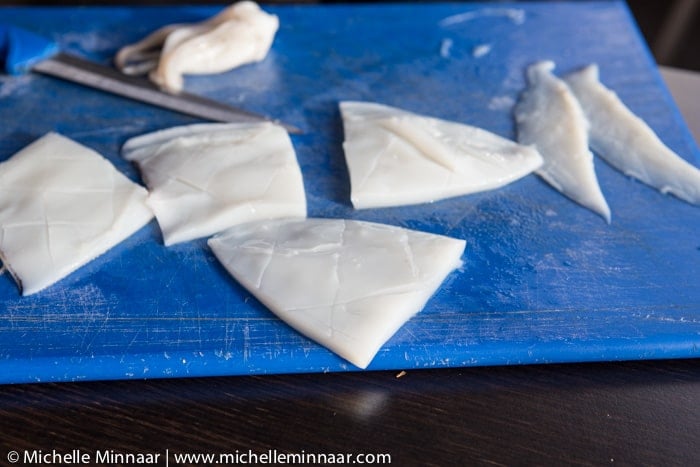 Now for the marinade. At The Real Greek paprika, honey and oregano marinade is used. This is a more offbeat recipe because a seafood marinade usually features some sort lemon because acidity helps to tenderise squid. You can make up your own lime and chili marinade.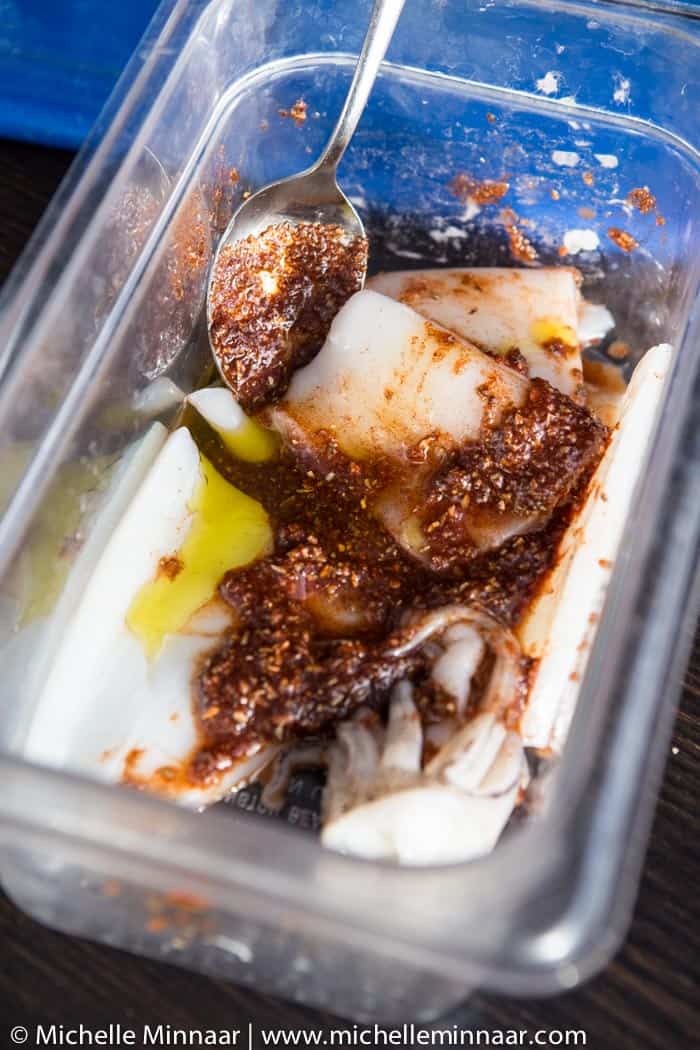 For optimum results, marinate the squid for 24 hours or overnight. If you accidentally forgot about it, fret not, it can marinate in the fridge for up to 3 days.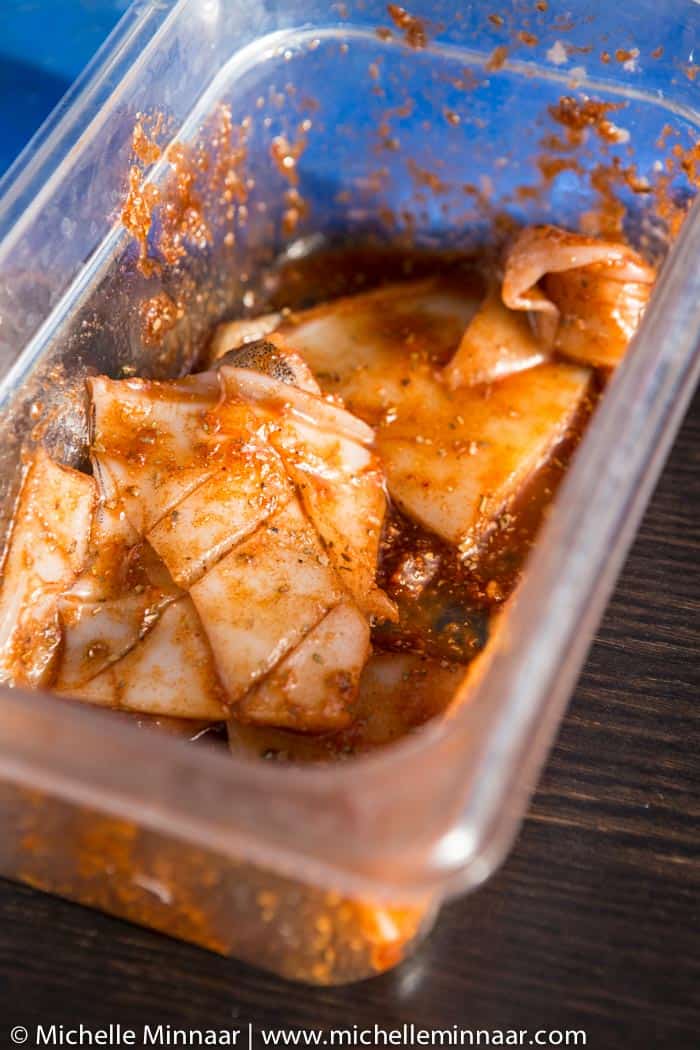 Place the calamari on a hot barbecue and grill for 3 to 4 minutes on each side until caramelised.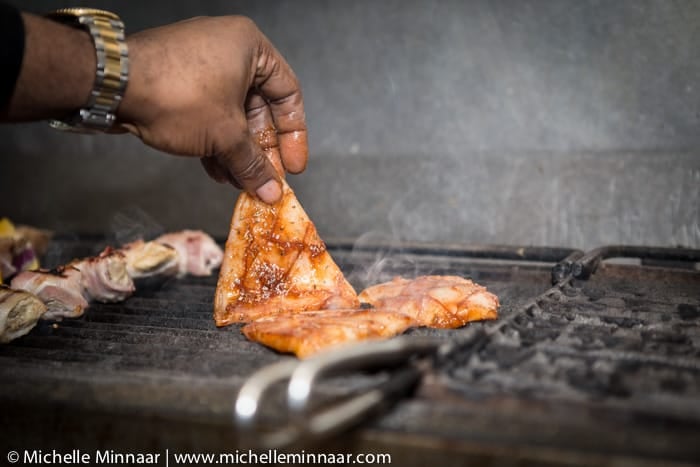 And there you have it. Beautiful, smoky calamari that hasn't been drowned in oil. That wasn't so hard, was it?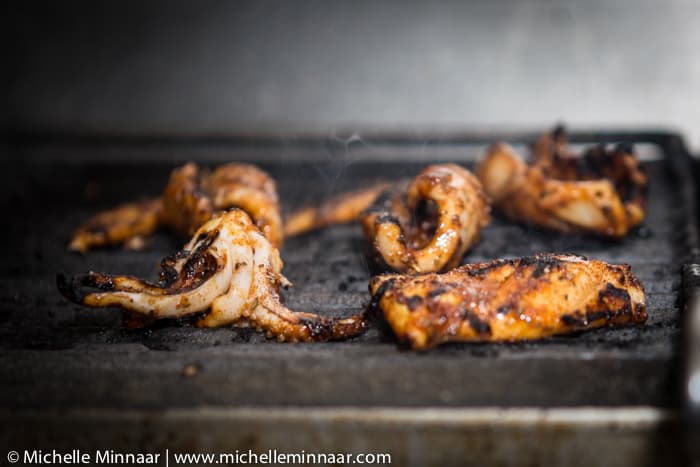 Calamari is a high protein, low fat meal so if you'd like to keep things healthy, serve it with a Greek Salad.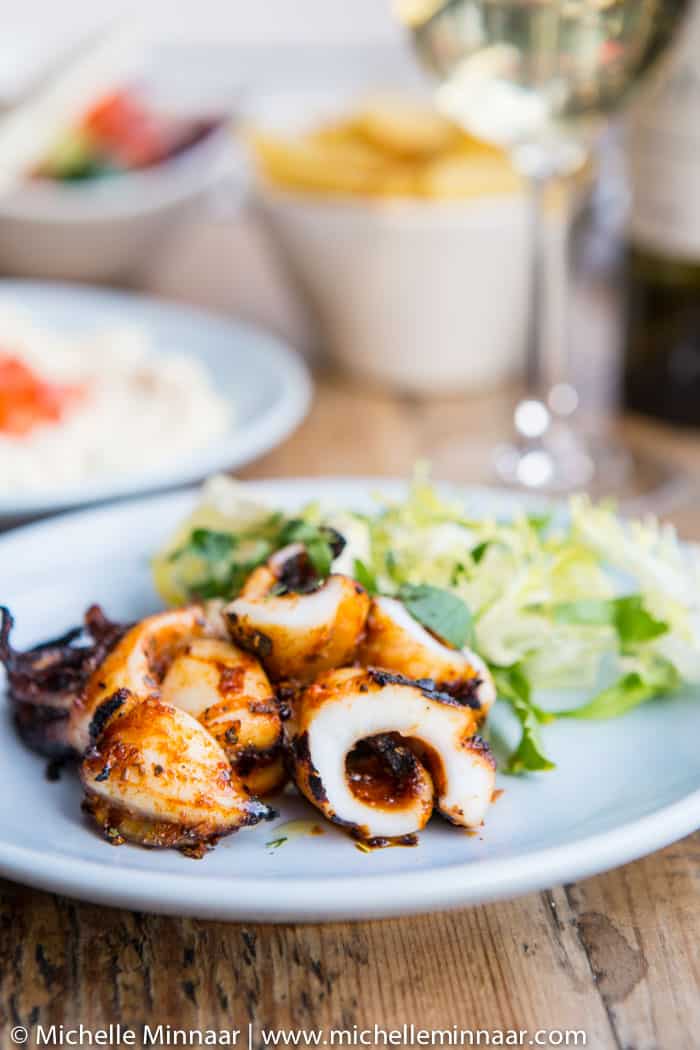 Have you tried cooking with calamari before? Tell me!
grilled calamari – Greek-style
To make this grilled calamari in true Greek-style fashion, use my honey and oregano marinade. It's divine! Marinate the squid overnight or for a full day for best results. However, if you forgot, you don't need to worry. You can marinate the squid for a few hours. This grilled calamari recipe is high in protein and low in terms of calorie intake. So, I recommend serving the calamari with a small Greek salad.
grilled calamari recipe – Italian
For making this an Italian-inspired dish, opt for using lemon and rosemary – the classics when it comes to Mediterranean cuisine. I also recommend pairing the grilled calamari with roasted artichoke hearts and some freshly cut fennel.
grilled calamari salad
If you've got leftover calamari, toss them in a salad. Then take my octopus salad as inspiration and steer it in this general direction. I promise you won't be disappointed. Pair it with a lovely glass of fruity white wine or a vibrant rose. Also, pairs well with Prosecco too!
Print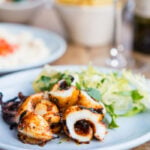 Grilled Calamari
---
---
Instructions
Clean and cut the calamari into pieces.
Marinate the calamari overnight.
Grill on the barbecue for 3-4 minutes on each side until caramelised.
Prep Time:

8 minutes

Cook Time:

30 minutes

Cuisine:

Cuisine
Nutrition
Calories:

137

Fat:

1.7 g

Carbohydrates:

1.7 g

Protein:

25 g
save the recipe to your pinterest board