This eggplant dip is completely divine! Each mouthful of melitzanosalata is a little taste of Greece that'll make your taste buds tingle with delight.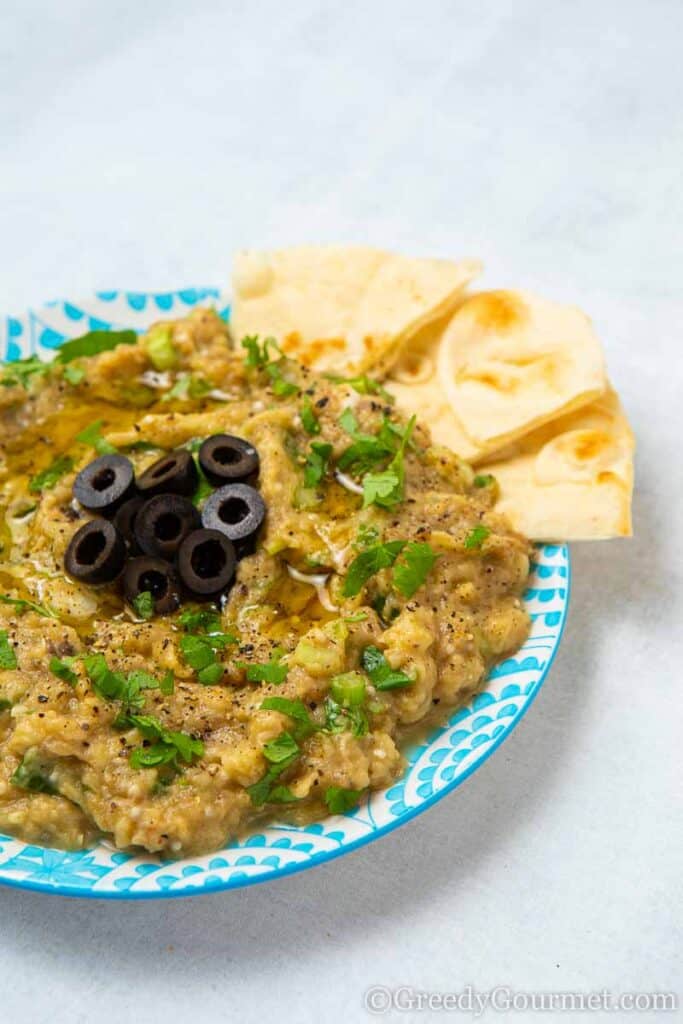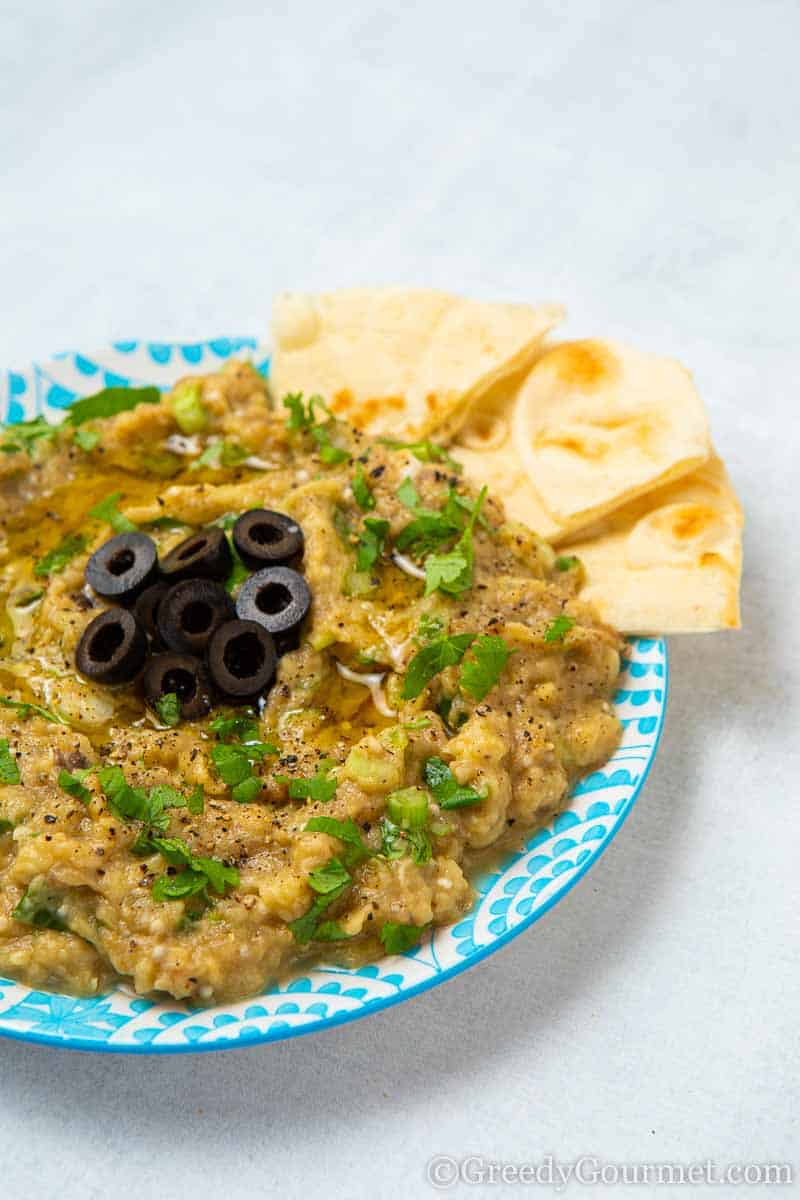 This Greek eggplant dip is super easy to make. You'll be whipping up this dip for friends and family, putting smiles on faces all over the place and making them fall in love with this Greek dish.
Melitzanosalata is a delicious side for any kind of meat or fish dish and makes an amazing dip for crunchy vegetables, bread and any other kind of finger food.
So, read on to find out how to make this traditional Greek eggplant dip.
Products you'll need for this recipe
To make this Melitzanosalata eggplant Greek dish, there are a few items you'll need.
Melitzanosalata recipe
You've probably not tried your hand at too many eggplant dishes. Well, eggplants can be used to make a great dip. Just ask the Greeks!
Greek cooking is all about fresh local ingredients cooked to perfection, creating dishes that are packed full of flavor.
This Greek eggplant dish is no different. In no time at all, you'll have a Greek eggplant dip that'll taste amazing.
In Greece, it doesn't get much more traditional than melitzanosalata. Greek eggplant dishes are incredibly tasty and a great way to show what you can do with this underrated vegetable.
This eggplant dip recipe is so easy – it hardly involves any work at all. You'll place an eggplant on the hob, turning it every 5–10 minutes. This will char the eggplant, giving it a beautiful smoky flavor.
The rest involves blitzing the ingredients together, with a sprinkle of salt and pepper and some olive oil.
Blitzing up the smoky charred aubergine with fresh garlic, fresh spring onions and fresh parsley, along with a pinch of salt and pepper, a squeeze of lemon juice and a drizzle of olive oil makes this Greek eggplant dip come alive.
Different types of melitzanosalata
Different regions of Greece have their own way to make this classic dip. Some prefer to make it more rustic, with chunky pieces of eggplant. Others prefer a creamier textured, with walnuts and yogurt blitzed into the mix.
Some are in puréed form, while some are mashed and more rustic with the texture of eggplants intact. So, when making this recipe, experiment with the texture and see which one you prefer!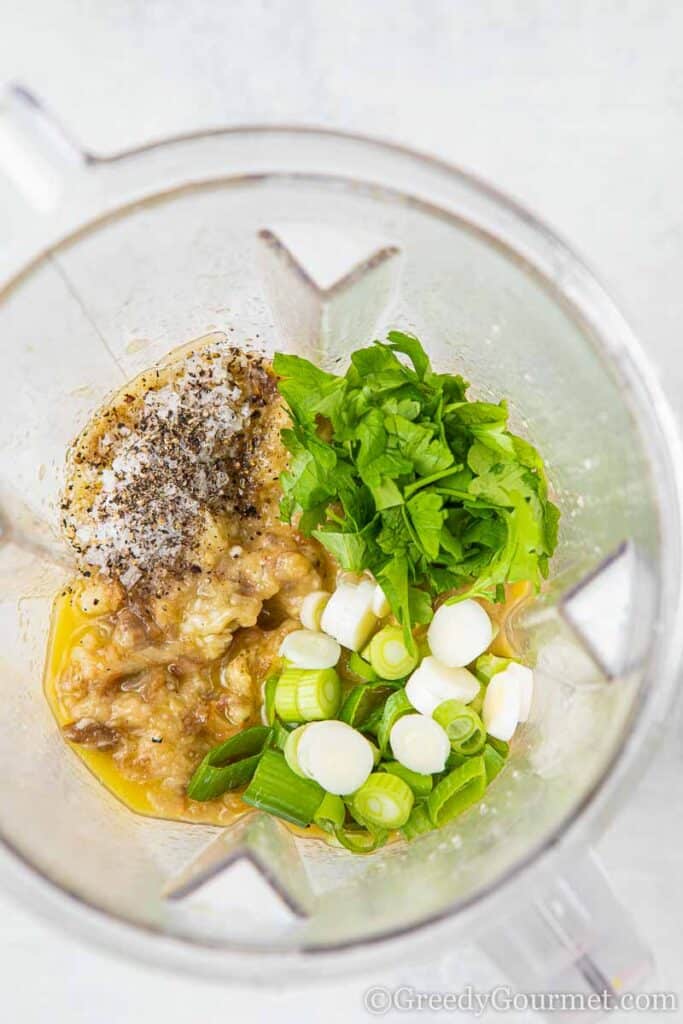 Where does melitzanosalata come from?
This smoky eggplant dip is a classic Greek dish. Its exact origins are unknown, but it was probably inspired by similar Middle Eastern eggplant recipes.
In fact, you might notice a similarity between melitzanosalata and the Levantine dip Baba Ghanoush. They're definitely similar. What makes melitzanosalata so good though is the smoky flavor of the charred eggplant.
Also, it normally only has a few ingredients. It's this simplicity that really makes melitzanosalata shine.
How do you pronounce melitzanosalata?
While making melitzanosalata is super easy to make, saying it is a different story altogether!
When telling your friends about the new amazing Greek dip you've discovered, don't trip over your words. It's pronounced meh-leet-ZA-no-sah-LAH-ta
What does melitzanosalata mean?
The divine dip melitzanosalata means 'eggplant salad' in Greek. It's easier when you break it down – eggplant is 'melitzána' in Greek and salad is 'salata.'
What do you serve with Melitzanosalata?
Crusty bread – melitzanosalata tastes great when served with crusty bread. If you want to take it to the next level, this homemade chia seed bread will taste unbelievable when paired with your melitzanosalata Greek eggplant dip.
Feta – crumbly, salty feta and creamy, zesty melitzanosalata are a perfect pairing. You could even combine this divine dip with a pumpkin and feta salad.
Flatbread – pairing melitzanosalata with flatbread makes for a delicious appetizer. Try this Pakistani flatbread favorite Aloo ki kachori for an amazing fusion of flavors.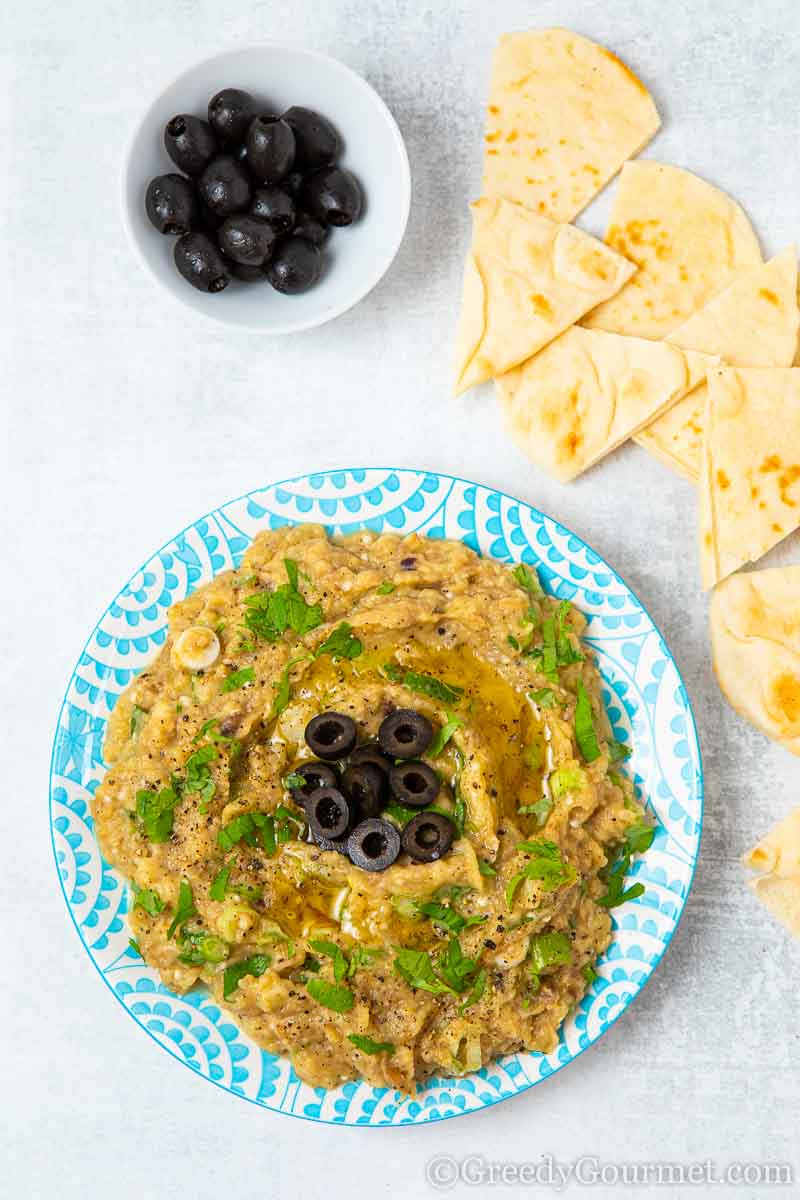 More amazing recipes
Eggplant dishes, Greek dishes and fabulous finger food – here are some more recipe ideas to inspire you!
Gorgeous Greek Cookbooks
What's your favorite eggplant recipe? Are you in love with Greek food? Do you have a secret dip that tastes like heaven? Let me know in the comments below!
Print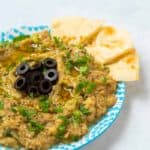 Melitzanosalata
---
Author:

Michelle Minnaar

Total Time:

40 minutes

Yield:

6

servings

1

x

Diet:

Vegan
Description
Melitzanosalata is a traditional Greek eggplant dip recipe comprising broiled eggplants that have been blitzed with mediterranean flavours. Perfect for sweltering summer days!
---
6

medium eggplants, washed and pierced with fork

2

cloves garlic, peeled and crushed

125

ml

(1/2 cup) extra virgin olive oil

150

g

(5oz) spring onions, thinly sliced

60

g

(1 cup) fresh parsley, washed and finely chopped

5

g

(1 tsp) salt

3

g

(1/2 tsp) ground black pepper

30

ml

(2 tbsp) lemon juice
---
Instructions
Place each eggplant on a gas hob and turn a quarter every 5 minutes. The process should take 20-30 minutes in order for the eggplants to be completely charred all over and completely cooked through. They will have a "collapsed" appearance.
Remove from the heat and set aside to completely cool down. Once cool enough to handle, peel off all the blackened skin until you're left with just the flesh. (You might need to rinse off the last black bits under running water. Pat dry with a paper towel afterwards.)
In a food processor blitz together extra virgin olive oil and garlic and set aside.
Add all the cooked eggplants and give it a quick blitz. It's up to you how chunky or smooth you like your dips.
Add the remaining ingredients and give it a quick blitz.
Spoon onto four meze plates. Drizzle with olive oil and place Kalamata olives in the middle.
Serve with flatbread, crudités or breadsticks as part of a main meal, light lunch or simply a snack on its own. Enjoy!
Notes
If you don't have a gas range, you can cook them under the broiler/grill. Preheat the latter first then cook on a high setting for 20-30 minutes, turning frequently, until completely cooked through.
The bigger the eggplant, the longer it will take to cook. You want the flesh to give way upon touch. If it gives resistance, it needs further cooking.
If you're in a hurry you can peel the skins off the eggplant by running them under tap water until they're cool enough to handle. Ensure to squeeze out the excess water. The process might dampen the vegetable's flavour a bit in the process.
Prep Time:

10 minutes

Cook Time:

30 minutes

Category:

Dip

Method:

Grill

Cuisine:

Greek
Keywords: melitzanosalata, greek eggplant dip, vegan aubergine recipe, summer dip recipe, roast eggplant dip
save the recipe to your pinterest board