Are you ready for the tastiest, most tender melt in your mouth meat you've ever had? Pulled lamb is, quite simply, sensational.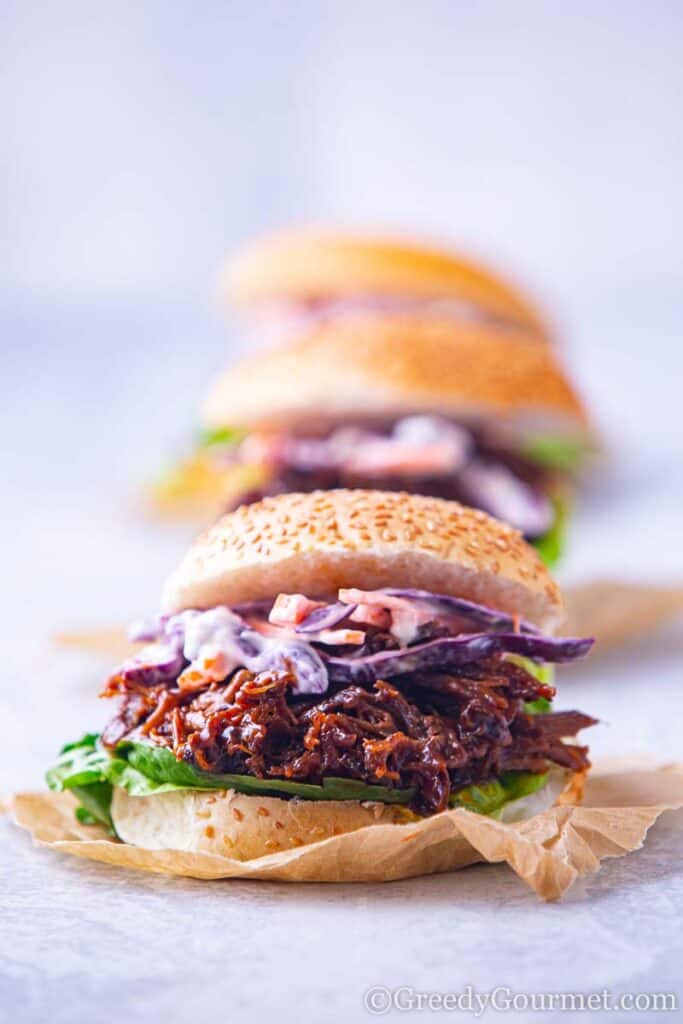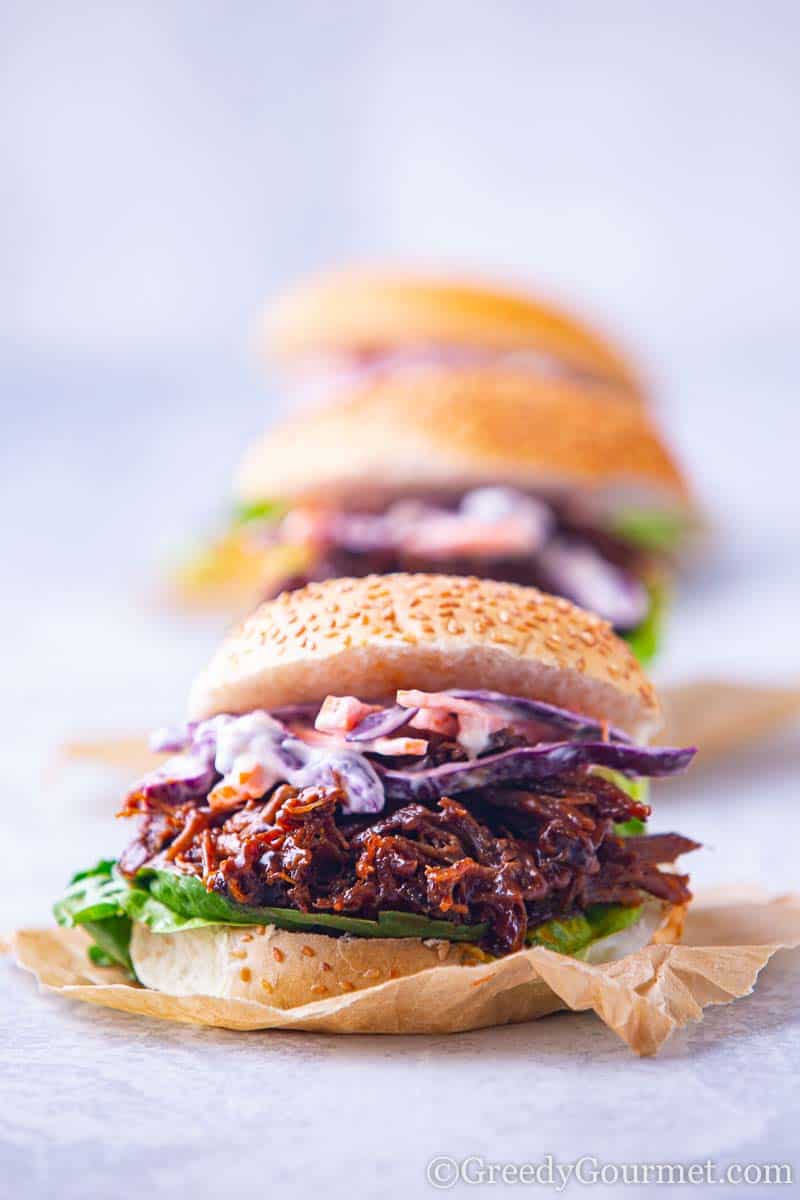 If you've never cooked lamb in this way, you're in for a treat. Pulled lamb is cooked low and slow, to allow all the flavours to infuse and to give the meat a chance to become perfectly tender.
Intrigued? Let's find out how to make this incredible BBQ pulled lamb.
Products you need for this recipe
Here's a list of essential kitchen items and ingredients you'll need for this slow cooked shredded lamb recipe: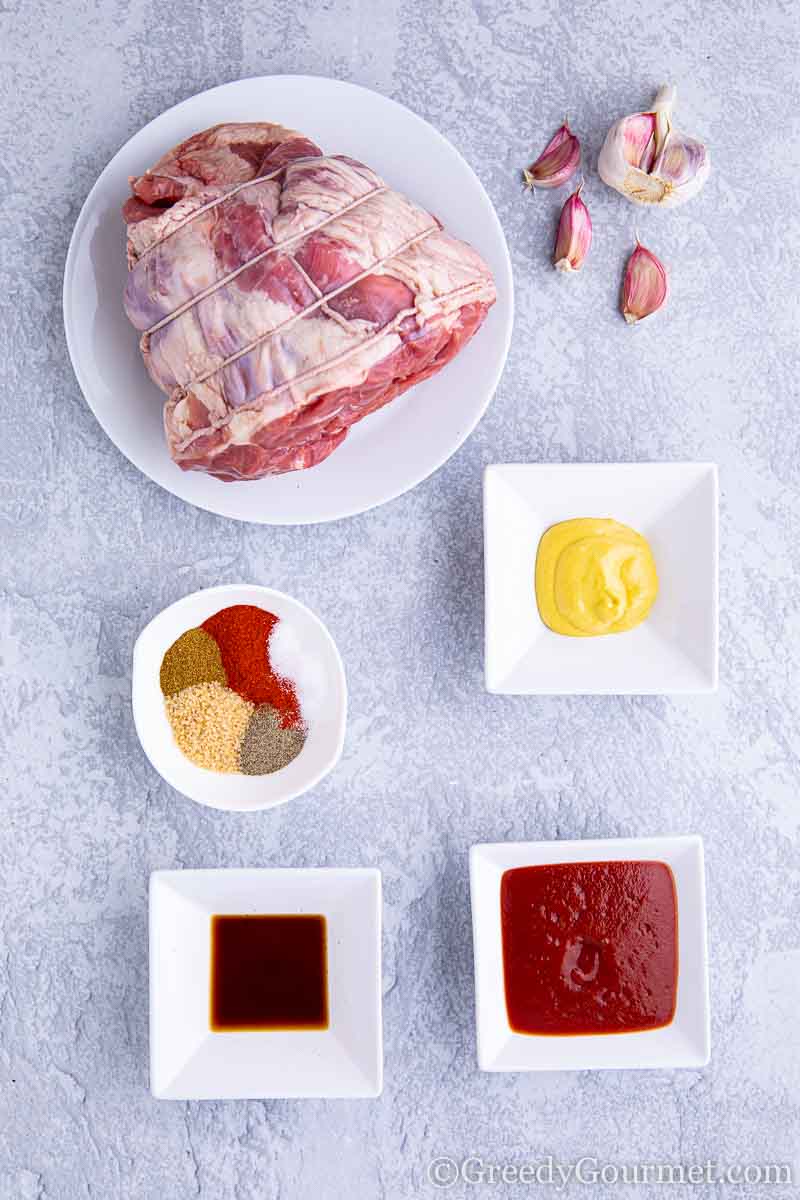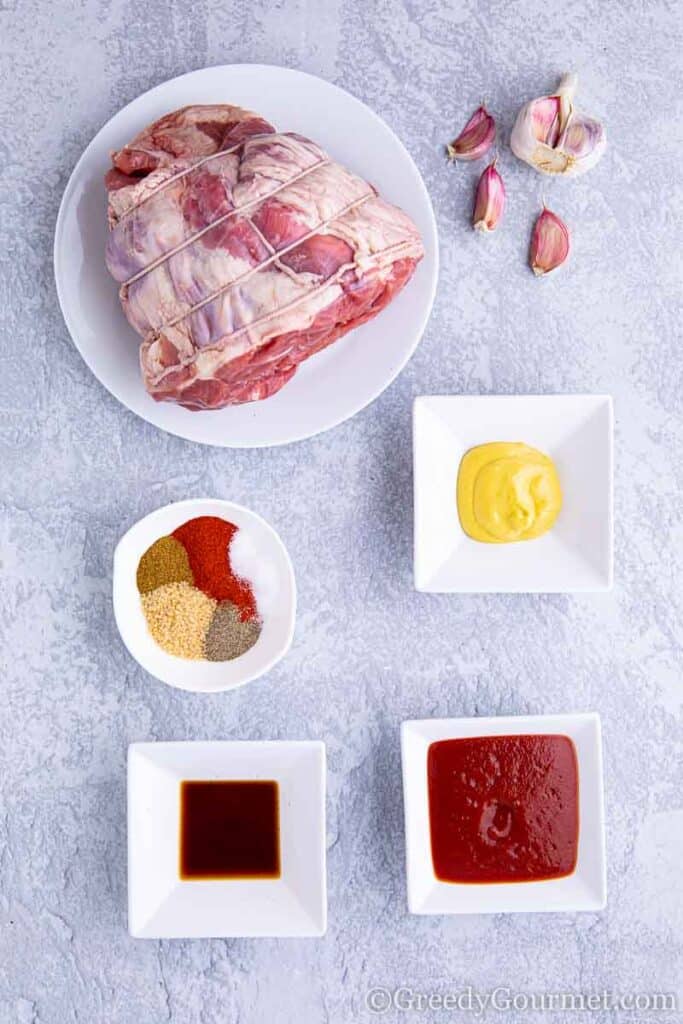 The history of pulled meat
Pulled meat can be made from most types of meat. It's slow cooked until it's incredibly tender and falling apart from the bone.
Beef, lamb, chicken and pork are all good options as "pulled meat". The bone, fat and gristle are removed and then the pulled meat is mixed in the sauce before serving. If you want a pulled lamb recipe, have a peak at this Ninja Foodi Pulled Pork!
Long ago, before fancy ovens and kitchen gadgets, even before electricity, ancient cooks made holes in the ground and lit fires. Over this fire is where they would cook their food, with a triangular stand made of logs over the fire holding the pot.
When the flames died down, all that was left was burning embers. Then, the meat was placed in the pot to cook over the stoked embers for hours on end.
Another primitive alternative was to place the entire animal on a stick over the burning embers and turn it – the original rotisserie. In these times there was little deboning done before cooking.
So, once the meat was cooked everyone would gather round and pull the meat off the bone to eat.
Instead of being a new fashionable way of eating meat, it's just going back to the way we always used to do it. Talk about retro cooking!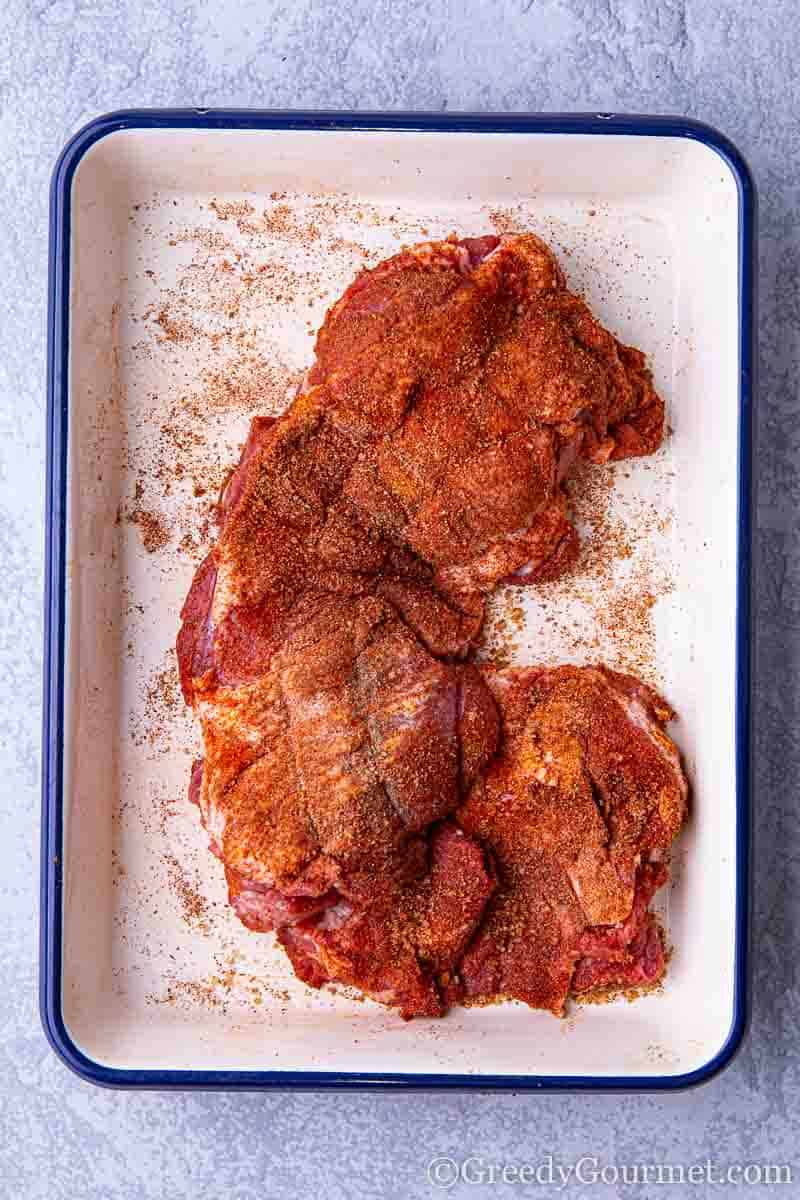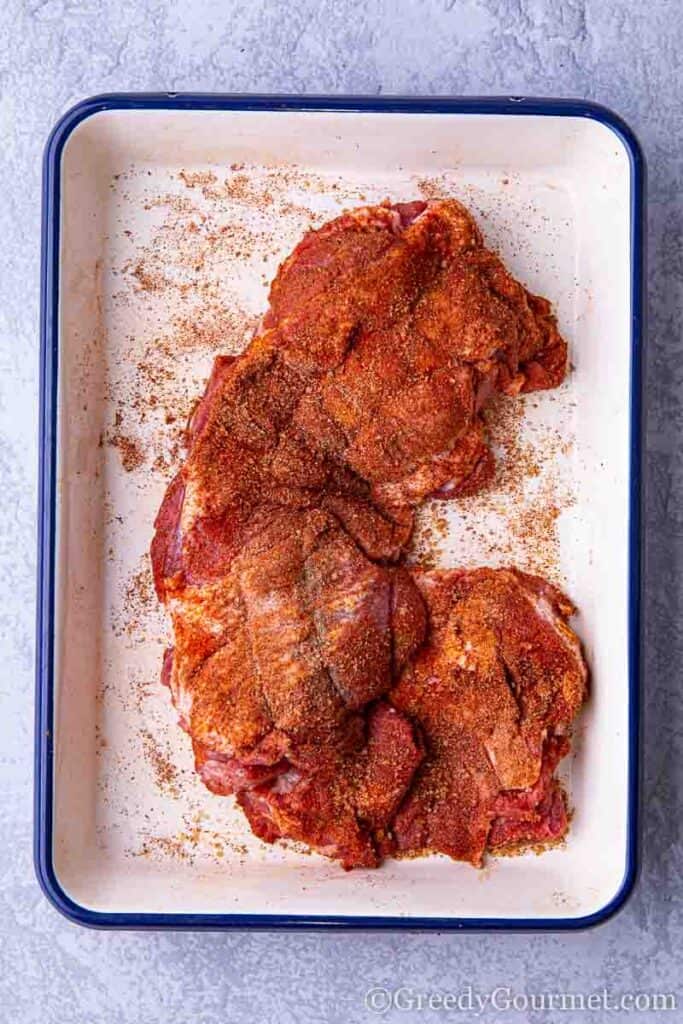 What cut of lamb is best for slow cooking?
Of all the different cuts of lamb meat, lamb shoulder has the most flavour. It does take a while to tenderise, but if you give it time the rewards are glorious.
That's why slow cooker lamb or slow oven cooked lamb tend to use lamb shoulder. When cooked on a low heat for a number of hours, this is the most tender meat you'll ever eat.
For me it's perfect, especially when you add an unbelievably tasty spiced rub.
How do you clean a lamb shoulder?
Get your lamb from a quality butcher and ask them to debone and trim the fat from your lamb shoulder. Then you're good to go!
What spices go well with lamb?
Lamb is a great tasting meat on its own. Add spices and it becomes irresistible.
The flavour profile of lamb lends particularly well to being paired with earthy spices. Cumin, coriander, fenugreek, cardamom, and cinnamon all go great with lamb. No wonder you see so many spiced lamb recipes in Middle Eastern, African and Indian cuisine.
 Of course, lamb always goes very well with smoky spices such as paprika and cayenne pepper. Black pepper is always key to seasoning any type of meat and lamb is no different. 
What herbs go well with lamb?
Do you need to marinate lamb?
Some people argue that adding a marinade can make it tougher. With this recipe, as the lamb shoulder is cooked for a very long time, the marinade helps to break down the tough fibres of the shoulder. The end result is amazingly tender meat, flavoured to perfection.
So, make your marinade, rub it on the lamb, and rub your hands together in anticipation. This is going to be special!
What can I substitute for Worcestershire sauce?
If you can't find any of this magical stuff, there are a few options. Check out my Worcestershire sauce substitute guide for a full breakdown of the best alternatives to this unique flavour enhancer.
At what temperature do you pull lamb?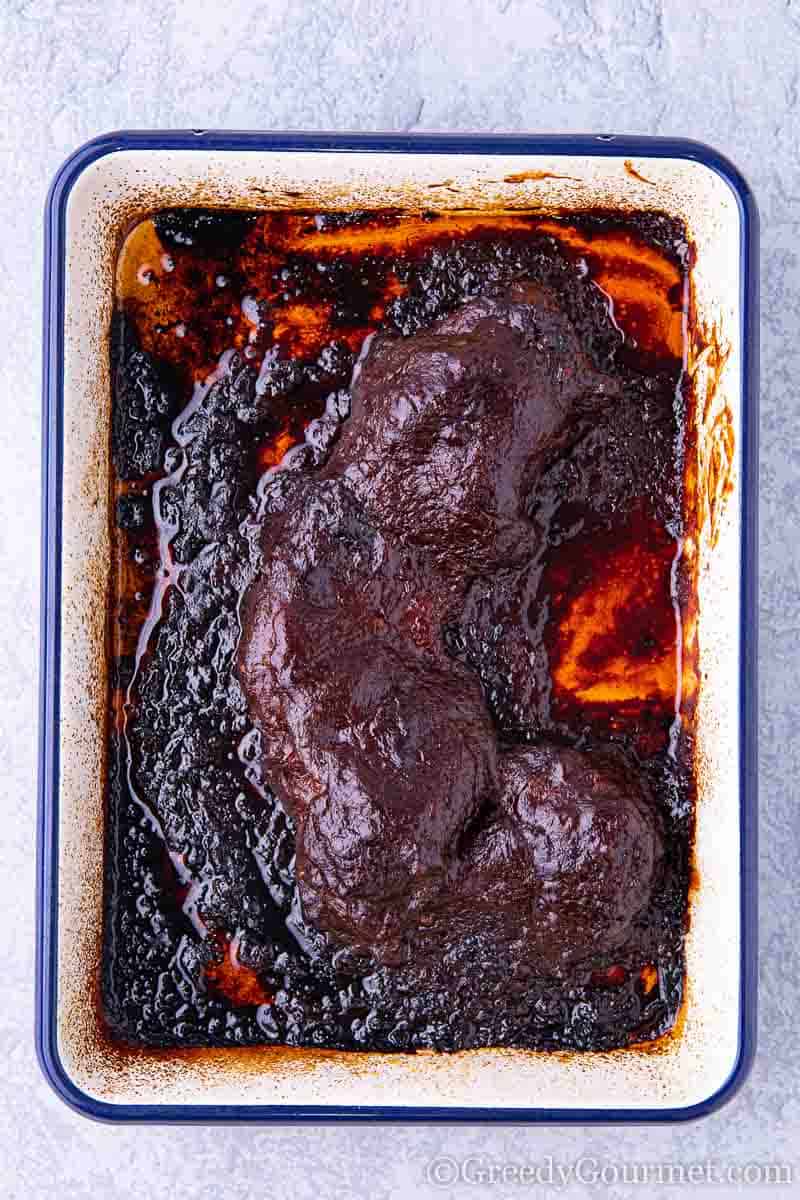 Aim for a temperature of around 90ºC (195ºF). Lamb is a bit more forgiving than a lot of other meats, so don't stress too much.
Still, I highly recommend that you invest in a quality meat thermometer. It will make life so much easier and will take the pressure off of slow cooker recipes and low and slow masterpieces.
How do you shred lamb?
There are a few ways you can shred lamb. The most straight forward is to place your lamb on a large plate and use two forks to pull the meat.
My preferred way is to use some shredding claws. This method is easier than using two forks, but treats the delicious meat with a little more respect than blitzing it with a stand mixer.
How do you serve BBQ pulled lamb?
Shredded lamb can be served in so many different ways. Try serving it in a burger, in a wrap, in tacos or just on a plate with a big helping of chips.
Is lamb good for you?
Lamb is one of the healthiest meats and is packed full of essential vitamins and minerals. 
Although it's quite high in saturated fats, lamb has so many benefits that hugely outweigh any potential negatives.
It's one of the best sources of protein. Protein is crucial when it comes to promoting muscle growth, maintenance and performance. Just one serving contains at least half of your recommended daily amount. 
It also contains lots of B vitamins, including vitamin B12, as well as lots of minerals that are crucial to maintaining a healthy immune system, such as iron and zinc.
The spices in this dish also have great health benefits. Most of them have anti-inflammatory and antioxidant properties, which can help strengthen the immune systems and prevent certain diseases.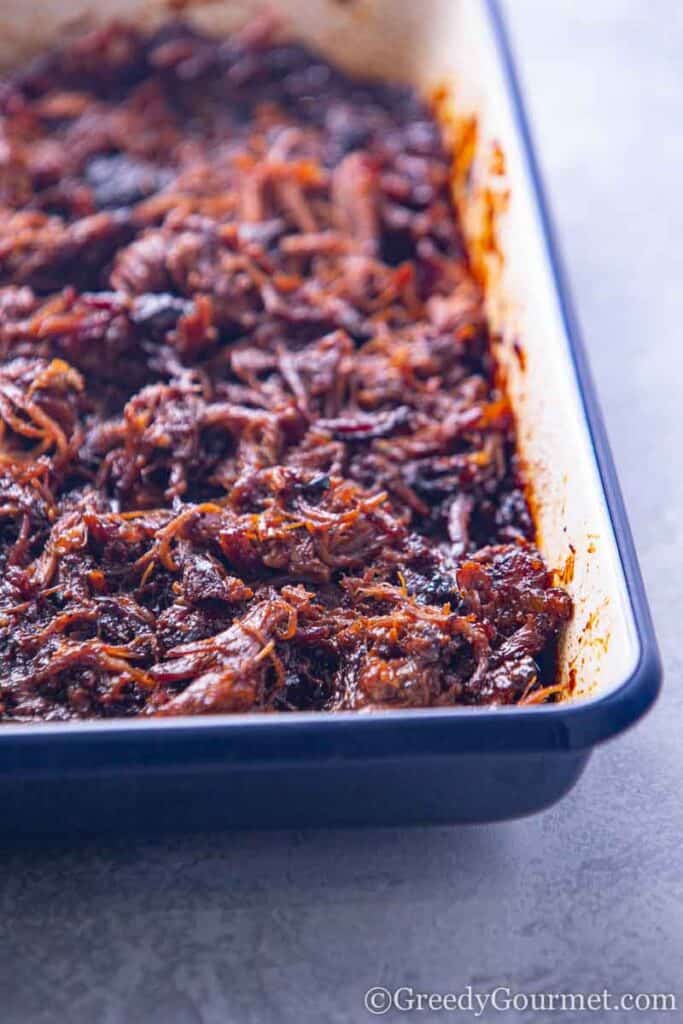 What to serve with BBQ pulled lamb
Stuck for what to serve alongside your roasted and pulled masterpiece? Don't worry… here's some delicious recipes for a little divine inspiration: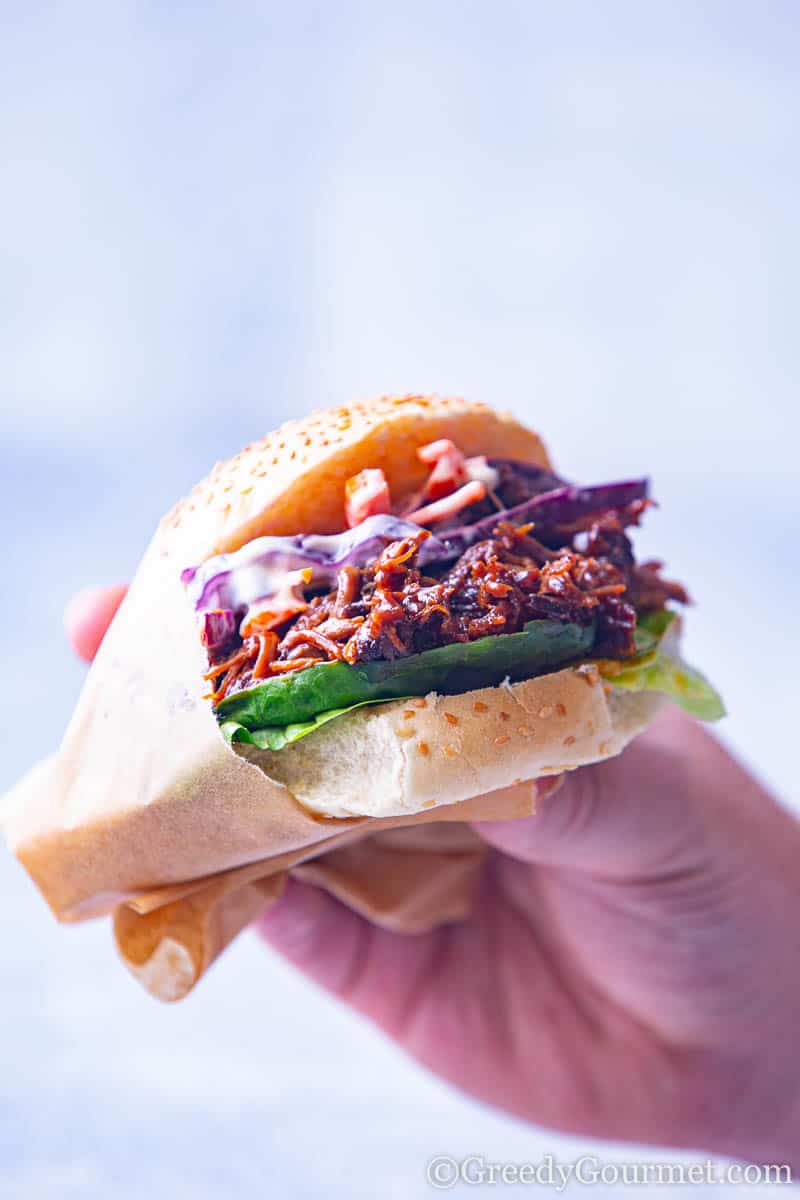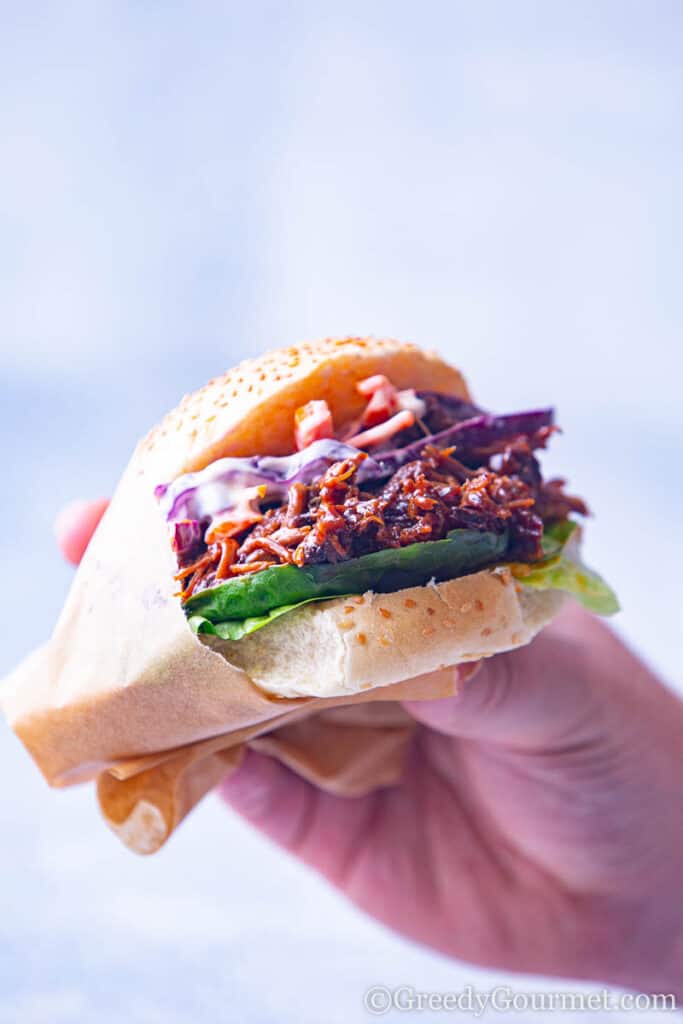 More luscious lamb recipes
Got a taste for lamb? Check out some more incredible recipes that get the best out of this underrated meat:
Print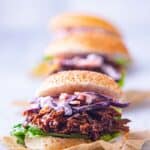 BBQ Pulled Lamb
---
Author:

Michelle Minnaar

Total Time:

5 hours 30 minutes

Yield:

8

1

x

Diet:

Low Lactose
Description
Serve this easy BBQ Pulled Lamb in burger buns with your favourite coleslaw, and some chunky chips. The juicy meat is fork tender the BBQ sauce luscious. 
---
Spice Rub
BBQ Sauce
400

ml

(1 1/2 cup) tomato ketchup

100

g

(1/2 cup) brown sugar

60

ml

(1/4 cup) mild mustard

125

ml

(1/2 cup) Worcestershire sauce

4

garlic cloves, crushed

60

ml

(1/4 cup) vegetable oil
---
Instructions
Mix the salt, ground pepper, paprika, cumin, sugar and pepper in a bowl.
Rub the lamb all over with the spice mixture and leave in the fridge overnight to 2 days to marinate.
Preheat the oven to 150°C/fan 180°C/300°F/gas mark 2.
Place the lamb in an ovenproof dish and cover tightly with foil, or lid, and place it in the oven.
Cook the lamb for 5 hours.
In the meantime, prepare the BBQ sauce by mixing the ketchup, sugar, mustard, Worcestershire sauce, garlic and oil in a bowl.
After the 5 hours have elapsed, remove the lamb from the oven and pour the BBQ sauce over the meat.
Place the lamb back in the oven and cook for another hour.
Remove from the oven and let the meat rest.
Shred the lamb and stir in the BBQ sauce.
Notes
Lamb shoulder is the ideal cut for this kind of recipe because of its high fat content. However, if you'd like to be slightly healthier, opt for boneless leg of lamb.
The pulled lamb works great in burgers served with coleslaw and chips on the side.
If you're using a smaller piece of lamb, remember to adjust the cooking time to a short length of time. Otherwise, it will just dry out and become stringy. 
Prep Time:

30 minutes

Cook Time:

5 hours

Category:

Main Course

Method:

Slow Cook

Cuisine:

American
Keywords: pulled lamb, bbq lamb shoulder, slow cooked lamb shoulder, slow cooker lamb shoulder, lamb spice rub, bbq recipe
save the recipe to your pinterest board